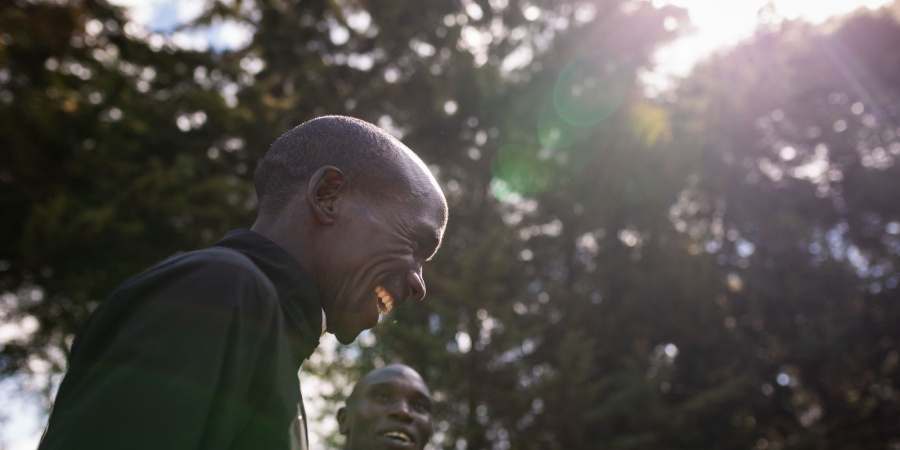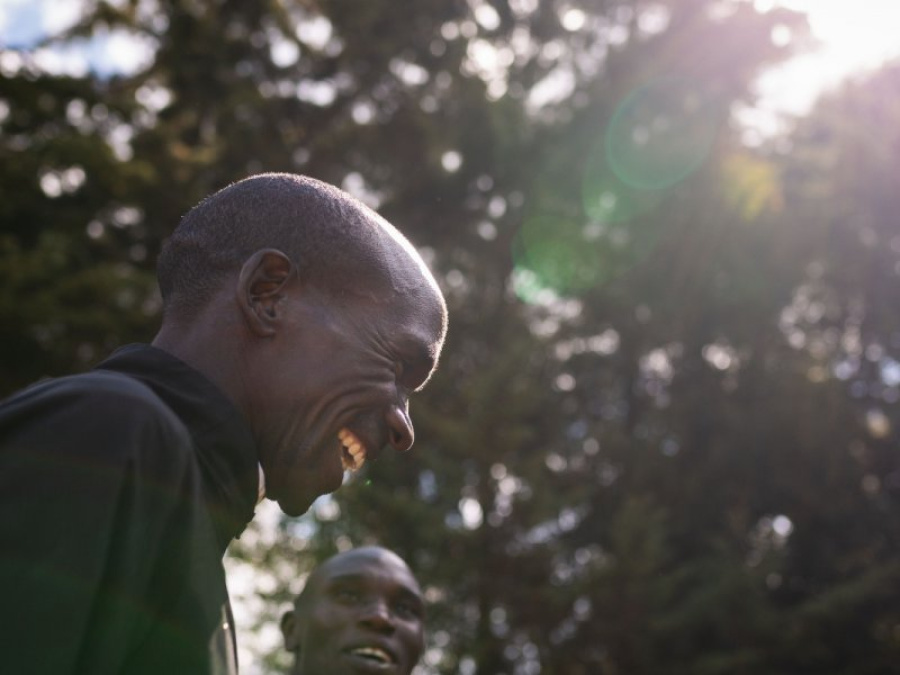 Eliud unleashes history-defining display
In a little over two hours, NN Running Team member and marathon colossus Eliud Kipchoge kicked open the door to the seemingly impossible by producing a mind blowing performance of the ages at Monza racetrack.
Competing in Nike's innovative "moonshot" project Breaking2 – in an effort to crack the iconic two-hour barrier – the Kenyan distance great clocked a jaw-dropping 2:00:25 to smash the previous quickest marathon mark by more than two-and-a-half minutes in a "Beamonesque" leap forward for not only the marathon but the possibilities of human potential.
Racing at the historic Formula One circuit, Eliud was on track to achieve the audacious mark until slightly slowing in the latter stages. At 35km the Olympic champion had slipped a few seconds off the pace and it is to the marathon master's huge credit that despite operating a pace never seen in history, he somehow held it together to cross the line just 26 seconds shy of the target time.
Competing in the cutting-edge Nike Zoom Vaporfly Elite shoes which are said to boost running economy by four per cent, an elated Kipchoge said: "When we came to Monza, the hope of Breaking2 was 2:57 away, now the hope is 25 seconds away. Let's keep the fire burning and continue our journey."
On a perfect day for marathon running – in temperatures of 10c – the three pursuers of the record – Eliud, world half marathon record holder Zersenay Tadese of Eritrea and Ethiopia's two-time Boston Marathon winner Lelisa Desisa – set off in their ambitious quest in the dark at 5.45am local time.
With a total of 32 pacers who were subbed "in and out" – including Eliud's fellow NN Running Team members; Philemon Rono, Gideon Kipketer, Laban Korir and Abdi Nageeye – the aim was to maintain a staggering pace of 2:50 per kilometre for the entire 42.2km which was to be covered by completing around 17.5 laps of the 2.405km almost pancake-flat circuit.
With six pacemakers at a time forming an arrowhead formation – which Nike's wind tunnel proved would help them draft better and save vital energy, Eliud and Tadese ran alongside each other behind the phalanx of rabbits – with Desisa content to sit at the back. Carrying out a magnificent job the pacers went through 15km in 42:34 – six seconds below the target time.
The first athlete to crack was Desisa, who started to drift off the back of the pack at around 17km and rapidly fell back from the pace. While as a further measure of the scale of the challenge facing the athletes, Tadese, started to lose contact with Eliud and the pacemakers just before halfway.
Yet while Desisa and Tadese's record attempt quickly unravelled, Eliud, with a previous marathon best of 2:03:05 set when winning the 2016 London Marathon, remained utterly composed passing halfway in 59:57 – a little under the target time.
With many pre-race "experts" dismissing any chance of the two-hour barrier being breached, Eliud started to defy such predications during an astonishing second half of the race.
Remaining calm and serene, Eliud remained on pace passing 25km in 1:11:03 before hitting 30km in 1:25:20 – one second off record pace.
By the 35km mark the Kenyan had slipped five seconds off the target pace, yet at this point, and moving into unchartered marathon territory, it was obvious to everyone watching the action in Northern Italy we were witnessing
something quite incredible.
At 40km the incomparable Kenyan running in bright orange Nike top was now some 18 seconds adrift of the barrier breaking mark but he managed to maintain his composure to cross the line in 2:00:25 – less than half a minute shy of his target time.
It was a stunning performance – a staggering two minutes and 32 seconds faster than previous marathon in history – which will long be remembered.
"It has been hard," says Eliud. "It has taken seven good months of preparation and dedication, but I am happy to have done that time. It is history."