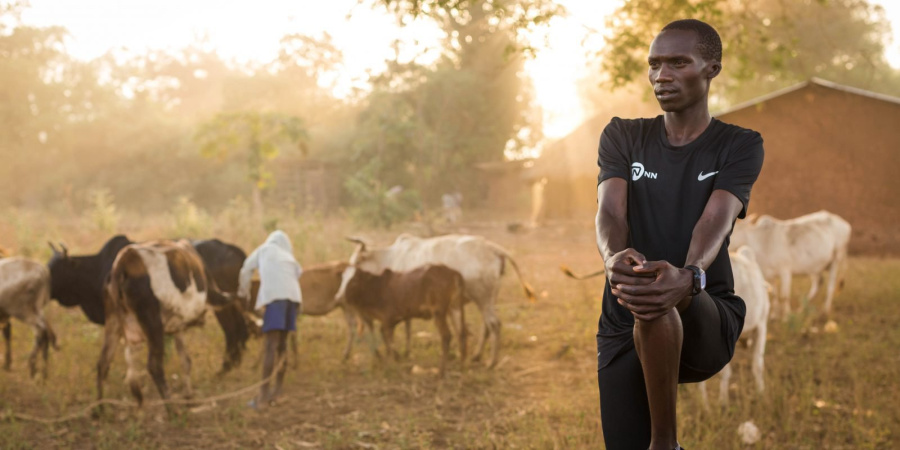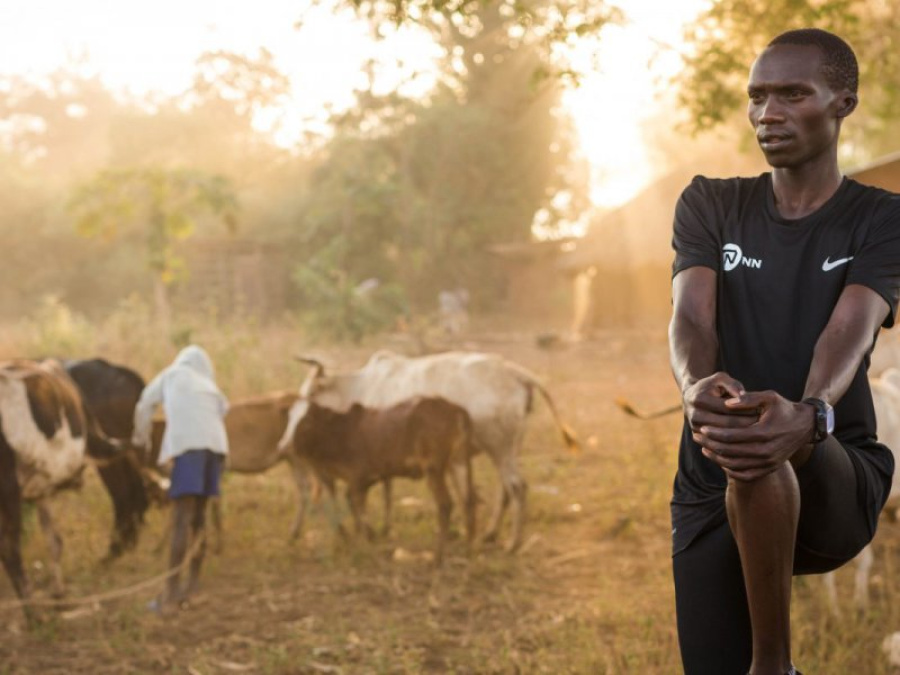 The seven steps to success
Two-time Zevenheuvelenloop (Seven Hills) champion and Olympic 5000m and 10,000m finalist Joshua Cheptegei is one of NN Running Team's rising young talents. Here the 20-year-old Ugandan talks about seven ingredients that have contributed to his success.
1 – Boast strong genes
Growing up at high altitude in the district of Kapchorwa at around 2000m certainly brings its advantages from a running perspective. However, it also helps if the family gene pool is strong – and Joshua, the second eldest of nine siblings, certainly insists his father hit the genetics running jackpot.
"My dad lived in the forest of Mount Elgon and he ran many kilometres to school each day," he explains. "He grew up on a farm where certain tribes used to steal his cattle. To protect the cows my dad hang out in the field and run after the tribesmen, so I think that may have evolved his running skills!"
2 –  Find your talent
Always an active child Joshua started out playing football and even tried his hand at long jump and triple jump. Yet it was while at primary school he acknowledged his sporting ability was best suited to running.
"Back then I was running against guys much older and bigger and I was able to beat them," he says. "At that point I said, hey, I can do this. People started talking about me as this guy that can be really good."
3- Embrace the importance of education
With his father working as a maths teacher, Joshua has always understood the importance of education. He studied literature at university and although running later became his primary goal he is still keen on self-growth outside of athletics.
"I still love reading books," he says. "Literature has always been my passion."
4- Gain confidence
No runner can fully maximise their potential without confidence and Joshua enjoyed a breakthrough year in 2014. In his first international race, and aged just 17 at the time, Joshua grasped the opportunity to place second behind his NN Running Team-mate Geoffrey Kamworor, who has since gone on to win two World Cross Country and two World Half-Marathon titles, at the TCS World 10K in Bangalore in 28:24. Two months later he landed the World U20 10,000m crown in Eugene as his burgeoning career took another step forward.
"Winning the World under-20 title was a big turning point in my career," he says. "It built a lot of confidence in me that I could one day become a World (senior) and Olympic champion."
5 – Find the right coach
After a stint training in Kaptagat, Kenya alongside the likes of the past two Olympic marathons champions; Eliud Kipchoge of Kenya and his fellow Ugandan Stephen Kiprotich he returned to his homeland to train and hooked up with a "great coach" in Dutchman Addy Ruiter.
"He is really brilliant," enthuses Joshua. "He is confident and applies specific training programmes for different competitions. He writes good programmes and when the body needs a rest he is happy to adjusts the programme. It works really well for me."
6 – Gain experience
Joshua has slowly build up his experience on the track, road and cross country over the past few seasons. In 2015 he finished 11th in the U20 race at the World Cross Country Championships, ninth in the World 5000m final in Beijing and claimed a couple of eye-catching wins on the road to win Asics Grand 10 Berlin and the prestigious Seven Hills 15km race in Nijmegen. Last year he stormed to Ugandan road records over 5km and 10km with wins in Carlsbad and Laredo in 13:24 and 27:46, respectively, but failed to meet his own high expectations on the track placing sixth in the 10,000m final and eighth in the 5000m at the Rio Olympic Games.
"I met Mo Farah after the Rio final and he told me, 'look I didn't make it to an Olympic final until I was much older than you.' That gave me a lot of confidence that my career is on the right track and that I needed to keep working hard to achieve great things."
7 – Have a long-term vision
The talented Ugandan still harbours many ambitions on the track but he "loves" running on the roads, which is where he believes his future lies with a crack at the half-marathon on the agenda in the future.
Citing his NN Running Team-mate Kenenisa Bekele, the three-time Olympic track champion and 2:03:03 marathoner, as one of his idols he also draws inspiration from athletes in other sports.
"I want to change the game like Michael Jordan and Cristiano Ronaldo have done," says Cheptegei, who set a new 3000m PB of 7:34.96 in Paris earlier this month. "I would love to look back on my career and say I achieved such great heights."