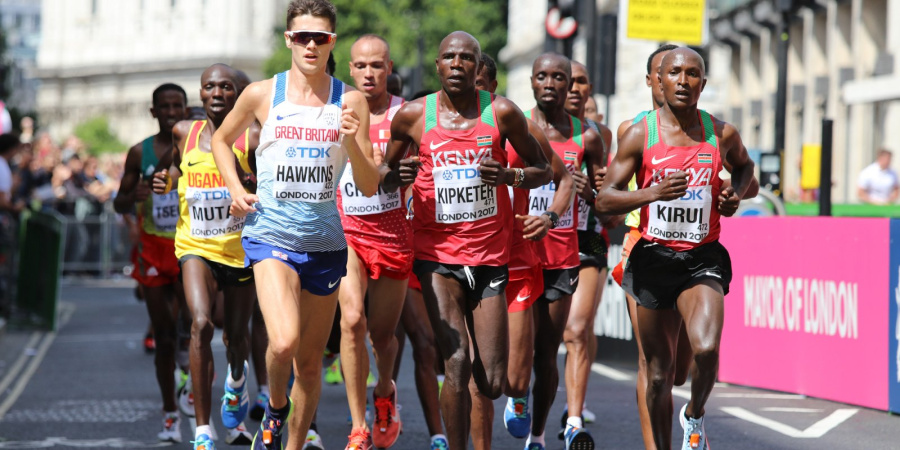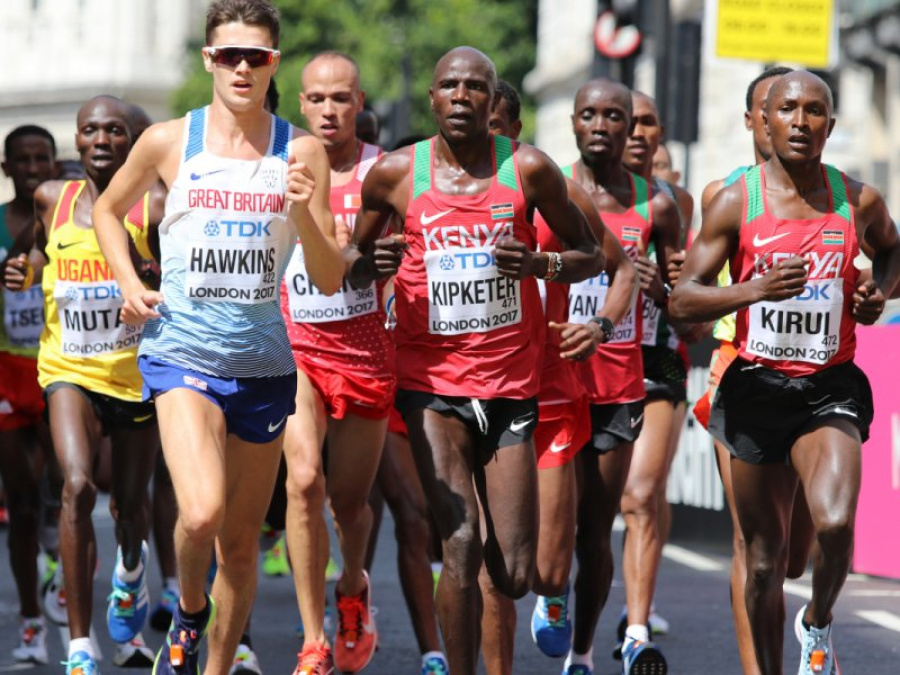 King Kirui crowned world champion
For Geoffrey Kirui the streets of London really were paved with gold as the rising star of the NN Running Team destroyed a top-class field to be crowned world champion.
Kirui, who also triumphed in April's Boston Marathon continued his stunning year on the international stage to run out a decisive winner in 2:08:27 to finish 1:22 ahead of Ethiopia's Dubai Marathon winner Tamirat Tola, the silver medallist.
It was an outstanding display by the 24-year-old Kenyan, who battled back after slipping around 50m or so behind Tola a little after 30km However, by 35km the gutsy 24-year-old Kenyan courageously fought his way back to catch the Ethiopian before kicking on in the final stages to deliver a precious gold medal.
An elated Kirui said: "I am very, very happy with the win. I can't say too much more. This is a great win for me. The best moment of my career, easily. This was the best course and the best crowd I'd seen at a marathon."
Kirui, who also made history as the first man to complete the World title and Boston Marathon double in the same year and is a keen supporter of London-based Premier League football team Arsenal refused to panic when Tola opened up a gap at around 30km.
"I was smart not to follow the Ethiopian. When he tried to take off I knew I had to hit my target at 35k then I started to move. Wining this title has been my goal for so long.
Now my goal is to repeat it. I was not expecting to be world champion. I feared the Ethiopian because he had such a fast time. It is a gift from God."
The next best placed NN Running athlete was Geoffrey's countryman Gideon Kipketer, who placed fifth with a spirited run in 2:10:56.
On a warm and sunny London day, the athletes left the iconic Tower Bridge to complete four loops of the city until returning to the iconic London landmark in the race to be crowned world champion.
Tola headed a lead pack of around 20 athletes as the leaders hit halfway in 1:05:28 before the Ethiopian, Geoffrey and Gideon kicked on and established a clear lead from the rest of the field.
Just after 25km Gideon, who finished second in the Tokyo Marathon earlier this year, started to fade from the quickening pace as Geoffrey assumed control through the winding streets of London closely tracked by Tola.
Like two prize fighters locked in a battle for gold Tola – a 2:04:11 marathoner at his best –struck the first blow a little after 30km establishing a 50m lead from Geoffrey.
Fleetingly it appeared the Ethiopian was poised for the race win. However, by 35km the resilient Kenyan distance running star had restored parity with his East African rival before kicking on to himself open up a lead which would ultimately prove decisive.
Looking strong in the latter stages – and even giving the crowd a cheeky thumbs-up – he completed the final rise up Tower Bridge to claim a famous and memorable win.
Gideon, unfortunately, faded in over the final 15km and wound up fifth in 2:10:56 – a little over a minute outside the medals. The final place on the podium was secured by Tanzania's Alphonce Simbu, the 2016 Rio Olympic fifth placer, who finished in 2:09:51 – just two seconds behind Tola, who clung on for silver.