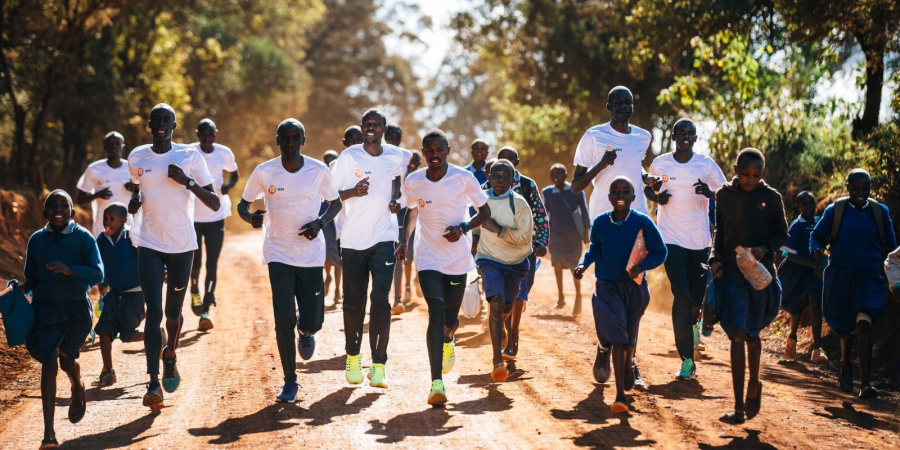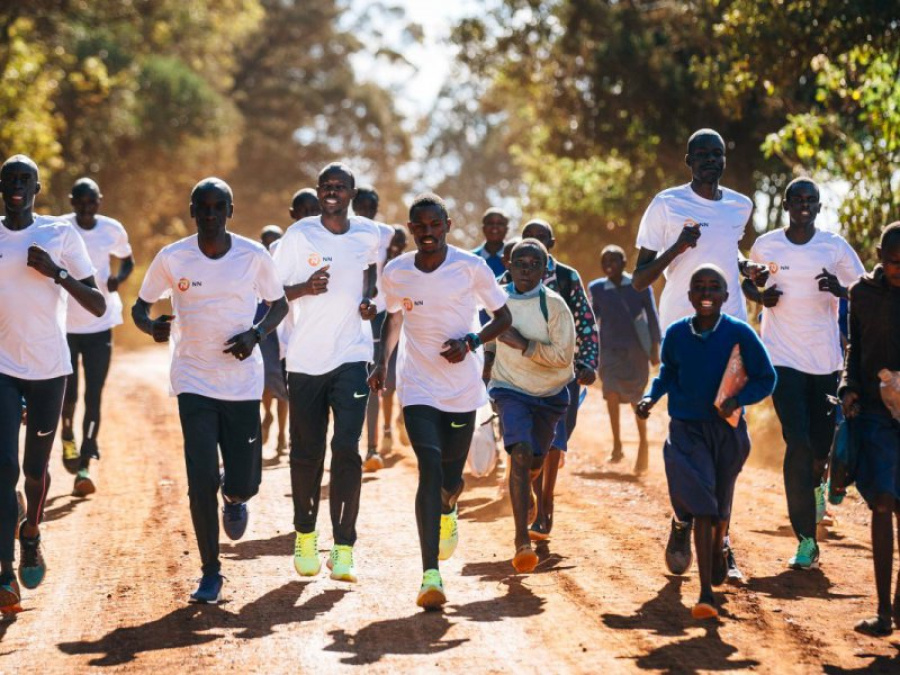 Football crazy
The global game of football plays a significant role in the relaxation and downtime of many members of the NN Running Team. Here the soccer-crazy athletes share their stories, memories and passion for "The Beautiful Game" and, particularly, the English Premier League.
Schoolboy memories
A sizeable number of NN Running Team athletes played football in their younger days with varying degrees of success. The 2017 Paris Marathon runner-up Stephen Chebogut may be best known for his road running exploits but he was also a promising number 11 soccer player as a high school student.
"Between form three and four I scored 46 goals," insists Stephen of his striking ability before the Kenyan later discovered a gift for running.
Two-time Scotiabank Toronto Waterfront Marathon Philemon Rono also played school football in his youth in which the diminutive athlete admitting he tried hard to emulate the pace and shooting prowess of former Barcelona striker and four-time African Player of the Year Samuel Eto'o.
The school football career of Philemon's Kaptagat-based training partner Anthony Maritim, however, ended abruptly. "I collided with a player and I picked up an ankle injury, which made me stop (playing football)," said the 2017 Linz Marathon winner and former schoolboy left back.
While for Kenyan-based Arsenal fan Kipkemoi Kipsang – a 2:09 marathoner – he preferred playing volleyball to football because he saw the latter sport as "too dangerous" due to its injury risks.
Team of choice
Many NN Running Team members follow the English Premier League game on TV with the Kaptagat-based athletes often viewing the action collectively. Many have latched on to supporting a particular team with three clubs, in particular, proving popular.
Ethiopian Abera Kuma – a 2:05:56 marathoner – follows Arsenal because of the "beautiful" style of football the London-based team have long adopted. World champion and NN Running star Geoffrey Kirui has also loyally supported the Gunners since childhood for the same reason and Kipkemoi follows Arsenal because of the qualities of the club's long-standing coach Arsene Wenger.
"He is a great man," says the 27-year-old Kenyan. "A wise man who can teach you many things."
London's cross city rivals Chelsea, the defending Premier League champions, are Philemon's number one team.
"When I first watched football I liked watching them play, so they became my team," recalls the athlete who is among the most passionate football fans in the NN Running Team stable.
Man Utd are the most successful club in the 25-year history of the Premier League and Anthony was initially attracted to supporting the 13-time champions because of their colours.
"I've like anything red, so when I first saw their red strips I became a fan nine years ago," he explains.
As for Ethiopian Yigrem Demelash, the 2016 Rio Olympic 10,000m fourth placer, their iconic former manager Sir Alex Ferguson was a motivation for following the Red Devils.
"When he was manager they were a very good team," recalls the talented Ethiopian athlete.
Favourite players
For Chelsea-loving Philemon their former striker Didier Drogba is his most admired player for the compelling reason "every time he scored, Chelsea never lost."
Meanwhile, fellow Blues fan Vincent Kipruto, the 2011 World marathon silver medallist, is a huge devotee of ex-Chelsea striker Diego Costa, describing the Spanish international as "a fighter."
Abera Kuma, the Arsenal fan, is glowing in his praise for their skilful Chilean forward Alexis Sanchez, saying "He plays in every position, defender, attacker."
The NN Running Team Man Utd supporters' club differ in their selection as to their all-time favourite. Anthony opts for tough-tackling former Serbian centre back Nemanja Vidic, while Yigrem prefers the agility of Red Devils goalkeeper David de Gea. 
Stephen singles out current Man Utd striker Marcus Rashford and offers a well-articulated case for his choice. "He is a very skilful player with more than one trick," he explains. "He is very blessed with speed and a good footballing brain. He often takes his opportunities."
However, in a departure from the prevailing trend – 2:09 marathoner Alfonce Kigen may follow Man Utd but his favourite player is Barcelona and Argentina wizard Lionel Messi!
Top game
A huge Man Utd fan for the best part of a decade Anthony recalls one particularly memorable game as his all-time TV football-watching highlight.
"Man Utd were playing Man City and Wayne Rooney scored a brilliant winner with an overhead kick," explains the Kenyan marathoner of the 2-1 victory back in 2011. "I was so happy. It was the goal of the season."
Best athlete
Many top footballers are also top athletes, but which footballer would make the best runner? Abera Kuma believes of the current Arsenal squad right back Hector Bellerin would make the best runner because of his high-energy all-action style.
Live action
Many of the NN Running Team athletes would relish the opportunity to attend a top professional soccer game with Stephen insisting it is on his bucket list to one day watch his beloved Man Utd at Old Trafford.
However, Philemon has already had the privilege of attending an Italian Serie A match after watching last season's clash between AC Milan and Roma in the imposing San Siro Stadium. "After pacemaking in Monza as part of the Nike Breaking2 Project in May I went to see the game," explains the diminutive Kenyan. "Roma won 4-1 – the noise in the stadium was amazing."