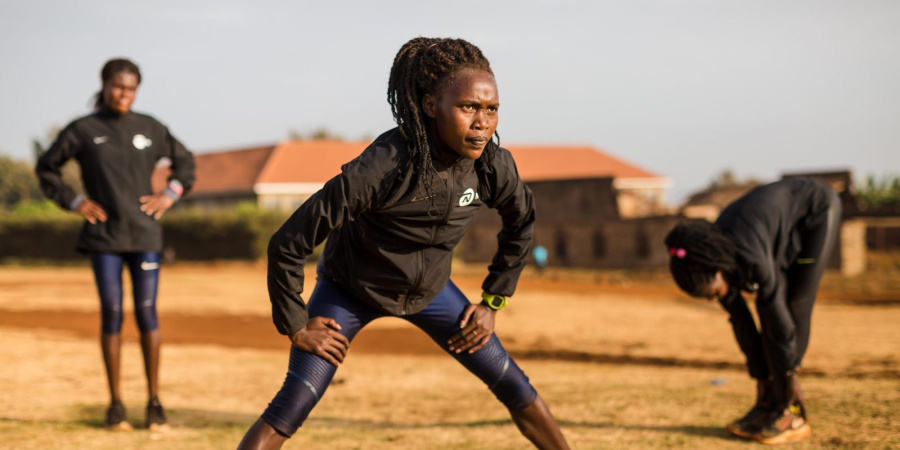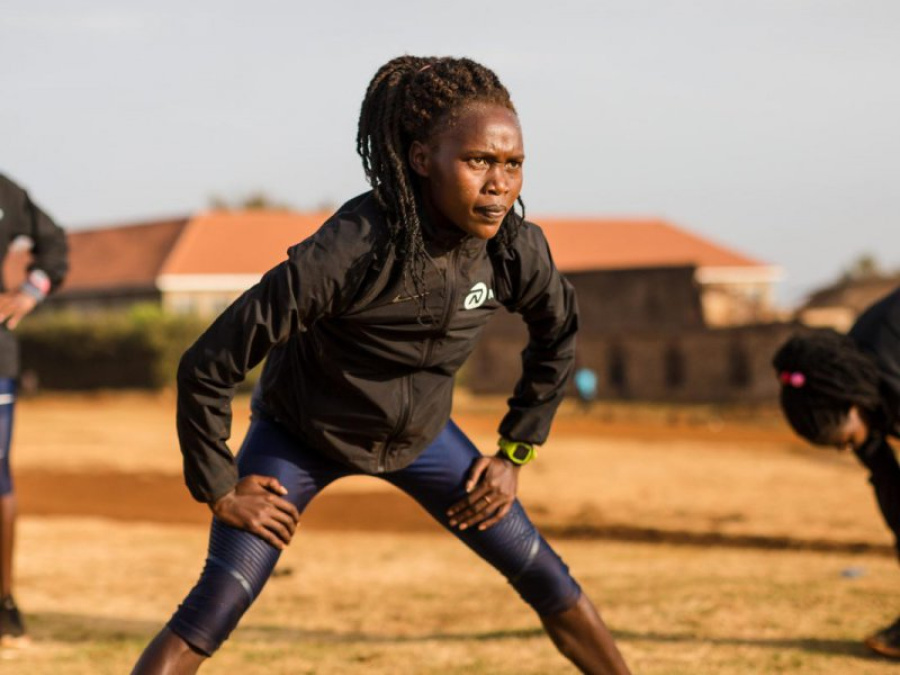 Introducing Stella Chesang
Recently crowned Commonwealth 10,000m champion Stella Chesang is one of the rising stars in the NN Running Team stable. Here we find out more about the versatile and gifted Ugandan, who hopes to inspire the next generation of female athletes in her homeland.
Chip off the old block
Growing up in large family in the Kween District on the slopes of Mount Elgon in East Uganda, Stella, the second eldest of the nine siblings, showed a gift for running from a young age.
She recalls winning the 3000m in what was her very first race as an 11-year-old primary school student, and the Ugandan believes her gifts were handed down from her father.
"He was a former 5000m and 10,000m runner at school," she explains of her dad. "He has passed on much advice and many words of encouragement. He told me that I too had a big talent."
Spanish steps
Aged just 14 she made the Ugandan team to compete in the U20 race at the 2011 World Cross Country Championships in Punta Umbria in Spain. She finished 39th – more than two minutes behind race winner Faith Kipyegon of Kenya, the World and Olympic 1500m champion – but it proved a pivotal race in her career development.
"It was my first international event and my first time on a plane," she recalls. "I was really excited to compete against the other runners and to finish 39th there was when I first realised I had a talent (for running). I saw people were running seriously and that I needed to train hard too."
Age group success
Returning to Uganda motivated by her World Cross experience she duly stepped up her training under a local coach and made significant progress. In 2013 she returned to the U20 race at the World Cross Country Championships and this time finished in 14th. Later that year she posted a national U20 3000m record (9:11.03) to place fourth at the World U18 Championships in Ukraine. At the 2014 World U20 Championships in Eugene, she secured fourth in the 5000m, posting a PB of 15:35.85. For Stella, there was no hint of frustration at twice just missing a medal.
"I did not feel bad, I felt okay because I knew that my time will come," she says.
Kapchorwa shift
Later in 2014, Stella made a crucial move by moving to Kapchorwa and she joined the Global Sports Communication training camp after the Rio Olympics. Here she came under the influence of her current coach Addy Ruiter and she also felt the benefit of training alongside a group of world-class athletes led by Joshua Cheptegei, the 2017 World 10,000m silver medallist and second fastest man in history over 15km.
"Joshua has helped me and so many others in the camp," she explains. "When we go for speed work sessions he offers advice. He encouraged me when I finished fourth at World Juniors and more recently in Gold Coast (at the Commonwealth Games).
Mountain high
In 2015 she signed off her U20 career with a 5000m bronze medal at the African Junior Championships, before later that year achieving some unexpected global success in mountain running.
A tranche of the sport always popular in Uganda, that year she opted to make her mountain running debut at the Ugandan World Trials. She surprised herself to finish first before, remarkably, winning gold at the World Mountain Running Championships in Wales – in only her second ever mountain running race.
"I did not expect to win that day," explains the versatile Stella, who claimed top spot by a decisive victory margin of 31 seconds. "I was very happy to take first and receive the Ugandan flag (for victory)."
World Cross frustration
After failing to advance beyond the heat of the 5000m as a 19-year-old at the Rio Olympic Games, Stella turned her focus to the 2017 World Cross Country Championships in her native Uganda.
Hoping to target a top eight finish, unfortunately a knee injury hampered her preparations in Kampala and she had to settle for 18th in the women's 10km senior race.
"I was having treatment on my knee the day before the competition and I didn't get the result I wanted," she says.
Roadworthy
Free of the injury issues which had plagued her for much of 2017, she ended the year with several encouraging road performances. She ran a handy 50:27 for the 15km distance and claimed a notable second place finish in a PB of 31:54 in the Great Berlin 10km.
It proved to the talented Ugandan she also had a gift for the road as well as cross country and track and she explains: "Road is something I would like to do more in the future. I like all three (surfaces) equally."
Golden girl
In her final pre-race outing ahead of the 2018 Commonwealth Games, Stella placed fifth at the African Cross Country Championships in Algeria – finishing three seconds behind Stacy Ndiwa of Kenyan, whom she would face over 10,000m in Gold Coast.
That performance lowered her Commonwealth expectations but during the race everything changed during the latter stages.
"I felt I was moving well and with about 800m to go I decided to make my move and go to the front," she explains.
Stella proved unstoppable, crossing the line first in 31:45.30 with Ndiwa in silver and her NN Running Team colleague and fellow Ugandan Mercyline Chelangat in bronze.
"I was impressed because the whole crowd started shouting 'Uganda, Uganda'. I was very happy."
Pioneering presence
For the remainder of 2018, Stella hopes to build on her Commonwealth gold medal and is targeting lowering Dorcus Inzikuru's 5000m Ugandan record of 15:05.30.
Yet more broadly the 21-year-old hopes her running success will also inspire more Ugandan women.
"They are only a few ladies who run (at the top level) in Uganda, but I wanted to show that you can perform and women can achieve in sport," she vows.
Ludo champ
A big fan of gospel music, Stella is also an enthusiastic player of the board game ludo, a popular activity at the NN Running camp in Kapchorwa. What's more, she also enjoys regular success playing alongside the team which comprises Joshua Cheptegei, Joel Ayeko and Abel Sikowo.
"Our group normally wins," she says.
Leader of the pack
Her manager Jurrie van der Velden has been hugely impressed by Stella's running progression since joining the camp in 2014, but he is just as proud of her personal development.
"To see her transformation over the last four years is simply incredible," says Van Der Velden. "She has come from being a shy girl to one of the leading women in the group, who has found her voice. She is the female captain of the team. I have found her progress tremendous and something special."