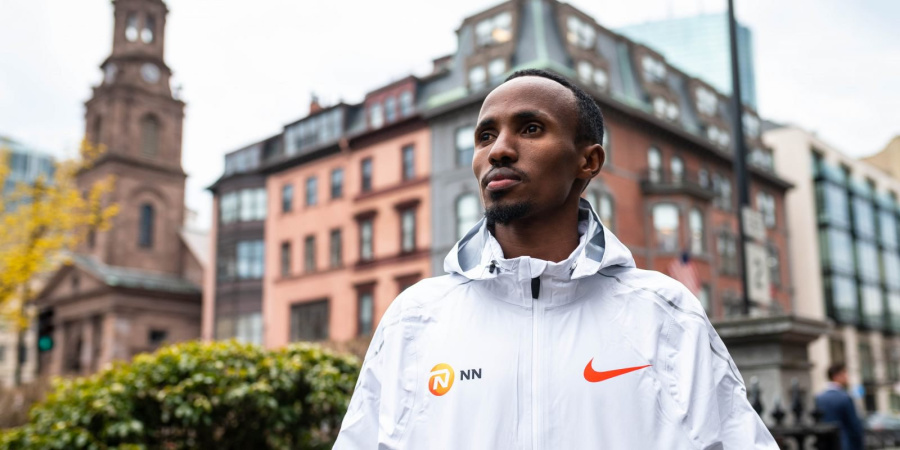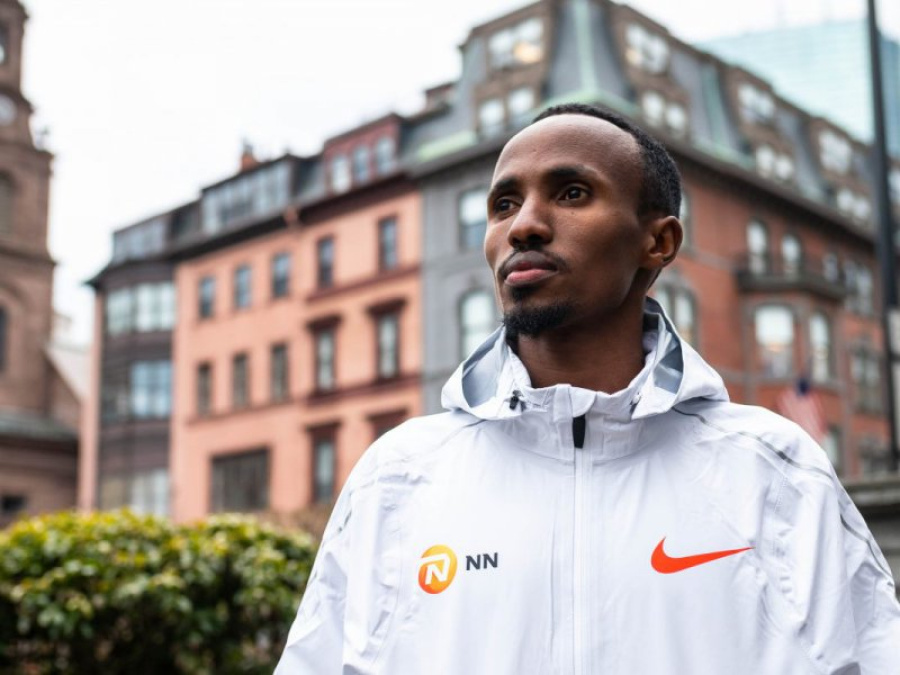 Blog: Abdi Nageeye
After the pain of injury and disappointment at the Boston Marathon, Abdi Nageeye hopes to strike back to climb the podium at the forthcoming European Championships in Berlin.
It was lying in bed in pain with a hamstring tear just hours after April's Boston Marathon, when I first thought about targeting the European Championships.
I had crossed the finish line in Boston earlier that day feeling very disappointed I did not claim a podium spot.
As you may recall, the Boston Marathon was played out on driving rain and blistering headwinds which played havoc with the race. For me personally – having spent so much time living and training in the Netherlands – I was familiar with running in such conditions and I was confident I could turn this to my advantage.
You could see at breakfast from many of the other athletes' expressions that they were scared to compete in such conditions – which helped further raise my confidence.
The biting cold winds meant we were running at a much slower pace than we typically would – and for much of the first half of the race it felt very easy. Then at around 17km, I felt a twinge in my hamstring, which sent me in a little bit of a panic.
Between 20-30km the pain in my hamstring became more intense. Geoffrey (Kirui) my NN Running Team colleague started to pull away and although my breathing felt good, I couldn't respond because of the hamstring issue.
The pain then worsened for the remainder of the race. I don't know why I carried on to the finish because it felt like I had a nail in the hamstring, maybe I was just simply too cold to make a rational decision.
I crossed the line in 2:23:16 for seventh after which I discovered I had a 2-3cm tear on my right hamstring. Arriving back at the hotel lobby I started to shale like crazy. I was brought a hot soup, and it took 40 minutes to get my temperature up to the right level. Yet when I tried to stand up, I couldn't! It was like the connection between muscle and brain had been cut. It was also at the point that I started to feel unbelievable pain in my hamstring – like the anaesthetic (from the cold) had finally worn off.
I eventually had to be helped up, although that night at the after-party my mind was still in a haze and at one point I wondered whether I had completed the race or whether I needed to still do so!

It was that night, I first thought about making amends at the European Championships but rather than miss a big chunk of training because of the injury, I had to put in place a plan to speed up the injury process.
I was expected to miss six weeks training although some years ago, Arjen Robben, the Netherlands international footballer, suffered a similar injury but was back on the pitch again only a couple of weeks later. He had been treated by an old-style physio which required a lot of hands-on work, stretching and sprinting. My physio Peter adopted the same approach. Shortly after the injury, I was lifting and doing squats, although it was scary and I had to trust my body.  Within ten days of Boston I was doing 100m sprints in 15 seconds and on June 1 – just over five weeks after sustaining the injury – I ran 30km in one hour and 50 minutes. 
From that moment on I felt strong, more so than before Boston. My long runs and track runs have improved and I am very optimistic of a good showing in Berlin, where I hope to win a medal.
I have never previously won a European medal, and it would be nice to do so. I missed the 2014 Europeans because I had just completed my first marathon only a few months earlier in Enschede and in 2016 the Europeans staged a half-marathon, but I was busy preparing for the Rio Olympic marathon.
A championship marathon is quite different from a big city marathon, where I often run behind my own pacemakers with little regard for what is going on at the front end of the race. At the Europeans, however, I can play a more influential role on the pace. It may also be hot. The race starts at 10am and I could face temperatures of up to 30c with high humidity, so the conditions could be extremely challenging.
My ambition is simply to be the best shape I possibly can be on race day and my tactics during the early stages of the race are to get a feel for the weather and to read how the other athletes are shaping up. After which, it will be game on in the race for the medals.
Even today on my easy runs I think about the Boston Marathon and what if. I have never finished a race so disappointed, but so powerless to do anything about it. Should I climb the podium in Berlin, it will be the perfect compensation.