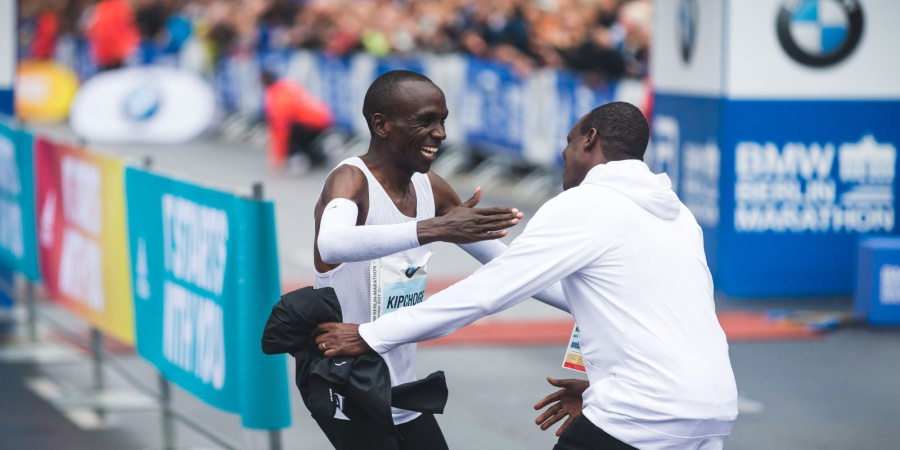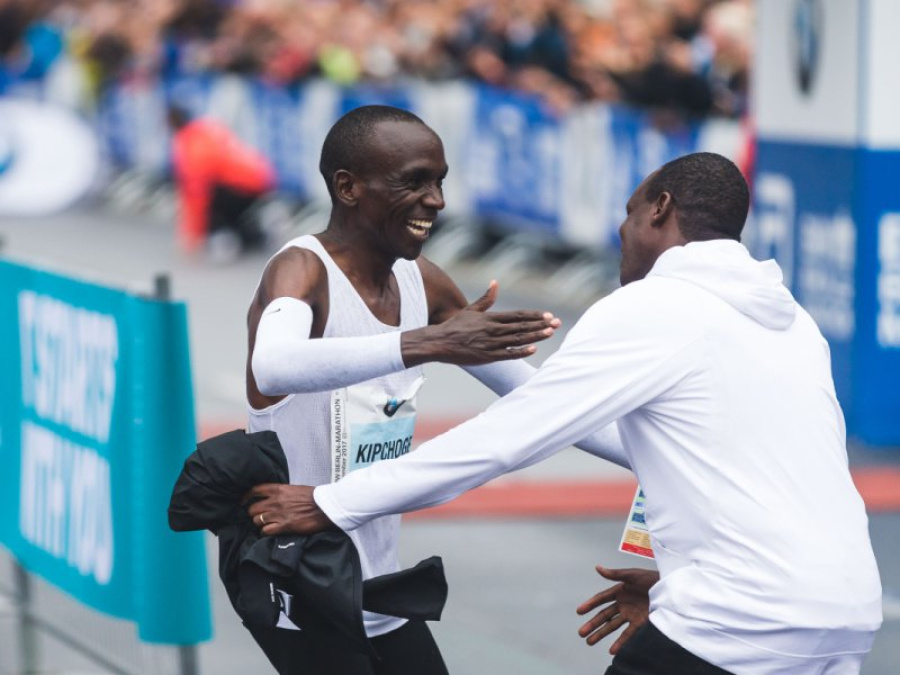 The Awesome Foursome
NN Running Team superstar Eliud Kipchoge, with input from his lifelong coach, Patrick Sang, reflects on the four most significant races of his career so far.
1 – 2013 Hamburg Marathon – 1st 2:05:30
Coming off the back of the 2012 season in which Eliud missed out on making the Kenyan track team for the London Olympics, the two-time former Olympic 5000m medallist (he won bronze in 2004 and silver in 2008) decided to step up to the marathon.
As a world-class performer on the track and former World 5000m champion he was in high-demand for his marathon debut. His coach, Patrick Sang, admits London were keen to sign him for the 2013 edition but believed the Hamburg Marathon offered a more sensible option for his 42.2km debut.
"We had a two-hour discussion before we agreed that Hamburg would be the best place for him to compete, "explains Patrick. "The marathon was new territory with many new things to learn. I felt he could have gone to London and maybe finished second or third but if he won in Hamburg he would gain more mental satisfaction and would enjoy a better experience."
The approach proved very astute.
Eliud broke away from the five-man lead pack at 33km and cantered to victory in a course record time of 2:05:30.
"I was proud of the way I ran and I really enjoyed the distance," he explains. "I gained a lot of confidence from winning my first marathon. I did not expect to run such a quick time."
For Patrick, the performance was enormously satisfying for several reasons.
"Firstly, Eliud's performance proved that he had worked hard in terms of his preparation. Secondly that he listens to advice and thirdly it gave personal satisfaction to me, as a coach across the different disciplines, that I could coach the marathon."
2 – 2015 Berlin Marathon – 1st 2:04:00
In a race in which Eliud won and set a new personal best time despite having lost his insoles for the majority of the race revealed much about the incredible mental tenacity of the Kenyan running icon.
"My insoles came loose after 1km," he explains. "I knew I still had a lot of running to do but I had to keep calm. I knew my training had gone well so there was no need to panic."
Retaining his cool after both insoles had worked their way out and were flapping around his ankles by 16km – he mounted his winning bid between 31-35km to destroy the field and pull out a decisive winner from countryman Eliud Kiptanui by a winning margin of 1:21.
Patrick first became aware of the insoles issue after a journalist inquired whether Eliud was wearing a new style of shoe! Preferring not to focus on Eliud's shoes for the remainder of the race, coach was relieved to discover that at the end of the race Eliud had not sustained any serious damage to his feet.
"What he did in Berlin confirmed to me that Eliud has a unique mental strength," explains Patrick.
Eliud himself was huge satisfied with the performance.
"To run such a fast time with the insoles disturbing me was not easy," he explains. "But I managed to get through it and this is why it is such a significant race for me."

3 – 2016 London Marathon 1st 2:03:05
It is perhaps not a surprise that Eliud should select his personal best marathon performance for one of his awesome foursome – the great surprise was that he came within eight seconds of Dennis Kimetto's world record time in such wet and windy conditions.
In a race run at a blisteringly fast pace, Eliud made his decisive move just before the 40km checkpoint to kick clear of nearest pursuer Stanley Biwott and cover the final 2.2km in a red-hot 6:16 to close in on the world record.
Nonetheless, despite having come so close to Kimetto's mark there was no sense of regret from the Kenyan.
"I was not expecting to run that quickly," he says. "I was elated with the performance and satisfied with the time."
Patrick was once again hugely impressed with his protégé, who just four months later would go on to take the Olympic marathon title.
"What we saw in London is Eliud could withstand challenging weather conditions and just like in Berlin (when the insoles came loose from his shoes) he has a unique way of handling these challenges."

4 – 2017 – Breaking2 – 1st 2:00:25
In the countdown to the Nike Breaking2 Project, Eliud and the other competing athletes had faced a deluge of criticism on social media that a sub-two-hour marathon was well beyond the capability of a human.
Yet Eliud refused to be sucked into the negativity preferring to adopt a positive approach.
"I took this as a motivation and I kept believing in myself," says Eliud.
Patrick admits that for three nights before the race he couldn't sleep thinking about what could go wrong and he also made an extraordinary admission which sums up the confidence and positivity of an athlete he has coached since he was a teenager.
"I think Eliud motivated me more than I could motivate him," he adds. "We made a few changes in training but I wondered would they be sufficient to move things in a positive direction. We received great support from Nike, but it was a big challenge."
Unforgettably at the Italian motorsports circuit, Eliud created history that day by running 2:00:25 – the quickest marathon in history – and tantalisingly close to the ground-breaking sub-two-hour marathon time.
The Kenyan sensation has proved the naysayers wrong and with typical understatement said as he crossed the line. "All I can say I was really happy."
For Patrick, whose body has been riddled with tension in the lead up to the event, he took time out post-race to go for a 1:20 run in a public park close to the hotel.
"It even rained and if there were some tears coming down (my face) nobody could tell because of the rain," he says with a smile.
"To me that performance showed us that there are no limiting factors to what the human can achieve."