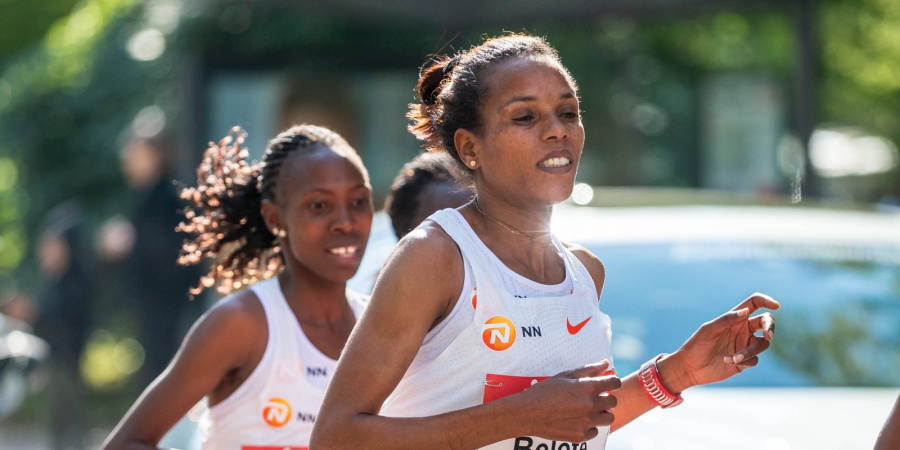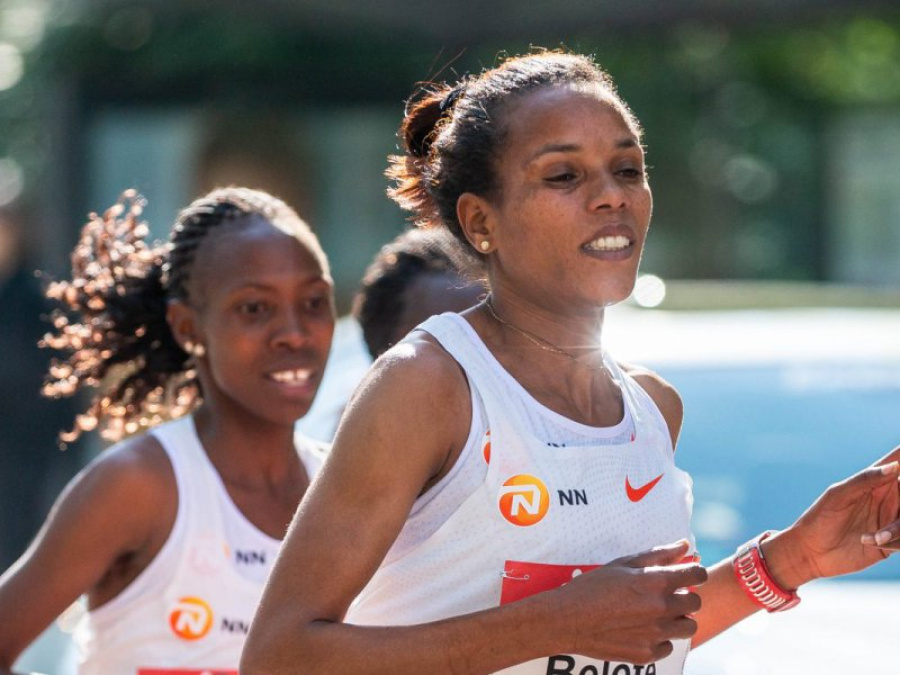 Introducing Mimi Belete
Former Olympic 1500m athlete Mimi Belete of Bahrain has shown positive early signs in her transition into the marathon. Here we find out more about the 30-year-old NN Running Team recruit and her athletics journey so far.
City Slicker
Unusually for a top East African-born athlete, Mimi Belete was not raised rurally but in the Ethiopian capital city of Addis Ababa.
"Often the best runners are brought up in the countryside where athletes often run to and from school," explains her NN Running Team coach Getaneh Tessema.
She only competed in athletics casually at school but recalls being inspired watching the Sydney Olympic Games as an 11-year-old along with her younger sister, Almensh.
"I remember watching Haile Gebreslassie and Derartu Tulu (Ethiopian 10,000m gold medallists at the Sydney Olympics) and other heroes of the sport."
Belgian beginnings
Mimi's running career did not begin in Ethiopia but shortly after she arrived in Belgium as a political refugee with her sister. Aged 17 at the time, she quickly proved a natural winning the 2007 national U20 1500m champion just a year after taking up the sport. Making rapid gains, Mimi switched nationalities to compete for Bahrain, where she finished ninth in the semi-final at the 2009 IAAF World Championships in Berlin.
"I was surprised with the progress I had made and happy to reach the semi-finals at my first major championships," explains Mimi.
Nationality switch
Training at the time under her husband, Birhanu Girma, Mimi made a major advance in 2010, trimming her 1500m personal best by more than four seconds to 4:00.25.
The adopted Bahraini athlete finished fourth over the 1500m at the Continental Cup before ending the season on a high with 1500m bronze and 5000m gold – in only her second race over the distance – at the Asian Games in Guangzhou.
"I only raced over the distance because the federation asked me," she says. "I was surprised to win."

Olympic disappointment
After finishing seventh in the 2011 World Championship 1500m final in Daegu, Belete had high hopes of a good showing at the London 2012 Olympic Games. After cruising through her heat, just before the bell of her semi-final she was shoved from behind when placed in mid-pack. Reacting instinctively, she surged to the front and held a clear lead down the back straight. However, tying up badly in the final 50m she misjudged her qualification bid, finishing sixth and failed to advance.
"I made a big mistake and missed out," she says regretfully.
Road runner
Mimi earned double silver in the 1500m and 5000m at the 2014 Asian Games but after placing tenth in her 5000m heat at the 2016 Rio Olympic Games she decided to switch her focus more towards road running largely because of a persistent problem to her left hamstring. She joined the training group led by Getaneh and began her marathon journey.
Initially, it was not an easy transition, according to her coach.
"In the beginning it was difficult because of the longer distances," says Getaneh. "She was used to track training but training in the forest was very different. Mimi is a talented track athlete with good experience and I know she can convert well to the marathon."
Marathon bow
On her half-marathon debut in Verona in February 2017 she ran a solid 69:15 but under challenging circumstances she produced a surprise on her marathon debut in Hamburg in May.
Enduring a troubled build up due to a persistent hamstring issue had been far from easy.
"I was not free or relaxed in training, always fighting," she says. "Sometimes I was almost crying in pain."
Feeling hamstring pain from the first kilometre, which she describes as nine out of ten in intensity, she still battled to the finish line, recording 2:26:06 – a quality performance which shocked her coach.
"When she came across the line in 2:26 everybody in the group was surprised," says Getaneh.
Canadian quest
Since her performance in Hamburg, regular physio has kept the hamstring problem at bay and the 30-year-old moves on to her next major test, the Toronto Waterfront Marathon in October, with optimism.
"I am still dreaming and now I dream for the marathon," she insists.
Sister act
Mimi's younger sister, Almensh, is also a top-quality athlete.
Almensh, who had a baby last year and has recently returned to training, competed in the 5000m for Belgium at the 2012 London Olympics and the pair remain close.
"She is a big supporter and we speak to each other nearly every day," explains Mimi.
Football fanatic
Mimi is a big football fan and in her downtime enjoys watching the sport on TV. She is big fan of the Spanish national team and reigning Spanish League champions Barcelona.
"I like the way they (Barcelona) play and my favourite player is (Lionel) Messi, he is a very skilful player, "she says.