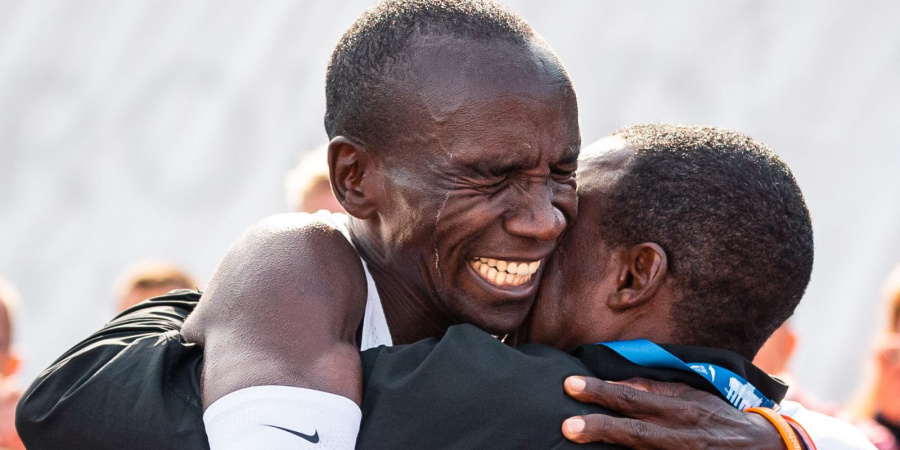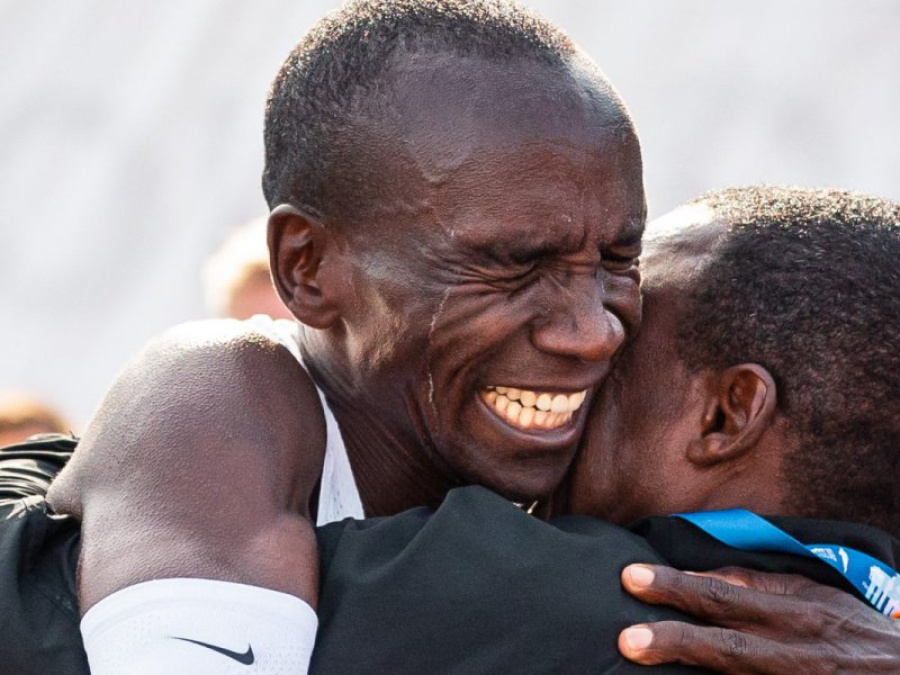 Eliud Kipchoge – 12 reasons
Eliud Kipchoge created shockwaves around the globe by obliterating the previous marathon world record and running an electrifying 2:01:39 on the streets of Berlin. Here we offer 12 good reasons why the remarkable Kenyan was able to achieve the goal.
Be raised in the right way
Born the youngest of five children in Kapsisiywa, Nandi County his father died when Eliud was very small. However, his mother, a schoolteacher, was a hugely positive role model.
"She taught me to work hard and to respect all human beings," explains Eliud.
Find a good coach
It was Eliud's good fortune to be raised within a few kilometres of Patrick Sang – the man regarded as one of the world's finest endurance coaches. Patrick, a former world and Olympic steeplechase silver medallist, first saw Eliud impress as a 16-year-old in a local cross country race and after taking up the coaching reins shortly after they have enjoyed an uninterrupted coach-athlete relationship for the past 17 years without one cross word.
"As coach he (Patrick) plays a big role in nurturing and taking care of talent, he is very good at that," explains Eliud of his coach's qualities. "But he is much more than that, he is a life coach and he is good at telling us that we need to endure life in difficult situations and that there are two sides to life."
Enjoy a good track career
Before focusing his efforts on the marathon at the back end of 2012, Eliud was one of his generations finest track athletes. Aged just 18 he caused a major surprise to defeat track icons Hicham El Guerrouj and his NN Running Team colleague Kenenisa Bekele to win the World 5000m title in Paris. He also landed Olympic 5000m silver and bronze medals over 5000m at the 2004 Athens and 2008 Beijing Games and his 5000m best of 12:46.53 still stands sixth on the all-time lists. This speed has stood him in good stead when moving up to the marathon.
It has given him the background to complete Sunday's BMW Berlin Marathon at an eye-popping average of 2:52 per km or when breaking it down further 68.8secs per 400m!
Take care of your body
During a stunning 16-year international career, Eliud has suffered very few injuries and he attributes this to the fact he takes the time to look after his body.
"I do stretching. I'm careful about massage I do aerobics for the first month of every season," he says. "I do the maximum I can to build up good conditioning."
Overcome challenges
Throughout his marathon career, Eliud Kipchoge has proved adept at coping with all manner of challenges. He thrived in unseasonable high temperatures to win the London Marathon in April. He triumphed in the pouring rain at the 2017 Berlin Marathon and even claimed victory on the streets of the German capital two years earlier despite his insoles coming loose in both shoes and finishing the race with bloodied feet.
"What we saw in London is Eliud could withstand challenging weather conditions and just like in Berlin he has a unique way of handling these challenges," explains Patrick. "What he did in Berlin (2015) confirmed to me that Eliud has a unique mental strength."
Keep calm and carry on
Possessing a patient and calm temperament has proved ideal for the cauldron of elite marathon running.
"Keeping calm allows you to think more clearly and being patient allows you to be prepared on how best to run a beautiful race," explains the unflappable Eliud.
Planning is key
Since winning his debut marathon in Hamburg five years ago, Eliud has understood the value of planning ahead of a 42.2km challenge.
"If you don't prepare well in the marathon you cannot succeed," Eliud insists. "Before any big marathon I will sit down and put together a plan with my management team and my coach, Patrick.
Patrick says the pair will work out the plan backwards from their target race.
"In this way we can evaluate a length of time and look at the specific fundamentals of training," adds Patrick. "So, by the time Eliud arrives at the race, all the elements (he needs to perform at his best) for the race should have come together." 
A thirst for learning
A naturally curious person, Eliud is an enthusiastic reader of self-help books and has never been shy in exploring the world of other coaches – even from outside of athletics.
For example, earlier this year Eliud travelled to London to spend some time with the Premier League football team Tottenham Hotspur, where he met their coach Mauricio Pochettino and took on board some valuable lessons.
Have a great training group
Eliud has long had the benefit of training with a top-class group of athletes out of the Global Sports Communication camp in Kaptagat. However, since the launch of the NN Running Team in April 2017 the world marathon number one has enjoyed the very finest of support.
"We (the NN Running Team) are like a team of brother and sisters. It is hard to imagine we come from many 100s of kilometres apart (in Kenyan, Uganda and other parts of the world)."
Be humble
Eliud may be known as "The Boss Man" at his training group in Kaptagat but a more humble leader you could not wish to meet. He may be a global superstar and multi-millionaire but he is quite happy to muck in with the rest of the training group cleaning the showers and collecting the leaves around the compound.
Do not neglect speed
Eliud may be an endurance athlete regularly clocking up training runs of 40km at an altitude of more than 2500m but in more recent times thanks to the input of his coach, the 33-year-old marathon great has worked extra hard on his speed.
"Coach has introduced some really fast workouts on the track, which are not that common as far as marathon is concerned but which have helped a lot when training."
Possess unwavering self-belief
Eliud's mental toughness is second to none and his belief in his own abilities is extraordinary. During the Nike Breaking2 project – when Eliud ran an ear-watering 2:00:25 – many cynics scoffed at the attempt but through sheer force of will he made them eat humble pie.
For the 33-year-old marathon extraordinaire his maxim for life is clear.
"I want it to be that no human is limited," explains Eliud. "I would like to tell every living soul in the world that anyone can do whatever they want, all they need is to believe and trust in themselves."