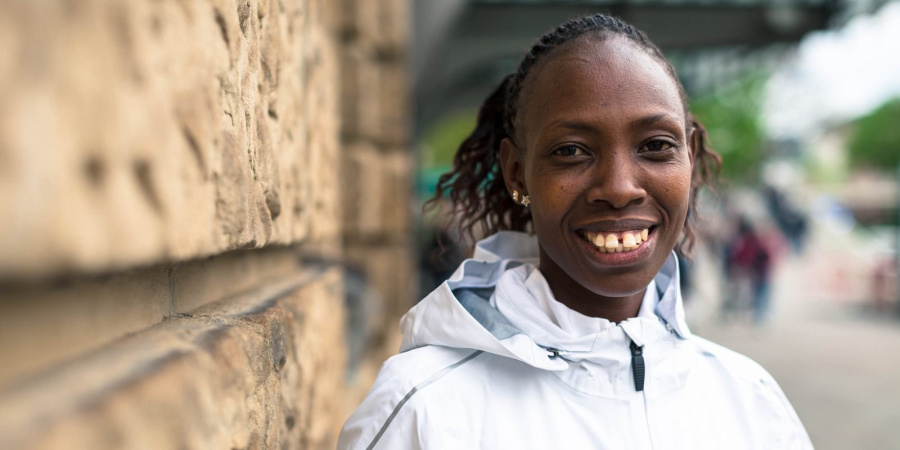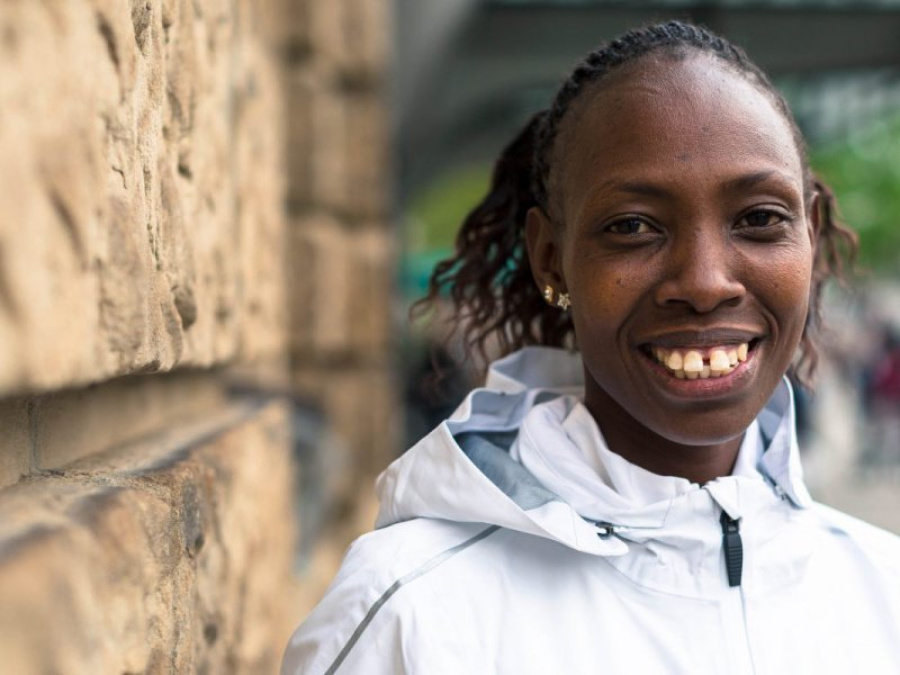 Introducing Selly Chepyego
The experienced Kenyan distance runner has enjoyed a well-rounded life and career so far. Ahead of her appearance in Sunday's Ljubljana Marathon the engaging mum-of-two offers a little more of her fascinating life journey.
Sweet incentive
Born the fourth oldest of ten siblings in the village of Cherengam near the town of Kitale, Selly discovered her talent for running at primary school.
"During training sessions the boys could not catch me," recalls Selly. "The main group of girls set off first, then I would follow a little further back and then the boys group would start their training run a little later. If I beat them, which I did quite a few times, I knew I would be rewarded with a glucose drink at the end of the run. I loved that drink. It tasted so sweet!"
Global gold
Aged just 15 her considerable talent earned her selection for the Kenyan World U18 Championships in Debrecen, Hungary. Running barefoot, Selly announced her arrival as a potential future star by destroying the field to win the 3000m by more than two seconds in a time of 9:09.95.
"The whole trip was an amazing experience," she recalls. "It was the first time anyone in my family had been on a plane and I was proud I held up the family name well. I stood on the medal podium thinking, 'is this really me or somebody else'.
Eastern promise
Rather than kick-on from that early international success, Selly took the decision to focus on her high school studies for several years and limit her competitive appearances to the domestic scene only. However, in 2005 after speaking to a fellow Kenyan runner, she became excited by the thought of heading to Japan to help set up a better life for her family. She pursued the possibility and the following year the Kyudenko team in Fukuoka invited her to start a new life in the Far East.
"Because I am from a humble background with a big family and many siblings I thought by moving to Japan was a big chance for me to financially help them," she explains.
Japanese learnings
Thousands of miles from home and exposed to a very different culture was, initially, far from easy, but after mastering the language she settled into life in a city famous for its annual high-class marathon.
She enjoyed some track success in the 5000m and 10,000m and became a well-known figure on the streets of Fukuoka. However, Selly also feels she learned much from the Japanese people.
"I learned that the Japanese work with a passion in everything they do and always strive to be the best they can be," she says.
Baby break
In 2008 she returned to Kenya to give birth to her son, Brian, before heading out to Europe the following year. Focusing on the road, she enjoyed a solid competitive year in 2009, highlighted by a 75:27 half marathon PB in Hamburg.
Returning to Japan she continued to develop in Fukuoka and made a significant breakthrough in 2011, lowering her 10,000m PB to 31:27.98 and cracking 70 minutes for the first time in the half-marathon.
World success
Selly, who is coached by a combination of Keita Fuchino of Japan and Kenya's NN Running Team coach Patrick Sang, continued to improve and qualified for the 2013 Moscow World Championships by finishing third in the 10,000m at the Kenyan World Championship Trials.
Her experience in the Russian capital, however, was to prove bittersweet. Gunning for a top four finish, she placed seventh – albeit in a PB of 31:22.11 – behind gold medallist Tirunesh Dibaba of Ethiopia. Yet it was in December that year when winning a half-marathon in a new PB of 68:24, which was to change the whole direction of her career.
On the back of this performance, the ever-smiling Selly secured selection for the World Half Marathon Championships the following March in Copenhagen. It was on Danish soil when she came of age, winning bronze in a PB of 67:52 – 23 seconds behind gold medallist Gladys Cherono.
"To win bronze meant a lot," she says. "It gave me motivation to move to the marathon and showed me anything was possible."
Marathon gateway
Under the encouragement of her coach, Selly made her marathon bow on Japanese soil at the 2015 Tokyo Marathon. The Kenyan produced a rock-solid debut time of 2:26:43 for fourth and recalls:  "To me that race was all about finishing and not a time. It was amazing to finish fourth, but it was not easy."
Tough return
Taking a second baby break from the sport, Selly gave birth to daughter Brilliant – so called because the name means very bright and also partially matches the name of her son Brian – in January 2017.
However, the road back to full fitness has not been easy.
"It was tough for me because after Brilliant was born I was overweight," she explains. I had a caesarean, it was difficult. I weighed 67kg when my normal training weight was 42-43kg.
Initially instructed to walk to help lose the weight she gradually returned to jogging and it was only in January this year when she reconnected with her training group.
Future plans
Based out of the NN Running Team camp in Kaptagat, a combination of a babysitter and a relative help look after her two children during the week, before she heads back home to spend time with the kids on a weekend. It is a big sacrifice but one she has reconciled herself with in pursuit of her athletics ambitions.
She completed her second ever marathon in Hamburg in April, recording 2:38:16 for eighth, but knows she has the ability to perform better.
Now aged 33, the amiable athlete adds of the future.  "I am a strong athlete, so I never lose hope. I want to be a top athlete – one that can run 2:18-2:20 (for the marathon)."