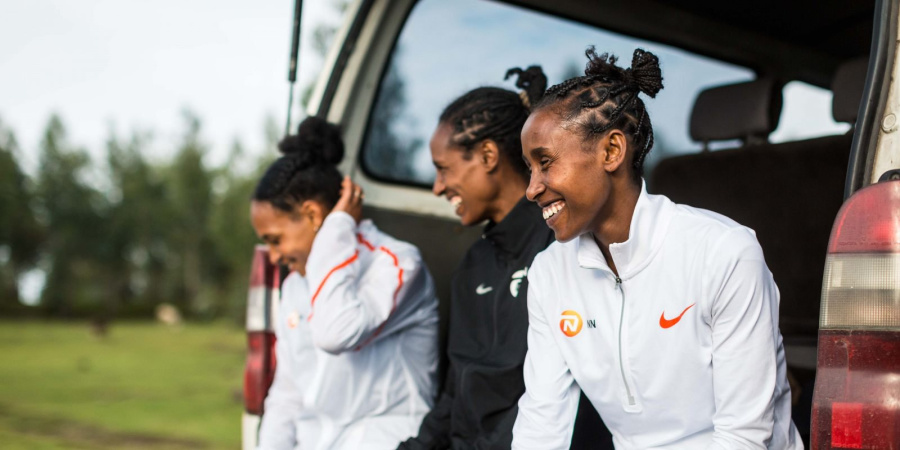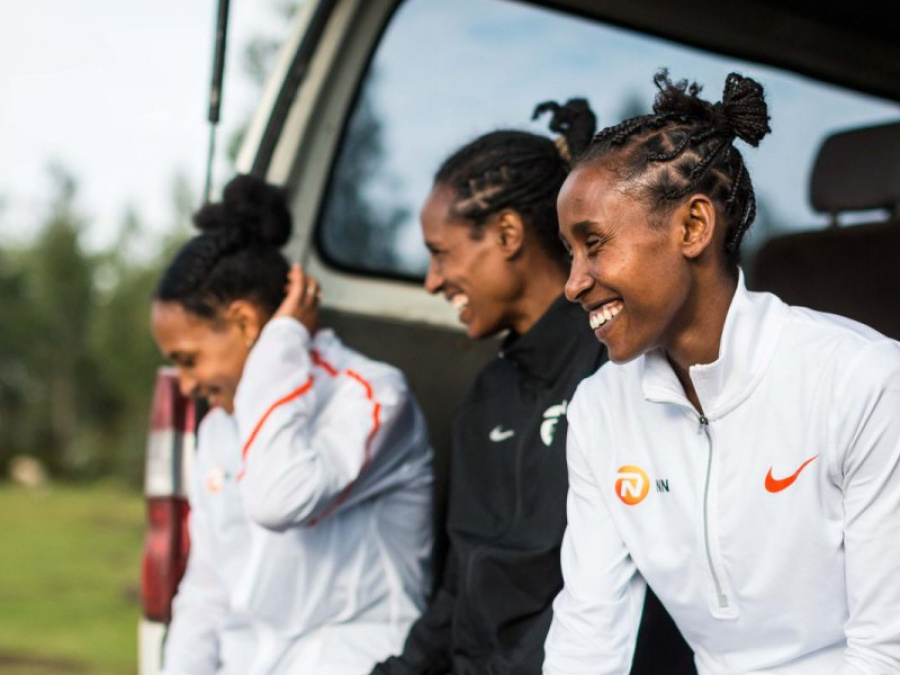 Here come the girls
It is no coincidence training partners Tadelech Bekele, Ashete Bekere and Azmera Abreha have all enjoyed noteworthy performances over the past 12 months or so. We focus on the Getamesay Molla-coached trio to find out more about their ascendency.
The succinct comment made by Getamesay Molla of his three most prominent women runners as "like a family", which perhaps provides the best clue for their more recent success.
Led by established NN Running Team star Tadelech Bekele, who last month became the first woman in 37 years to secure back-to-back Amsterdam Marathon titles, and supported by Ashete Bekele (no relation), who set a 2:23:27 PB for fourth at the Paris Marathon and the relative newbie Azmera Abreha, who earlier this month shattered her personal best to run 2:21:51 for second in the Shanghai Marathon, the triumvirate are clearly excelling. 
For Getamesay, a former track and half-marathon runner who moved into coaching nine years ago, the development of the trio has brought enormous satisfaction.
With all three boasting an excellent attitude to training, Getamesay adds: "They are always willing to help one another out with Tadelech taking on more of an advisory role to Ashete and Azmera. I've had great pleasure coaching these athletes, who have become successful. This has made me happy."
Training together for two years, the trio rarely socialise outside of the sport but when it comes to running their share a tight bond.
"It is very simple," explains Tadelech, 27, who set a personal best of 2:21:40 to finish third in April's London Marathon. "Because we work very hard and the results have followed we are motivated to help each other improve further."
Azmera, the least experienced of the threesome who nonetheless wiped more than three-and-a-half minutes from her PB with that eye-catching 2:21:51 clocking in the Shanghai Marathon earlier this month, adds: "The example we look up to is Tadelech because of her results."
Training at various locations in and around the high-altitude Ethiopian capital city of Addis Ababa, the group have slowly matured under the guidance of their coach.
In fact, Ashete, an experienced marathon performer, believes Getamesay's key influence should not be undervalued.
"The great quality of our coach is he treats everyone equally," she adds. "He is a leader and after each race he evaluates everything in detail. He assesses everything whether it a good result or a bad result and because of that we are improving all the time. His approach is similar to that of a teacher and he always tries to do the best for the group. He clearly has a good training programme because everyone seems to improve under him."
Without doubt, the quality of the athletes in the group helps raise standards and while sessions are always highly competitive, Tadelech insists this never spills over to create negative emotions between the trio.
Following in the footsteps of past Ethiopian female running giants, Tadelech is motivated to play her part in inspiring the next generation of women to run.
"Gender equality in Ethiopia was not so good in the past, but slowly it is getting better and part of this is more ladies are involved in running," explains Tadelech. "We have to fight, train hard, win and show we are successful. That is important."