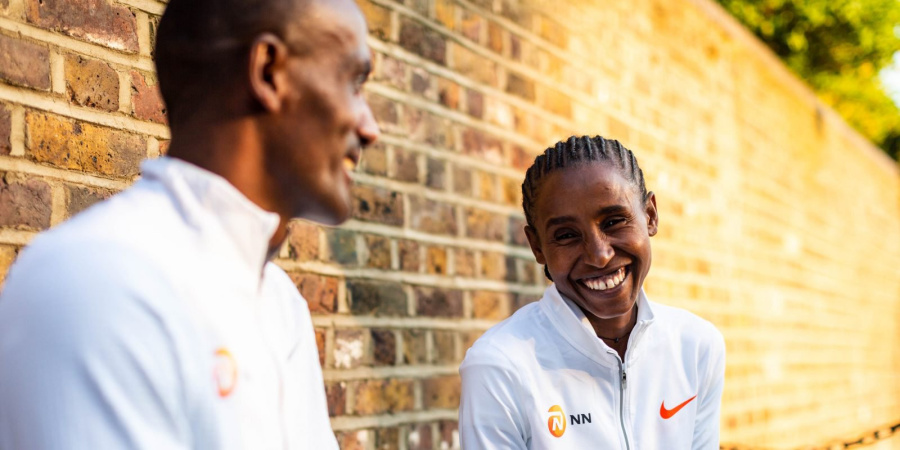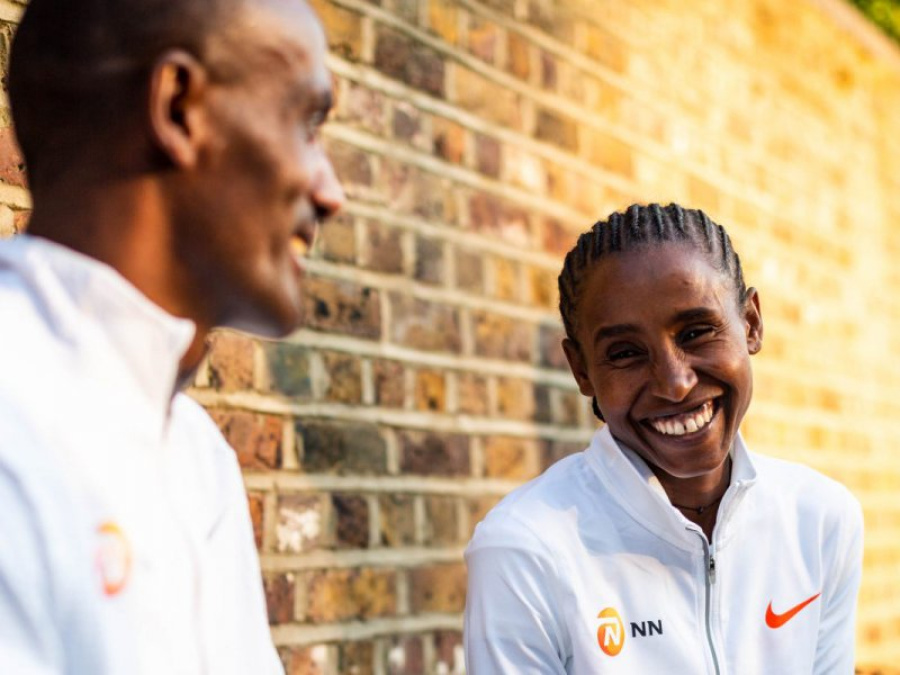 Coach inspires Tadelech to glory
Ethiopia's Tadelech Bekele is, arguably, the NN Running Team's most prominent female star following a hot streak of results. Here the 27-year-old marathon shares some of the secrets of her success and just why she believes her best is yet to come.
There is little doubt whom Tadelech Bekele credits as the driving force for her current success.
When quizzed about her run of three PBs and two victories in her past four marathons she says: "It has led to happiness for me, but it has also led to happiness for my coach, who works very hard and has done so much for me."
It says much about the personality of Tadelech, who was born in Debre Berhan the same city as Ethiopian distance running icons Abebe Bikila and Gete Wami, that she wished to instantly acknowledge the key role Getamesay Molla has played in her development.
Winner of back-to-back Amsterdam Marathons in 2017 and 2018 and third place finisher in April's London Marathon, Tadelech is right up there in the top echelon of women's marathon runners.
The Ethiopian endurance star is currently riding the crest of a wave but she was no overnight success requiring a combination of patience, discipline and hard work to attain her current status.
The victim of a dog bite as a young child and experiencing leg pain for several years, she was introduced to running as a 12-year-old after a doctor recommended regular exercise as a means to manage the long-standing injury.
Quickly discovering the pain subsided when running, she persisted with the sport but admits she was no superstar in her youth and it was only later after joining the Ethiopian Prison Club she start to make an impact.
Competing on the international road racing circuit from 2011 and earning some half-marathon success it was only after making her marathon debut in Berlin in 2014 and running 2:23:02 for fourth did she find her true calling.
Possessing bundles of natural endurance  she trimmed 11 seconds from that time at the 2015 Dubai Marathon before injuries stalled her progression the following year.

However, since running a personal best of 2:22:23 for third in the Prague Marathon last May, Bekele has continued to improve posting a time of 2:21:54 to win the Amsterdam Marathon last fall and then chipping a further 14 seconds from her best time to place third in London.
More recently Tadelech became the first woman in 37 years to win successive Amsterdam Marathon titles with a 2:23:14 clocking securing victory.
"My performance in Prague helped a lot," explains Tadelech, one of eight siblings, who recently bought one of her sisters a house. "That gave me the belief I could do much better in the future, if I continued to train well."
In preparation for her second Amsterdam victory, Getamesay, who leads a training group of athletes including Ashete Bekere (2:23:27) and Azmera Abreha (2:25:23), also tweaked Tadelech's training programme as he sought greater speed out of his athlete.
"We used to train on the track every second week but we changed that to made sure it was once a week," explains Getamesay. "We tried to work more on her speed and also increase the pace of the sessions. We feel this has made a big difference."
Tadelech has also benefited from training alongside quality athletes such as Bekere and Abreha every day. Meanwhile, regular massage has also aided her recovery between training sessions, which has also played its part in her more recent success.
For Getamesay, Tadelech is a dream to coach.
"Tadelech is a very quick learner and is very focused on training," he explains. "She always has a very good attitude and shows good discipline. Tadelech is always focused on more success. Like many top athletes she is never satisfied, she is always striving for better." 
Despite winning the 2017 Amsterdam Marathon she expressed frustration that she missed out on Meseret Hailu's course record of 2:21:09. Pleased to finish top three in the London Marathon – behind race winner Kenya's Vivian Cheriuyot – she nonetheless acknowledges she must work harder in her quest to improve.
"If you compare me with the top Ethiopians, I'm not yet good enough," says Tadelech who accepts she needs to improve in every facet of her running, but especially her speed.
In the longer term her coach believes the 2019 World Championships and 2020 Olympic Games could be a possibility but what does Tadelech believe she can achieve over the 42.2km distance?
"It is difficult to say but I think 2:17-2:18 is possible," she says. "All I think about is improving, improving, improving."