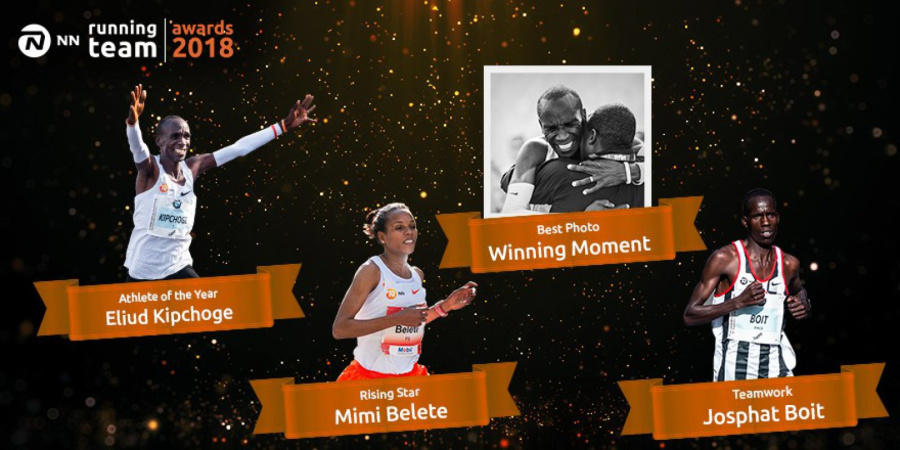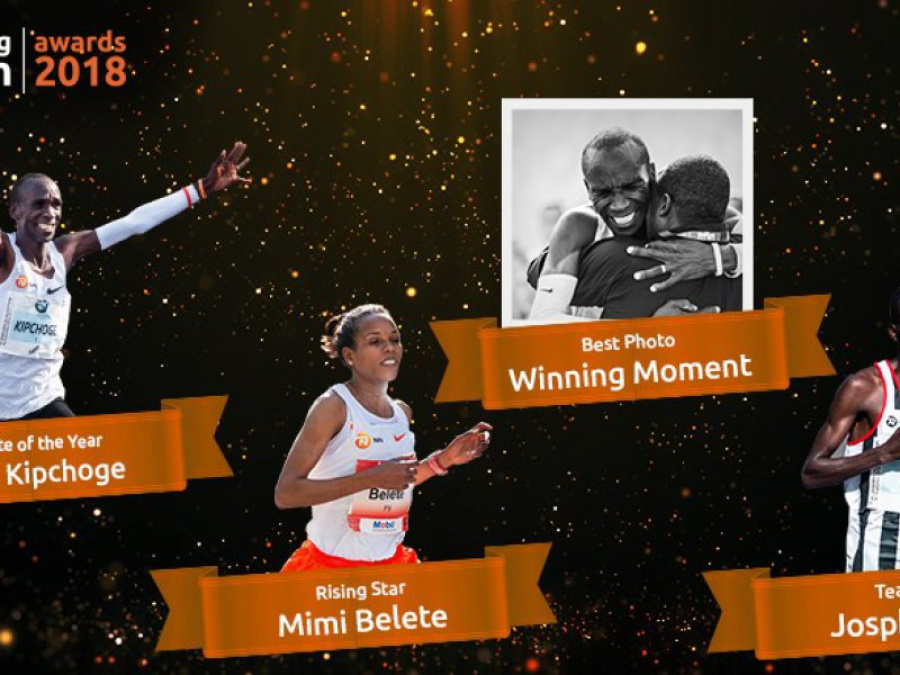 NN Running Team Awards 2018
The inaugural NN Running Team awards were determined by you the public in our social media poll. We reflect on our winning quartet and how and why they earned your vote.
Athlete of the Year – Eliud Kipchoge
No athlete quite embodies the ethos and success of the NN Running Team quite like Eliud Kipchoge, so it was little surprise that you the public overwhelming voted for the Kenyan superstar following his year of jaw-dropping success.
After opening his competitive year with a third London Marathon victory (2:04:17) in baking hot conditions, Eliud then produced the defining performance of his career by obliterating the previous world marathon record by 78 seconds on the streets of Berlin.
Recording a dazzling 2:01:39 – with a halfway split of 61:06 and an eye-popping second half of 60:33 – Eliud had ushered in a new period of possibilities for the marathon and by any measure is now the finest 42.2km runner in history. A winner of ten of his 11 official marathons, including his past nine on the bounce, the 34-year-old known as "The Philosopher" has racked up seven Marathon Majors titles as well as the 2016 Olympic marathon title in Rio. 
A leader of the NN Running Team training group in Kaptagat, where his humble but disciplined nature has filtered down to his training partners, there is little doubt his accomplishments will stand the test of time and his 2018 campaign will live long in the memory.
Poll
Eliud Kipchoge – 91.1%
Joshua Cheptegei – 5.3%
Geoffrey Kamworor – 1.6%
Tadelech Bekele – 1.5%
Solomon Deksisa – 0.5%
Rising Star – Mimi Belete
In a very competitive category, Mimi Belete took out the Rising Star award after enjoying a huge breakout year in the marathon. Born in Ethiopia but arriving in Belgium as a political refugee in her teenage years, Mimi has for much of her international career represented Bahrain.
Starting out as a top-quality track performer, Mimi secured Asian Games 5000m gold in 2010 before the following year showing her class to place seventh in the World Championship 1500m final in Daegu.
Injury curtailed her career development and after failing to advance from her 5000m heat at the Rio Olympics she switched to the road and the coaching of NN Running Team coach Getaneh Tessema to fulfil her ambitions.
Making an encouraging marathon debut in Hamburg in April, where she recorded a time of 2:26:06 despite struggling with a hamstring injury for much of the race, Mimi made a huge advance to win October's Toronto Waterfront Marathon in a classy 2:22:29 to further emphasise her hugely exciting potential.
Poll
Mimi Belete – 52%
Stella Chesang – 28.5%
Birhanu Legese – 19.5%
Photo of the Year – Winning Moment (Eliud Kipchoge and Patrick Sang)
Perhaps no image better encapsulates the most cherished moment of the 2018 NN Running Team year then this heartfelt hug between Eliud Kipchoge and his lifelong coach Patrick Sang moments after the Kenyan had shattered the world marathon record in Berlin.
The pair grew up just a few kilometres apart and Patrick took on his protégé's coaching after Eliud approached him to ask for a training progamme at the age of 16.
Since then Patrick has acted a coach, mentor, teacher and father-figure to Eliud overseeing a glittering career which includes a World 5000m title, three Olympic medals and the most impressive marathon record in the history of the sport.
Captured by talented NN Running Team photographer Dan Vernon, Patrick Sang says of this soulful image: "This picture evokes so many emotions in me. It was, in some ways, a reflection of our journey together and that we had arrived at our destination."
Poll
Winning Moment – 73.8%
Training Uganda – 11.5%
Fly like Bekele – 9.1%
Team Chicago – 5.6%
Teamwork – Josphat Boit
Eliud Kipchoge has long held the belief that very little can in the sport can be achieved without the importance of teamwork and the world record-holder will personally acknowledge the key role our 2018 Teamwork award winner Josphat Boit played in helping Eliud achieve his awe-inspiring world record in Berlin.
The 35-year-old Kenyan-born athlete, who has represented the US since 2013, is a quality athlete, boasting a marathon PB of 2:12:52 and 21.1km best of 61:33, when finishing 21st in the 2014 World Half Marathon Championships in Copenhagen.
Eliud selected Boit among his three pacemakers in Berlin, and although he unexpectedly lost one after 10km and another at 15km it was Boit who took up the mantle for the much of the crucial middle phase of the race. Having slipped well off the halfway target time at around 15km, Boit managed to increase the speed to claw back the seconds and guide the Olympic champion through halfway just five seconds down off his goal of 61:00.
The pacemaker could only last to around 25km but played an important role in the Kenyan's world record effort – passing halfway in a time 28 seconds superior to his personal best time for the 21.1km distance.
Poll
Josphat Boit – 67.1%
Marc Roig – 19%
Laban Korir – 9.9%
Marius Ionescu – 4%