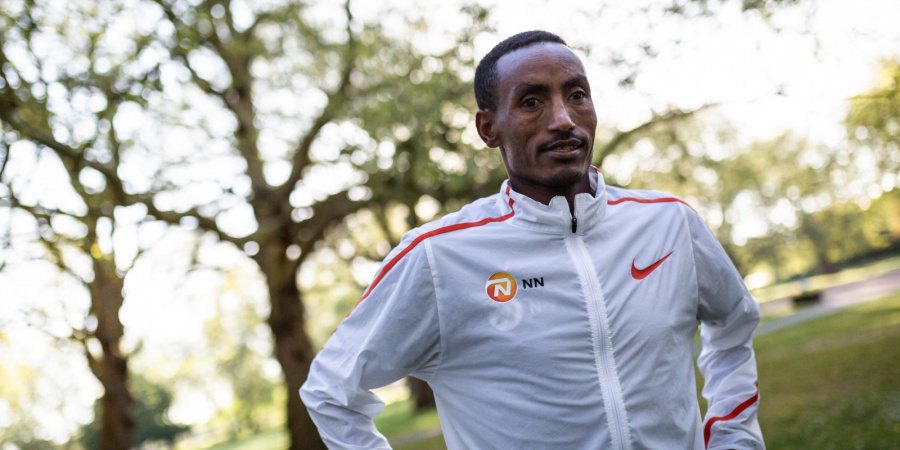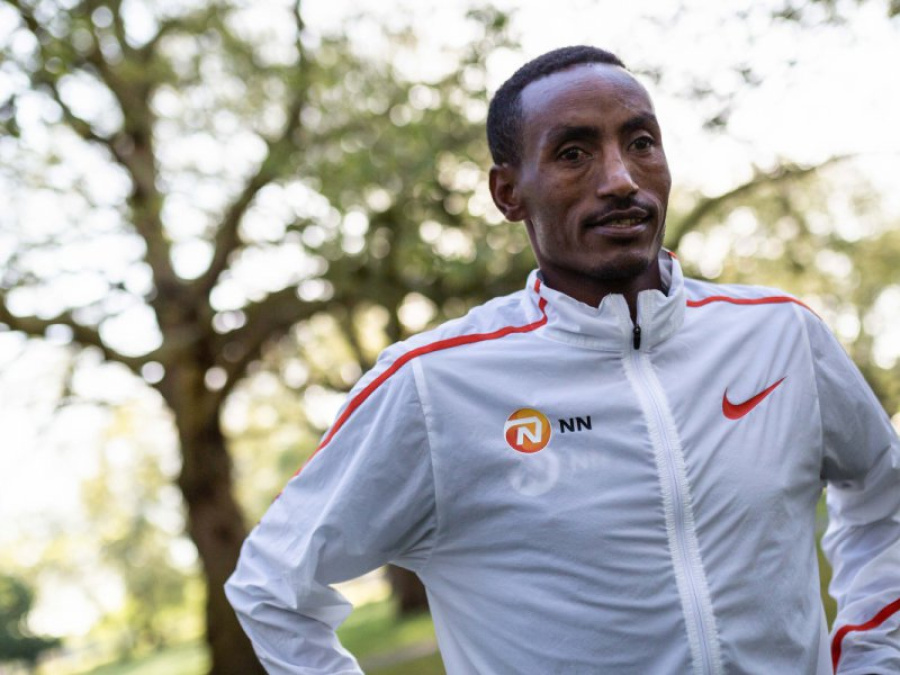 Kick like a Mule
Eliud Kipchoge may have stolen the headlines in April's London Marathon but the Kenyan distance running icon was not the only NNRT athlete to impress. Here we turn our gaze to Ethiopian Mule Wasihun, who finished third - behind Eliud - in a scintillating PB of 2:03:16 to find out more.
When asked at the official meet hotel just two days before the 2019 London Marathon how much faster he could run Mule Wasihun gave an assured and precise response.
"I'm thinking 2:03," answered the NN Running Team athlete, who last October posted a lifetime best of 2:04:37 at the Amsterdam Marathon.
A little under 48 hours later his prediction came true as Mule entered a new marathon realm by running 2:03:16 to place a brilliant third – having kept pace with the world marathon record-holder Eliud Kipchoge up until around 39km.
Yet the man who hails from a village near the city of Gondar in Northern Ethiopia has never lacked belief. In fact, when quizzed what he feels his main attribute is; he replies without hesitation "self-confidence".
A former 400m and 800m athlete, it was only after a coach astutely identified Mule's endurance potential and switched the then 17-year-old to the 5000m did he discover his true calling as a distance runner.
By the age of 19 he had scampered to a handy half-marathon PB of 60:35 in Nice – the same year (2013) he linked up his current coach and mentor Getaneh Tessema.
Progressing under the influence of the inspirational NNRT coach in 2015 Mule secured the Ethiopian 10,000m title and finished 11th on his marathon debut in Dubai, recording 2:10:57.
Yet it was his performance on his return to Dubai 12 months later – when he slashed more than five minutes from his PB to record 2:05:44 for fifth – which perhaps best first illustrated his exciting marathon credentials.
Since then the diminutive East African has made steady but impressive progress. In October 2017 he trimmed five seconds from his lifetime best – despite the windy conditions – to record 2:05:39 for fourth in the Amsterdam Marathon.
In 2018 he defied chilly temperatures of around 4c to smash Eliud Kipchoge's course record by 20 seconds and secure the Barcelona Half Marathon title in time of 59:44.
"That day the target was a sub-60-minute time," he explains. "The weather made it hard, so I was happy to run 59 minutes and break the record." 
Confident of a strong showing at the 2018 Rotterdam Marathon his preparations suffered a jolt when just two weeks before the race he picked up a stomach bug. He was forced to miss a week's training and the blow undoubtedly contributed to a relatively disappointing performance, recording 2:08:13 for sixth.
"Missing one week's training at such a crucial phase of the preparation definitely affected me," he explains. "I finished that race very tired. I was zig-zagging from side to side."
Mule, however, was to bounce back from the disappointment with a quality performance on his return to the Amsterdam Marathon in October last year. The diminutive Ethiopian scalping more than a minute from his lifetime best to record 2:04:37 – 31 seconds adrift of Lawrence Cherono, who set a course record.
It was yet another step up in class by the Man Utd supporting Ethiopian and although he left the Dutch capital city satisfied he also had a tinge of regret.
"I probably hit the front a little early," explains Mule. "I went to the front around 38km and I finished the race tired."
If Mule climaxed his competitive 2018 season in style – the 2019 campaign has gone up a notch once again. In February he chipped ten seconds from his half-marathon best to record 59:34 for sixth in Ras Al Khaimah before that stunning run in London.
To record 2:03:16 elevates Mule to a new level of status and respect within the marathon community and he will surely be among the favourites when he competes for his country in the marathon at the IAAF World Championships in Doha in October.
So what factors does Mule – who was "100 per cent sure" he could record a PB in London – believe have contributed to his current rich vein of form?
"Since I joining Getaneh's training group I've progressed from year to year," explains Mule, who due to the financial benefits of his road running success has bought his family a house in his home village and also paid the school fees for several of his siblings.
"The reason for my improvement is, firstly, the training system and, secondly, the NN Running Team, who have helped with areas of the training."
The extra medical support, nutritional advice and additional motivation of performing as part of a team have all played their part.
However, the 25-year-old, who has been selected for Ethiopia to run in the World Championship marathon in Doha, insists one simple ingredient since joining Getenah's training group has made a big difference.
"Before I joined Getaneh's group I hated hill training," explains Mule. "My thinking before was that hill training contributed to a decline in performance. But once Getaneh explained the benefits I accepted this and stuck to the programme. Getaneh told me that if I carry out his programme every day, I will make progress and so far he has been right."