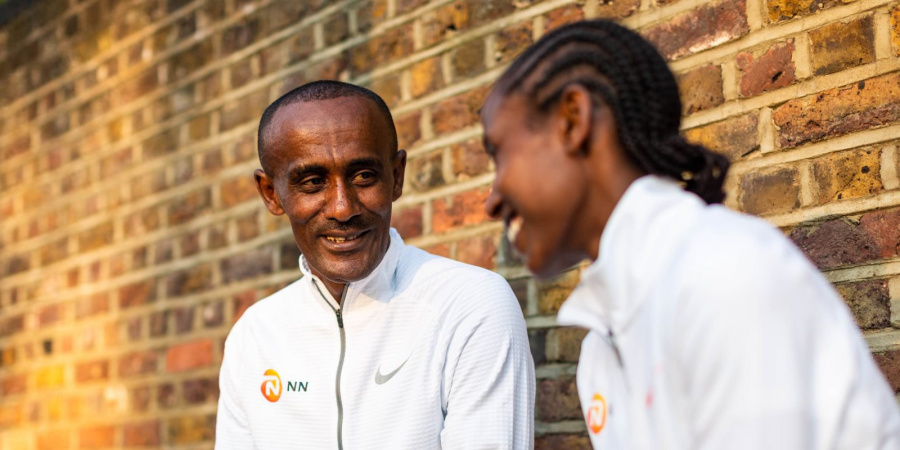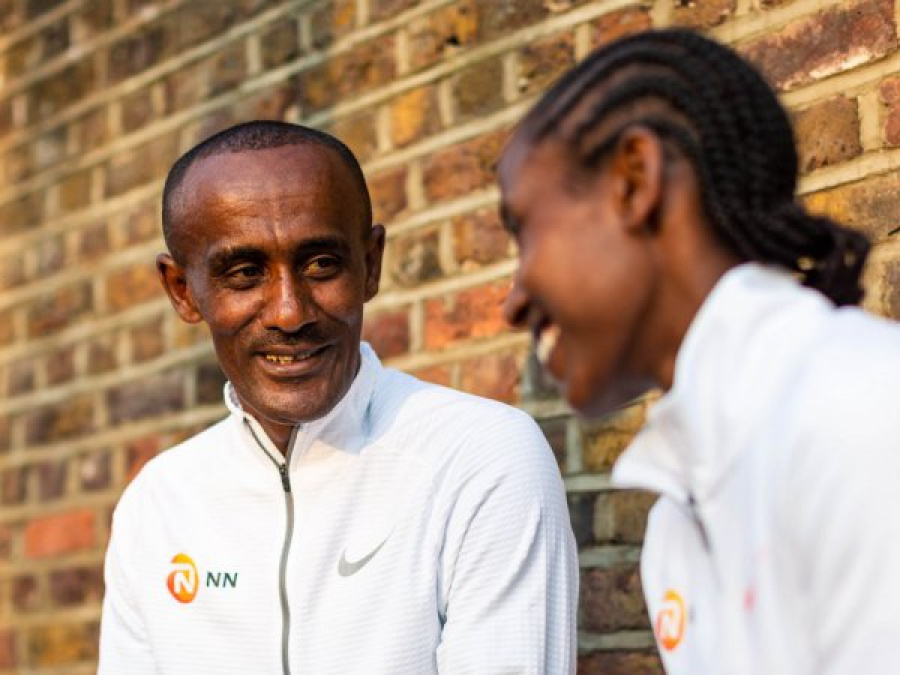 Getamesay's Gang
Getamesay Molla is one of the NN Running Team's leading Ethiopian-based coaches. Here we find out more about the man who has guided Tadelech Bekele to back-to-back victories at the Amsterdam Marathon, Ashete Bekere to success at the 2019 Rotterdam Marathon and Abrha Milaw to top of the podium at the Paris Marathon.
Running background
Born in the Ethiopian countryside, Getamesay relocated with his family aged six to live in Addis Ababa. He later took up running, starting out as a middle-distance athlete for Muge Cement before later stepping up in distance to the half-marathon.
"I trained with many great athletes, including Kenenisa Bekele, but I was not personally too successful," he adds.
Coaching Beginnings
It was after picking up an injury preparing to compete in a half marathon in Saudi Arabia, which was to change the direction of Getamesay's sporting career.
"The doctor advised that he could treat the problem with painkillers, but this was not something I was interested in," he explains. "I finished that race but I did not feel too well. It was painful. My other option was to stop training, go to university and then start a coaching course, which I did."
Mind Games
Having learned much from his previous coach, Tolossa Kotu, who had previously guided NN Running Team athlete and three-time Olympic champion Kenenisa Bekele, Getamesay started coaching in 2010.
Besides preparing his athletes physically, he also believes in the importance of developing the psychology of an athlete.
"In the 21st century if you want athletes to win, it is important to focus on the mind," he explains. "For me, 90 per cent of performing well is all about the mind."
"I encourage my athletes to work with sports psychologists. It is important for my athletes to express their feelings and by working with psychologists they can discuss their goals, which can act as a motivation."
Communication Lines
Getamesay learned much from Kotu, which he himself has implemented throughout his coaching career.
"One of his big qualities was that there was no barrier between him and the athletes," he explains. "He was always very open and very close to his athletes."
"My philosophy is similar. I don't believe there is just one line to follow and that athletes will enjoy success. I believe communication is very important; and it is not just one way. It should be an open communication with the athletes. To be well disciplined in your chosen profession is important. I respect everybody; athletes and management."
Family Progress
Coaching around eight NN Running Team athletes, Getamesay has been delighted with the progression made in the team.
Tadelech Bekele has collected back to back victories in the Amsterdam Marathon and lowered her personal best to 2:21:40. Ashete Bekele has gained hugely impressive successive victories in the Valencia (2:21:14) and Rotterdam Marathons (2:22:55) and Abrha Milaw raced to an eye-catching triumph at the Paris Marathon in April.
Others such as Azmera Abreha (2:21:51) and Azmera Gebru (2:22:52) have made seismic improvements under Getamesay's guidance and he has a very simple theory for their success.
"The main point for me is that the athletes are like one big family," explains Getamesay, who says training is split between several different locations including Sendafa, Sululta and Entoto.
"When Tadelech was preparing for London Ashete and Azmera would help them and vice-versa. Once our athletes perform well this inspires the others and each athlete is very good at giving out advice."
Versatile coach
Getamesay offers a holistic approach to training. He encourages his athletes to hit the gym to help strengthen the muscles and avoid injury. Yet his most important principal is he does not adopt a one-size-fits-all approach to his training programme.
"I treat all my athletes as an individual," explains Getamesay. "It may be that one athlete trains hard day after day, while for another athlete we recommend one day of training followed by one day off. We offer great encouragement to each other. The training age of an athlete is also very important in terms of what type of programme I implement."
Bold Ambitions
Getamesay, 39, is enjoying some consistent and impressive success with his training group but he continues to strive for even better results.
"I now need to think of bigger assignments, especially in the Gold Label marathons," he says. "I have to think of bigger races and continue to improve.
"I like the fact that as a coach I can have a positive impact on the lives of the athletes. I've made a big difference on the life of Tadelech (Bekele), for example, and this has given me a great amount of personal satisfaction."