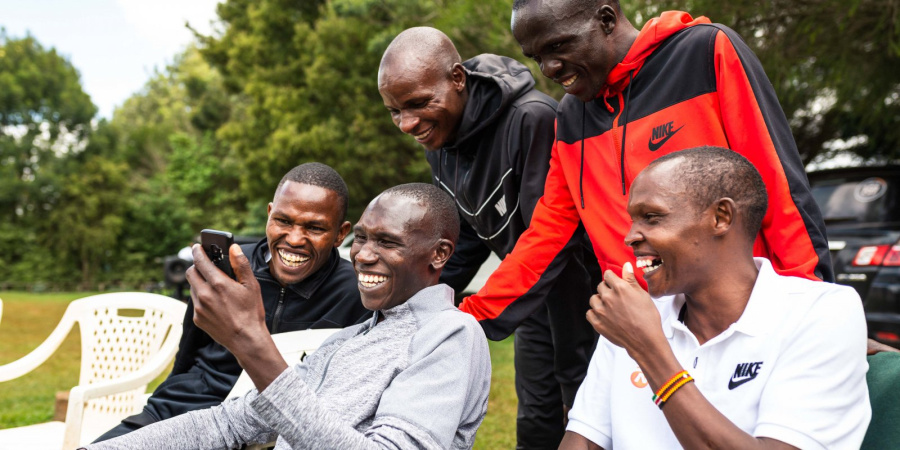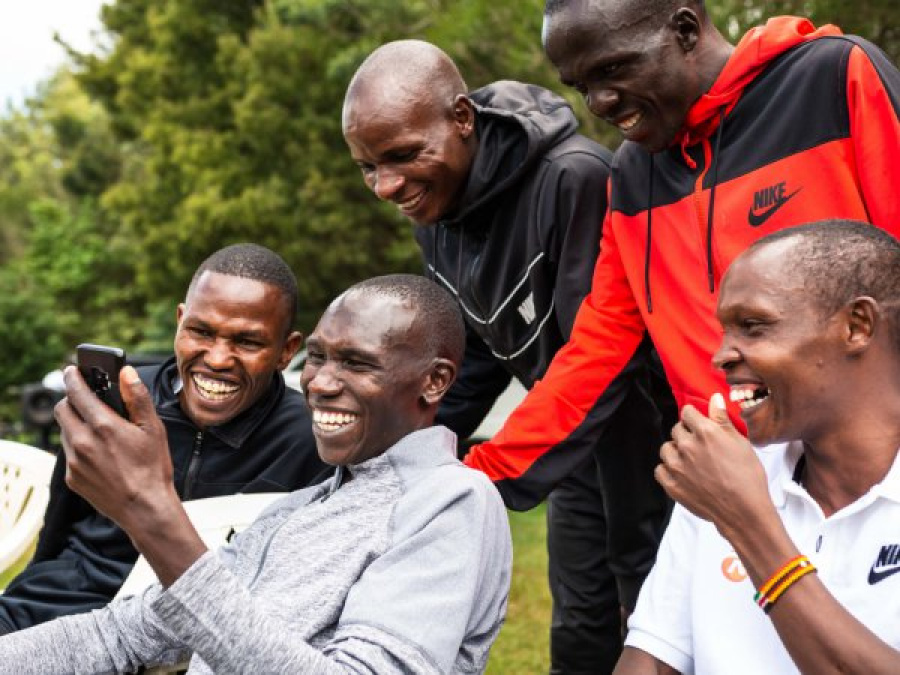 Sporting swap
We asked ten members of the NN Running Team if they could star in another sport outside of athletics what that sport would be?
Unsurprisingly, the "beautiful game" of football proved a popular choice among many of our leading athletes. Among those prepared to replace their running shoes with a pair of football boots was three-time World Half Marathon champion and 2017 New York City Marathon winner Geoffrey Kamworor. The 26-year-old Kenyan has been one of the superstar performers in the NNRT since its inception but the Man Utd supporter also has a deep-held passion for the 11-a-side game.

Sometimes I still play around with a ball with my kids and friends.
"Sometimes today I still play around with a ball with my kids and friends,"explains Geoffrey, who played as a midfielder in his younger days, "I still occasionally juggle the ball and can keep it up around 200 to 300 times."
Playing on the wings of our fantasy NN Running football team would be Kenya's former Commonwealth 5000m champion Augustine Choge and Dutch marathon record-holder, Abdi Nageeye.
"I used to play on the wing at school; number seven or 11," explains Augustine. "People used to say I looked like Thierry Henry (the former Arsenal winger) and compared me to him."
On the opposite wing would be Nageeye who adds: "Growing up in Holland every kid wants to play football. I was not bad (at football) and when I first started my running career I was still playing football."
Any quality team requires the players to put the ball on the back of the net and in this instance both Kenya's World Championship-bound marathoner Laban Korir and 2019 Tokyo Marathon winner Birhanu Legese fit the bill.
Laban was a school striker and he is a huge admirer of defensive midfielder McDonald Mariga, who was the first Kenyan to play in the Champions League.
Birhanu, a 2:04 marathoner and keen Arsenal fan, sees himself as a forward and adds with a smile: "I love football, although when I was at school and a small boy it was hard to tell which position I played because everyone just followed the ball."
Any quality line up requires some defensive steel and Kenya's 2018 Barcelona Marathon winner Anthony Maritim is willing to take up a role as a defensive midfielder.
The passionate Man Utd fan says: "Football is something I've always really enjoyed and after training during the early part of my running career I often used to play football."
Victor Chumo is another with aspirations to become a footballer. The 32-year-old Kenyan, who last year set a half marathon PB when winning in Lille in 60:03, is a huge admirer of Argentina and Barcelona wizard Lionel Messi.
If it wasn't for running, I would like to play football.
"If it wasn't running I would like to play football," he explains. "It is very entertaining and captures the attention of so many people."
Not all the NNRT athletes would, however, select football as their alternative sport to running. For Selly Chepyego, the Kenyan representative at the World Championships in Doha, she would like to feature on the basketball court.
"I played basketball at school and I loved it," she explains. "I really admire how the top players run with the ball and the moves that they make."
Meanwhile, the diminutive Ethiopian marathoner Aychew Bantie, who earlier this year set a PB of 2:06:23 when third in the Prague Marathon, if not an athlete would like to be a tennis player.
"I love the sport and occasionally still play," he adds of the globally huge racket sport.
Perhaps the most unusual selection, however, is that of Kaptagat-based 2:06 marathoner Jonathan Korir, who if not a runner would like to be a Formula One driver.
"Eliud (Kipchoge) got me into Formula One," he says of the part the world marathon record-holder played in stoking his interest in the popular motor sport. "I like to see all the races on a Sunday and I'm a big fan of Lewis Hamilton," he adds.