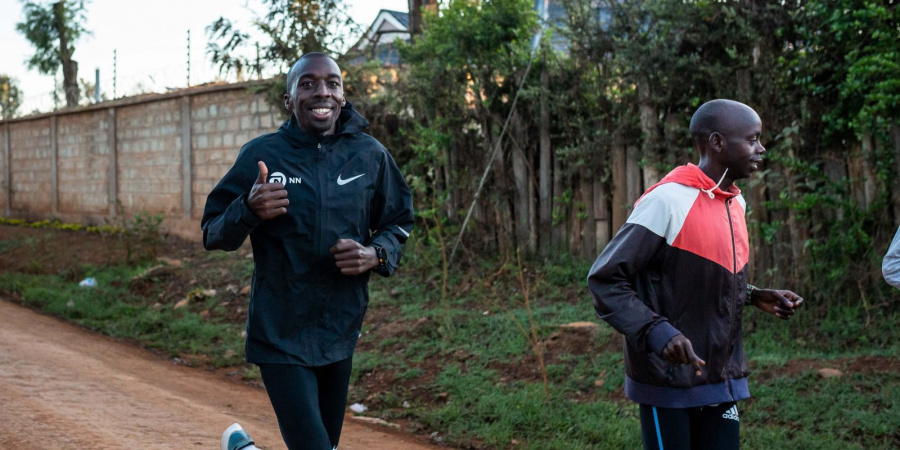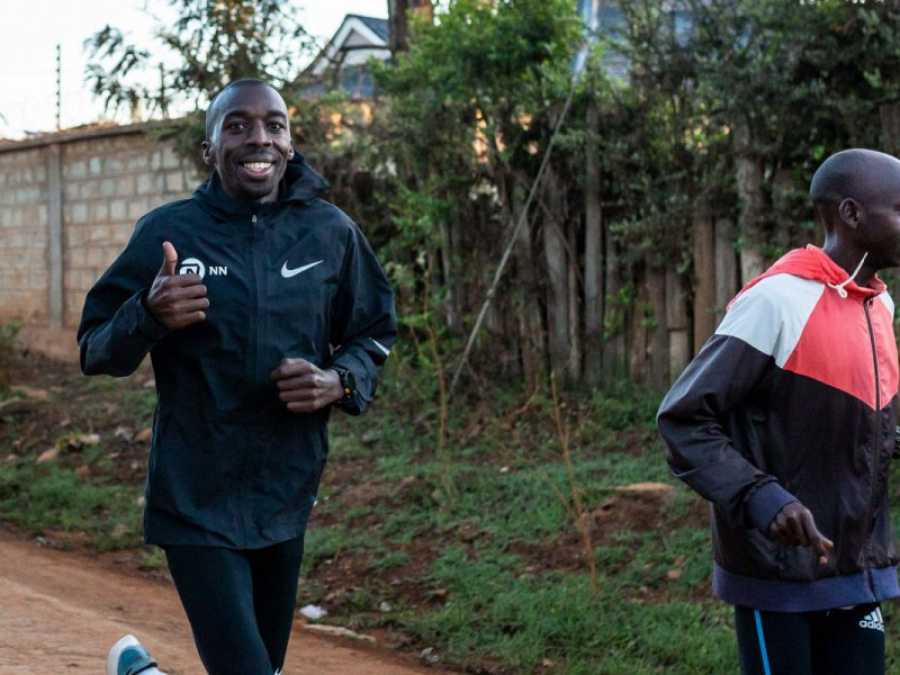 Introducing Jonathan Korir
One of the newer members of the NN Running Team blitzed to a marathon personal best of 2:06:51 in Amsterdam last October. We speak to the Kenyan, a friend and neighbour to Eliud Kipchoge, to find out more about his career development.
Eliud's neighbour
Growing up Kipsirwa in Nandi County – just 3km from the home village of Eliud Kipchoge – some of Jonathan's earliest running memories was watching the endurance star train locally and compete internationally on TV.
"I remember watching him win the 5000m title at the 2003 World Championships in Paris," explains Jonathan, who grew up on a farm as the seventh eldest of 12 siblings. "That was such a happy memory."
Running origins
Jonathan ran 8km to and from school every day in his youth and it was during his school days when he was first introduced to athletics. Racing over the 800m/1500m and 5000m distance he was a solid, although far from spectacular athlete.
"I used to finish in position four and five," explains the quietly-spoken athlete of his athletics performances at school. "I was no superstar."
Building a career
Quitting athletics after school he spend time working on a farm before relocating to live in Eldoret to work as a builder for a housing project led by former Olympic 1500m finalist and two-time World Cross Country medallist Isaac Songok.
He worked as a builder for nearly three years but still held a desire to re-start running. Training every morning before work he slowly re-built his fitness. Jonathan entered some local races but earned a big confidence boost in late-2016 after going on a 40km training run with Eliud. Successfully managing to keep pace with the marathon icon, Jonathan said: "Eliud told me to train with the group in Kaptagat outside of the camp. Eliud was very kind and said, 'I will support you with a house and food'.  
Marathon debut
Jonathan heeded Eliud's advice, and training twice a day with the NN Running Team athletes he made some sizeable gains.
In November 2017, Jonathan made his marathon debut in Nairobi. Running at an altitude of around 1800m, he was in the lead group up until around 30km only for a nagging calf pain to hamper his efforts. He wound up in 19th in a time of 2:17:40 but showed potential.
Happy camper
In March of the following year the rookie runner made his international marathon debut in Zhengzhou, China, placing a respectable third in 2:14:25 – a performance which acted as huge motivation for the tall, slender athlete.
"I knew I was improving, so I said to myself now I need to run under 2:10," he explains.
On the back of this performance and some impressive training runs Global invited Jonathan to move to within the NN Running Team camp in Kaptagat. It was a big turning point.
"It was nice to be able to stay here and train together with friends," explains Jonathan. "I feel very much part of the NN Running Team. It is great to be around so many gold medallists and world-class athletes."
Ace in Amsterdam
Competing at the 2018 Amsterdam Marathon, his first race in NN Running Team colours, ambitious athlete targeted a time of 2:05-2:06 and achieved his goal.
Running with the lead group up until 33km he eventually placed eighth in a time of 2:06:51 – a PB by more than seven minutes in just his third marathon.  
'I was happy to run the time I did," he explains. "it was my first race with Global and the NN Running Team, so I wanted to run fast."
Hamburg challenge
In his first race of 2019 he ran a solid half-marathon of 61:10 for fourth in Barcelona – finishing just six seconds behind race winner and his NN Running Team colleague Erick Kiptanui – a performance which served as ideal preparation for April's Hamburg Marathon.
Targeting a time of "2:04 or 2:05" in Northern Germany, Jonathan, unfortunately, encountered problems with both his hamstring and feet from 20km.
"At that point on I thought I just had to try and maintain the pace," explains Jonathan, who was competing in wet conditions in Hamburg. Despite the issues he placed a solid eighth in 2:10:09.
Eliud confidence
An impressive trainer, who is capable of keeping pace with Eliud on the long runs, he has gained huge confidence from such feats.
"I train alongside Eliud, a guy who can run 2:01, so I envisage myself running 2:03 or 2:04 in future because we do the same programme and sometimes I keep up with Eliud," he says.
Running transformation
A passionate fan of Premier League football club Chelsea and a big fan of their former striker Didier Drogba, Jonathan does not intend to squander his relatively late introduction to running.
"It has changed my life a lot," he explains. "I now no longer need to work every day to feed myself and I have sent money home to my parents to support the farm."