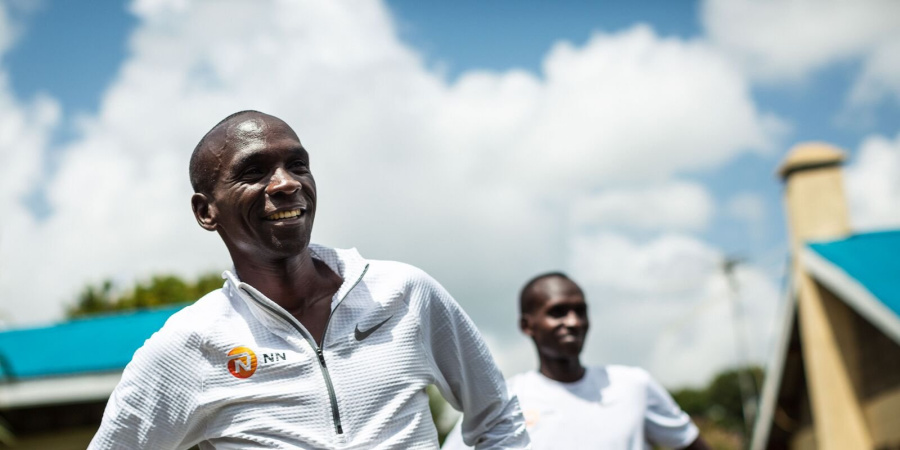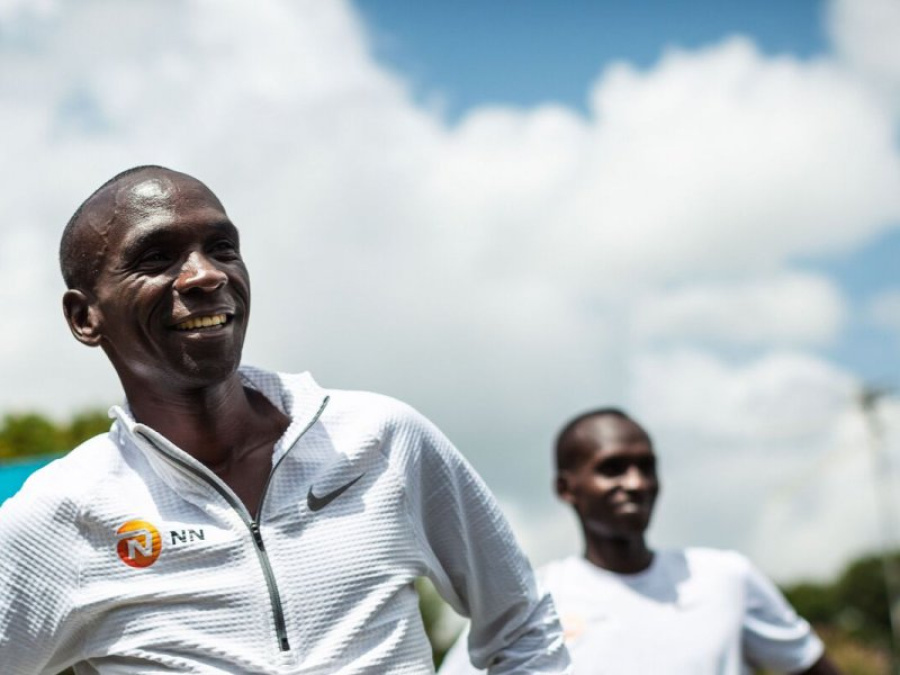 Eliud's 1:59 Challenge Diary
In what could be an history-defining moment for the sport, Eliud Kipchoge is attempting to run a sub-two-hour marathon as part of the INEOS 1:59 Challenge in Vienna on Saturday (Oct 12). Below is his month by month diary in the countdown to a 42.2km run which has gripped the world.
April
The day after winning a record-breaking fourth London Marathon in a course record 2:02:37, the INEOS 1:59 Challenge is formally announced at the Iffley Road Track in Oxford – the venue of Roger Bannister's iconic first sub-four-minute mile.
The INEOS 1:59 Challenge has been set up as a structured race with the sole purpose of giving Eliud Kipchoge the best possible opportunity to create history and become the first person in history to run a sub-two-hour marathon. In April, 2017 he also attempted a similar feat - running a breathtaking 2:00:25 as part of the Breaking2 Project in Monza, Italy.
"I learnt a lot from my previous attempt and I truly believe that I can go 26 seconds faster than I did in Monza two years ago," Eliud says. "It gives me great pride to accept the challenge presented by INEOS. I am very excited about the months of good preparation to come and to show the whole world that when you focus on a goal, work hard and believe in yourself, anything is possible."
May
Eliud enjoys a three-week period of rest and recovery following the London Marathon. Excited to spend more time at home with his wife, Grace, and three children; Lynne, Griffin and Gordon he also takes time out to relax on the family farm and pursue his passion for books.
He re-starts training in preparation for the INEOS 1:59 Challenge. Initially he jogs 18-20km three times a week with three gym sessions.
"My gym work entails weightlifting, some steps with weights, aerobics with an instructor and some other mobility exercises," he explains. "In my mind the gym work helps chase away the injuries and train the muscles. As an injury prevention tool the gym is very important. My fitness is measured by my work in the gym."
June
Vienna in Austria is selected as the venue city for the INEOS 1:59 Challenge. After a worldwide assessment – The Prater – the famous Viennese park – has been chosen as the venue that will give optimum conditions for Eliud's barrier-breaking attempt.
The marathon will be held on a multi-lap, 9.6km course on Hauptallee, the iconic long, straight and tree-lined avenue, which runs through the heart of The Prater. It was also announced the event is scheduled to take place on Saturday October 12, with a reserve window of eight days scheduled until October 20, in case of adverse weather conditions.
"My belief is that the location and the course is perfect," he explains. "The weather is likely to be good. The city is one that loves sport and the course is flat and straight."
Eliud also moved into training camp in Kaptagat from Monday through to Saturday. His training now entails a mix of easy runs, two fartlek sessions a week and a long run."
"It is important to get this stage right, so that when we face our next intensive stage of training we will be able to cope with the extra training load more comfortably," he explains.
July
Tuesday track sessions are introduced into Eliud's training programme as his preparation steps up in intensity.
"The track sessions we carry out every Tuesday are a great gauge for my current fitness levels," he adds. "It enables the body to become accustomed to running as a fast pace – which will be of paramount importance in my attempt to run a sub-two-hour marathon."
For the first time he introduces twice weekly core stability exercises. In addition he also has three physio/massage sessions a week with his long time physiotherapist Peter Nduhiu. Plus regular ice baths.
He has also been working closely in training with two of the pacemakers for the INEOS 1:59 Challenge, long-time friend, Augustine Choge and Victor Chumo.
"Both Augustine and Victor are very aware of what we are trying to achieve and are keen to play their part in history," explains Eliud. "During some of the track and fartlek sessions they have practised pacing me, which has acted as a bit of a rehearsal.
August
Two sets of pacemakers who will be aiding Eliud's bid to run a sub-two-hour marathons are formally announced. They include world-class athletes such as the Ingebrigtsen brothers – Henrik, Filip and Jakob - from Norway, former world 1500m and 5000m champion Bernard Lagat, Olympic 5000m silver medallist Paul Chelimo and Switzerland's European half-marathon record-holder Julien Wanders.
"It is a huge morale boost for me to have these guys and many others by my side. It gives me great heart, and I fully appreciate that they have accepted a pacemaking role in Vienna."
The training regime of one track session, one fartlek session, one long run interspersed with easier runs continues. He met with his nutritionist Armand Bettonviel to discuss and practise his race day nutritional plan.
Outside of the camp he can feel the enthusiasm and passion for INEOS 1:59 Challenge building among the Kenyan people.
"From the capital city of Nairobi and Eldoret I see INEOS 1:59 Challenge stickers on cars, buses and houses," adds Eliud.
"Everywhere I go people want a piece of 1:59 and I'm sure the whole country will be glued to their TV screens to watch the race."
September
The team – minus Eliud who is focused on training – conducted a series of successful tests on the course at the The Prater. During the meticulous testing elements such as race management, operations, athlete facilities, pacing plans, broadcasting and timing systems were worked on. The aim was to make sure nothing was left to chance ahead of Eliud's historic bid.
Eliud also supported The Daily Mile project – a free initiative for schools to help improve their social, emotional and mental health and wellbeing.
The #NoHumansIsLimited campaign is also launched as part of the INEOS 1:59 Challenge.
"The phrase 'No Human Is Limited' is something which came to me in the countdown to the Breaking2 Project in Monza," he explains.
"Personally, I've never believed in limits and that is how the phrase came about. For this reason, I'm happy and excited the #NoHumanIsLimited campaign has been launched through the INEOS 1:59 Challenge to help inspire others to overcome their own personal barriers."
October
Tapering his training in order to reach peak performance for the race Eliud's final week of preparation will involve checking out the course, a few lights jogs, massage and lots of rest.
"I'm happy with the way I've been training and I'm ready for the challenge," he says. "A rabbit cannot escape for two seasons. It escaped in Monza, but it will not escape again in Vienna."