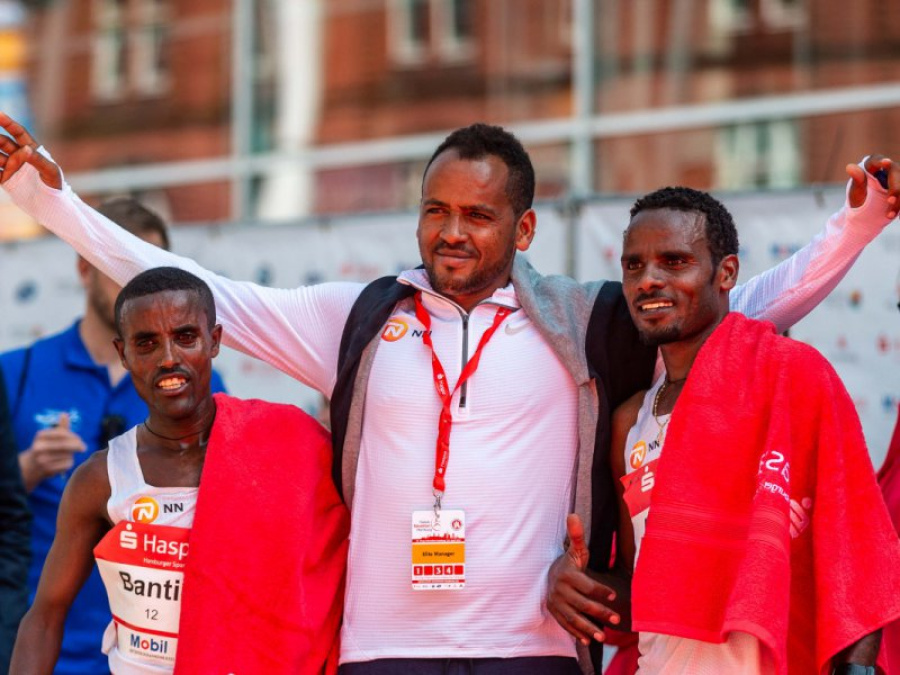 Hey Brother!
Tessema Abshero coaches his younger brother and 2019 Hamburg Marathon runner-up Ayele. We find out more about their coach-athlete relationship and why the duo work so well together.
Family combinations are not unusual within the NN Running Team.
The Mutai brothers – Laban and Ezekiel – are based out of the Kaptagat training camp in Kenya. The brother and sister act of Abera and Dibabe Kuma train together in Ethiopia (coincidentally under the coaching of Tessema Abshero) while Getamesay Molla coaches the husband and wife team of Abrha Milaw and Azmera Abreha in Addis Ababa.
Yet as far as we are aware the only coach-athlete siblings within the NN Running Team are the charismatic and genial Tessema Abshero, who guides his younger brother, Ayele, the 2019 Hamburg Marathon runner-up.
Tessema and Ayele were raised by their uncle in Addis Ababa and the former – the elder brother by four years – was the first to be introduced to running at high school.
His talent was immediately apparent and after joining a club he went on represent his country at the 2003 World Cross Country Championships in Lausanne, finishing eighth in the men's U20 race and 12th in the 4km short course race.
Motivated by Tessema's success, Ayele later followed in his elder brothers footsteps and also went on to enjoy age-group success.
In 2008 he won a silver medal behind compatriot Ibrahim Jelian in the men's U20 race at the World Cross Country Championships in Edinburgh. Before, twelve months later, upgrading to gold to be crowned U20 men's World Cross Country champion in Amman, Jordan.
His career continued to flourish and in 2012 he made a triumphant marathon debut in Dubai, crossing the line first in a blistering time of 2:04:23. Then the next year he claimed a podium finish for third in the London Marathon.
By contrast Tessema struggled with injury and underwent surgery to his Achilles tendon which forced the 2:08:26 marathoner to quit the sport in his mid-20s, which was to set him on a different path.
"I was very disappointed," he says of his premature end as an athlete. "But I remember a discussion with Haile Gebrselassie, who is a best friend to me, and Jos Hermens, who is a wonderful guy, in Haile's office. They asked me 'what is your goal? When I said 'I wanted to help athletes' that is when I went down the coaching route."
Studying a degree in sports science in Addis Ababa, Tessema initially started out as an assistant coach to Getaneh Tessema, the NN Running Team coach who currently guides Birhanu Legese among others.
He soaked up information, listened and learned and from 2013 started coaching Ayele, not that coaching his kid brother has always been a straight forward task.
Coaching is very tough, especially coaching a member of your family.
"You discuss things together on one side as a coach and on the other to Ayele is a family member. It was also difficult as a new coach because you are very nervous and lack confidence. I remember going to the London Marathon, one of my first races with Ayele as his coach. I did not sleep a wink the night before the race and my heart was pounding."
Ayele's career in their time together has not always ran perfectly smoothly and he had several years where he struggled to find his best form but in the past couple of seasons he has enjoyed a real renaissance.
A 2:07:19 clocking for third in last year's Hamburg Marathon was his fastest time over the classic distance for four years. On his return to Hamburg in April he clocked 2:08:27 to place second in appalling conditions.
The dynamic between the pair works with both agreeing the open dialogue between the duo key.
He is my best friend and we enjoy a very good communication. We discuss everything together.
Ayele echoes this sentiment by adding: "He understands everything about me and the best thing about my relationship with my coach is he listens to me."
The duo possess differing athletics resumes. Ayele's cross country record and marathon record – he is more than four minutes quicker than Tessema – is superior to his brother and coach.
And Tessema also acknowledges the pair execute a different philosophy in terms of their training.
"Ayele is very focused on the coaching programme," says Tessema. "If I ask Ayele to run at four minutes per kilometre – I know he will run at exactly that pace," explains Tessema. "Ayele always listens to his coach."
"I was very different," he explains. "Sometimes I was too aggressive in training," he admits. "If my coach told me to run at four minutes per kilometre, I would run at 3:40."
Tessema also admits the pair differ in personality with the coach possessing a more naturally outgoing nature to his slightly more reserved younger brother.
While Ayele praises his coach for his excellent communication and empathetic nature, Tessema also fully appreciates the privileged position he enjoys as coach to younger brother.
"I thank him for everything," explains Tessema. "Even from the beginning he has been a pleasure to coach. I give him advice not just in terms of training but also nutrition and massage. It has been a nice experience for me."
So what does coach believe his kid brother can achieve in the future?
"He can run 2:04 (his PB is 2:04:23)," explains Tessema. "He has already finished top three in the London Marathon but my goal would be for him to win an Olympic medal."