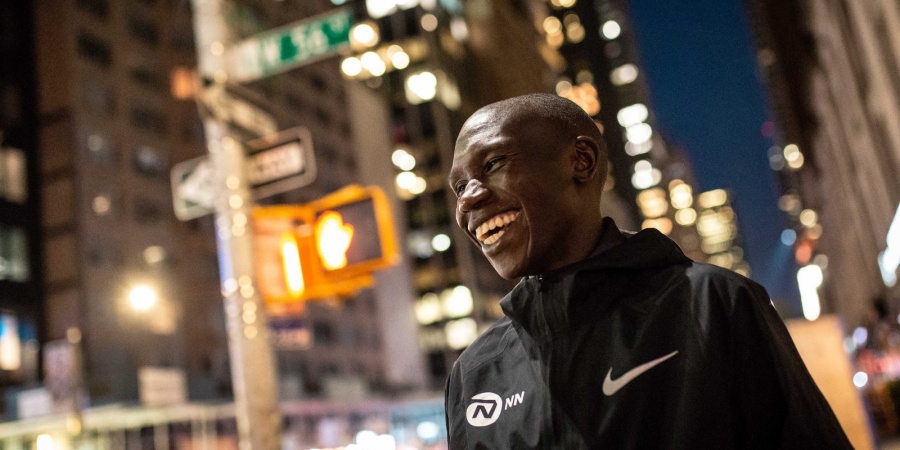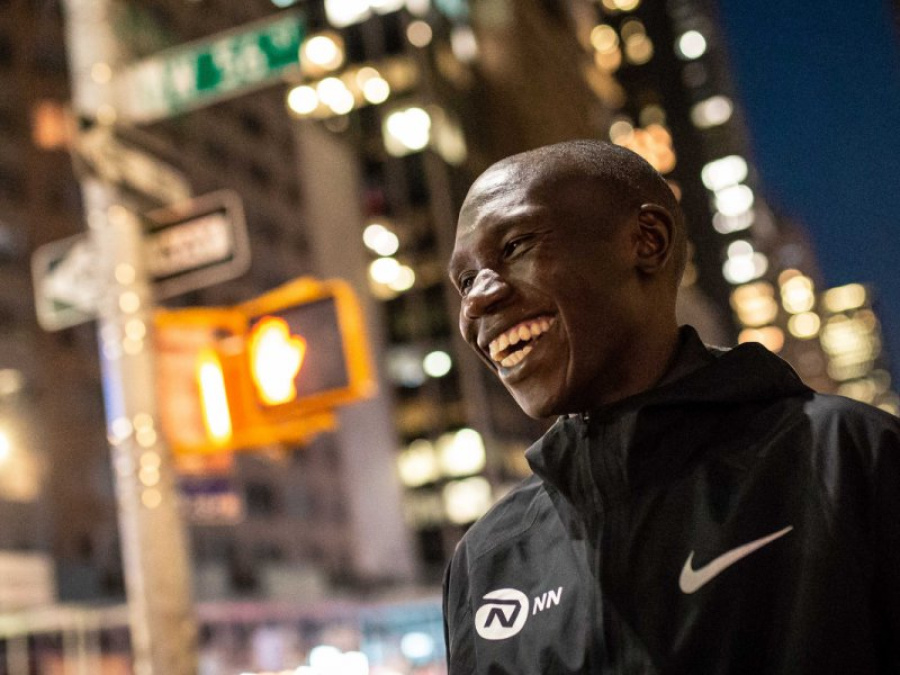 New York, New York
Geoffrey Kamworor has filled every position on the podium in his three previous appearances in New York City Marathon. Ahead of his fourth race in the "Big Apple" on Sunday (Nov 3) we look back on the NN Running Team athlete's past experiences competing in one of the sport's most iconic marathons.
2015 New York City Marathon – Second (2:10:48)
Geoffrey's debut in the Big Apple gleaned a second place behind his countryman Stanley Biwott in a titanic tussle. Competing in his sixth marathon of his career, Geoffrey had already established a reputation for global excellence having the previous year secured the World Half Marathon title and earlier in 2015 struck gold at the World Cross Country Championships.
The 22-year-old Kenyan went through halfway with a group of around 13 athletes in a time of 1:06:49 before surging to the front of four-man group around the 32km mark. Geoffrey's acceleration quickly saw the back of former world record holder Wilson Kipsang and Ethiopia's 2013 world marathon silver medallist Lelisa Desisa. Now in a head to head battle with Biwott for gold – a 14:19 5km split from 35-40km by Biwott opened up an advantage that the Kenyan did not relinquish. Geoffrey tried desperately hard to close the gap in Central Park but Biwott could not be caught as he crossed the line 14 seconds clear in 2:10:34. Geoffrey had performed with pride to claim second – his best marathon finish of his career to that point. Desisa was a distant third in 2:12:10.
What Geoffrey said: "I was happy to finish on the podium. Second is good for me, and, hopefully, I can come back next year and try to win."
What we say "A hugely impressive New York City Marathon debut kick-starts the Kenyan's deep affection for the iconic race."
2017 New York City Marathon – First (2:10:53)
After several near misses, Geoffrey, a two-time (now three-time) World Half Marathon and two-time World Cross Country gold medallist, added more gloss to his already decorated career by claiming his first marathon success.
The field passed halfway in a relatively pedestrian 1:06:09 before Geoffrey loomed to the front at around 20 miles (32km) keen to take on the pace. Heading a lead group of four athletes – Lemi Berhanu, Lelisa Desisa and Wilson Kipsang - a 4:44 split from 23 miles applied pressure to the group with Berhanu the first to be spat out of the back. Pushing hard to drop Desisa and then Kipsang, Geoffrey then unleashed his decisive move with around 2km remaining. Opening up a small advantage on the field, Kipsang fought valiantly in the latter stages, but Geoffrey held on to win by three seconds to clinch victory on the streets of New York and underline his gifts over the marathon distance.
What Geoffrey said: "What was in my mind that I was a champion and I had to have enough belief in my sprint. I knew I had made a decisive move but when I looked I saw Kipsang and I had to lift myself."
What we say: "After dominating global cross country and half-marathon for some time, Geoffrey confirms his ability to win major marathons."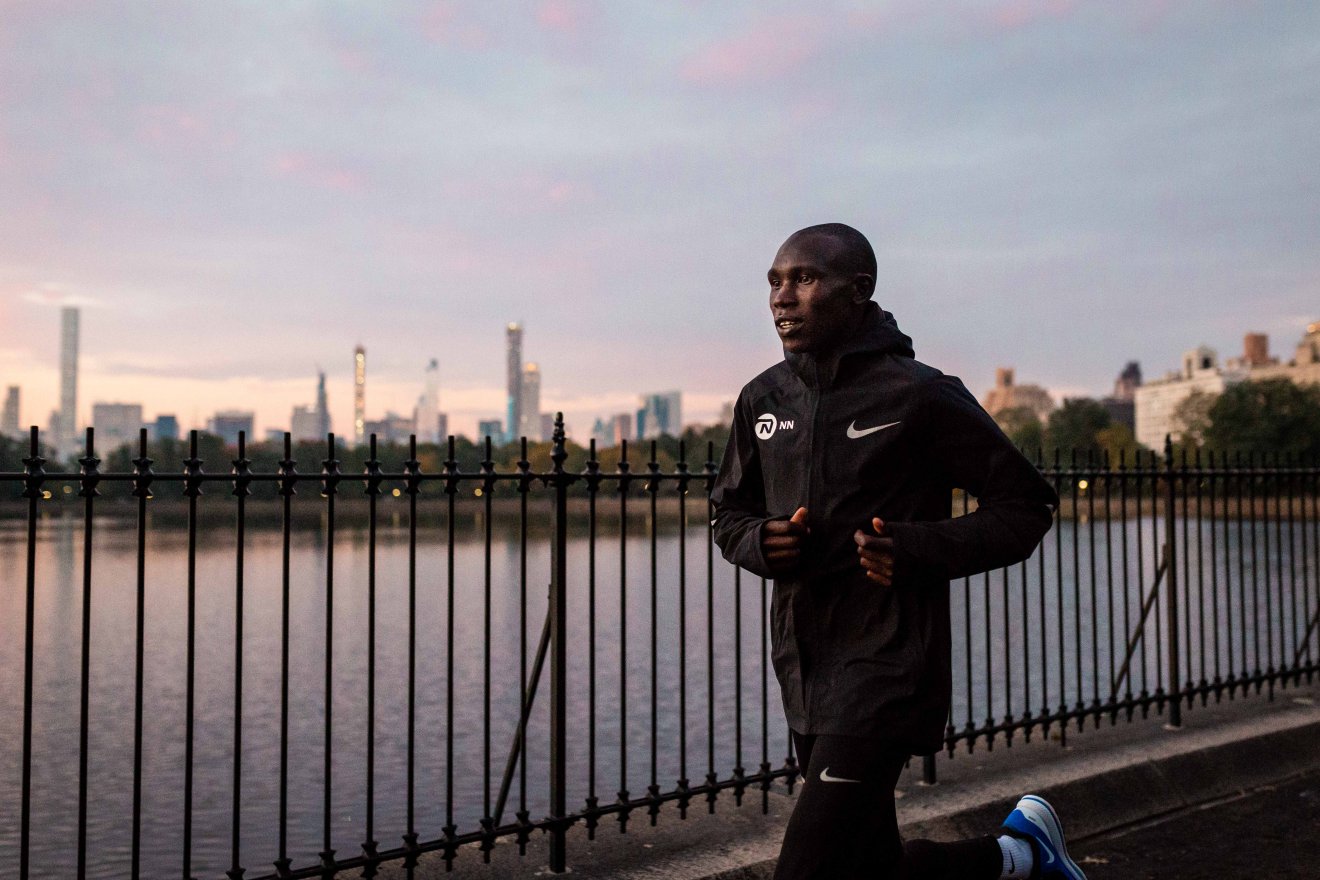 2018 New York City Marathon – Third (2:06:26)
Geoffrey completed the full trifecta of finishing positions with a third place finish in his third appearance in the Big Apple. A healthy pace ensured a five-strong group containing the Ethiopian trio – Shura Kitata, Lelisa Desisa and Tamirat Tola – plus Geoffrey and his fellow Kenyan Festus Talem - went through the halfway checkpoint in 1:03:55. Talem and Tola dropped off the pace before 35km when the race developed into a three-man race for glory.
Geoffrey injected a venomous mile of 4:29 just after 22-mile which only Desisa could live with. The Kenyan desperately tried to shake off the attentions of Desisa in the latter stages but the Ethiopian clung doggedly in the slipstream of the three-time World Half-Marathon champion. Unfortunately, Geoffrey began to pay the price for his vicious kick and began to struggle in the latter stages. As the Kenyan faded, Kitata then re-emerged to challenge Desisa and took the lead inside the final mile. However, Desisa would not be denied, reclaiming the lead to win by a slender two-second margin from his countryman in 2:05:59. On this occasion, Geoffrey had to settle for third spot on the dais.
What Geoffrey Says: "I'm really happy to finish on the podium. I tried my best and gave it my all."
What we say: "Geoffrey records his quickest time in the Big Apple and joint second fastest marathon time in his career but on this occasion had to concede defeat to the strong Ethiopian challenge."