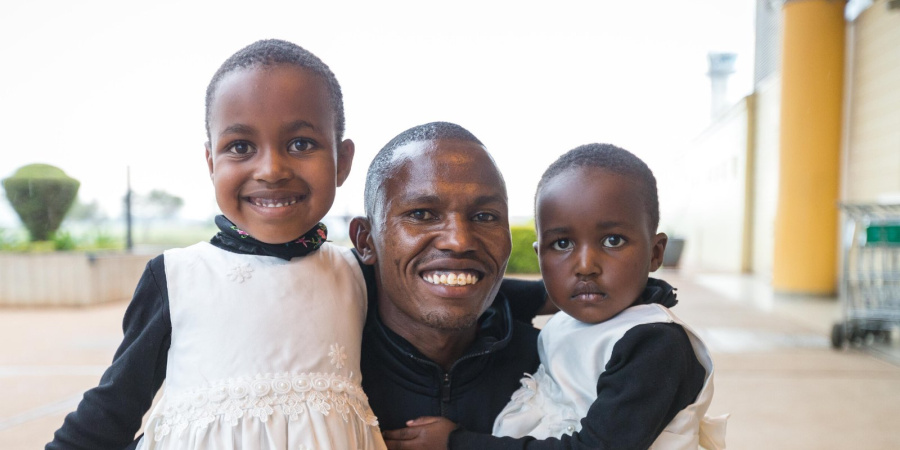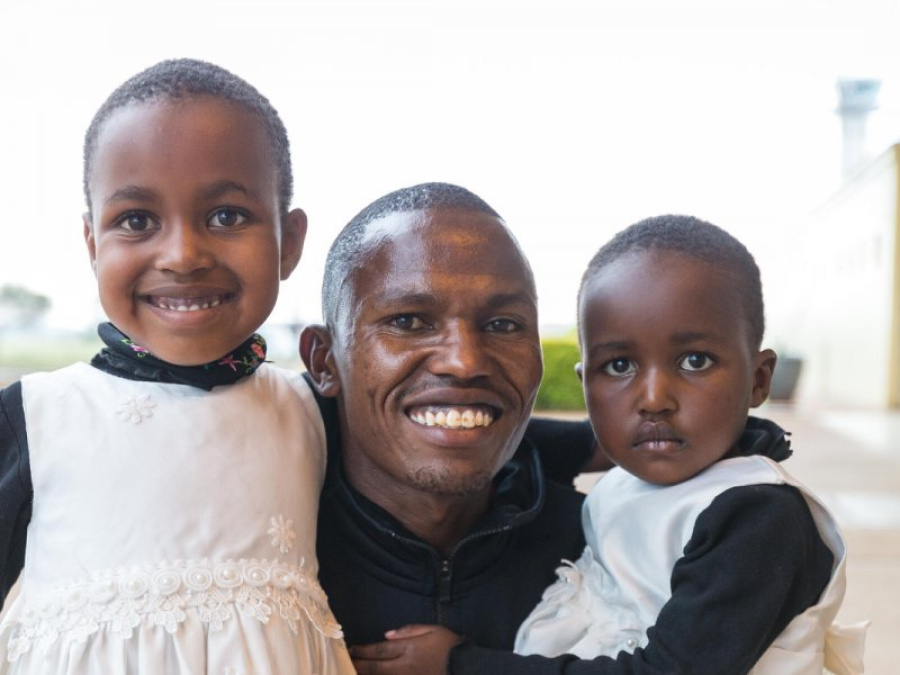 Parenthood in camp
The men and women based out of the NN Running Team training camp in Kaptagat, Kenya typically spend Monday to Saturday morning in camp before returning home to their families. We chat to three fathers and one mother in Kaptagat to talk about the challenges of spending time away from their kids.
Geoffrey Kamworor – Is a three-time World Half Marathon champion, two-time World Cross Country gold medallist and world half-marathon record holder. He is also father to two children; Elsie, 5, and Elvin, 2.
"It is amazing to be a dad and a father, it gives you a meaning and a purpose to work hard and make sure they are looked after and complete. You spend long spells in training camp when you have to leave them. But my wife understands that I attend the training camps to train hard, this will then give me the best chance of succeeding and if I succeed in running this is for the overall good of the family. I speak to the children every day through video call – when I am tired they give me a lot of motivation and inspiration. On a weekend when I am reunited with the family they are really happy to see me. I like to play football with them and hide and seek. When I go looking for them (in hide and seek) they are happy. They enjoy it when their father is back home and they always look forward to the next weekend when I will once again return."
Laban Korir – Is a 2:05:54 marathoner, who finished 11th for Kenya in the World Championship marathon in Doha in October. He is father to three children; Jean, 6, Jacey, 4, and Justin, 1.
"It is upsetting for the kids when their dad is not around because I spend so much time running and training in the camp. Sometimes they are crying and I have to say 'don't worry, daddy has to go to work to make sure I came back with bananas and other food.' I always make sure I call my children before they go to bed each night. Jacey, my four-year-old daughter would be really angry, if I didn't call.
On a weekend, when I'm back home I like to play football (with the older kids) and after church we visit my farm to see the cows. When I am away, I am very lucky I have the support of my wife to look after the kids."
Selly Chepyego – Is a former World Half Marathon bronze medallist who set a PB of 2:21:06 for third in the Berlin Marathon in September. She is also a mother to Brian, 11, and Brilliant, 2.
"To be both a mother and athlete who spends five days a week training in camp is a big sacrifice. I am away from them relying on a babysitter to look after the children – somebody I do not know as well as a family member. It is tough, but I have to remind myself I am making the sacrifices to focus on my career, so I can make a better life for my children. Being a runner is my job, it is the talent I have and it is my duty to make the most of talent. If I stayed at home and tried to train it would be so much tougher. It would be very hard to find relaxation time, the children would be crying and demanding my time. It offers great piece of mind to know that after a hard training session, I can relax in camp. It is my silent place for my work. I try to speak to the children twice a day by phone; once on a morning after training and before they sleep on a night. Sometimes my mother or a family friend will also look after the kids while I'm in camp."
Anthony Maritim – Is a 2:06:54 marathoner and former winner of the Barcelona, Linz and Cologne Marathons. He is also a father to Angel, 1.
"It is tough to be away from the family for long but it is a sacrifice you make for the greater good of the family. During training we have learned to teach our minds to persevere, but also to make the family understand that when you are away from home they know you are doing so with their best interests at heart.
Being a dad definitely changes you. There is limited time to spend with friends because you have to spend more time with the family.
I am always excited to return home every weekend – my daughter gives me great joy. Whenever I see her grow it gives me the strength to work harder and be a more successful athlete for her."