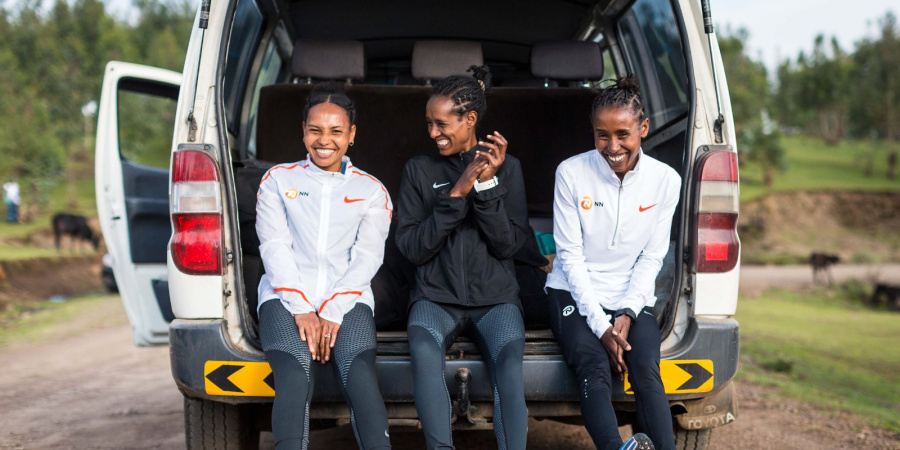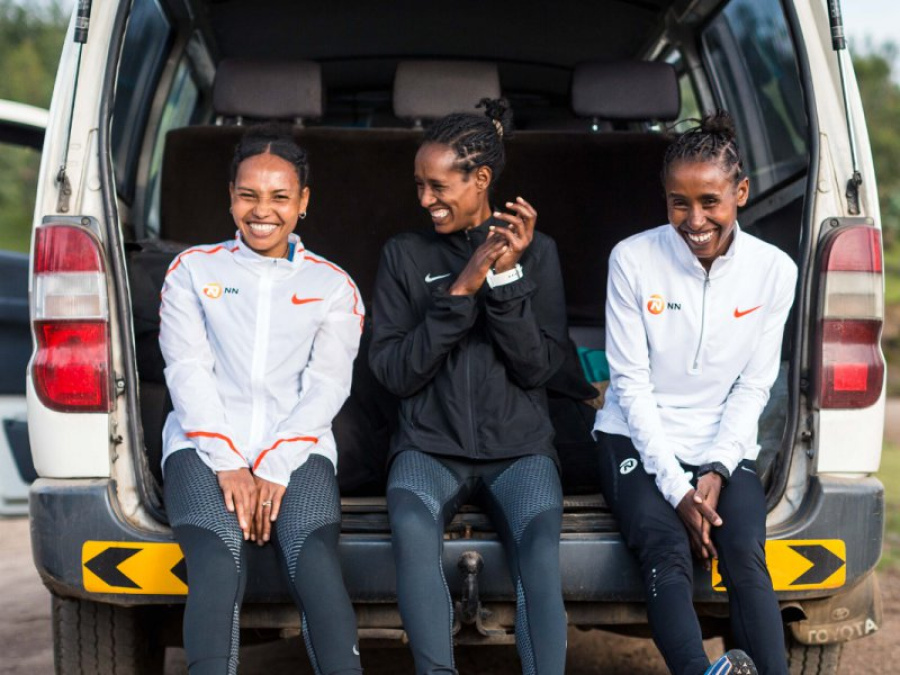 The marathon couple
The NN Running Team's husband and wife duo of Abrha Milaw and Azmera Abreha enjoyed an unforgettable day at the 2019 Paris Marathon in April finishing first and third in the men's and women's races, respectively. We find out more about the Ethiopian couple ahead of Azmera's appearance at the Valencia Marathon on December 1.
A husband and wife team operating in the same profession would not work for everyone. Yet for Azmera Abreha - a 2:21 marathoner who is married to Paris Marathon champion Abrha Milaw - she would not have it any other way.
It has many benefits that we are both marathon runners.
"We leave home and return back at the same time. We take similar periods of rest and because we are both marathon runners we really understand each other."
And perhaps it is that "understanding" which has formed the bedrock of their recent success, most notably in April's Paris Marathon.
Both coached by Getamesay Molla the pair both produced top-quality display on the streets of the French capital. Abrha impressed in the men's race as a late surge over the final 3km swept the 31-year-old to a comfortable win in a PB of 2:07:05. His wife Azmera could not quite complete a memorable double, but still impressed to place third behind her countrywoman Gelete Burka in a time of 2:23:35.
"Paris was a great day," explains Azmera. "I felt the same feelings and enjoyed the same buzz knowing Abrha had won the race as I would have I have experienced had I won the race myself," she says.
The pair both hail from Tigray, the northernmost of the nine regions of Ethiopia, with Azmera planting the seeds of her running career at school. She later represented the Sur Construction club for several seasons before joining Global Sports Communication in 2016 which set her on the road to international competition.
By contrast, Abrha represented the Mesfin Engineering club and already boasted international experience – having won the 2013 Rennes Marathon (2:09:00) by the time the pair become boyfriend and girlfriend.
His family knew some of my friends, so that's how we were introduced one another.
Both on a personal and professional level, 2017 was to prove a hugely significant year. The pair were to marry but also link up with their current coach Getamesay Molla, who has overseen significant improvements in the pair.
In 2017 Abrha ran three marathons, highlighted by victory in the Stockholm Marathon in 2:11:36. Azmera, who was previously a solid half marathon performer, stepped up the marathon and on debut in Amsterdam ran an encouraging 2:25:23 for third.
In 2018 she produced a huge PB to run 2:21:51 for second in the Shanghai Marathon. Meanwhile, Abrha romped to victory in a PB of 2:07:25 in the Alpes Maritimes Marathon.
Getamesay says the pair rarely train together as Abrha trains in his men's group and Azmera the women's but form a strong unit with different attributes.
"Azmera is patient and a good communicator and Abrha is fun, a really good guy," he explains. "While both are obviously very good long-distance runners they do offer something different. Azmera is very talented with a lot of speed. Meanwhile, Milaw's pace control is very good."
So does Getamesay require a slightly different approach to coach a husband and wife combination?
"No, not at all," he explains. "They are both athletes who understand me and what I ask from them in training. There is no special plan from me, I treat them exactly the same as I would treat all my athletes."
Azmera herself sees no drawbacks in having a husband, who like her also competes as an international athlete.
"We will offer each other advice and help but we really understand one another and if one of us is competing in a race we will give that person the priority leading into a big competition by giving them the extra rest and support that they need."