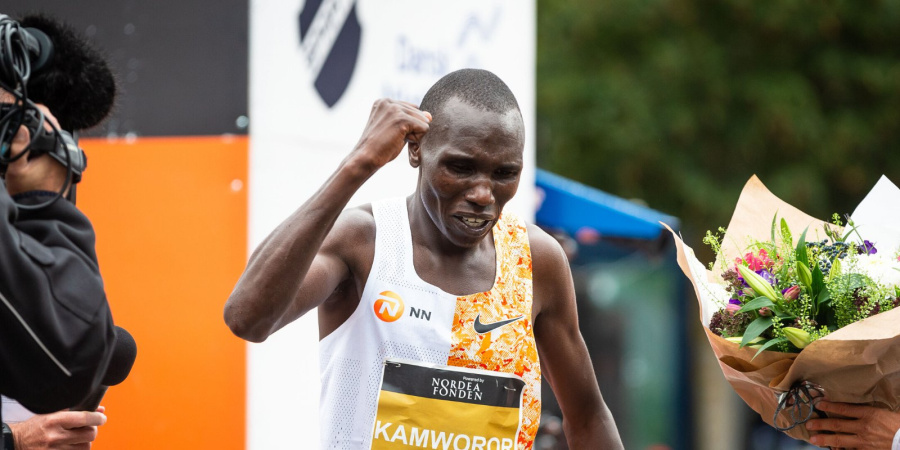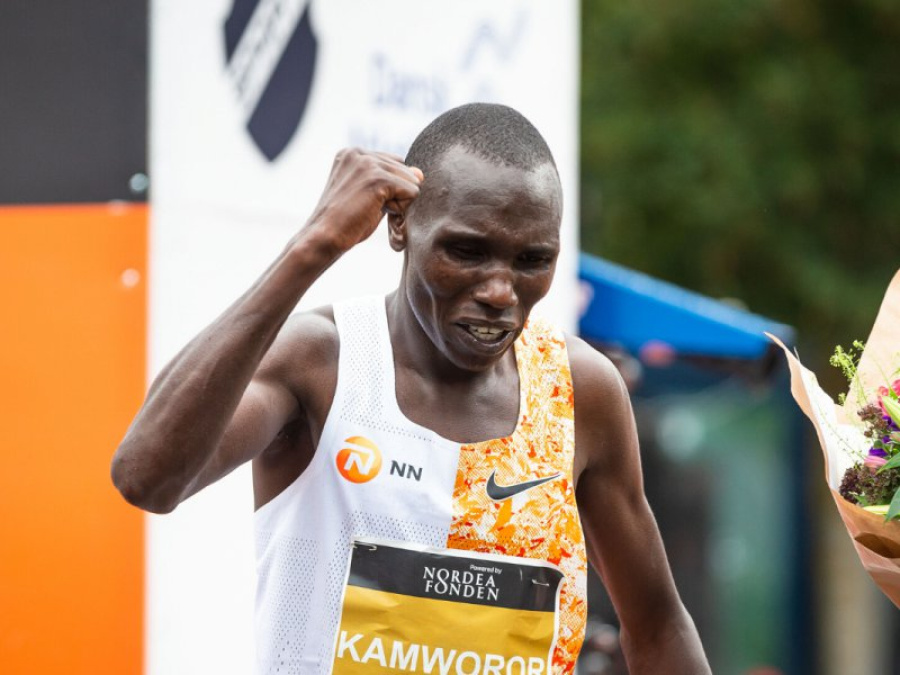 The Magic Five
The 2019 campaign has been the most memorable yet for the NN Running Team. We reflect on five special memories from an unforgettable year for the world's pre-eminent road running team.
1 – Geoffrey Kamworor – Copenhagen
In the city where Geoffrey Kamworor won the first of his three World Half Marathon titles, the versatile Kenyan gave yet another demonstration of his considerable gifts. Targeting Abraham Kiptum's world record mark of 58:18 set in 2018, Geoffrey was paced through 5km in 13:53 – just outside world record pace. A faster 5km put Geoffrey four seconds under target time at 10km (27:34) before a scintillating third 5km split of 13:31 saw him flash through 15km in 41:05. Geoffrey, who ran solo for the final 11km and also through occasional bouts of heavy rain, remained firmly focused on his goal. Powering to the finish line, he stopped the clock in 58:01 to scalp 17 seconds from the previous world record time.
"It is very emotional for me to set this record," said Geoffrey, who two months later regained his New York City Marathon title. "And doing it in Copenhagen, where I won my first title, adds something to it."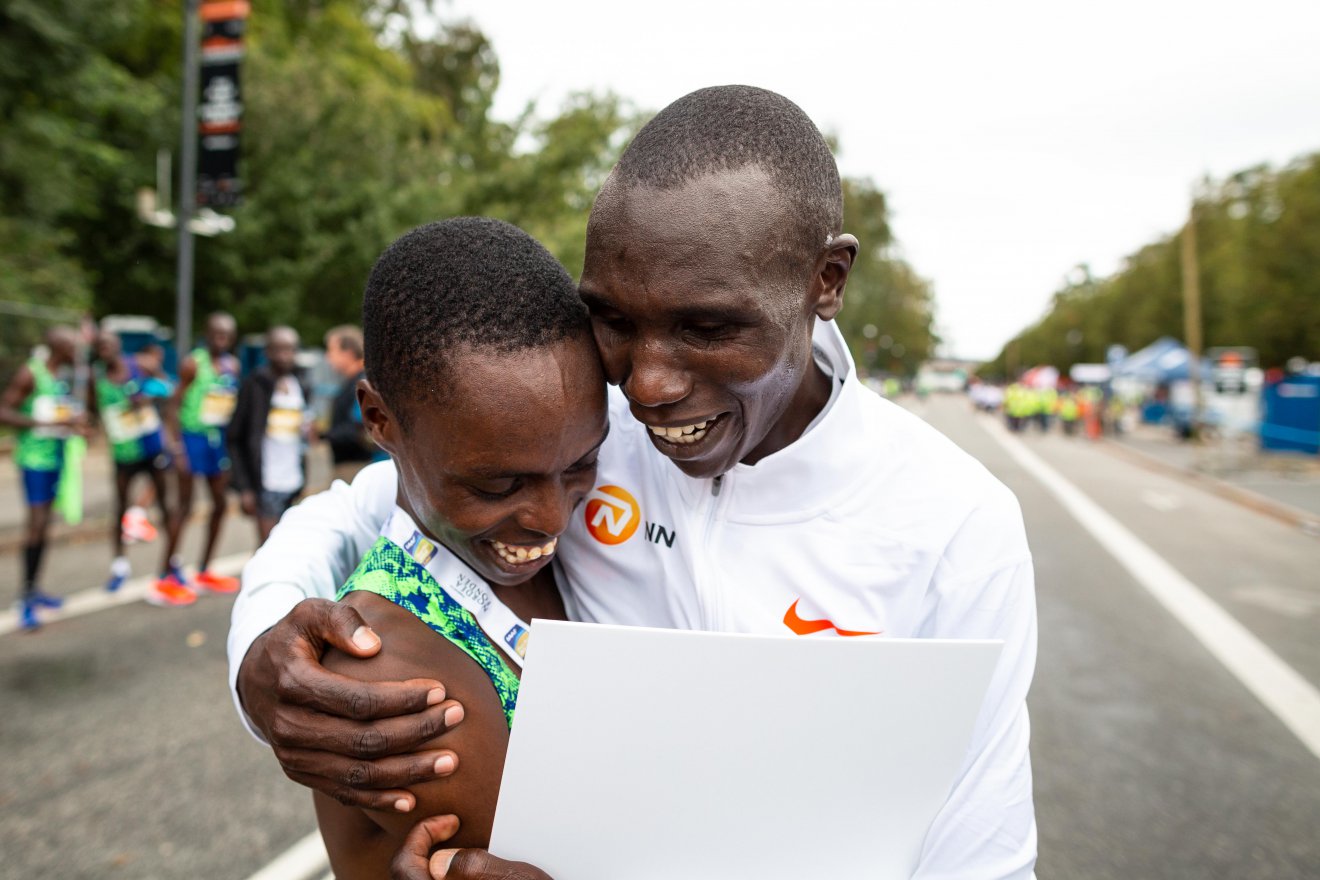 2 – Kenenisa Bekele – Berlin
Distance running icon and NN Running Team star Kenenisa Bekele rolled back the year to produce a vintage performance on the streets of Berlin to come within two seconds of Eliud Kipchoge's world record.
The three-time Olympic gold medallist and world record-holder for the 5000m and 10,000m has struggled to produce his very best in the marathon for several years. But a lengthy stint in Nijmegen in the Netherlands helped address his ongoing injury issues and despite a far from perfect build-up the outrageously gifted athlete delivered in style. After drifting 13 seconds off the pace set by NN Running Team mate Birhanu Legese and Sisay Lemma he refused to panic. Stepping on the gas from 35km he surged into the lead at 38km before kicking on to victory in 2:01:41 – an agonising two seconds outside the world record.
"I know I can run faster," said Kenenisa, whose second half split was 1:00:36. "I have shown that my career is far from over."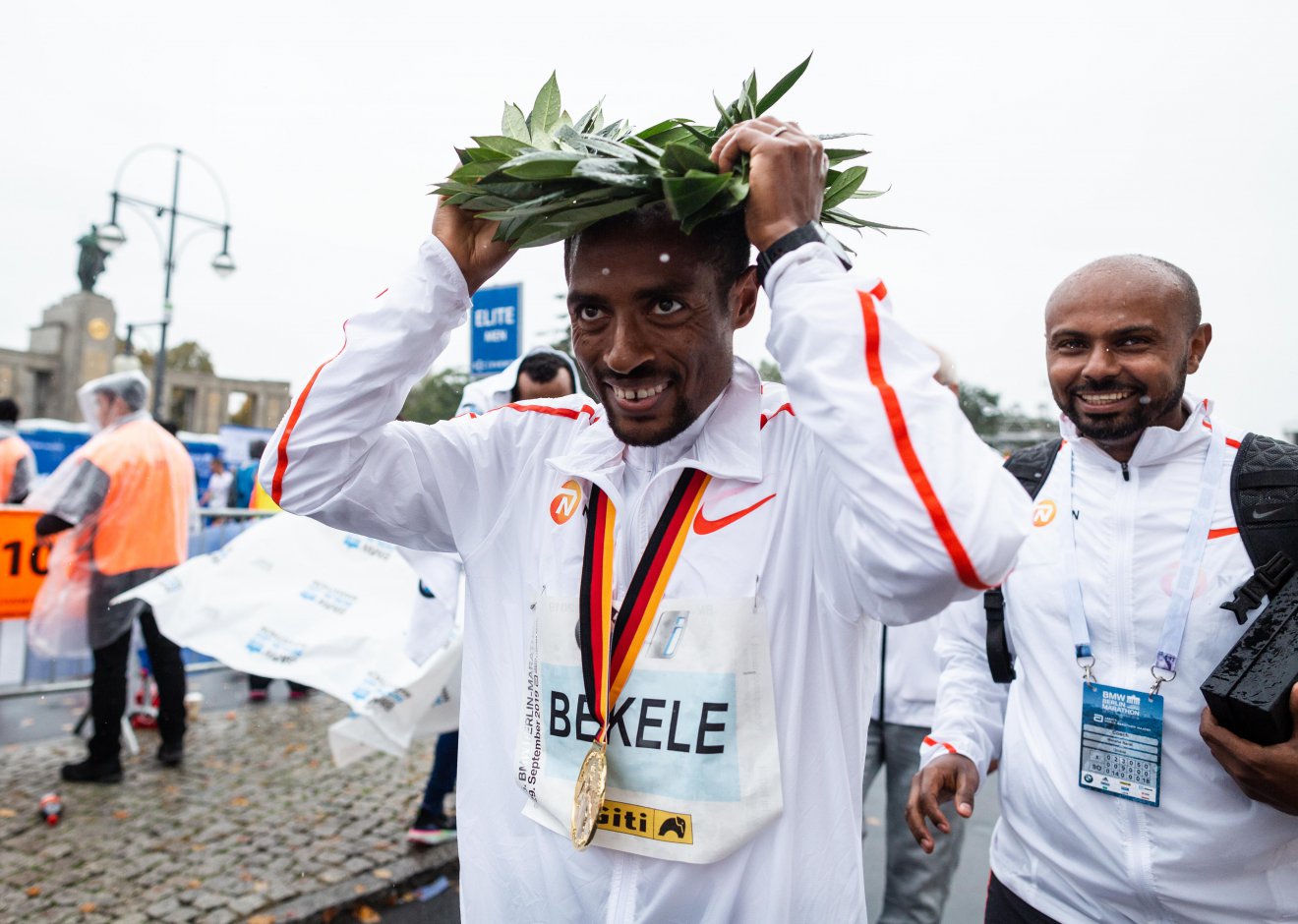 3 – Joshua Cheptegei – Valencia
Joshua Cheptegei capped a perfect year by slicing six seconds from the world 10km road race at the Valencia Trinidad Alfonso event to add to the World Cross Country and world 10,000m titles he snagged earlier in 2019.
The Ugandan NN Running Team star went into the race full of confidence and for much of the first half of the race he was happy to tail the pacemakers Roy Hoornweg and his fellow countrymen and training partners Stephen Kissa and Abdallah Mande. By halfway - which he reached in 13:23 – Joshua was running solo in pursuit of the world record mark. By the 8km split of 21:37, Joshua was still well on track to achieve his goals and crossed the line in a blistering 26:38 to add the world 10km road record to the 15km world road record he set at the Seven Hills race the previous year.
"What a year it has been," added Joshua. "I can't believe it! I knew that Valencia was going to be a really fast course, one of the fastest in the world. So to get to achieve what we came here for is something really special."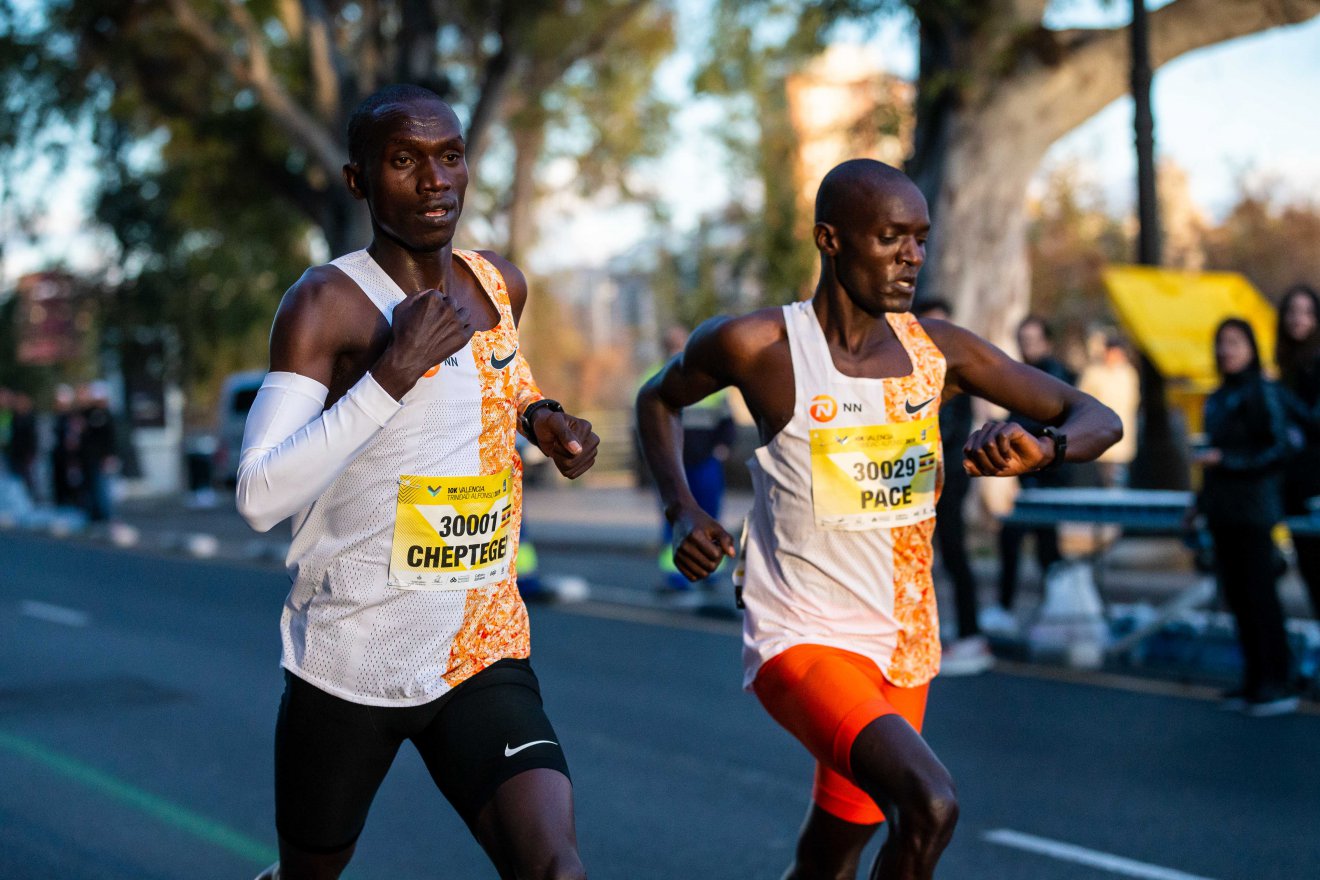 4 – Ashete Bekere – Berlin
One of the leading female performances by an NN Running Team athlete in 2019 came on the streets of Berlin as Ashete Bekere secured a third successive marathon victory. The tall Ethiopian has made a dramatic improvement since reuniting with former coach Getamesay Molla in 2018. A winner of the 2018 Valencia (2:21:14) and 2019 Rotterdam (2:22:55) Marathons, Ashete executed the finest marathon of her career in the German capital. Part of a leading group of four from 20km, Ashete was prepared to bide her time before launching her winning bid. By the 40km mark just Ashete and her countrywoman Mare Dibaba remained at the front as the pair were locked in a head-to-head duel for victory, In a thrilling climax, Ashete's superior speed in the latter stages delivered the 31-year-old the race by a seven-second margin in a personal best time of 2:20:14.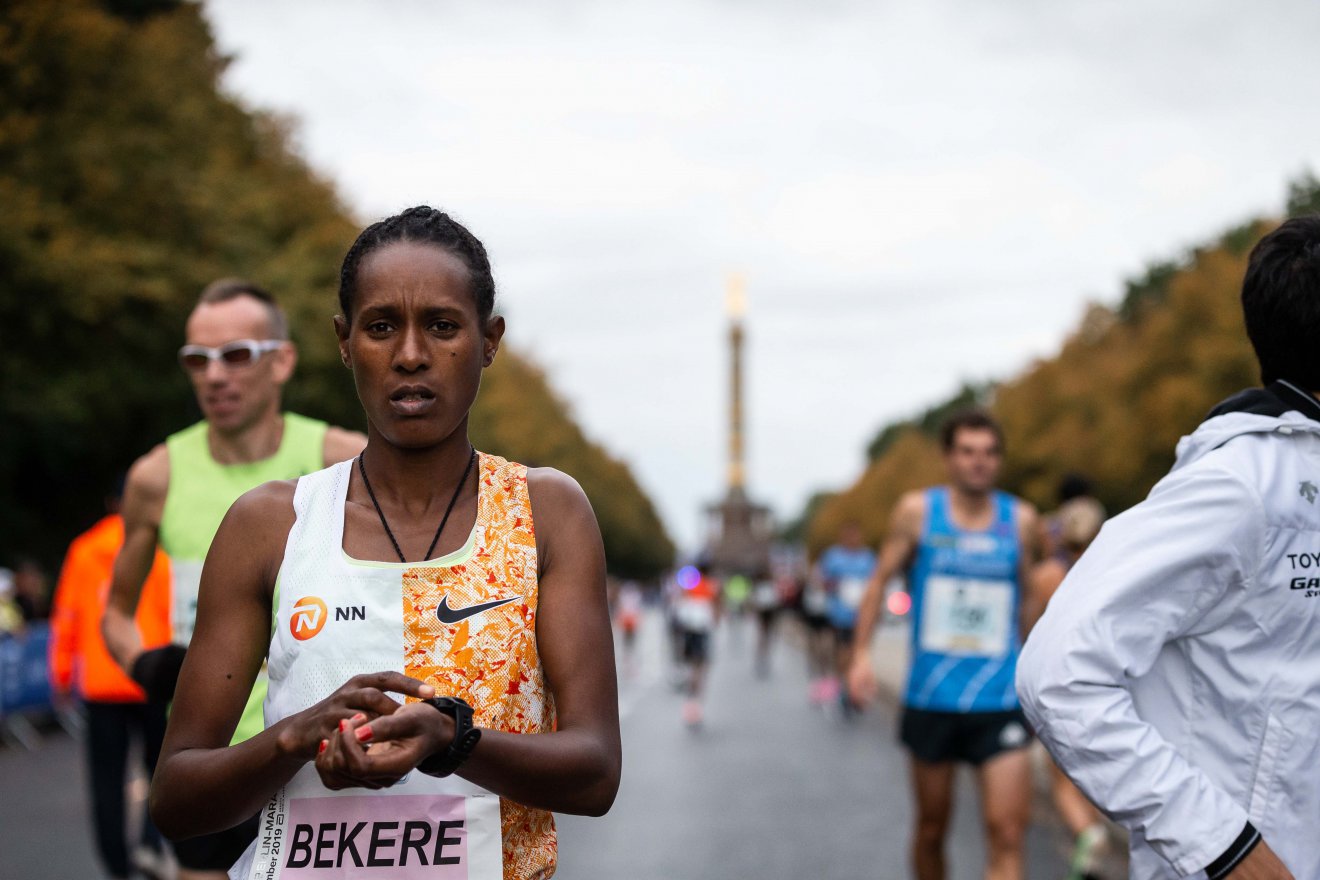 5 – Eliud Kipchoge - Vienna
History was made on the streets of Vienna as Eliud Kipchoge became the first human in history to run a sub-two-hour marathon at the INEOS 1:59 Challenge. The global Kenyan icon, who has won 11 of his previous 12 official marathon races and is owner of the world record over the classic distance, unleashed yet another masterclass of running excellence to achieve his "moon-landing moment" – stopping the clock in 1:59:40.
Supported by a world-class team of 41 pacemakers, and an electric car complete with futuristic lasers, Eliud churned out each kilometre with metronomic precision passing half way on the streets of the Hauptallee on schedule to make history.
Celebrating wildly as he approached and then crossed the finish line under the magical two-hour barrier, Eliud first embraced his wife, Grace and then his lifelong coach, Patrick Sang.
It was a momentous achievement which shook the world and can stand comparison with Sir Roger Bannister becoming the first man to run a sub-four-minute mile or Neil Armstrong's becoming the first human to step on the moon.
"Sport can help unify people," said Eliud. "I wanted to sell the message to the whole world. Truly no human is limited."