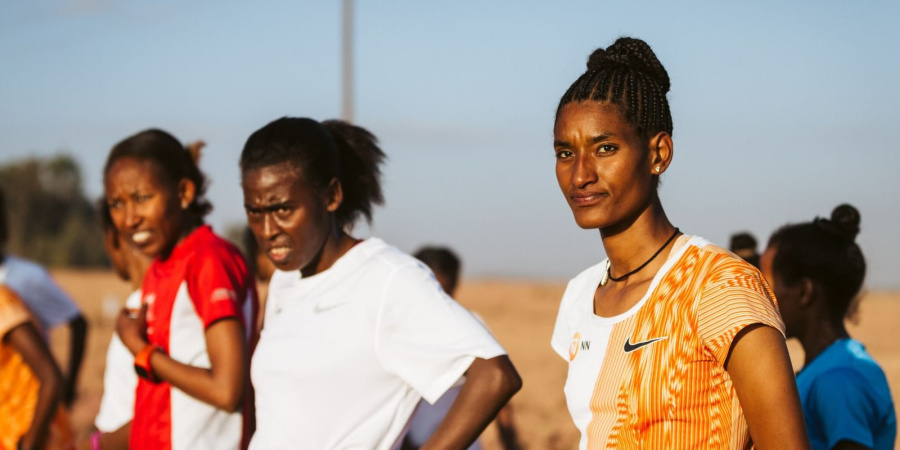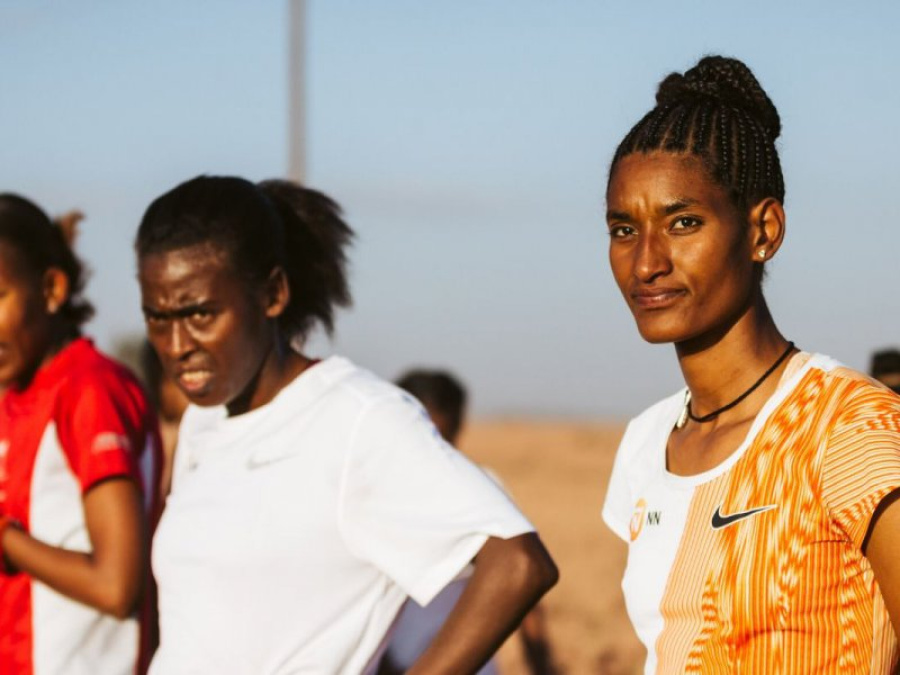 Introducing Degitu Azimeraw
Emerging Ethiopian star Degitu Azimeraw set a course record and ran the second fastest debut marathon time for a woman when blitzing to victory in 2:19:26 in Amsterdam last October. We find out more about the ever-smiling athlete with such an exciting future in the sport.
Humble beginnings
Born and raised the fourth eldest of six siblings in West Gojjam in the Northern Ethiopian region of Amhara, Degitu recalls her earliest running memories were sat listening to the feats of Ethiopian distance running stars Meseret Defar and Tirunesh Dibaba on the radio.
"They were both amazing runners and I hoped one day to match them," says Degitu.
Later encouraged by a schoolteacher to start running at the age of "15 or 16" she quickly impressed in cross country before joining a training group with her friends.
"It was a strong group with a good training system," she explains. "My hope was that I would run faster and one day earn a living out of athletics."
Indian takeaway
In an effort to further her running career, four years ago she relocated to live in the Ethiopian capital city of Addis Ababa.
In late-2017 she earned an invite to compete in her first international race, the Tata Steel Kolkata 25km race in India, and made the most of the opportunity by outsprinting the opposition to win by three seconds in 1:26:01.
"It was my first time outside of Ethiopia, which was not easy because India was culturally very different," she explains. "But I was so pleased to be given the chance to compete. It was a surprise for me to win because I knew I'd be up against many strong Kenyan and Ethiopian runners."
Half marathon gains
The 2018 season started with a bang as she blitzed to a World U20 record time of 66:47 for sixth on her debut over the 21.1km distance at the RAK Half Marathon.
Brimming with confidence, she claimed victory in her next half marathon in Gifu, Japan in 69:53 before placing third (74:51) in the high altitude Colombian city of Bogota in her third and final half marathon outing of 2018.
However, Degitu's highly encouraging year was to end on a slightly disappointing note. Struggling with a cold she failed to produce her best in the defence of her Tata Steel Kolkata 25km title and wound up fourth in 1:27:51.
"I had a chest cold from 15 days out from the competition," she explains. "It was very hard to be competitive. But I did not stay not disappointed for long, I'm not that sort of an athlete."
Great talent
In 2018 she connected with her current coach, Tessema Abshero. Degitu was instantly impressed by his systematic training regime, while Tessema was also hugely excited to take on such a promising running talent.
"Degitu has such a nice personality, but is also a fully committed athlete," Tessema explains. "She never misses a training session and has a great relationship with the other athletes in the group offering them advice."
"She has great speed endurance. I knew by how she responded in training, that one day she had the potential to run a 2:20 marathon."
Continental silver
After joining Global Sports Communication in January, 2019, Degitu scalped 40 seconds from her half-marathon best to place fourth in 66:07 at the 2019 RAK Half Marathon and later in the season was rewarded by earning selection for her country at the All Africa Games in Rabat.
Competing in the half-marathon she won the silver medal in 70:31 – finishing five seconds behind her training partner, Yalemzerf Yehualaw, who scooped gold.
"I was very happy to be part of the Ethiopian team for the first time, and it was nice to win a silver medal," she explains.
"In the final stages, I didn't have the speed but it was nice that my training partner won the gold medal."
Marathon doubts
Tessema had long viewed Degitu as an outstanding talent in the marathon but when he first raised the subject with her in June last year she was initially cool on the idea.
"She said to me, 'I don't think it is possible to run the marathon' but I replied 'you have to try'," explains Tessema. "But she continued to follow my training system and in September I approached Global Sports Communication about entering her for the Amsterdam Marathon and Degitu agreed."
"My coach said I could run a sub 2:20 marathon and a friend thought I could run that time too," she adds. "I then looked at my training plan and thought I could finish maybe number one or two."
Dazzling debut
The race – which was run in ideal temperatures and windless conditions - ran like a charm for the marathon debutant. Running in the same field as fellow NN Running Team athletes Mimi Belete of Bahrain and her countrywoman, Azmera Gebru, Degitu ran the race like a seasoned veteran.
"My body was relaxed at 35km and I still felt like I had good power," says Degitu. "It was at that point I thought, I can win this race."
Racing away from a top-class field she stopped the clock in a scintillating course record of 2:19:26 - the second fastest women's debut marathon time in history.
"I was very surprised to win my first marathon in such a fast time," she explains. "I loved the Amsterdam Marathon and I was so happy to run under 2:20."
Caring nature
The prize money Degitu earned in winning one of the world's most high profile marathons has helped transform her life. However, typically for the modest athlete she has used her success to help others.
"Degitu has helped her mother and father and paid school fees for her siblings," he says. "Not only that, but she has also bought clothes for others in her home village and helped cover some training costs for the next generation of athletes," explains Tessema.
"She has such a lovely personality and always wants to help others."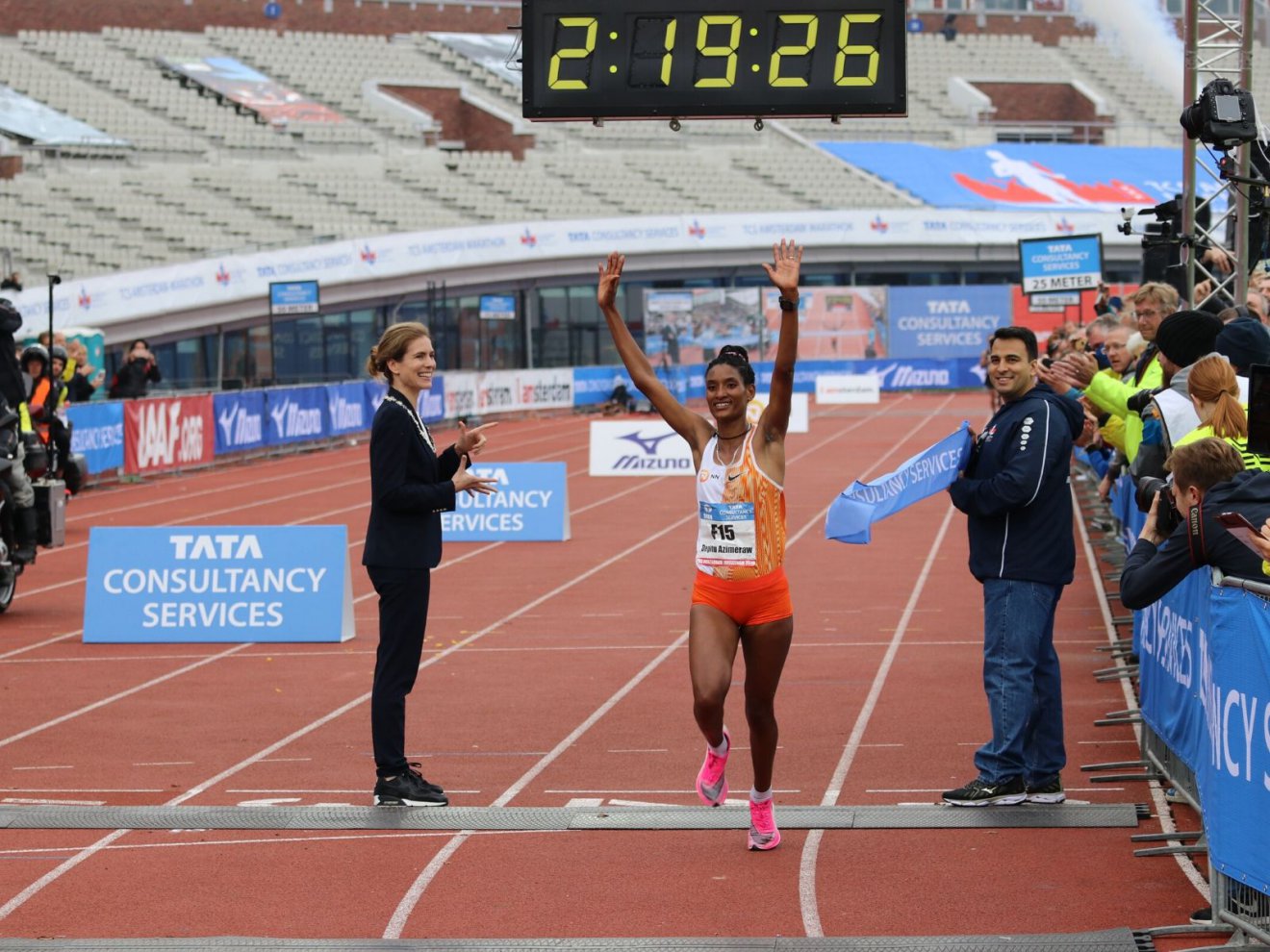 Football Fan
Away from athletics Degitu shares a flat with her boyfriend and fellow runner, Alemneha Yirsawu. She enjoys watching Ethiopian movies and also has a passion for watching football and supporting Premier League outfit Manchester United.
"I like their playing system and enjoyed the team spirit they had under former coach, Alex Ferguson," she explains.
Future ambitions
Degitu's next planned competition will be a third successive appearance in the RAK Half Marathon on Friday (Feb 21) and beyond that she hopes for a good result in the London Marathon and to later win selection for the Tokyo Olympic Games.
"Now I have run 2:19 for the marathon, I think it is possible to run either 2:18 or 2:17," she adds with her ever-present smile.