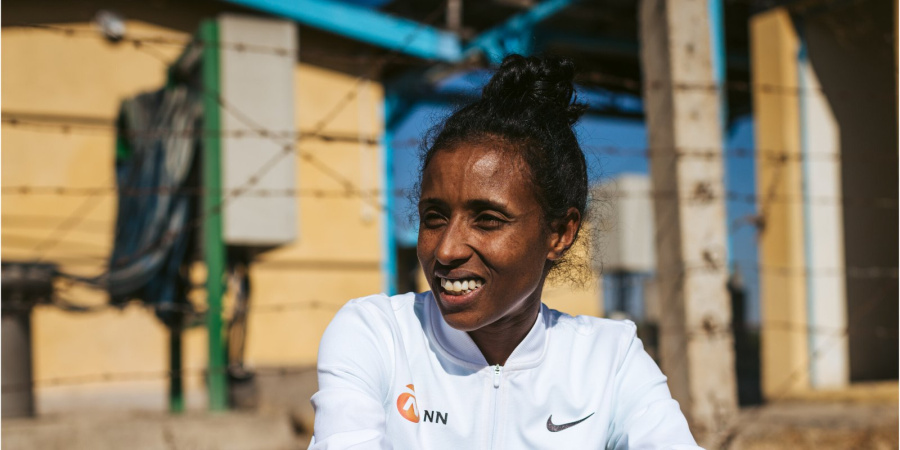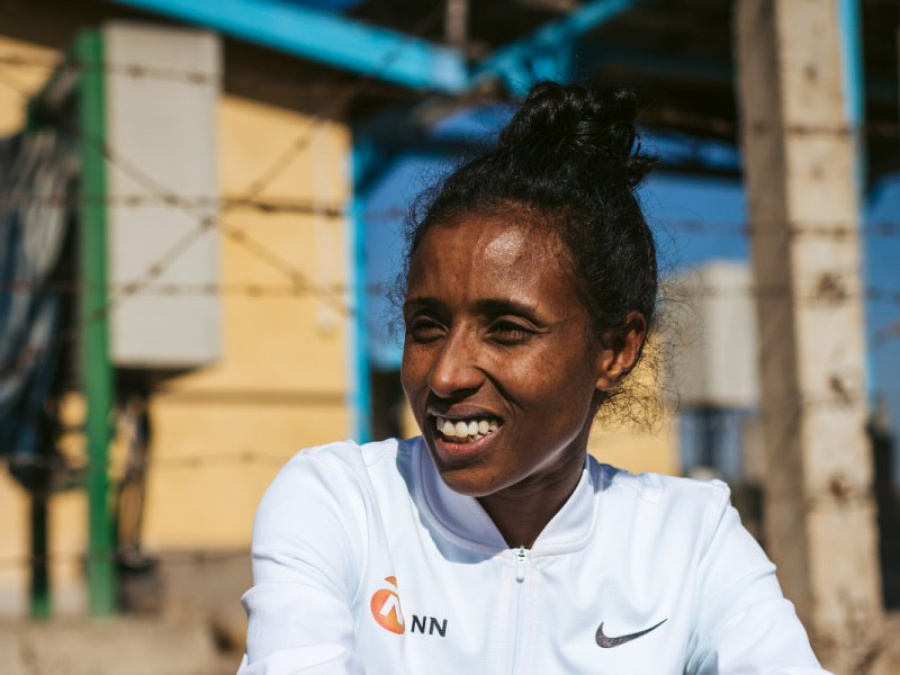 Introducing Azmera Gebru
The Ethiopian athlete boasts a proud record of three podium finishes from her three career marathons so far. We find out more about the 24-year-old ahead of her latest marathon outing on the streets of Tokyo on Sunday.
Fast at footie
Born one of seven siblings in the town of Maychew in the northern Ethiopian region of Tigray, Azmera grew up on a big farm. And it was during her formative years playing football when she first discovered an ability to run.
"We used to play football and it was running around playing games there when I first knew I could run fast," explains Azmera.
Sprints and middle-distance talent
Encouraged to compete in athletics by a schoolteacher, Azmera started her running life as a promising 200m and 400m sprinter. She soon began training with a local team but it was after storming to 400m and 800m gold in a national competition as an under-14 athlete, which proved a pivotal moment. On the back of this she was snapped up to compete for the Ethiopian Electric Club and relocated from Tigray to live in Addis Ababa.
International beginnings
At the tender age of 14, Azmera revealed her athletic talent by qualifying for the 800m for the 2010 World U20 Championships in Moncton, Canada. Unfortunately, badly hampered by an untimely stomach bug she was eliminated from the heats but she bounced back from the disappointment to make huge progress in 2011.
Training alongside longer distance athletes, she was encouraged to compete in cross country. Opting to heed their advice she quickly discovered the extra distance was a natural fit for her abilities.
In 2011 she claimed a bronze medal in the women's U20 race at the World Cross Country Championships in Punta Umbria, Spain, finishing just one second behind Faith Kipyegon, the 2016 Olympic 1500m champion and 2017 World 1500m gold medallist.
"It was a big surprise for me to be selected to represent my country and then another surprise when my coach said I had a chance to place top three," she explains. "The third surprise for me was to execute and finish third."
Track times
Azmera's progression continued later in 2011 when she snared the African U20 3000m title in Botswana by more than a two-and-a-half second margin and later that year made her Diamond League debut in Paris, finishing ninth in the 5000m in a PB of 14:58.34.
"I was running so well that year because I was fully healthy and completing all of the training sessions," she adds.
Competed principally as a track runner in 2012 she set PB's of 8:40.01 for 3000m in Monaco and 14:58.23 for 5000m in Rome.
Getamesay's group
She continued to compete sporadically in 2015 and 2016 before her career was reignited under the coaching of Getamesay Molla.
Given a new lease of life under her new coach she opted to specialise as a road runner.
"Having watched her train firsthand, I knew Azmera had the stride, the strength and the endurance capacity to make a very good marathon runner," explains Getamesay. "During the longer training runs she never seems to get tired plus she also saw the marathon performances of the other girls in the group like Ashete (Bekere), Tadelech (Bekele) and Azmera (Abreha) and was inspired to follow them."
Amsterdam debut
Later in 2017 she made her half-marathon debut in Valencia, where she finished a solid eighth in a time of 70:40. Her athletics career was put on hold in early-2018 as she spent a period looking after her sick mother in Tigray but she re-emerged in late 2018 to make her marathon debut in Amsterdam.
"I received some good advice from my team-mates that the key part of the race is after 35km," she explains. "They also told me that providing you complete all your training sessions, the marathon is not so difficult. Their advice gave me a lot of confidence."
Performing with distinction, Azmera earned a podium spot in third – behind race winner and training partner, Tadelech Bekele – in a time of 2:23:31. "I was very happy as I did not expect to run such a quick time," she adds.
Tokyo hopes
Her fledgling marathon career continued to flourish in 2019. In Paris, she placed second – one place ahead of training partner Azmera Abreha – in a PB of 2:22:52 before later clocking 2:20:48 for third on her return to Amsterdam.
Her next major target is the Tokyo Marathon – her first World Marathon Majors race – and while she is targeting a great performance she understandably has half-an-eye on a return to Japan for the Olympic Games in the summer.
"I know Ethiopia will pick a very strong ladies marathon team but I would love to be a part of the Olympic team," she explains.
We are family
With a passion for listening to Ethiopian music and watching historical documentaries in her downtime, Azmera fully acknowledges the role Getamesay and her training group have played in her success.
"I always listen to the coach, he is a good communicator," she explains. "I am lucky to be part of a group that to me feels more like a family."