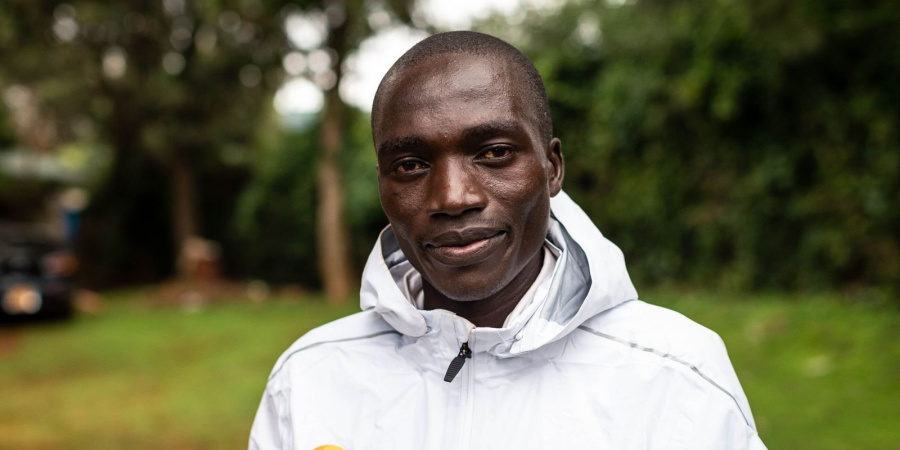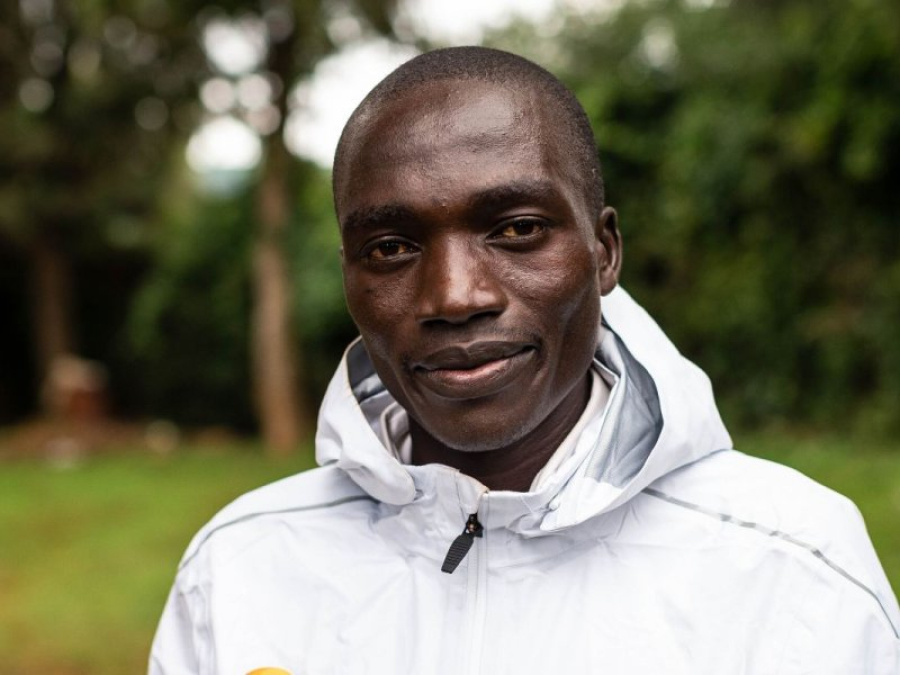 Introducing Filex Chemonges
The Ugandan shattered his personal best by more than four minutes to set a stunning national record of 2:05:12 at the 2019 Toronto Waterfront Marathon. We chat to the happy-go-lucky 24-year-old athlete to find out more about his meteoric rise to the top.
Kapchorwa local
Filex was born the eldest of six siblings in the village of Chebungai close to the NN Running Team training camp in Kapchorwa. Growing up in a typical rural farming community in Eastern Uganda he says both his late-father and mother were former runners, although neither competed internationally.
National stage
Filex started his sporting life as an enthusiastic soccer goalkeeper before switching to athletics. Making an immediate impact in primary school competition he continued to progress as a secondary school athlete but his breakthrough performance came when placing third in the 10,000m in a PB of 29:09.41 at the 2015 Ugandan Championships. Aged 19 at the time he says: "I was pleased with the performance but I was surprised to see the improvement."
Half Marathon debut
In 2016 he joined Global Sport Communication and began life training alongside athletes in the Kapchorwa training camp.
For the first time Filex was training to an organised programme – involving a combination of fartlek sessions, speed work and long runs and he quickly felt the benefit.
On his half marathon debut he ran 69:36 half marathon at a cold and windy Egmond aan Zee in the Netherlands – with sections of the race run along the beach and sand dunes. Three months later he posted a 64:20 half marathon on a much faster course in Barcelona.
Filex reflects on the memory of the Egmond race: "I didn't know anything back then but I learned many things. Running 69 minutes you look back and wonder, 'what was my problem?' But you make corrections for the future and try to improve."
Build for the future
After enjoying his first international campaign in 2016, at the end of the year he was struck by personal tragedy following the death of his father. His management took the decision in 2017 for Filex to focus on his training and consolidate his career with a series of competitions in his homeland. He placed seventh in the 5000m final at his national championships and recorded a solid 64:37 for second in a half marathon in Kampala.
Championship experience
In 2018 he earned selection for Uganda to compete at the World Half Marathon Championships in Valencia. It was a proud moment for the East Ugandan, who was delighted to pitch himself against the world's best.
"I placed 26th (in a PB of 62:10), even though I slipped and fell rounding a corner in the race," he recalls.
The half-marathon PBs continued to flow. Just three weeks later he ran 61:46 in Verbania and later that year chipped a further five seconds from that time in Cardiff.
Marathon man
Persuaded by his manager, Jurrie van der Velden, to make his marathon debut in Beirut in November 2018, the experience proved hugely positive for the amiable Ugandan. He recorded a solid 2:11:57 for second, a performance which convinced him his future lie over the classic distance.
"It was the first time I had prepared for a marathon but during the race I took the approach that if one of my rivals make a move, I should try to follow and in that way I can only improve," he says.
Team unity
Training alongside the likes of 2012 Olympic marathon champion Stephen Kiprotich and Jackson Kiprop, a World Championship and Olympic marathoner, as part of a new marathon training group in Kapchorwa has acted as a huge boost for Filex.
We never train alone, we train as a team.
"Our performances show the whole world what a great advertisement it is to work together."
National record
Filex made another leap forward in his second marathon, posting a PB of 2:09:19 to place second in Linz before turning his attention to the Toronto Waterfront Marathon.
Pre-race, a Kenyan pacemaker encouraged Filex to stick with him if he wanted to run at a 2:06 pace, and the Ugandan heeded the advice.
Working from 30km with eventual race winner and fellow NN Running Team colleague Philemon Rono of Kenya the pair helped push one another to a pair of stunning PB's.
Rono eventual kicked ahead to claim a victory in 2:05:00 but just 12 seconds further back in third was an elated Filex, who had improved his PB by a monster four-minute margin and bettered Stephen Kiprotich's four-year-old Ugandan record.
Elated to run such a time, Filex has a very simple explanation for his rapid advance as a marathoner.
"I've brought the right mindset to training, so that I love training," he adds. "But I also know I must get the right rest and eat at the right time, and I've just tried to follow these things."
Good human
A humble man, Filex has also taken up a fatherly role to his younger siblings paying for their school fees and lending a huge hand to family life.
There is also little danger the Ugandan record-holder is going to change his attitude or approach to life.
"It doesn't matter if you run can 2:05, in society everybody needs to treat each other equally," he explains. "It is not good to be separate from people, you need to work with others in order to help one another improve."
Lake Biwa ambition
Filex's next competitive outing comes at the historic Lake Biwa Marathon in Japan on Sunday (March 8), which he hopes can act as a springboard for selection in the Ugandan team for the 2020 Tokyo Olympics.
But when pushed on what his expectations were for his next outing he simply comments: "I will do something, I must do something,"
A fact he is consistently adhered to throughout his fledgling but hugely promising marathon career so far.