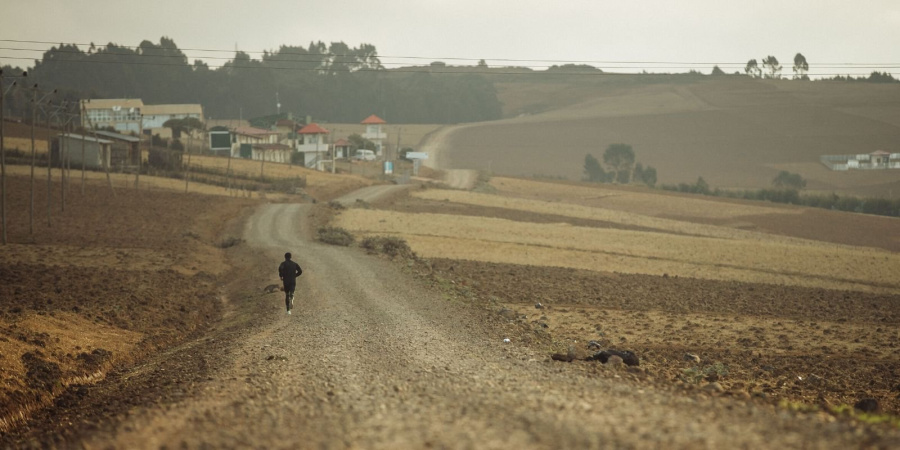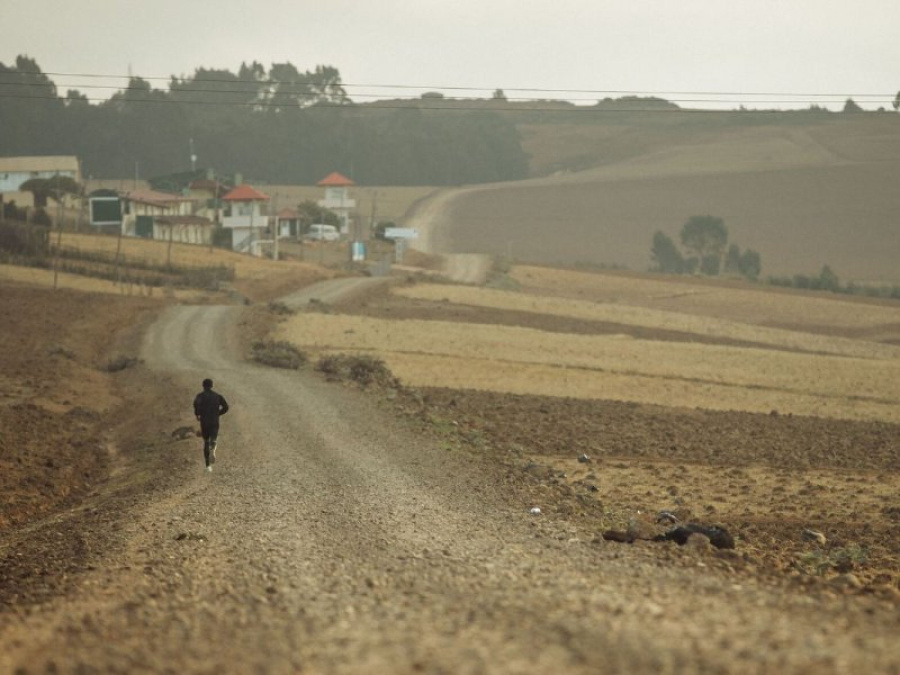 Training amid a global pandemic
The Covid-19 global pandemic has created an enormous challenge for athletes to fulfil their typical training programme. We speak to key members of the NN Running Team about how they are best trying to overcome the difficulties while strictly adhering to the restrictions.
Kenya
Current government restrictions in Kenya, which does not allow training in groups, forced the 30 or so Kaptagat-based training camp athletes to leave and head back to their respective family homes last month.
Now training solo, the camp's leading athlete, Eliud Kipchoge, has been forced to strip back his running to just once a day in the wake of the partial lockdown.
"The restrictions have affected me, it has disturbed everything," he says. "I now train alone in the morning, and it is hard to train alone when you normally train as a team."
"I'm still going out and running 20-30km on a morning at around 40 per cent (of effort) but the tracks are closed, so there is no chance for track work."
Also carrying exercises from the home three times a week - which includes step ups, weights and other flexibility work - he insists everyone must adhere to the government guidelines and make the best of a challenging situation.
"For me, I just need to be as fit and strong as I can be when the camp re-opens," he says.
Eliud's training partner, the world half marathon record holder and New York City Marathon champion, Geoffrey Kamworor, has wisely started training on a treadmill in preparedness for potentially facing more draconian Covid-19 restrictions in future.
Recently acquiring the treadmill, the Kenyan is combining three successive days of solo runs outside of around 20km followed by a day of running on the treadmill – situated on the balcony of his family home.
"I'm still learning how to use the treadmill," says Geoffrey, who was hoping to claim a fourth successive World Half Marathon Championships last month in Poland only for the event to be postponed until October following the Covid-19 outbreak.
"It was a little difficult running on the treadmill at first, but I'm getting used to it now. I thought it was useful to get used to running on it for if and when the country says we are in a full lockdown and I can't leave the house. If this happens, I will still be able to train on the treadmill."
"It was unfortunate the World Half was postponed but we have to accept this situation. I'm now focused on keeping fit and trying to compete again."
Also based out of the Kaptagat training camp, Dutch marathon record holder Abdi Nageeye has also been forced to readjust his training plans since switching to live in Eldoret.
Taking some time out following the postponement of April's Rotterdam Marathon he has taken to the bike for general fitness and conditioning.
"I've been out on the mountain bike four times a week," explains Abdi. "I only have to cycle 200m up the road and then I can take a left on to some nice forest trails."
Also carrying our three exercise sessions per week via video sent by physio Marc Roig – he has kept his fitness ticking along – however, he has found training a challenge outside of the camp environment.
"Everything flows nicely in the camp and it is a little harder to motivate yourself training on your own," he says. "But I hope to build up to the marathon in the fall and use this time to prepare as best I can."
Iten-based Julien Wanders has been forced to improvise under the government restrictions in order to keep his training levels to around "90 per cent" of the norm.
The European half-marathon record-holder from Switzerland was scheduled to compete at the World Half Marathon Championships in March before its postponement. And although he is missing being able to train as part of a group, he is determined to make the best of a difficult situation.
"Although we can't go for track sessions, I follow the programme my coach has sent me the best I can," explains Julien. "I still try to complete my three main sessions a week, with a long run of around 25km every Thursday, a fartlek session and I try and replicate my track session on the road. I drive to one of the several flat stretches on the road and I will try and run the session like I would on the track - whether that is 600m reps or 1km reps."
Missing some of the heavier gym equipment for weight sessions, the 25-year-old Swiss, nonetheless, adds: "As much as possible I try to train as normally as possible, while following the rules."
Belgium
A lot has changed since Bashir Abdi stormed to a Belgian record time of 2:04:49 for second in the Tokyo Marathon in early March.
The race in the Japanese capital was the last Marathon Major to take place until the sporting world ground to a halt because of the Covid-19 crisis and despite Bashir taking three weeks off post-Tokyo he too has to adapt to his changing training circumstances.
Typically spending prolonged periods of time training in Ethiopia, Bashir has been based in the family home in the Belgian city of Ghent since returning from Tokyo.
Combining runs of up to 12km at his local park four times a week with several bike rides of up to 40km – he is in the first phase of re-building fitness before his next marathon assignment.
Yet it has not been easy for the 31-year-old athlete.
"The worst thing for me is training alone," he explains. "I am also someone who likes a target," he explains. "At the moment I don't know what I'm training for and I'm finding that difficult. I hope a race will be planned soon, so I can have a target. At the moment, I'm just trying to keep the body as active as possible."
Uganda
The restrictions of movement in Uganda have also hampered the training of World 10,000m champion and World cross country champion Joshua Cheptegei.
The NN Running Team superstar enjoyed a near perfect 2019 season, which also saw him capture the world 10km record, and although athletes are still allowed to train in small groups of up to five people in Uganda, certain ingredients are missing from his weekly regime in Kapchorwa.
"It has affected me negatively as I can't access the track for speed sessions or the plateau (a long drive) for the tempo runs," explains Joshua. "At the moment, I just have to work on my endurance and speed endurance."
Recently he has also purchased a treadmill, which allows for more flexibility with his training should the restrictions tighten in the future.
Joshua's training partner Stephen Kissa – a 27:13 10km road performer - agrees that the training restrictions can be challenging, but the group – under the guidance of coach Addy Ruiter - are trying to come up with solutions in order to maximise fitness.
"We are missing track sessions, tempo runs down in the plateau and the hill sessions at the high altitudes because we were not allowed to drive there."
"But we are instead trying to do tempo runs within the local area, discovering new loops for hill work and also introducing treadmill training indoors for extra sessions."
Ethiopia
With similar Covid-19 restrictions in place in Ethiopia, athletes have been forced to disband their training groups and revert to solo training.
For Kenenisa Bekele, the man who caused a sensation to come within two seconds of Eliud Kipchoge's world record time at last year's Berlin Marathon, the restrictions have caused a training re-jig under the guidance of coach, Mersha Asrat.
No longer with the freedom to train between various training venues, the three-time Olympic champion often drives the short distance from his family home in Addis Ababa to train in the forest.
"To go to the stadium for track work is not possible and road work is also difficult," adds Kenenisa, who was due to compete in April's London Marathon.
"I try to run 20-25km in the forest to keep the body ticking over and to maintain good kilometres. I also do cross training at home - with maybe 5-10km on the treadmill, 20 minutes on the cross trainer and 20mins on the bike."
"The aim now is to stay healthy and strong and put my body in a good position when competition re-starts."
While Kenenisa blitzed to a memorable victory on the streets of Berlin last September, his compatriot and NN Running team-mate Ashete Bekere stormed to victory in the women's race to rack up a third successive marathon win.
Like Kenenisa, Ashete was scheduled to race the London Marathon in April until its postponement and the current Covid-19 restrictions have compromised her training.
"I'm only training once a day, six times a week," she says. "I'm taking this as a rest period and it helps that I live on the outskirts of Addis, which makes it easier to go for a run. It is difficult to run on your own, but I don't have much of a choice. We just have to abide by the rules."