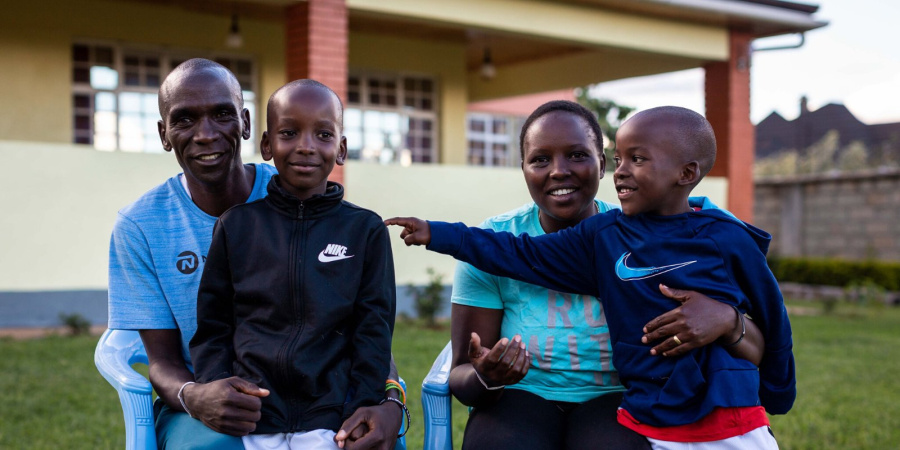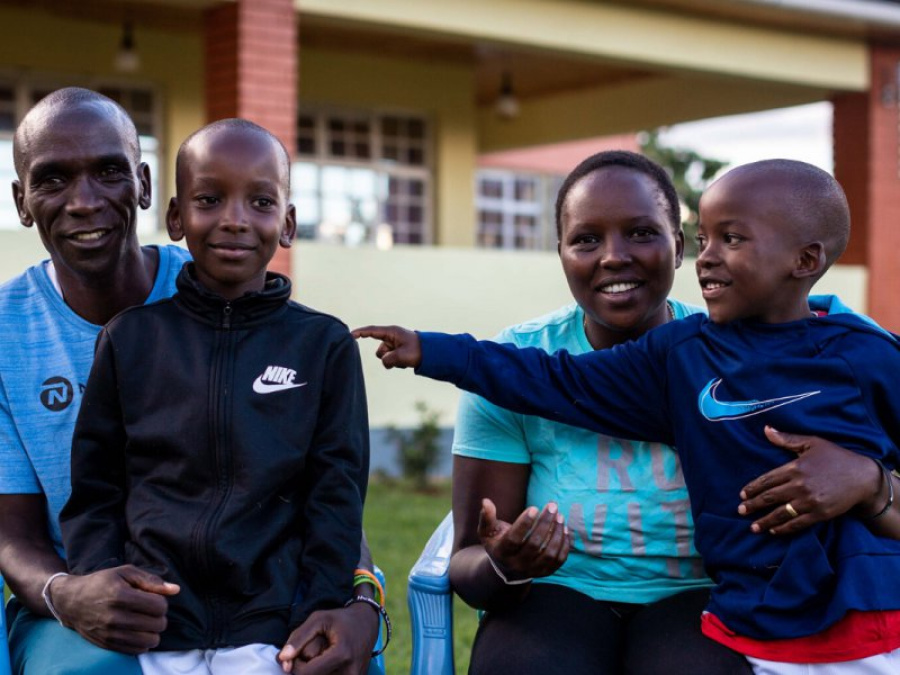 A family affair
Life under lockdown has made maintaining fitness levels more demanding but a huge compensation has been that athletes have got to spend more time with their families. We speak to half a dozen NN Running Team athletes about how they have occupied their time with their children.
From helping with the kids' homework, to playing football or fitting in family drawing sessions, athletes within the NN Running Team community have been kept very busy at home with their children during lockdown.
Ethiopian running icon Kenenisa Bekele may be an all-time great of the sport but the Covid-19 restrictions has acted as a healthy reminder of what is important.
"I enjoy spending more time at home with the family, I miss this life," he explains. "To get to spend longer with my three kids. It makes me very happy."
Kenenisa has enjoyed playing schoolteacher at home while in their downtime they've enjoyed watching TV, reading books and playing video games together.
"We play video game sports like football and basketball. We sometimes play design games to build houses while my seven-year-old boy loves shooting games. He beats we all the time. I can never beat him. He comes up from behind and shoots me," he adds with a laugh.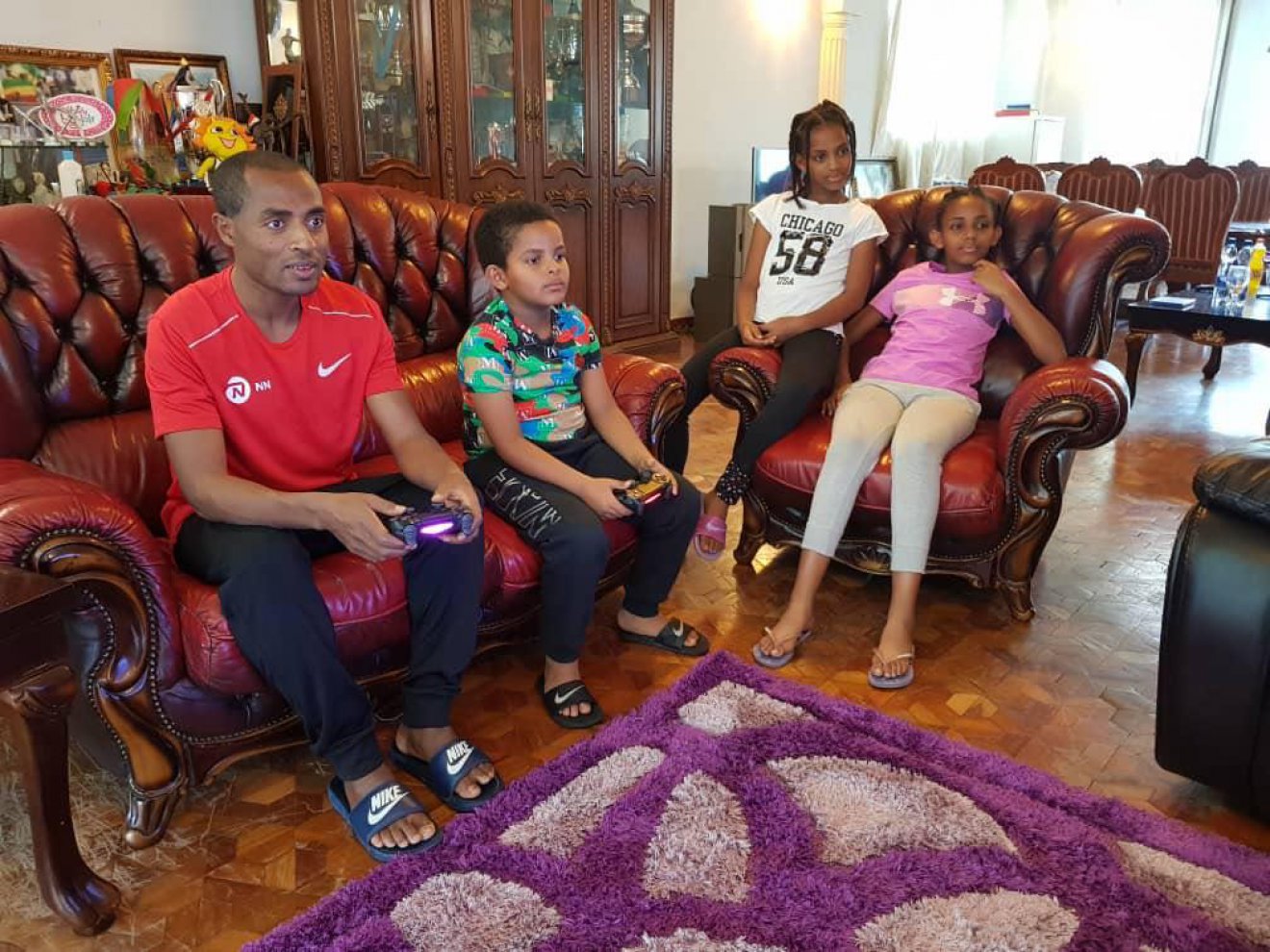 Eliud Kipchoge has enjoyed a lot more time than he typically would spend at home and he has fully embraced the experience with his children; Lynne, Griffin, Gordon
I'm a happy man. I sometimes have to do teach and direct the kids schoolwork. Previously, we would have never had the chance to do as much schoolwork together.
Eliud is also delighted that his three kids and wife, Grace, have also embraced a daily 20-minute morning run during lockdown.
"They have been training and it was been tremendous," he adds. "The kids will come back, take a shower have breakfast and then they are ready to learn."
Eliud's training partner, Geoffrey Kamworor, has been similarly enthused to spend an extended period at home as a dad.
Father to Elsie and Elvin, the world half-marathon record-holder says: "It's really amazing and nice to able to spend the extra time together. We play football together we share jokes and I also like to draw with them. We do a lot of art together they are always asking me to draw something - whether that is a cup, table, plate or even a cupboard."
Former World Half Marathon bronze medallist Selly Chepyego as a mother-of-two is treasuring every moment spending more time with her two children - Brian and Brilliant.
The Kenyan distance runner is happy to assist Brian with his high schoolwork – even though it is sometimes a challenge.
I sometime try and teach him but he says to me, 'no, we do not learn it that way now'. It feels sometimes like the kids are teaching me.
Spending time on the farm with his daughter, Angel, has been one of the favourite activities of Anthony Maritim during lockdown in Kenya.
The 2018 Barcelona Marathon winner adds: "A real benefit of the virus is it has given me more time to spend with the family. Angel has really enjoyed our time together. Many times we are on the farm."
For Belgian marathon record-holder Bashir Abdi, Covid-19 has also allowed much more precious time with the family. Often spending large chunks of time training in Ethiopia his trips back home to Ghent in Belgium can be infrequent.
"This is probably the longest period of time I've seen my daughter for," he adds. "I've missed a lot of time of her growing up and I'm really happy to be home now.
Toddler Khadra has also proved a bit of a social media hit during lockdown.
"I was at the supermarket to do the shopping, I put her in the bag and noticed as I started bouncing the bag she loved it and she started laughing. I posted it on social media and I got a lot of likes."
Bashir also has another reason to be thankful he is currently based in Belgium.
My wife is expecting our second child in the first week of June and I'm happy I can be around at home.