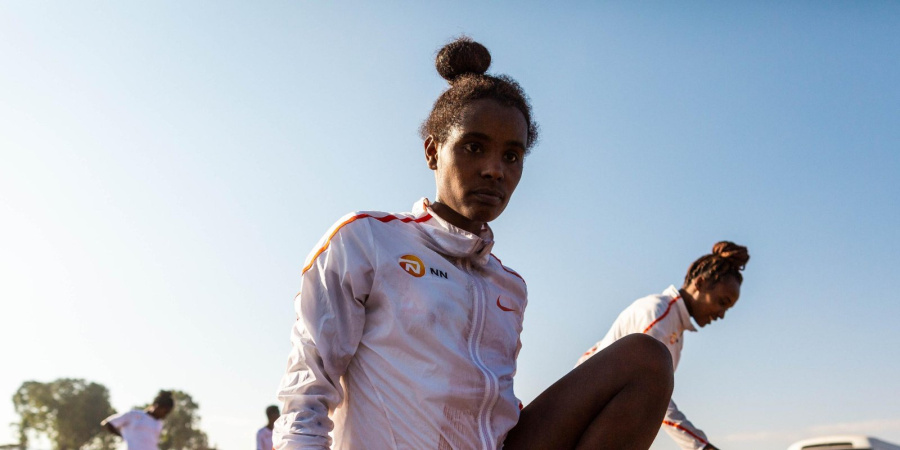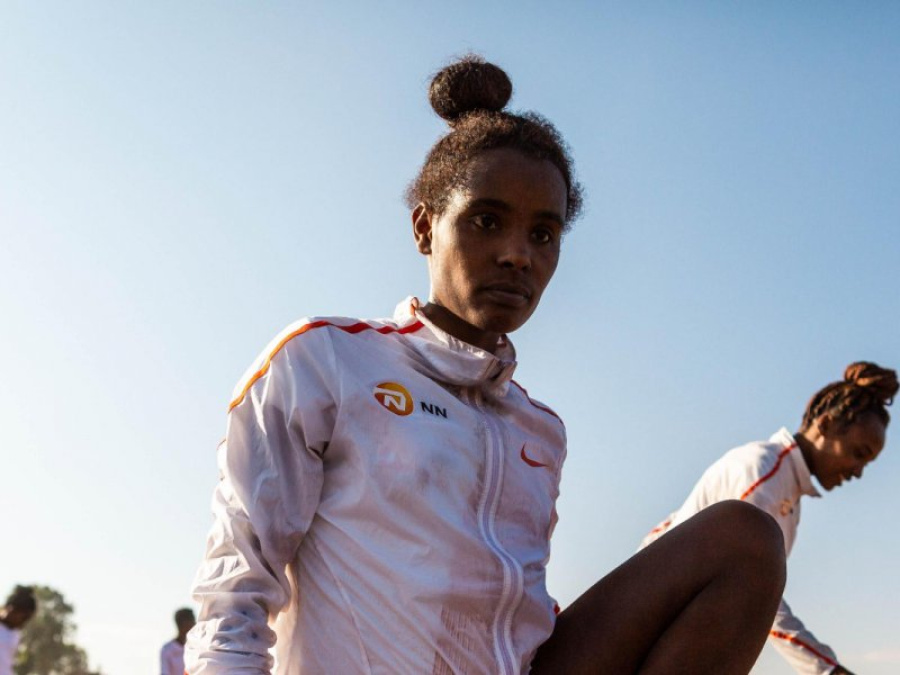 Meet the Kuma's
Ethiopian siblings Abera and Dibabe Kuma are proving a powerful combination in the NN Running Team. We chat to the Addis Ababa-based pair about their athletics journey so far.
Ethiopia has long boasted boasts a strong tradition for powerful family running units. From the Dibaba sisters – Tirunesh, Genzebe and Ejegayehu to the Bekele brothers – Kenenisa and Tariku – the country has lead the way in this regard.
Yet currently within the NN Running Team, the brother and sister act of Abera and Dibabe Kuma are also a great advertisement for sibling strength and their story is worth exploring.
Born in Galessa about 100km west of Addis Ababa, Abera is the third born and Dibabe the fifth born of ten siblings.
It was Abera who kick-started the family tradition for running. Back in 2007 he made his international debut by finishing fifth in the 3000m at the 2007 World U18 Championships before going on to forge a quality track career as a senior athlete.
In 2011 and 2013 he finished fifth at successive World Championships in the 5000m and 10,000m, respectively, and there was little doubt his success provided the running motivation for Dibabe, who is six years Abera's junior.
"I remember he finished number one at the 2011 Ethiopian Championships for 5000m and that is what inspired me to start running," adds the naturally shy Dibabe. "I started running in the village for newcomers before later joining a national club."
Within just three years of taking up the sport and still a teenager she finished seventh in the 10,000m at the 2014 Ethiopian Championships and the following year opened her international career on the road.
That same year Abera opened his marathon account, and in only his second race over the 42.2km distance he ran a highly respectable 2:05:56 to place third in the Berlin Marathon behind Dennis Kimetto, who that day posted a world record time.
Both siblings are coached by Tessema Abshero and their running has brought the pair closer together. The siblings share a flat in Addis Ababa with 23-year-old Dibabe saying she has learned a wealth of running knowledge from Abera.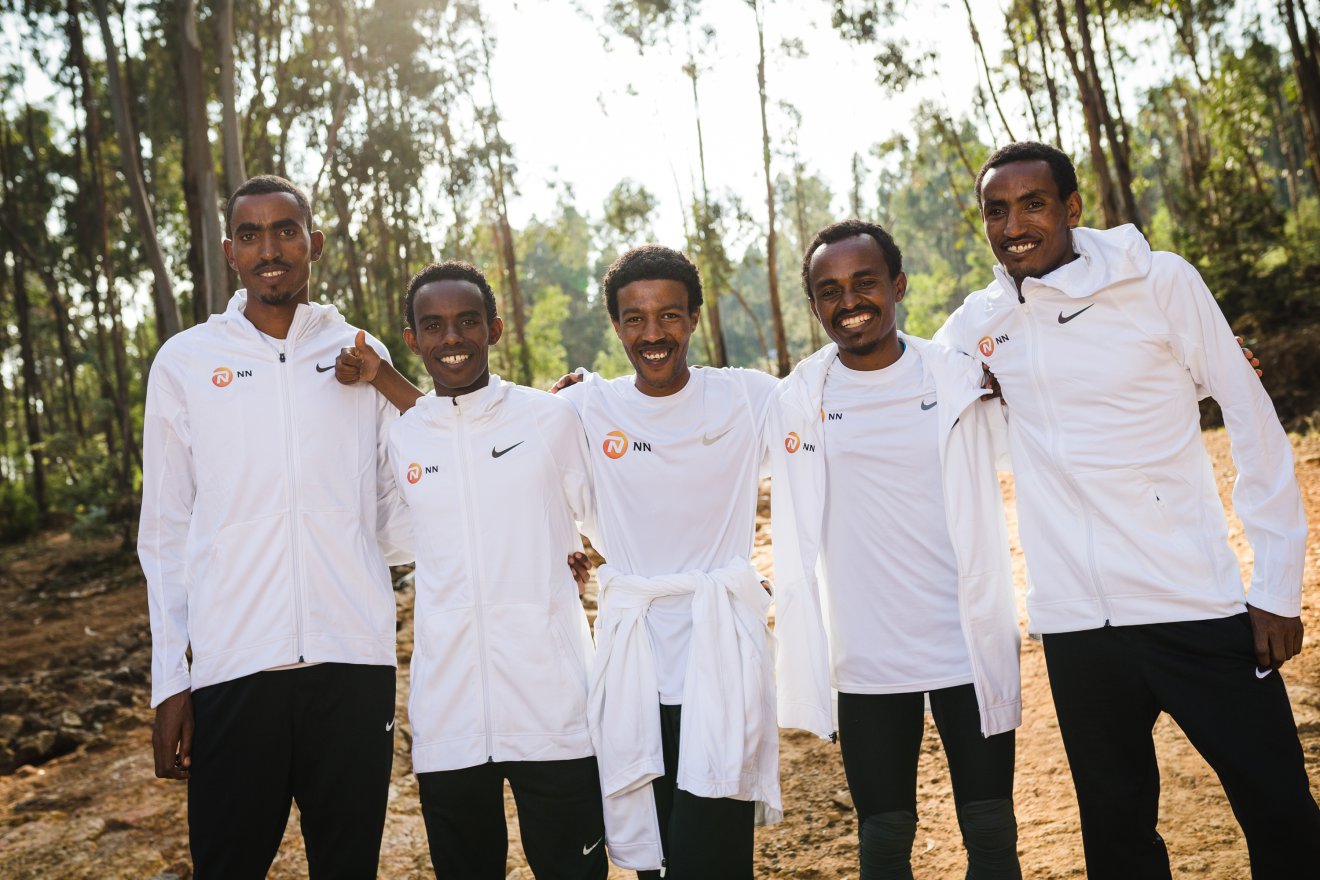 (Abera Kuma second person in the photo)
"He has offered a lot of good advice," she recalls. "From day one he told me to trust in the training programme. He gave advice on speedwork and a whole range of subjects. He taught me about the value of hydration, nutrition and rest. And he also warned me that I should not be online or on Facebook late at night!"
For the 29-year-old Abera, he has taken his role as protective older brother seriously.
"I've advised Dibabe to never give up but also not to follow certain athletes because they'll go at too fast a pace. I'm very supportive of her in every competition and always hope she gets a good result."
While Abera has built up six years of marathon experience, notably winning the 2015 Rotterdam Marathon in a time of 2:06:47 before returning to the Dutch race and recording a PB of 2:05:50 in NN Running Team colours three years later, Dibabe is in a much earlier stage of her marathon development.
She finished third on her 42.2km debut in Ljubljana, posting a time of 2:23:34 in 2018, before storming to an impressive win in a time of 2:24:41 in wet conditions on the streets of Hamburg last year.
It was a hugely emotional moment not only for Dibabe but also for older brother Abera.
"I was watching the race with friends on the TV in a hotel in Addis Ababa," he recalls. "When she crossed the line having won the race I am crying and all my friends are crying. It was a very happy moment."
Living together and training together the pair share every meal together. Abera is a big football fan – and supports English Premier League side Arsenal. Dibabe, meanwhile, prefers to listen to music and watch Ethiopian traditional movies.
But how do the two athletes differ?
"Both athletes have a nice personality but they do have different qualities," explains Tessema. "Abera is very aggressive in training he is always fighting. While if I ask Dibabe to do five reps in a sessions she'll just what I ask her. She saves up all her aggression for the race."
Interestingly, a third Kuma sibling, 15-year-old Abezu, is showing promise as a schoolgirl distance runner so it is not inconceivable the Kuma running dynasty could be further strengthened in the future.
Yet in the shorter-term it is Abera and Dibabe flying the family flag within the NN Running Team – and there is little doubt how the sport has helped transform their lives.
"I've bought a car and a house and built a house for my family," he explains. "I've paid school fees for my brothers and sisters. Running has helped me and my sister and in so many ways. Without the sport I'd still be living in the countryside. Athletics has changed so many things for the Kuma family."