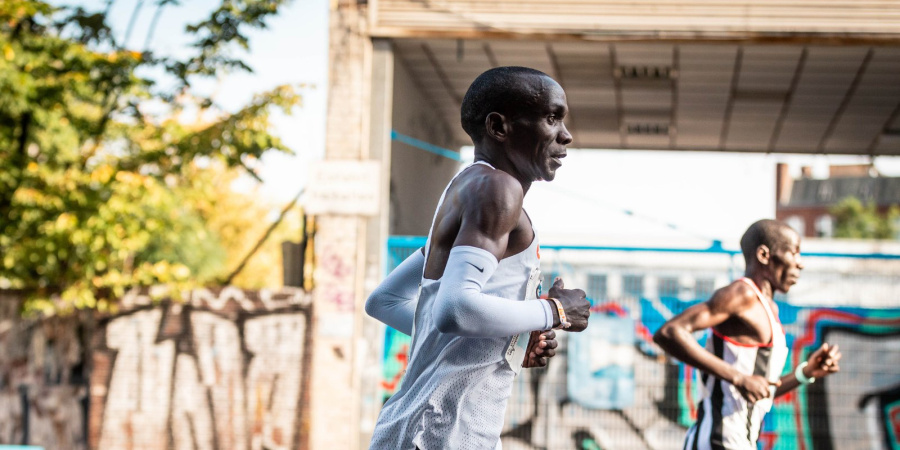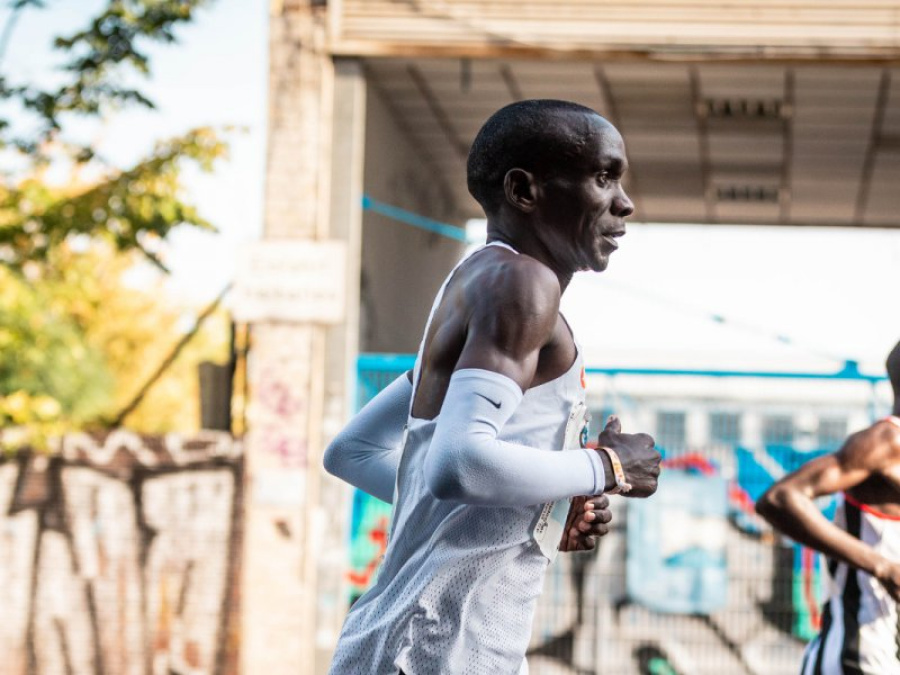 The Berlin Marathon has witnessed many memorable moments in Eliud Kipchoge's career
Unfortunately, the global pandemic has led to the cancellation of this year's race, which was scheduled for later this month, but we take a look back at two unforgettable victories for Eliud Kipchoge in the German capital.
2017 – Eliud wins the big splash
Displaying his considerable virtues of patience, concentration and self-belief, Eliud Kipchoge survived a supreme examination from marathon debutant Guye Adola to take victory and secure a seventh successive victory over the 42.2km distance.
Just four months after Eliud's stunning 2:00:25 performance as part of the Nike Breaking2 Challenge, the Kenyan marathon maestro showed no signs of fatigue in the rain-drenched German capital city.
The halfway checkpoint was reached in 1:01:29 – on schedule to break Dennis Kimetto's world record of 2:02:57 – but in the heavy rain the pace, understandably, slowed in the second half.
After Wilson Kipsang dropped out of the race at 30km with the final pacemaker, the battle for victory became a two-man showdown between Eliud and Adola.
Around 37km the diminutive Ethiopian opened up a three-second advantage over the Olympic champion but the Kenyan remained unflustered and by 40km had reeled him in.
Eliud kicked ahead and passed through the Brandenburg Gate in splendid isolation, stopping the clock in 2:03:32 to claim his second Berlin Marathon win – 14 seconds clear of Adola, who had the consolation of running the fastest ever debut marathon.
"Adola was a big surprise," explains Eliud. "When just the two of us were left, I had to concentrate fully on finishing. I was happy to win in these conditions."
2018 – The perfect race
Eliud Kipchoge had long chased Dennis Kimetto's world record time of 2:02:57 but been foiled by less than ideal race conditions.
In the 2018 Berlin Marathon, Eliud capitalised on the perfect conditions he craved by obliterating Kimetto's mark by a staggering one minute and 18 seconds to take the marathon distance into another realm.
Eliud was led through halfway in 1:01:06 by the final pacemaker Josphat Boit, and despite running solo from 25km - the incomparable Kenyan, remarkably, increased the pace.
His 30km split of 1:26:45 for the fastest ever recorded for the distance. By 35km - reached in 1:41:00 - the world record seemed like a mere formality.
Picking up the pace further he crossed the line in an eye-popping 2:01:39 – to take the largest single leap in the world marathon record for 51 years.
To put the record into statistical context his average world marathon record pace equated to 69.19 every 400m or an average 5km time of 14:29.9.
In the wake of his victory Eliud said: "I lack the words to describe how I feel. It was really hard during that final 17km but I was truly prepared to run my own race. I had to focus on the work I put in in Kenya and that is what helped push me."