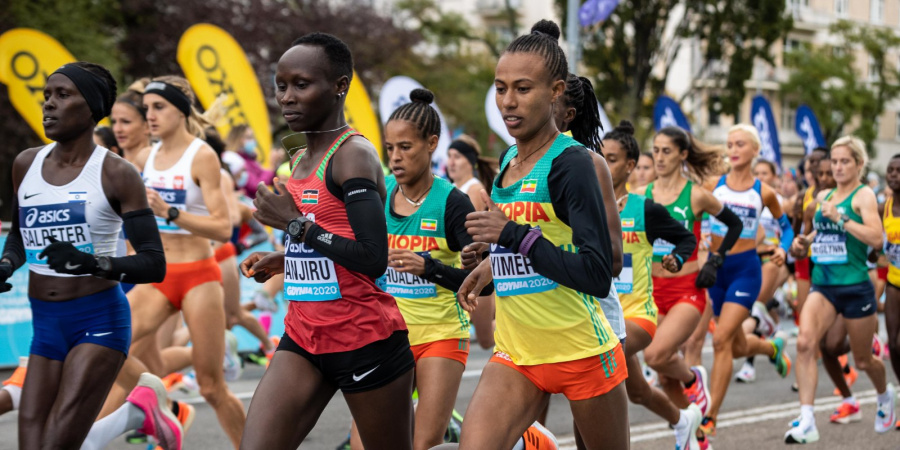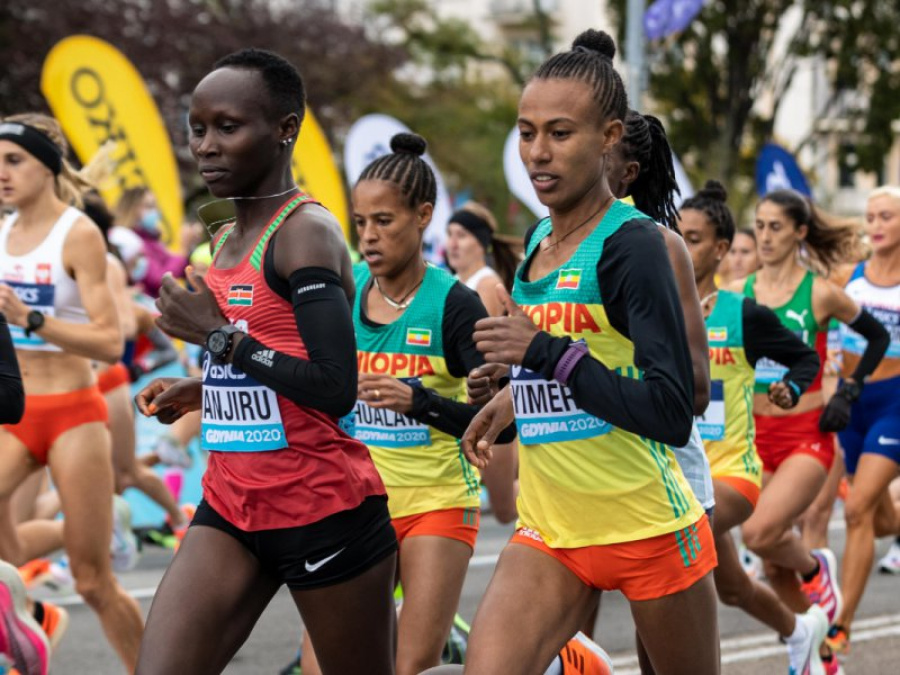 This was Gdynia
The 2020 World Half Marathon Championships in Gdynia served up many great memories, not least for the NN Running Team. Here are four reasons to be thankful.
Podium for Yalemzerf
Yalemzerf Yehualaw won an eye-catching individual bronze medal in a captivating women's race won by Peres Jepchirchir of Kenya in a women's only world record time of 1:05:16.
The quality of Yalemzerf's performance should not be overlooked. Aged just 21, the 2019 All African Games half marathon gold medallist was never fazed by her more experienced opposition and for a period along the final waterfront looked poised for victory.
However, only a blistering late burst of pace of Jepchirchir and a late slip in the final 100m cost her a better placing then her bronze medal behind the Kenyan and Germany's Melat Kejeta.
Nevertheless, Yalemzerf should be immensely proud of her efforts. Her time of 1:05:19 was a 42-second personal best performance and also under the previous women's only world record.
And the other hugely exciting element to the Ethiopian's performance was 2020 represented only her second season as an international athlete.
Team gold for Ethiopia
The Ethiopian women retained their World Half Marathon team title and did so thanks to a large part played by NN Running Team duo Yalemzerf Yehualaw and Zeineba Yimer.
As explained above Yalemzerf executed a fabulous run to win individual bronze, but Zeineba also impressed to take fourth in 1:05:39 – a performance which trimmed seven seconds from her lifetime best for the distance.
The 22-year-old Zeineba placed second counter in an Ethiopian team, which triumphed in the team competition by a cumulative time of more than a minute-and-a-half on silver medallists Kenya.
For Zeineba, who finished fifth in the 2017 World Half Marathon Championships, it was also her second successive team gold in the biennial competition.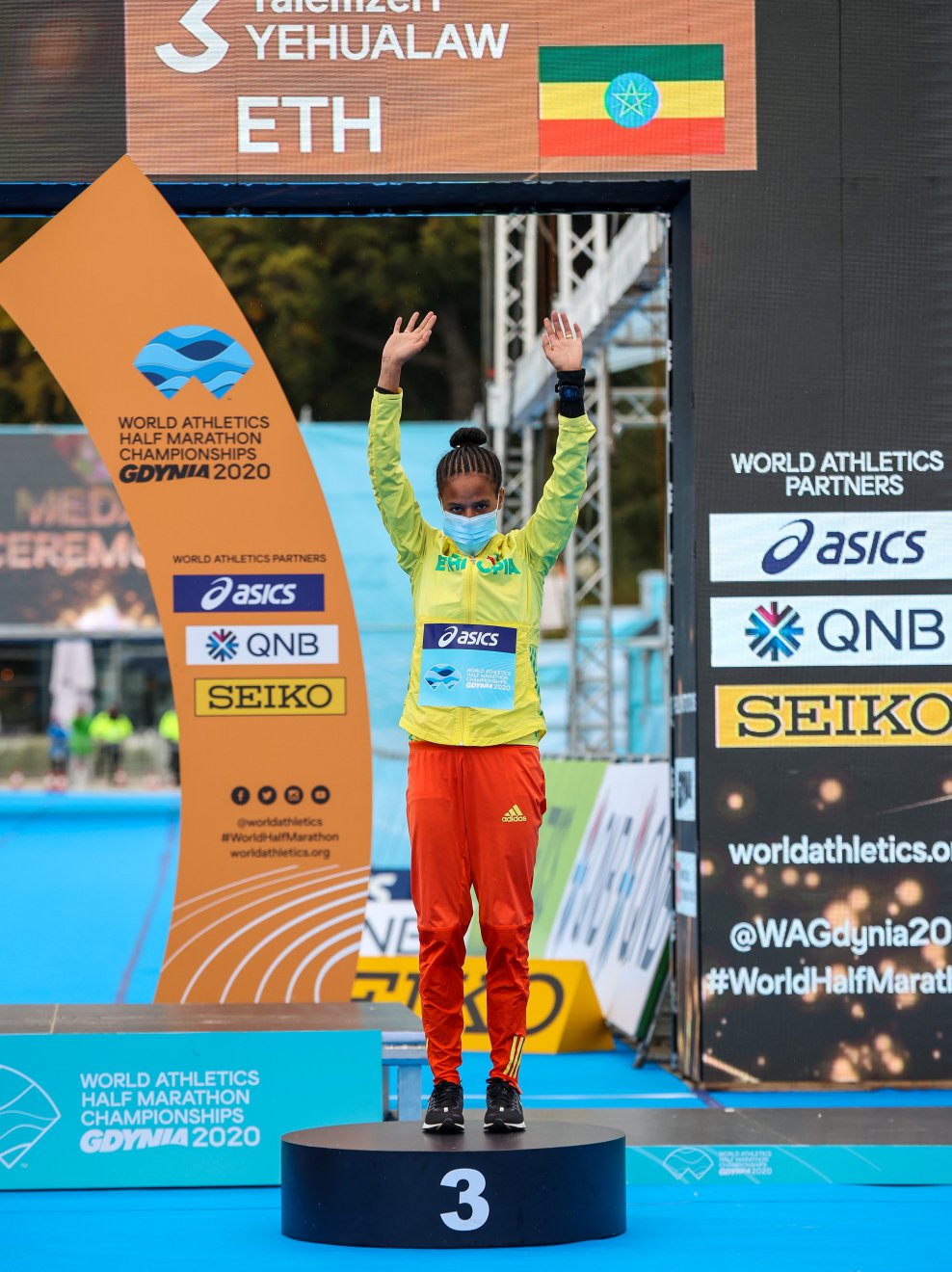 Ugandan team bronze
It was, of course, not the result we were all hoping from Joshua Cheptegei. After setting three world records in his three previous appearances in 2020 expectations were sky high in Gdynia as the Ugandan distance running superstar made his debut over the half-marathon distance.
Nonetheless, he still performed admirably, posting a far from shabby time of 59:21 for fourth and also earning the consolation of team bronze for Uganda – his country's first team medal in this competition for 16 years ago.
Joshua's NN Running Team team-mate Stephen Kissa enjoyed a solid run to place 19th in 1:00:34 to also collect a team bronze.
"I couldn't give more than that," explained Cheptegei, who just 10 days earlier had set a stunning 10,000m world record of 26:11.00 at the NN Valencia World Record Day.
I have been training more for 5000m and 10,000m so I was not well prepared for it, but I'm very happy – running a sub-60 is really special for me. My body was going really well but I discovered I still had some fatigue in my legs.
Precious Performance
The flurry of personal bests and national records proved that the four-lap course in Gdynia was super-fast and many athletes took advantage.
One such athlete was Precious Mashele of the NNRT, who clipped four seconds from his half-marathon PB to record 1:00:24 for a highly respectable 14th place in the men's race.
The 30-year-old had finished 44th in his one previous appearance at the World Half Marathon Championships, so the improvement should be noted. Precious also helped steer South Africa to a noteworthy fifth in the team competition.
European half-marathon record-holder Julian Wanders may not have experienced his finest race over the distance but the NN Running Team athlete will have improved for the outing.
His time of 1:00:46 for 21st matched the time he produced in Ras Al Khaimah in February and the 24-year-old Swiss athlete will live to fight another day.
Photocredits: World Athletics