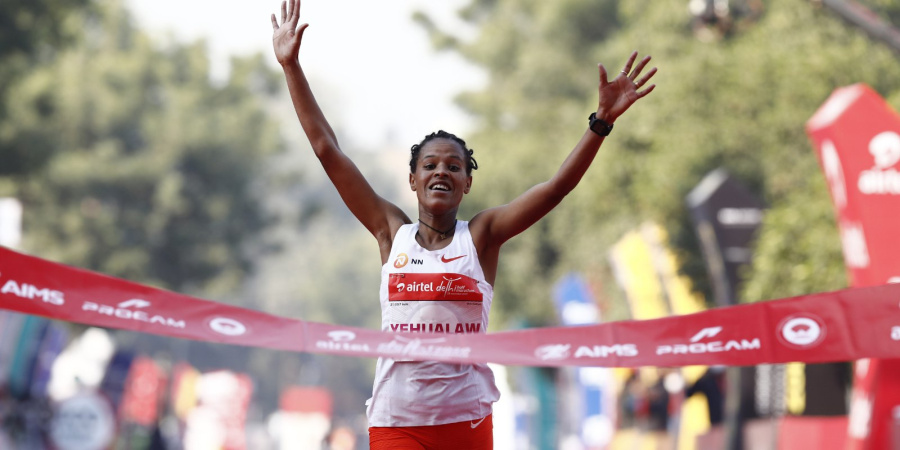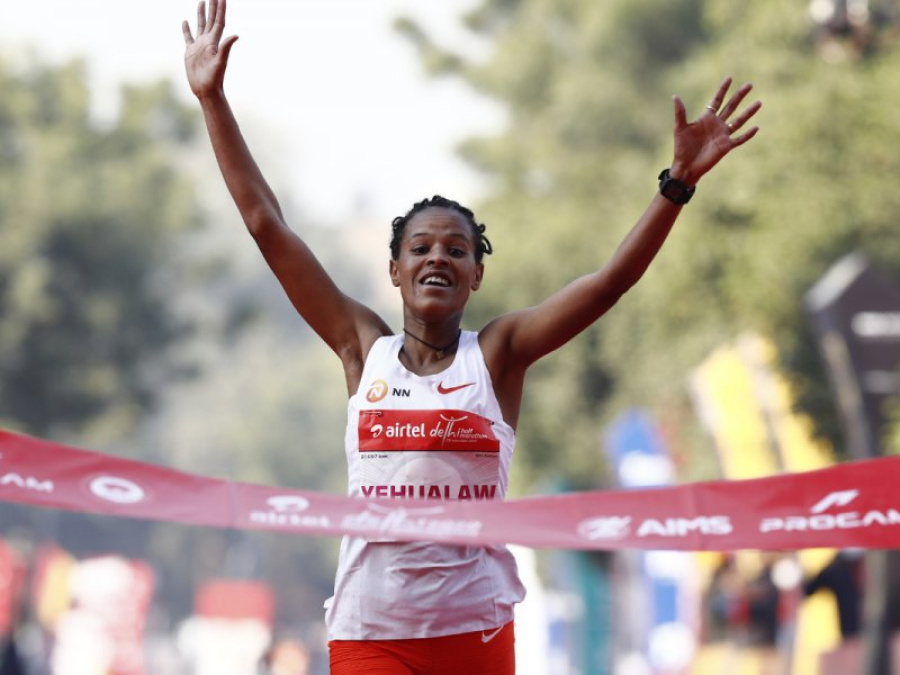 Introducing Yalemzerf Yehualaw
Find out more about one of the rising stars of the NN Running Team, Yalemzerf Yehualaw. In an international career totally just two years, the 21-year-old Ethiopian has already achieved a flurry of outstanding performances, which suggests her star quality.
Humble Beginnings
Born the eldest of six siblings in the village of West Gojjam in the Amhara region north of Addis Ababa, Yalemzerf enjoyed a modest rural upbringing.
Her running journey at the age of 12 when she showed her naturally ability by winning 3000m track races at school.
Quick Progression
Throughout her school years she continued to impress on all surfaces, winning competitions on cross country, track and road.
Snaring 3000m and 5000m youth titles in the highly competitive Amhara region her talent was recognised and she was recruited to join the Ethiopian Athletics Federation Academy system in Addis Ababa.
New Coach
Three years ago she joined the training group of NN Running Team coach, Tessema Abshero, the man who also guides the 2019 Amsterdam Marathon winner Degitu Azmirew and Tsehay Gemechu, the Ethiopian 10km road record-holder.
Tessema coaches a quality group of athletes but quickly acknowledged Yalemzerf's special talent.
"Many Ethiopian athletes have a natural gift but Yalemzerf had three very good qualities; speed, endurance and good core strength," he says.
Looking at her speed and body structure, I have not been surprised by her performances over the past two years.
Promising International Start
On her international debut in April last year, Yalemzerf impressed by winning the Rabat Half-Marathon by nearly a three-minute margin in a time of 1:09:13.
"I was very satisfied, very happy with the win," she says in her improving English.
Several weeks later she also caught the eye at the Ethiopian Championships over 10,000m. Despite her lack of experience she placed fifth at the high altitude city of Addis Ababa, recording a time of 32:21.0 – just over 10 seconds behind race winner Letesenbet Gidey, the woman who in October smashed the women's world 5000m record.
Rabat Return
Fully understanding her talent and her previous form in Rabat, Tessema stated a strong case for Yalemzerf's inclusion in the Ethiopian half-marathon team for the African Games which took place in the Moroccan capital city later that year.
Impressed by her credentials, the selectors rubber stamped her place on the team, where she would compete alongside her training partner Degitu Azmirew.
"I knew beforehand that both Yalemzerf and Degitu were in good shape and could finish number one and number two (in Rabat)," he explains. "I said to them to try to help each other during the race and maybe in the last kilometre sort out the order. Looking at their training performances, I knew both ladies can win the medals."
Golden Girl
Yalemzerf and Degitu lived up to their coach's high-level of expectations by taking the top two spots with the former athlete claiming a five-second victory in a Games Record time of 1:10:26.
"I was very happy to win gold and see the Ethiopian flag so high," she explains. "Victory in Rabat gave me a lot of confidence for my future competitions and also a certain financial security."
When asked the question about how it felt to beat her team-mate to gold, she looks a little embarrassed but says: "Degitu said congratulations and was happy."
Big new PB
Two month later in her next outing at the New Delhi Half Marathon it was the turn of another training partner and good friend Tsehay Gemechu to beat Yalemzerf.
On this occasion, Tsehay edged a thrilling battle by just one second in 1:06:00 – but Yalemzerf was delighted to set a new personal best by more three minutes.
"I was very happy the time and I was pleased for my friend to win the race," she says.
Yalemzerf ended the year on a high with victory in the 10km Great Ethiopian Run in 31:55 and at the Xiamen Half Marathon in China (1:07:34) to conclude a memorable breakthrough year with three wins from four races over the 21.1km distance.
Stop start
Encountering stomach problems at the 2020 RAK Half Marathon in February, Yalemzerf placed sixth in 1:06:35 but was encouraged in her preparation for the World Half Marathon Championships by recording a handy 15:27 for second in the Women's First 5km in Addis Ababa in mid-March.
However, the global pandemic triggered the postponement of the World Half Marathon Championships – originally scheduled for March 29 - and as the world went into lockdown, Yalemzerf returned to her home village for month.
Maintaining some fitness through easy runs and some exercises during this period, Tessema tried his best to keep his athletes motivated.
Returning to Addis Ababa in smaller groups than usual because of the Covid-19 restrictions was not easy but in the weeks leading up to the rescheduled World Half Marathon Championships in Gdynia, Poland in mid-October, Tessema was hugely excited by her training form.
"She finished number one in the 15km Trials for the World Half Marathon Championships and in those final weeks of speed work she got better and better," he recalls. "In her final 15km speedwork training she ran 15:45 for the final 5km – and that, remember, is running at an altitude of 2500m. I told her then she is in shape to win a gold medal at the World Half Marathon Championships."
Global bronze
In an incident-packed and dramatic women's half-marathon on the street of Gdynia, Yalemzerf produced a performance of great maturity.
Running a patient race, which was run at a blistering pace, she hit the front for the first time leading into the final lap. Leading along the final waterfront with Kenya's Peres Jepchirchir and Germany's Melat Yisek Kejeta – the trio were away and clear and locked in a private battle for the medals.
However, entering the final 150m – in which the beach finish was covered by carpet - she slipped, almost fell and crucially lost momentum.
Jepchirchir took the opportunity to power on to gold in a new women's only world record time of 1:05:16 while Yalemzerf took the bronze in a massive new PB of 1:05:19.
The slip may have proved fatal to a chances of winning a better colour medal but Yalemzerf was elated with her performance.
"I was very happy to win a medal at my first World Half Marathon Championships," she adds of a performance which elevated her to number two female Ethiopian half marathoner of all-time.
Blistering Half
In a further illustration of Yalemzerf's rich potential, she climaxed her international 2020 campaign with a stunning display at the New Delhi Half Marathon. The Ethiopian destroyed a world-class field containing her NN Running Team training partner and two-time race champion Tsehay Gemechu, 2019 World Marathon champion Ruth Chepngetich and world marathon record-holder Brigid Kosgei by running a blistering 64:46. It was the second fastest women's half marathon time in history, falling just 15 seconds shy of the world record mark set by Yalemzerf's compatriot Abadel Yeshaneh in Ras Al Khaimah earlier this year.
"I set out to break the course record here in New Delhi, and I was hoping for a new PB," she says. "Conditions were perfect today but I didn't expect to come so close to the world record."
The future
A keen bookworm, Yalemzerf will also seek to improve her English language skills in the future. Yet her main priorities lie in her athletics development and she has some big aspirations.
I would like titles on the track, road and cross country. I'd love to win the Olympic title.
Tessema believes her versatility is an asset.
"I think she can run for more than 20 years and we are looking at the 5000m, 10,000m the half marathon and one day the marathon," he adds.