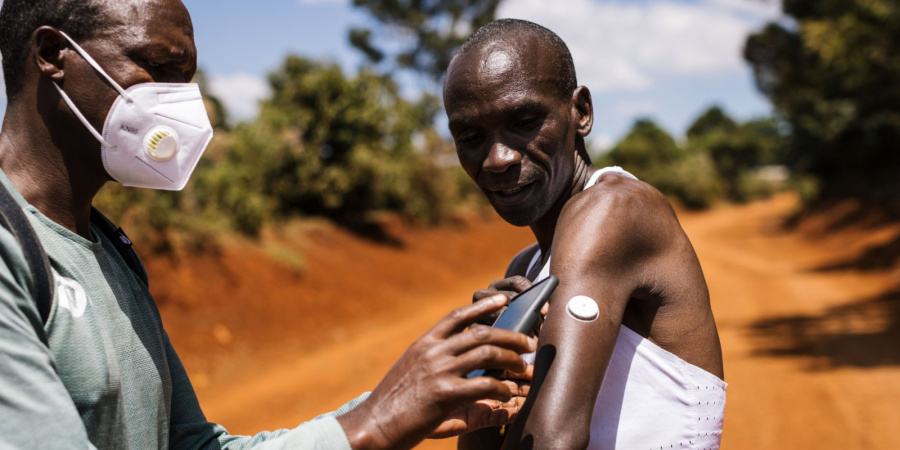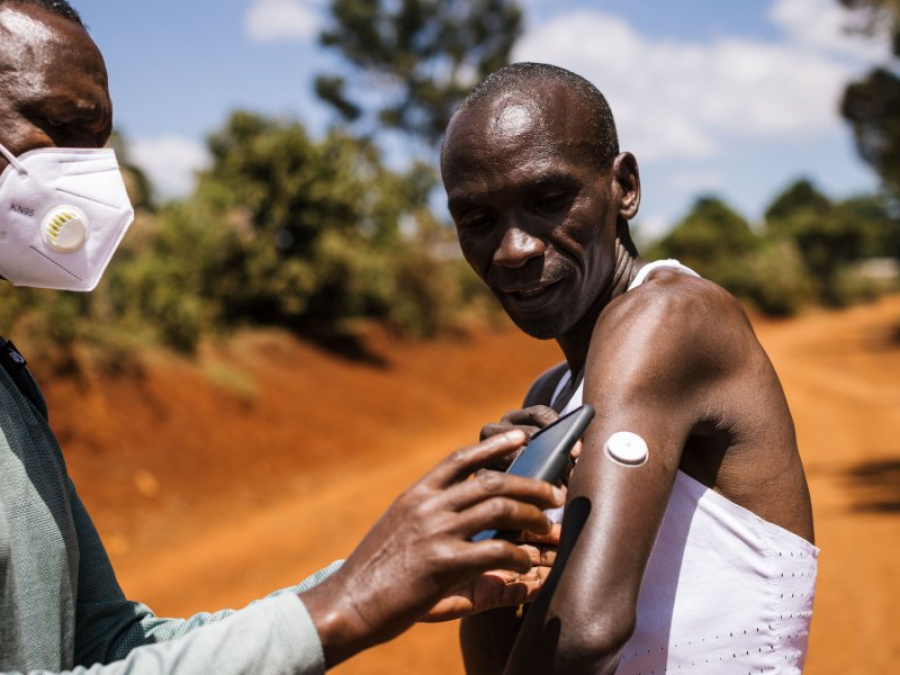 Abbott to partner with Eliud Kipchoge, the NN Running Team and NN Mission Marathon
The NN Running Team announced today that they've started a partnership with Abbott, to support the athletics performance program. Eliud together with other NN Running Team members train with Abbott's Libre Sense Glucose Sport Biosensor to monitor their glucose levels, to help them achieve optimal nutrition intake. The NN Mission Marathon at Twente Airport, the Netherlands on April 18 will be the first time Kipchoge will wear Abbott's biosensor in a competitive marathon.
"Using Abbott's Libre Sense has transformed my training program. I am learning how my glucose levels relate to my running performance and have already started to see how quickly small adjustments can make a big difference," said Eliud Kipchoge, the world's fastest marathon runner. "I am honored to work on this project, which hopefully will help athletes around the world to better understand the relationship between nutrition and performance to help them improve."
We continually seek to innovate across all aspects of our training program, evaluating everything from race planning, nutrition and hydration to clothing and footwear. As the first product of its kind, Abbott's biosensor empowers our athletes to tap into real-time molecular data to monitor their glucose levels and help them design personalized nutrition plans.
"We've utilized our breakthrough sensing technology to help world-class athletes like Eliud and everyday athletes alike live up to their optimal potential," said Duncan Williams, divisional vice president, Biosensor Technology, Abbott. "Libre Sense will help make glucose monitoring commonplace in athletic performance training and help enable athletes to fuel their peak performance."
Abbott's Libre Sense, with CE Mark, is an over-the-counter product made available in Europe last December that is designed to provide continuous glucose monitoring via a mobile app and wrist readers to athletes (aged 16+ years). Our athletes wear the small biosensor on the back of their upper arm. Worn for up to 14 days, the biosensor provides real-time glucose values through a mobile app. That is designed to help athletes understand the efficacy of their nutrition choices in training and competition.

In lead up to the NN Mission Marathon, the last competitive marathon before the 2021 Tokyo Olympics, Eliud and the NN Running Team have been training in Kenya using Libre Sense for the past month
"After training with Abbott's biosensor, we've been able to quickly develop new insights into high-performance, endurance training nutrition and hydration. For example, we are exploring a shift in timing of pre-race and race-time carbohydrate fuelling to net maximum benefit," said Valentijn Trouw, performance director of Global Sports Communications. "Abbott's biosensor enables us to build personalized nutrition plans based on glucose data in order to deliver peak athletic performance and a competitive advantage. The NN Mission Marathon will be an excellent opportunity to show how important glucose insights can make a real difference in performance."
"For the NN Running Team and our athletes we choose to partner up with brands who like to drive innovation in sport. Abbott already has a strong appearance in running and together we would like to improve the sport, not only in running, but in multiple sports. Not only for elite athletes, but to help everyone make improvements in their health." Marleen Vink-Rennings, marketing manager of Global sports communication.
About Abbott Libre Sense Glucose Sport System
The biosensor is intended for athletes (aged 16+ years) to measure glucose. Athletes are defined as individuals who perform exercise and train with the purpose of improving fueling and performance. The biosensor allows athletes to correlate their glucose levels and their athletic performance. The biosensor is not intended for use in the diagnosis, treatment, or monitoring of a disease. The product is available across eight European countries: Austria, France, Germany, Ireland, Italy, Luxembourg, Switzerland and the United Kingdom.