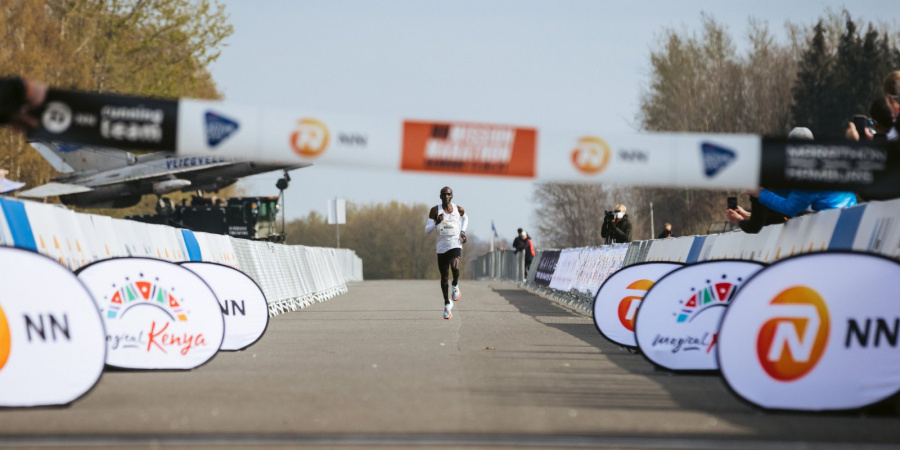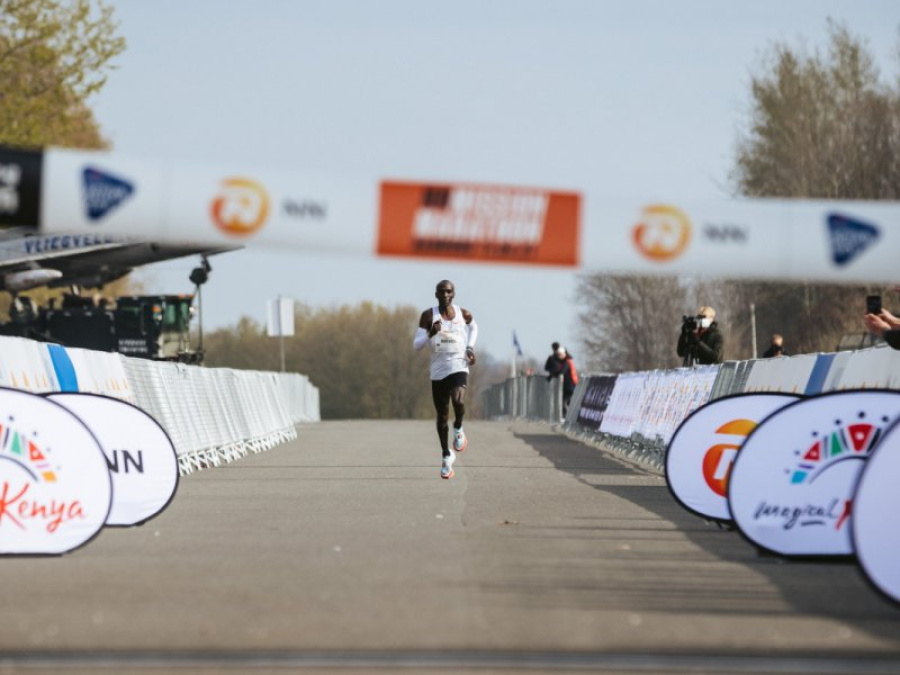 Mission accomplished for Eliud Kipchoge at Twente Airport
Kenyan marathon maestro Eliud Kipchoge returned to the top of the podium today by claiming victory in the NN Mission Marathon in Enschede courtesy of a slick world leading mark of 2:04:30. In the women's race, German Katharina Steinruck produced a dominant display to wipe almost a minute-and-a-half from her lifetime best and clinch an impressive win in 2:25:59.
Running in overcast conditions at Twente Airport the race billed 'the fastest way to Tokyo' lived up to expectations as 25 athletes dipped under the Olympic automatic qualification standard (15 men and 10 women).
For Kipchoge, victory in Enschede was a welcome return to form after the 36-year-old suffered his first marathon defeat in seven years in London last October. Paced through halfway in 1:01:43 – running alongside his training partner and fellow NN Running Team athlete Jonathan Korir - Eliud made his winning strike around 33km when the marathon great accelerated ahead of the field.
The remainder of the race was a demonstration of Eliud's marathon masterfulness as he picked up the pace from 35km and proved he is back to his formidable best. Korir, was rewarded with a five-second PB, recording 2:06:40 for second – with Eliud giving his close friend a post-race hug in celebration.
Goitom Kifle of Eritrea also produced a splendid performance to trim two seconds from his lifetime best to take third in 2:08:07. NN Running Team athlete Philemon Kacheran – who acted as one of Eliud's pacemakers – continued to the finish and was rewarded with fourth in 2:08:47.
Eliud said of race victory: "It is mission accomplished. The conditions were really good, a bit windy but I have no complaint, we were running as one. The race was really perfect. The NN Mission Marathon was a real test before Tokyo. It was so good a marathon happened a few months before the Olympics to test our fitness. I thank the great men and women who organised this race in less than 10 days. To organise this in the middle of a pandemic and show that people can still run and deliver their best race before the Olympics is very important."
In the women's race, Steinruck, running in race tights, hit halfway in 1:12:58 before kicking clear of her rivals in the second half of the race. Behind, the vastly experienced Sara Moreira of Portugal was rewarded for a patient display to take second in 2:26:42 with the fast-finishing German Rabea Schoneborn scalping more than a minute-and-a-half from her PB to take third in 2:27:03.
The race was originally set to take place in Hamburg on April 11, however Covid restrictions forced the race organisers – NN Running Team, Hamburg Marathon and Global Sports Communication - to postpone the event and secure a different location. Thankfully organisers of the Enschede Marathon helped out to organise a specially designed eight-lap course at Twente Airport, to ensure the race would go ahead.
Global Sports Communication Director Jos Hermens said: "It is so special that we have been able to organise this race at such short notice. This is the competitive opportunity the athletes deserve, while chasing the dream of an Olympic ticket. These are challenging times and I'm so happy and proud we come together with our partners to make this possible."