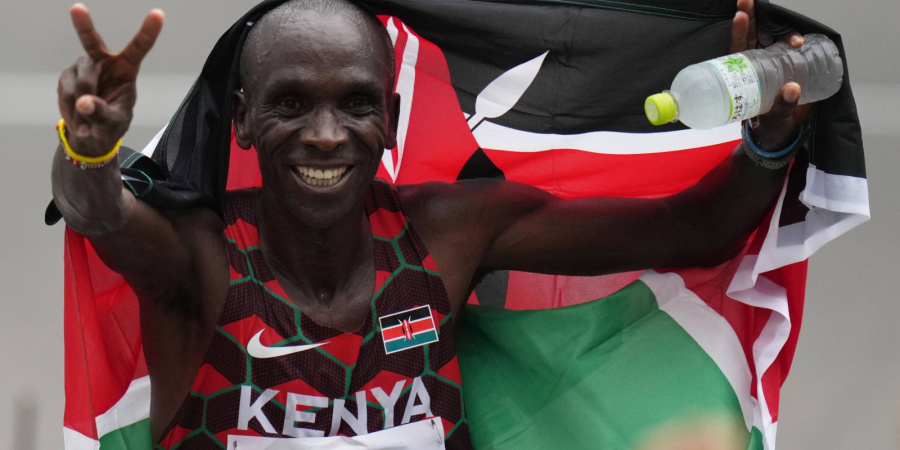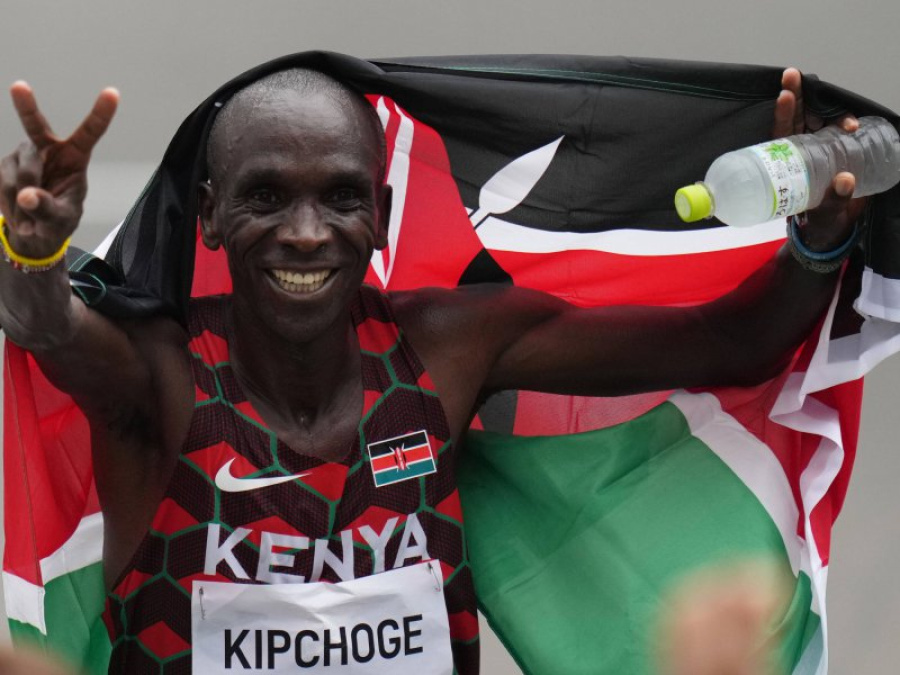 NNRT toast four Olympic medals in Japan
The NN Running Team could not have dreamt of a much better scenario in Tokyo 2020.
In the men's marathon in Sapporo, NNRT athletes occupied the first two positions as Eliud Kipchoge further cemented his legacy by retaining his Olympic marathon title and his former training partner Abdi Nageeye ran the race of his life to earn a richly deserved silver.
On the track, the team also made its mark as Joshua Cheptegei took 10,000m silver before signing off Tokyo 2020 with an emotional gold in the 5000m.
Men's marathon
Played out in stifling heat, Eliud Kipchoge produced a typical masterful display to become only the third man in history to successfully defend the Olympic marathon.
While many big name athletes struggled in the hot and humid conditions in Japan's northernmost island of Hokkaido, Eliud played his hand beautifully.
Launching his winning move a little after 30km – a devastating 30-35km split of 14:28 opened up a decisive advantage on the field.
For the remainder of the race the majestic marathon superstar kept his foot on the throttle, crossing the line in 2:08:38 to retained his Olympic title by a huge margin of 1:20.
"I think I have fulfilled the legacy by winning the marathon for the second time back-to-back," said Eliud. "I hope now to help inspire the next generation."
"It means a lot for me (to win a second gold medal), especially at this time. It was really hard last year when the Games were postponed last year. I am happy for the local organising committee who made this race happen. It is a sign that shows the world we are heading in the right direction – we are on the right transition to a normal life. I can say congratulations to them that they made this Olympics happen.
On making his winning move at 30km he added: "I wanted to show the world that this is a beautiful race. I wanted to show the world that we had hope."
In a tight battle for silver, Dutchman Abdi Nageeye prevailed courtesy of his sprint to finish second in 2:09:58 – two seconds clear of his friend and training partner Bashir Abdi of Belgium who grabbed bronze.
For Abdi the performance was comfortably the finest of his career – a performance he always believed was possible.
"I said before the Games I wanted top five but in my head I wanted a medal (at Tokyo 2020)," explains Abdi. "Many times I wanted a top three finish but I never did it. In Sapporo it was just focus, focus, focus. When I got to 39km I knew I could beat these (to silver) because I felt so easy. It is unbelievable."
Abdi, who finished 11th in the marathon at the 2016 Rio Olympic Games, believed he could have won the 2018 Boston Marathon only for hamstring cramp to deny him a shot at victory. On that day he wound up seventh but he was confident he could produce something special in Tokyo.
"I knew I could do it. I was training in Kenya with Eliud for three years, I was training in Ethiopia with the best and I knew I was able to do something but I never had the last touch. Training with Gary (Lough, Abdi's coach) and Bashir (Abdi won bronze) we applied the final touch in Font Romeu in France. The last 800m I wanted to go but then I thought about Bashir. I was trying to help him come back into the medals because he had cramp. To finish second is crazy.
"I was doing my own thing in training. I was a nomad – always packing my bags to train in Kenya, Ethiopia, France and the USA. But I always kept believing in myself. To be on the podium with Eliud Kipchoge, the greatest of all time, we are still good friends, is amazing."
For Eliud it was also a sweet moment to see his former training partner climb the podium.
"I am happy for Abdi that he has accomplished his dream," adds Eliud.
Men's Marathon NNRT performance:
Gold – Eliud Kipchoge (KEN) 2:08:38
Silver – Abdi Nageeye (NED) 2:09:58
14 – Goitim Kifle (ERI) 2:13:22
51 – Filex Chemonges (UGA) 2:20:53
71 – Paul Pollock (IRL) 2:27:48
DNF – Stephen Kiprotich (UGA)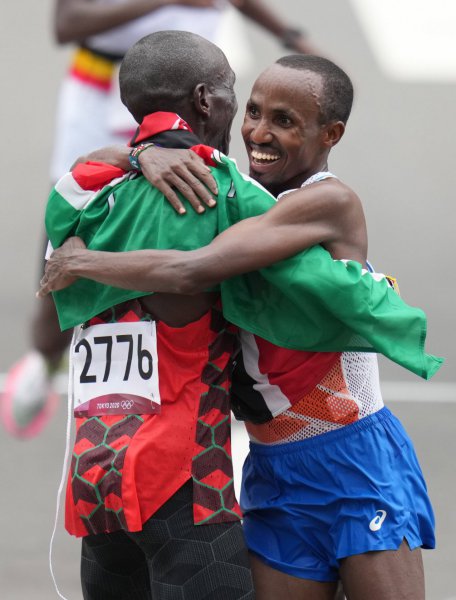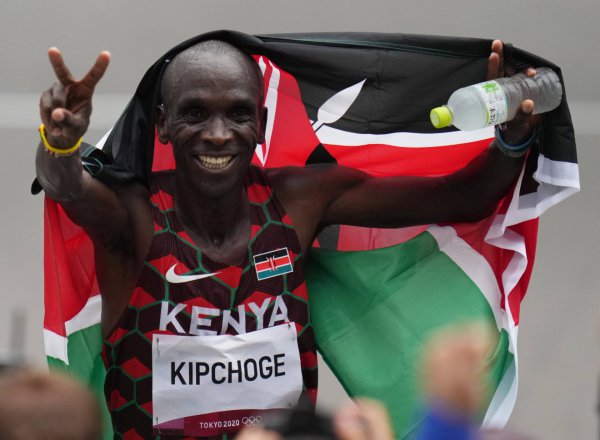 Foto credits: Orange Pictures NL // BSR Agency NL
Men's 10,000m
Joshua Cheptegei began his quest at the Tokyo 2020 Olympic Games by winning a silver medal in the 10,000m.
His fellow Ugandan and NNRT training partner Stephen Kissa took up the pace in the first half of the race – but the chasing pack decided not to follow and Stephen pulled out a little after halfway.
Joshua mounted a strong challenge but ultimately it was Ethiopia's Selemon Barega who prevailed in 27:43.22 with the Ugandan world record-holder some 1.41 seconds further back in silver.
"I have two feelings. One is that I'm very happy to have won an Olympic silver medal today," he said. "But the other side of me is really not satisfied with the results because I came here expecting to win a gold."
NNRT results
Silver – Joshua Cheptegei (UGA) 27:43.63
7 – Rodgers Chumo (KEN) – 27:50.06
12 – Aron Kifle (ERI) – 28:04.06
DNF – Stephen Kissa (UGA)
Men's 5000m
Eight days after taking Olympic silver, Joshua Cheptegei added the one medal missing from his sizable collection by taking 5000m gold.
Controlling the pace at the front for significant chunks of the race, Joshua, the world record-holder, simply outpaced the opposition in the latter stages, stopping the clock in 12:58.15 to finish almost a second-and-a-half clear of silver medallist Mo Ahmed of Canada.
"This medal is really very special because it comes at a point that I was feeling that maybe I was fatigued and tired," said Joshua. "But I had to tell myself, if there I a time for me to become an Olympic champion, it is this year because I am still in my prime age."
"I have a lot of titles now, I've broken a couple of world records and I've also become a world champion, but I would say to win an Olympic gold and become Olympic champion is really special because it counts for a lot. I count this achievement to be higher rated than the world record."
Men's 5000m
Gold – Joshua Cheptegei (UGA) – 12:58.15
Heat 2
15th – Precious Mashele (RSA) – 13:48.25
Other NNRT Results:
Women's 5000m
Heat one
19th – Sarah Chelangat (UGA) – 15:59.40
Heat two
12th – Esther Chebet (UGA) – 15:11.47
Women's 10,000m final
DNF – Tsehay Gemechu (ETH)
Women's marathon
24th – Failuna Matunga (TAN) 2:33:58.