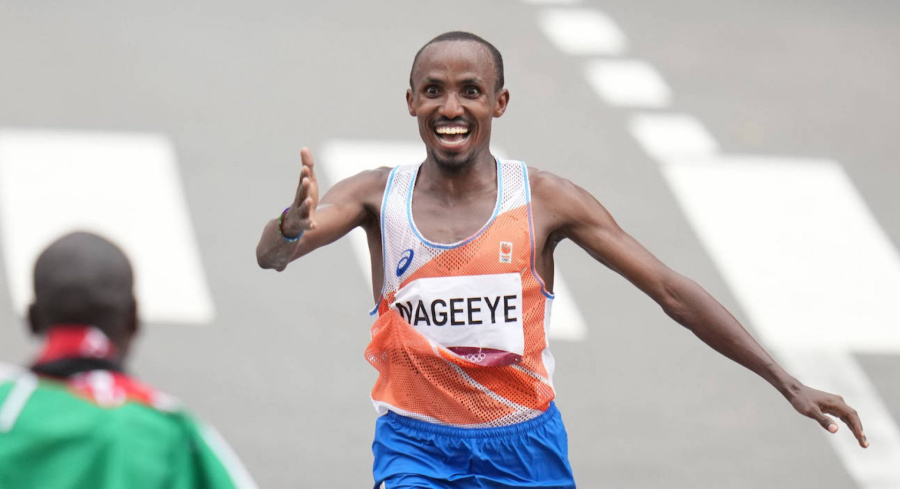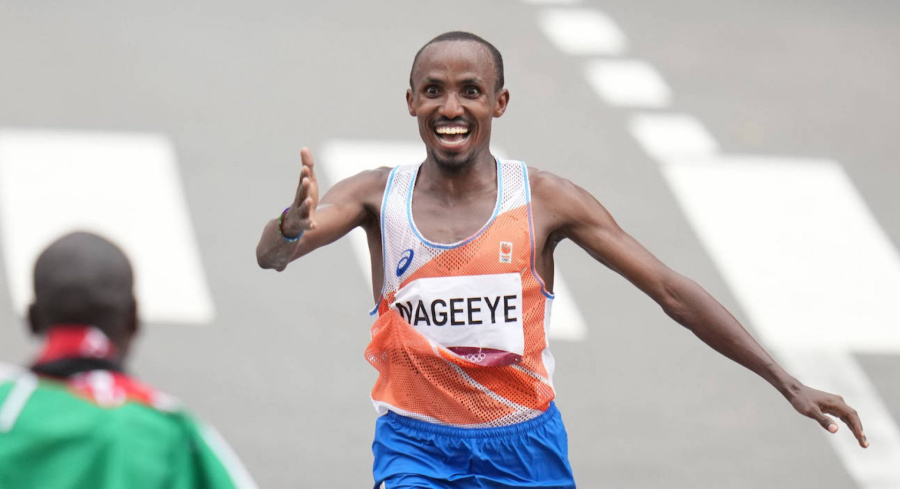 Abdi's Olympic Dream
Such was Abdi Nageeye's belief that he could medal in the men's Olympic marathon in Sapporo as he left his room to depart for the bus on the morning of his race he reached out to grab the Dutch flag.
However, just as he was about to take the flag – a typical adornment of any medallists' celebration - he hesitated.
"I thought it might be a bad sign, don't take it, leave it," he said. "But that showed the confidence I had."
Several hours later and Abdi had achieved his lifelong dream of winning an Olympic medal. The 32-year-old had taken silver – one place behind his fellow NNRT athlete and former training partner Eliud Kipchoge.
"It is then after the race when I went back to my coaches and physios and said, 'where is the flag?' Maybe I should have taken it with me."
An ex-footballer who only took up running at the age of 17 – Abdi has never lacked confidence or ambition.
On his marathon debut in Enschede he vowed to run a sub 2:10 clocking – and while he did not achieve his goal, finishing third in a time of 2:11:33 - it is a belief he has continued to maintain.
His desire to fulfill his potential has seen him train in a range of countries across several continents. He spent a period training in Ethiopia. Up until earlier this year he was based for several year in Kaptagat, Kenya, where he trained with Eliud Kipchoge's esteemed group under the coaching guidance of Patrick Sang.
However, believing his body needed to experience a different style of training - earlier this year he connected with Northern Irish coach Gary Lough and a smaller training group which contained his good friends - four-time Olympic champion Mo Farah and Belgian 2:04 marathoner Bashir Abdi.
His preparations for the Tokyo Olympic Games were far from perfect. Earlier this year he battled Achilles tendon issues. For six weeks from the beginning of May he faced hamstring problems.
Yet since arriving in St Moritz, Switzerland in mid-June for his final pre-Olympic training block he has enjoyed a trouble-free build up for Sapporo.
"Under Gary (Lough) the training is quite different to what I experienced in Kaptagat; lots of tempo runs, more quality, fewer kilometres," explains Abdi.
"But many roads lead to Rome, it is not like there is one way to achieved success," he adds of the many training methods which can harvest success.
"Training in Kaptagat gave me great endurance capacity and I have really benefited from that training programme and also my current one."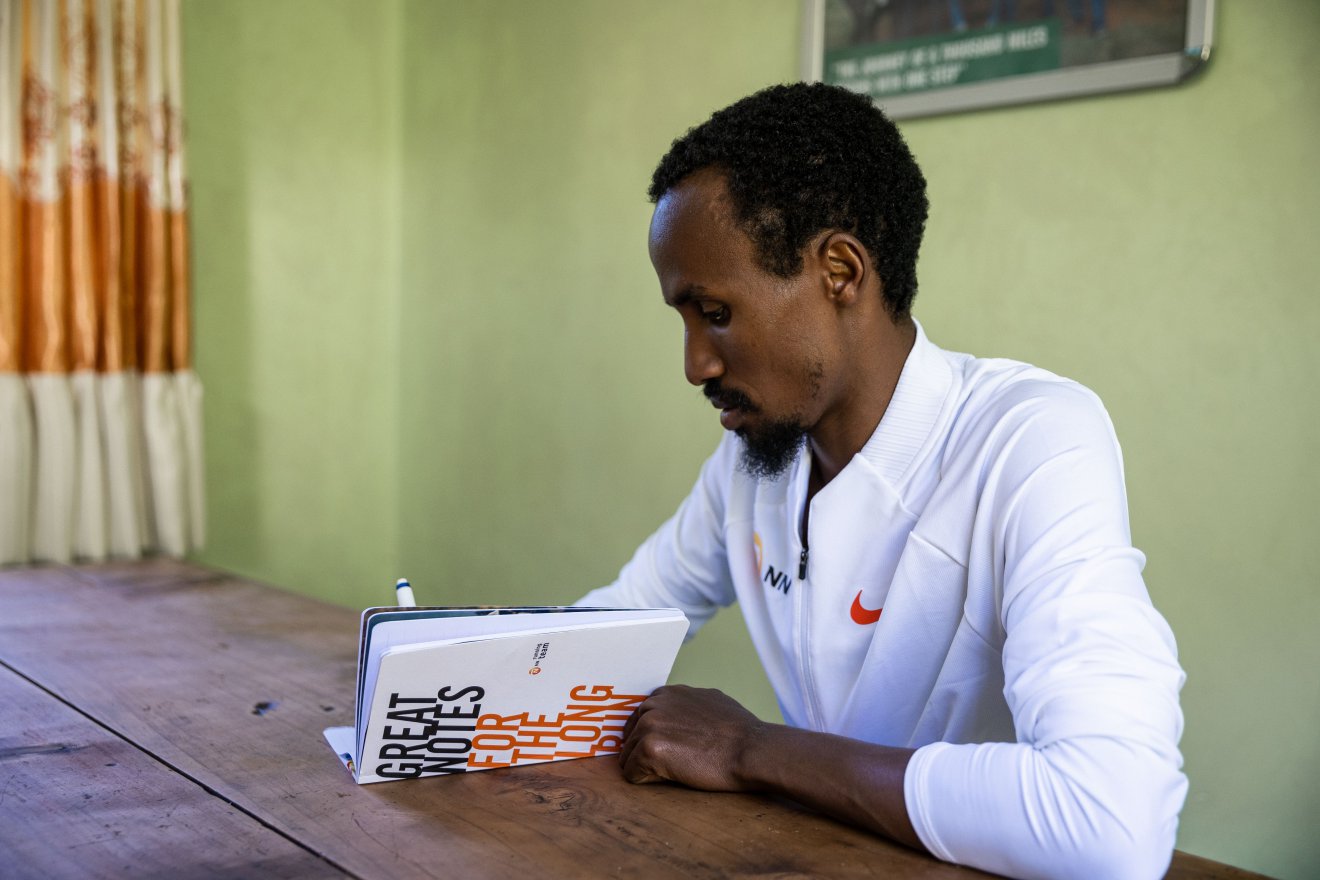 He also had another motivational factor in his training group – to keep up with his good friend, Bashir Abdi – who finished second in the 2020 Tokyo Marathon.
"It was tough at first because I was used to training in a big group in Kaptagat, where even if you weren't the strongest you would always have someone you could run with. But an in shape Bashir was beating me. I was okay with it, because I hadn't been doing Gary's programme for quite a while. I just had to learn from it and Bashir was always very encouraging."
Leaving for Japan and having been training at an altitude of around 1500m in St Moritz, significantly lower than when based in Kaptagat, he says it was difficult to assess his fitness. Yet he was quietly confident and gunning for a Tokyo Olympic medal.
"I said to a quite a few people I wanted a top five but in my mind I wanted a top three," admits Abdi. "I always had high expectations and I knew in 2018 I could have won the Boston Marathon but for picking up a hamstring problem late in the race."
Arriving in Sapporo the marathon runners were faced with a challenging training environment. Because of the global pandemic they were restricted to training at decaying speed skating venue used the 1972 Winter Olympic Games.
Limited to training on an 800m route which was rough underfoot was far from ideal, but Abdi had to quickly put behind him any negative thoughts.
"It was terrible (as a training location) but with the pandemic we just had to accept it," he explains. "The Japanese people are such nice people, you feel guilty (to have negative thoughts) because they are so kind and helpful."
Facing energy-sapping heat and humidity was hardly an enticing prospect for Abdi – who does not necessarily believe he is better conditioned to cope with those conditions compared to other athletes.
However, he took confidence from his overall fitness and also having done a little work to cope with the heat – some of his training sessions in St Moritz were carried out a little closer to noon than they ordinarily would have done.
"To cope with the heat and humidity you have to be either a very strong athlete like Eliud or you have to have done some heat training," explains Abdi.
"I knew at my highest level of fitness I'm a 2:04 marathoner while Eliud is a 2:01. I knew the race would be slower so I was aiming to run around 2:09 – which I knew would be good enough for a medal."
Abdi felt comfortable and in control for much of the race – not that his Olympic marathon experience was without its challenges.
The Dutch athlete was positioned behind controversial French marathoner Morhad Ambouni who knocked a line of water bottles from a drinks station table before grabbing the last one for himself.
"As he knocked the water bottles down I grabbed air (rather than the water bottle," says Abdi. "I remember getting really angry with him but I told myself to concentrate on my race and forget about him."
By 35km and with Eliud already up the road and on his way to Olympic gold he was in a small group of fewer than half a dozen athletes in the battle for silver and bronze.
Gradually his confidence began to soar.
"When I saw we had reached 39km, I just knew (I would win a medal)," he says. "I was feeling really easy and I knew I had just nine minutes to run. It was unbelievable.
"In the last 800m I wanted to sprint, but I thought about Bashir he had started to suffer from cramp in his hamstring so I delayed my sprint to him to support him."
As he crossed the line in 2:09:58 to claim silver – the Netherlands first Olympic men's marathon medal for 41 years – it was undoubtedly the finest moment of his career and rich reward for 15 years of hard training.
"I always believed in myself," he says. "I am a nomad because I packed my bags and went to France, America, Ethiopia, Kenya. I just kept believing in myself and to stand on the podium with my good friend Eliud Kipchoge, the greatest of all time, it was amazing."
Foto credits: Orange Pictures NL / BSR Agency NL