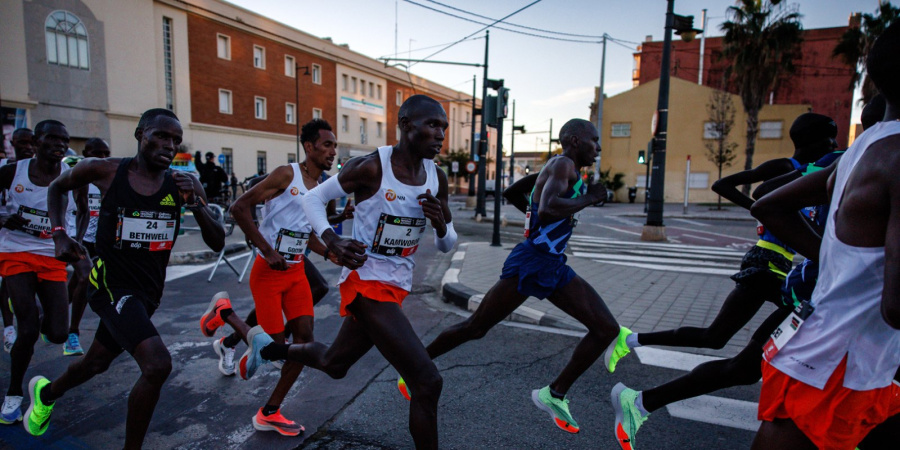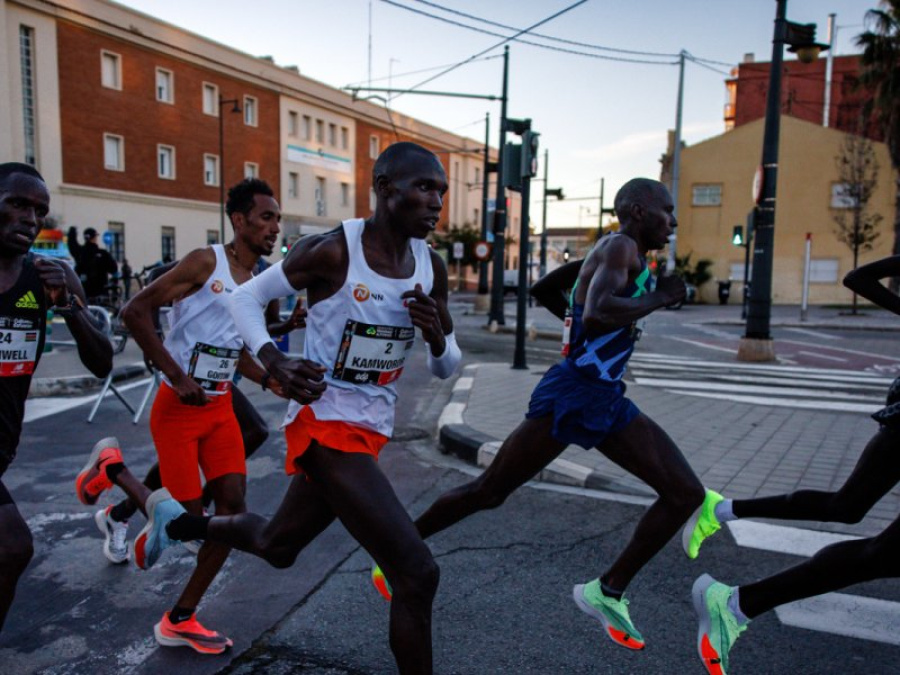 #BackToRacing - Valencia Marathon
The NN Running Team enjoyed a prominent showing at the 2021 Valencia Marathon as Philemon Kacheran and Geoffrey Kamworor finished third and fourth, respectively and were both rewarded with PB's thanks to well-judged races.
A super-charged late burst from the duo over the final 12km enabled the pair to dramatically surge into contention at 40km with Philemon wiping 46 seconds from his PB - set in Valencia two years ago - to take third in 2:05:19.
Geoffrey, the two-time New York City Marathon victor, bounced back from the disappointment of missing the Olympic Games through injury by scalping 49 seconds from his nine-year-old marathon best clocking 2:05:23.
On a positive day for the NN Running Team Goitom Kifle of Eritrea slashed more than two-and-a-half minutes from his PB to place sixth in 2:05:28.
On a sunny but windswept day in the "city of running" the lead contenders for the NN Running Team hit the 10km split with the lead pack in 29:27 before drifting off the pace.
A large lead group – which included NN Running Team pacer Victor Chumo – hit halfway in 1:02:18 with Geoffrey, Philemon and Goitom some 44 seconds behind in the chasing pack.
As the pace at the front started to falter in the third 10km, the NN Running Team trio started to make inroads into the lead. However, it was a 29:52 effort from 30-40km which significantly changed the pattern of the race as Philemon followed by Geoffrey and Goitom thrillingly emerged into contention at 40km.
Philemon surged to the front of the group containing long-time leaders Kenyan Lawrence Cherono and Ethiopian Chalo Deso with Geoffrey a short distance further back followed by Goitom.
For around 1km and with Philemon at the front he appeared favourite but as they hit the blue carpet on the furious sprint for home it was Cherono, the Olympic fourth-place finisher, who emerged to the front to claim victory in 2:05:12 with Deso in second and Philemon rounding out the podium.
Despite a powerful second-half of the race, Geoffrey could not quite make contact with the lead group but appeared elated at claiming a PB. Goitom also massively enhanced his road running status with a breakthrough performance in sixth.
In the women's race, Azmera Gebru of the NN Running Team enjoyed a solid run to place sixth in 2:24:01. The Ethiopian athlete was part of a nine-strong lead group at halfway, reached in 1:09:41. Azmera dropped off the pace shortly but crossed the line in the top half-dozen.