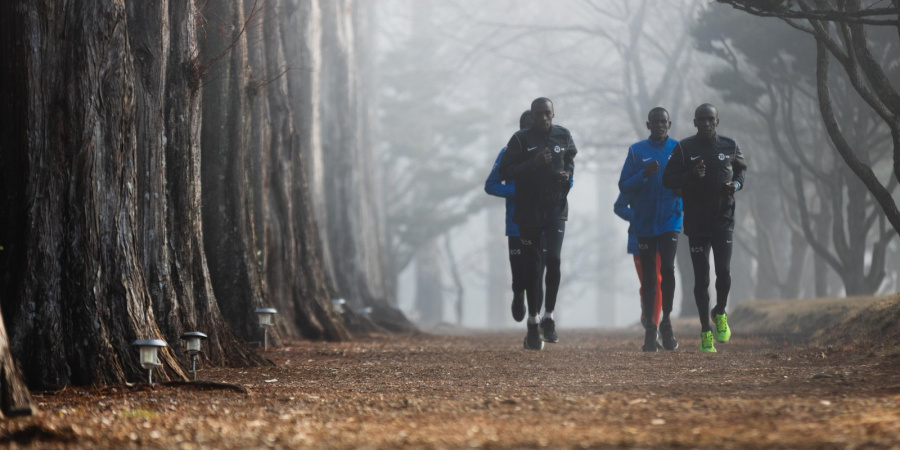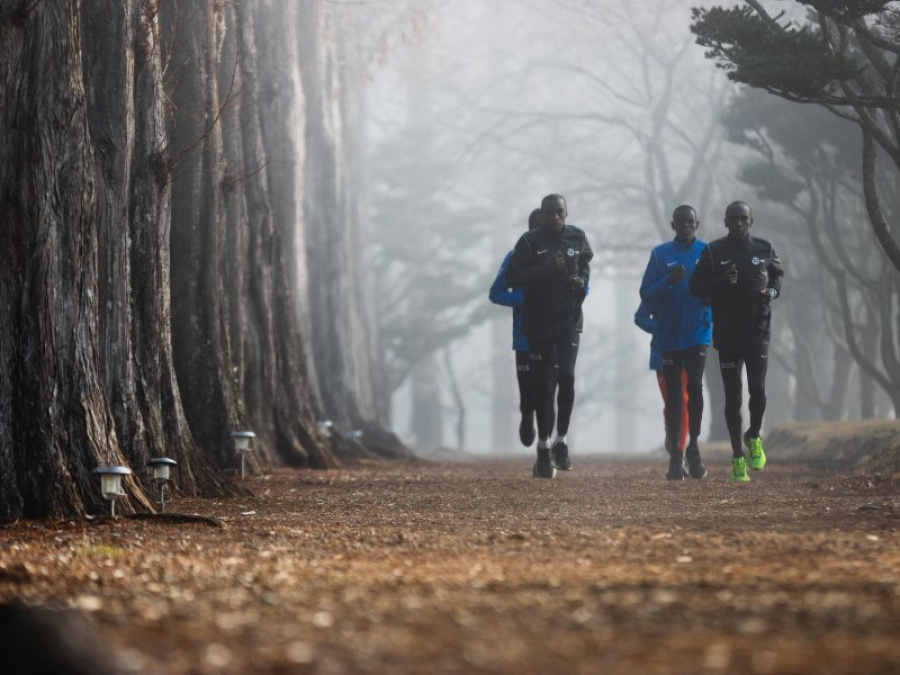 The NN Running Team is in for a promising weekend with both the Tokyo Marathon and the Cannes 10k taking place this weekend. Eliud Kipchoge will make his Tokyo Marathon debut with the goal of winning his fourth out of six Abbott World Marathon Majors (he already secured victories in London, Berlin, and Chicago). He will be joined by NN Running Team athletes Laban Korir, Jonathan Korir, Ashete Bekere, Noah Kipkemboi and Philemon Kacheran who will also run in Tokyo. Along the French Riviera Joshua Cheptegei and Abel Sikowo will run the Cannes 10k. In this feature, we provide you with an overview of the Tokyo Marathon and the Cannes 10k.
Which NN Running team athletes will run in Tokyo?
In addition to Eliud, five other NN Running Team athletes will also compete in the Tokyo Marathon. Laban Korir, Jonathan Korir and Ashete Bekere will strive to perform their best and Noah Kipkemboi and Philemon Kacheran will run as pacers
When to watch the Tokyo Marathon?
The Tokyo Marathon will begin at 9.10 a.m. local time. In the overview below you can find some other time zones and the starting time of the Tokyo Marathon that goes with these time zones.
Time zone Starting time Tokyo Marathon
GMT+0 (e.g. London) 12.10 a.m.
CET (e.g. Amsterdam) 01.10 a.m.
GMT+3 (e.g. Kenya) 03.10 a.m.
EST (e.g. New York) 07.10 p.m.
PST (e.g. Los Angeles) 04.10 p.m.
Where to watch the Tokyo Marathon?
You can watch the Tokyo Marathon live in almost every single country. The table below provides an overview of the different broadcasters and the countries they will air the Tokyo Marathon in.
Broadcaster
Country

ESPN International

Anguilla, Antigua, Argentina, Aruba, Bahamas, Barbados, Bermuda, Bolivia, Bonaire, Brazil, British Virgin Islands, Cayman Islands, Chile, Colombia, Costa Rica, Curacao, Cuba, Dominica, Dominican Republic, Ecuador, El Salvador, Falkland Islands, French Guiana, Grenada, Guadeloupe, Guatemala, Guyana, Haiti, Honduras, Jamaica, Martinique, Mexico, Montserrat, Nicaragua, Panama, Paraguay, Peru, Saba, St. Barthelemy, St. Kitts/Navis, St. Lucia, St. Maarten, St. Vincent/Grenadines, Trinidad & Tobago, Turks & Caicos, Uruguay, Venezuela.

Eurosport

Albania, Andorra, Armenia, Austria, Azerbaijan, Bangladesh, Belarus, Belgium, Bhutan, Bosnia-Herzegovina, Bulgaria, Croatia, Czech Republic, Cyprus, Denmark, Estonia, Finland, France, Georgia, Germany, Greece, Hungary, Iceland, India, Ireland, Israel, Italy, Kosovo, Kazakhstan, Kyrgyzstan, Latvia, Liechtenstein, Lithuania, Luxembourg, Macedonia, Malta, Moldova, Monaco, Montenegro, Myanmar, Nepal, Netherlands, Norway, Pakistan, Portugal, Poland, Romania, Russia, San Marino, Serbia, Sri Lanka, Slovakia, Slovenia, Spain, Sweden, Switzerland, Tajikistan, Turkmenistan, Turkey, United Kingdom, Ukraine, Uzbekistan, Vatican State,

Canal+

Angola, Benin, Botswana, Burkina Faso, Burundi, Cameroon, Cape Verde, Central Africa Republic, Comoros, Congo (Brazzaville), Democratic Republic of Congo, Equatorial Guinea, Ethiopia, Gabon, Gambia, Ghana, Guinea (Conakry), Guinea Bissau, Ivory Coast, Kenya, Lesotho, Liberia,

Madagascar, Malawi, Mali, Mauritius, Mozambique, Namibia, Niger, Rwanda, Sao Tome and Principe, Senegal, Seychelles, Sierra Leone, Swaziland, Tanzania, Togo, Uganda, Zambia, Zimbabwe, Chad, Djibouti, Mauritania, Nigeria, Somalia, South Sudan, Sudan.

Flotrack

Canada, United States of America

Great Sports Media

China (excluding Macau, Taiwan and Hong Kong)
What you need to know about the Cannes 10k
In tropical Cannes Joshua Cheptegei and Abel Sikowo will take to the streets. Joshua has previously mentioned he is mainly looking to see where he is at performance-wise. Sikowo will also be looking to deliver a solid performance. The Cannes 10k will begin at 11.00 a.m. local time. It sadly will not be possible to watch the Cannes 10k, unless you are lucky enough to be in Cannes at the moment. However, do not dwell because if you follow us on Facebook, Twitter and Instagram we will provide you with updates on results and behind-the-scenes footage.