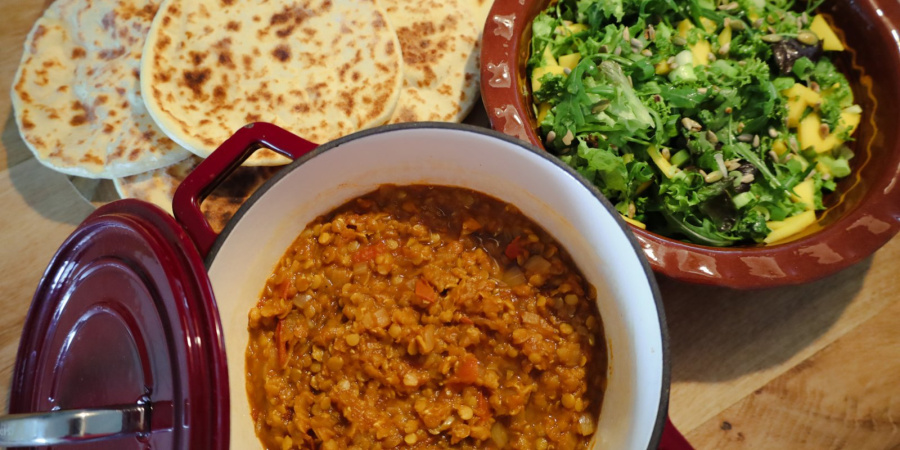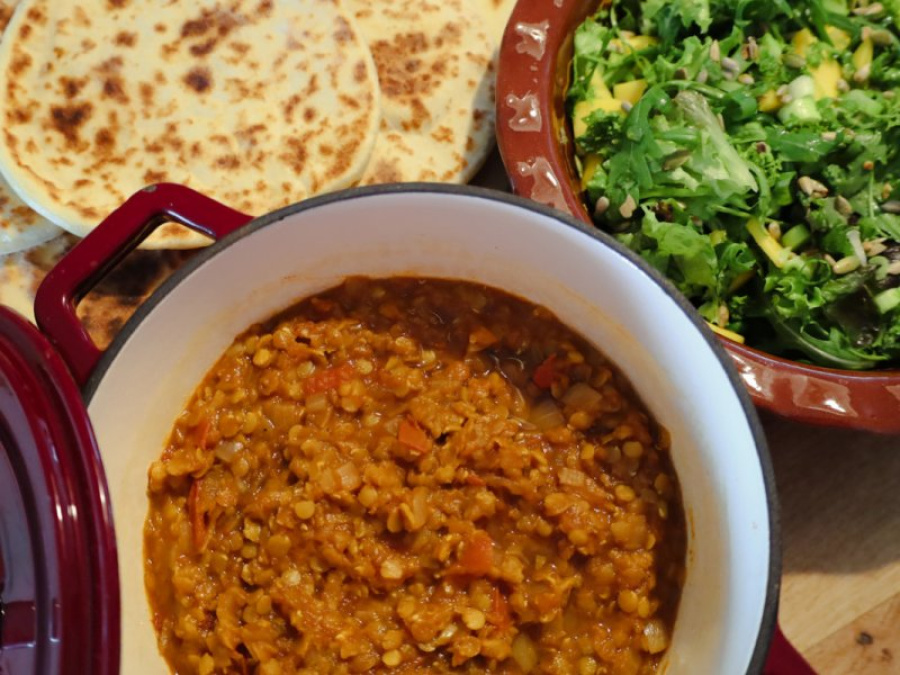 This #FoodFriday we will take a sneak peak in the East African kitchen that some of our NN Running Team-athletes are very familiar with!
A few weeks a year, such as the weeks before Easter, means for some of our Ethiopian and Eritrean athletes a time of fasting. During this time, believers abstain from meat, dairy products, and eggs, which are common sources of protein, vitamins, and minerals that are essential for athletes. During this period, only plant-based foods are eaten.
Lentil stew, also called 'Misir Wot', is a popular dish during the fasting period because it is vegan, nutritious, and affordable. Lentils are high in protein and fiber. It is usually served with injera, a sourdough teff flatbread. We replace the flatbread in this recipe with a variation that is easier to make, with ingredients that are more readily available worldwide.
What: Imagine yourself in the East African kitchen, with the spicy scent of Red Lentil stew with flatbread and green salad for 4 persons
Why: Lentils are rich in protein and fiber and low in fat. This makes them a good and now popular substitute for meat. The health benefits are complemented by vitamins B and minerals such as iron, magnesium, and zinc.
How: It takes about 30 minutes to prepare and 30 minutes to stew.
When: Dinner (Not recommended the days before a competition, because of the high amount of fiber)
Nutrition per person:
Energy (kcal) 617
Carbohydrates (g) 58
Protein (g) 28
Fat (g) 20
Saturated fat (g) 3
Fibre (g) 16
Magnesium (mg) 103
Iron (mg) 4
Zinc (mg) 3
Ingredients lentil stew:
200 gr. dried red lentils
3 tomatoes chopped
3 tbsp tomato paste
2 onions finely chopped
2 cloves of garlic finely chopped
2 tablespoons of oil
600 ml of water
3 tbsp Berber spice (Add ready-to-use Berber spice mix or the following spices: ½ tsp cumin powder, ¼ tsp red pepper flakes, ¼ tsp gingerpowder, ½ tsp ground cardamom, ¼ tsp ground black pepper, ½ tsp paprika powder, ¼ tsp turmeric, ¼ tsp cayenne powder, ½ tsp salt, Optional: ¼ tsp fenugreek powder)
Ingredients flatbread:
600 g flour
400 g skyr or in case of dairy-free add coconut yogurt
1 tsp salt
Ingredients green salad:
200g mix of arugula and lettuce
1 bunch of spring onion finely chopped
1/2 ripe mango pieces
1 avocado in pieces
15 g flat parsley finely chopped
15 g coriander finely chopped
100 g pumpkin and sunflower seeds roasted
1/2 lime juice
4 tbsp olive oil
salt to taste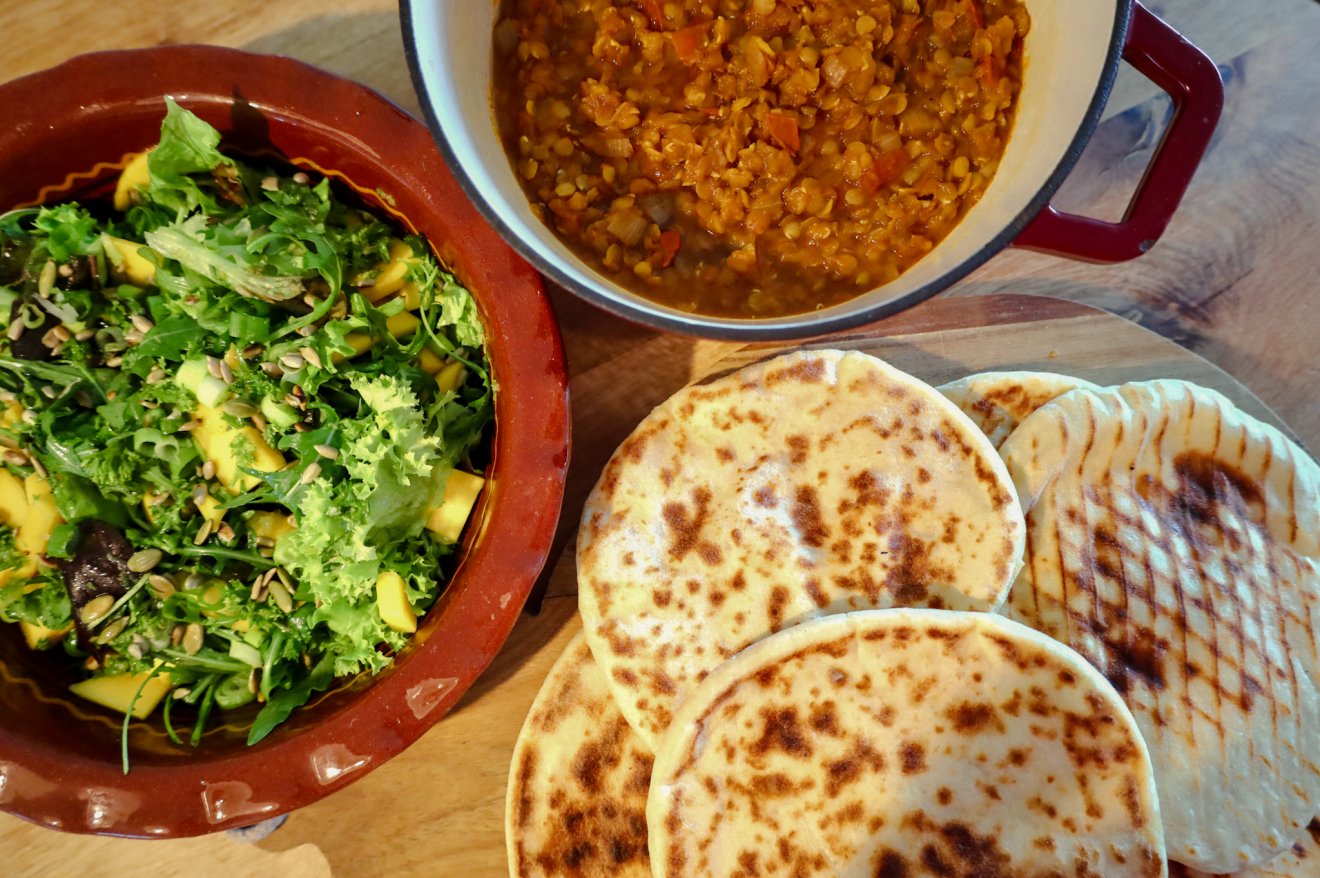 How to prepare:
Start by making the lentil stew. Heat the oil in a saucepan with a lid. Fry the onion in it on medium heat for a few minutes. Add the garlic and spice mixture and fry for a minute. Now also fry the tomato puree for a few minutes. Finally, add the fresh tomato and let it simmer for a few minutes so that the tomato softens slightly. Now add the lentils and water and bring them to a boil. Let this cook covered over low heat for about 30 minutes, until the lentils are tender. Stir regularly so that it does not stick.
Continue making the flatbread. Mix the flour with the skyr or coconut yogurt and the salt to an elastic dough. Divide the dough into 8 pieces. Roll out the 8 dough pieces with a rolling pin until about half a cm thick. Bake it in a baking or grill pan for about 3 or 4 minutes on both sides.
Finally, make the salad. Start with the dressing. Mix the oil, lime juice, salt, parsley, and coriander. Remove the pit and peel from the avocado and mango and cut into cubes. Mix the lettuce, mango, avocado, and spring onion with the dressing and finish with the roasted pontoon and sunflower seeds.
Enjoy your meal!
NN Running Team-athletes often have carefully planned meals to ensure they get the energy, nutrients, and protein they need to perform and recover at their best. Sometimes, without eating meat or dairy, it can be a challenge to get enough protein. If you still find this a challenge, consider the Virtuoos protein shakes after a long run or high-intensity training!