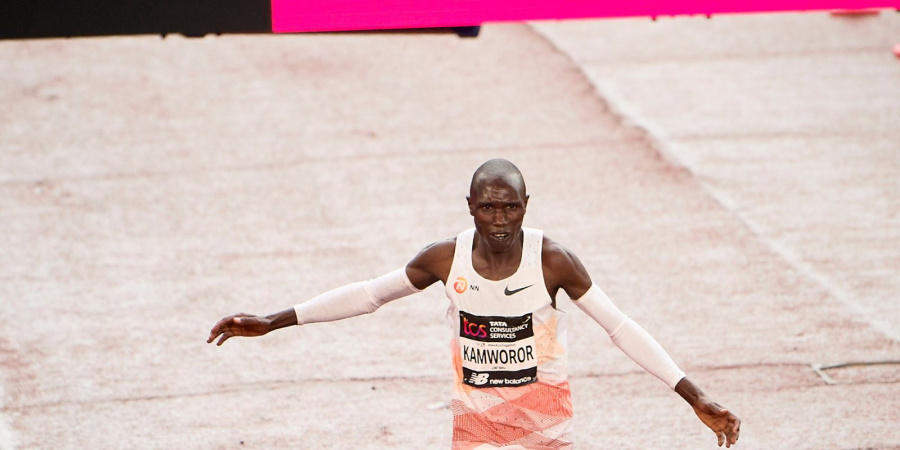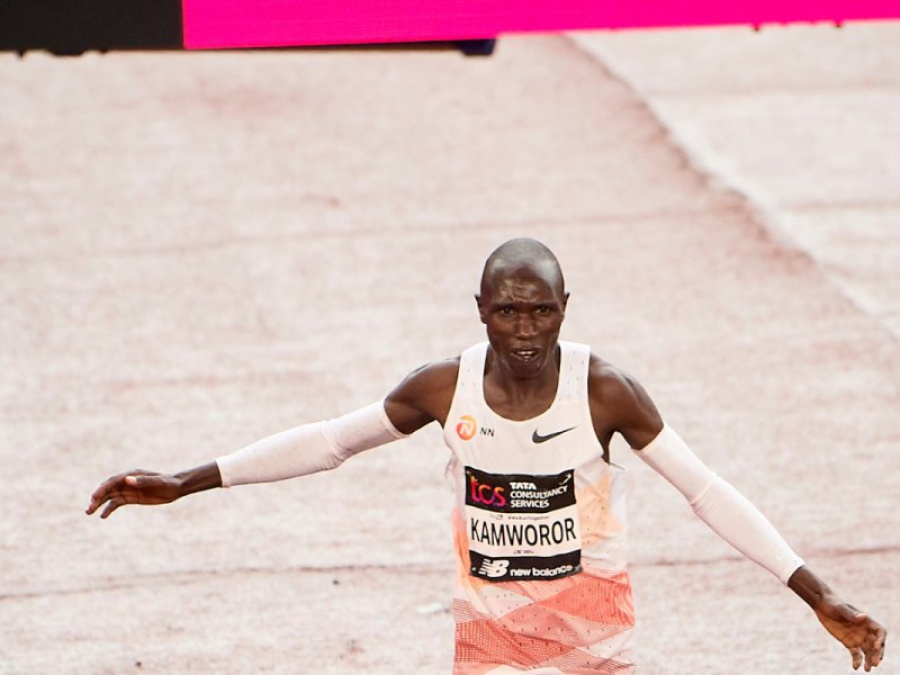 In the men's field, Geoffrey Kamworor ran 2:04:23 for a new personal best in second place, a time even more impressive given the poor conditions throughout.
The NN Running Team lined up at the start with four main hopes: Kamworor, Kenenisa Bekele, Leul Gebresilase, and Birhanu Legese and they all committed to the strong early pace. The lead group headed through 5km in 14:30, below course record pace, and then 29:13 through 10km.
As they passed over Tower Bridge just after 20km, Bekele slowly lost contact with the lead group as a large pack passed through halfway in 1:01:40. The three-time Olympic champion would eventually drop out just after 25km.
The group slowly whittled itself down, reigning champion Amos Kipruto, Legese, Kamworor, Tamirat Tola and Kiptum all present as the race gradually picked up the pace.
The race exploded into life just before 31km as Kiptum surged massively with only Kamworor able to keep him in sight. Kamworor ran the section between 30 and 35km in 14:17 but Kiptum would pull away thanks to a sub-14 minute split.
Behind them Gebresilase had temporarily dropped to sixth, keeping Kipruto, Tola, and Seifu Tura of Ethiopia in his sights. Legese stepped to the side of the road shortly after the 30km mark.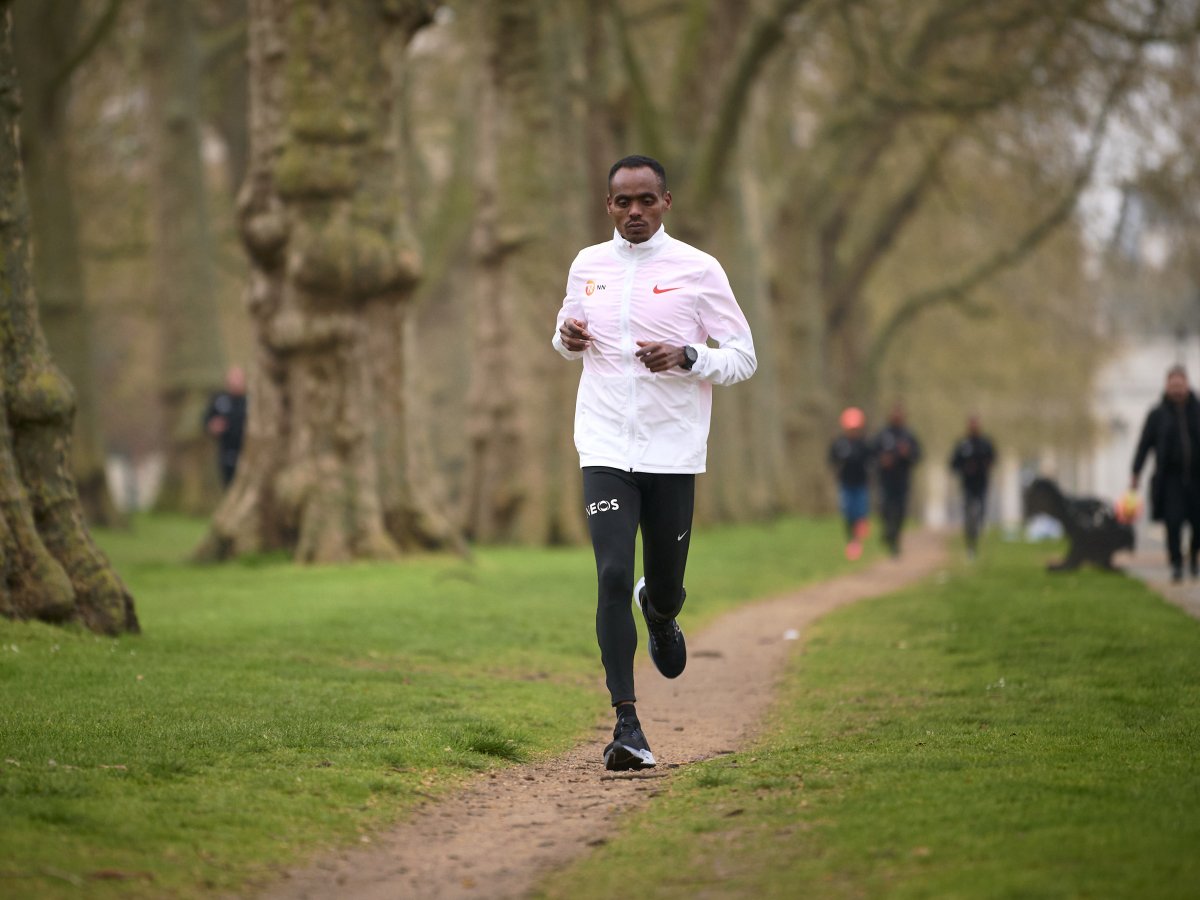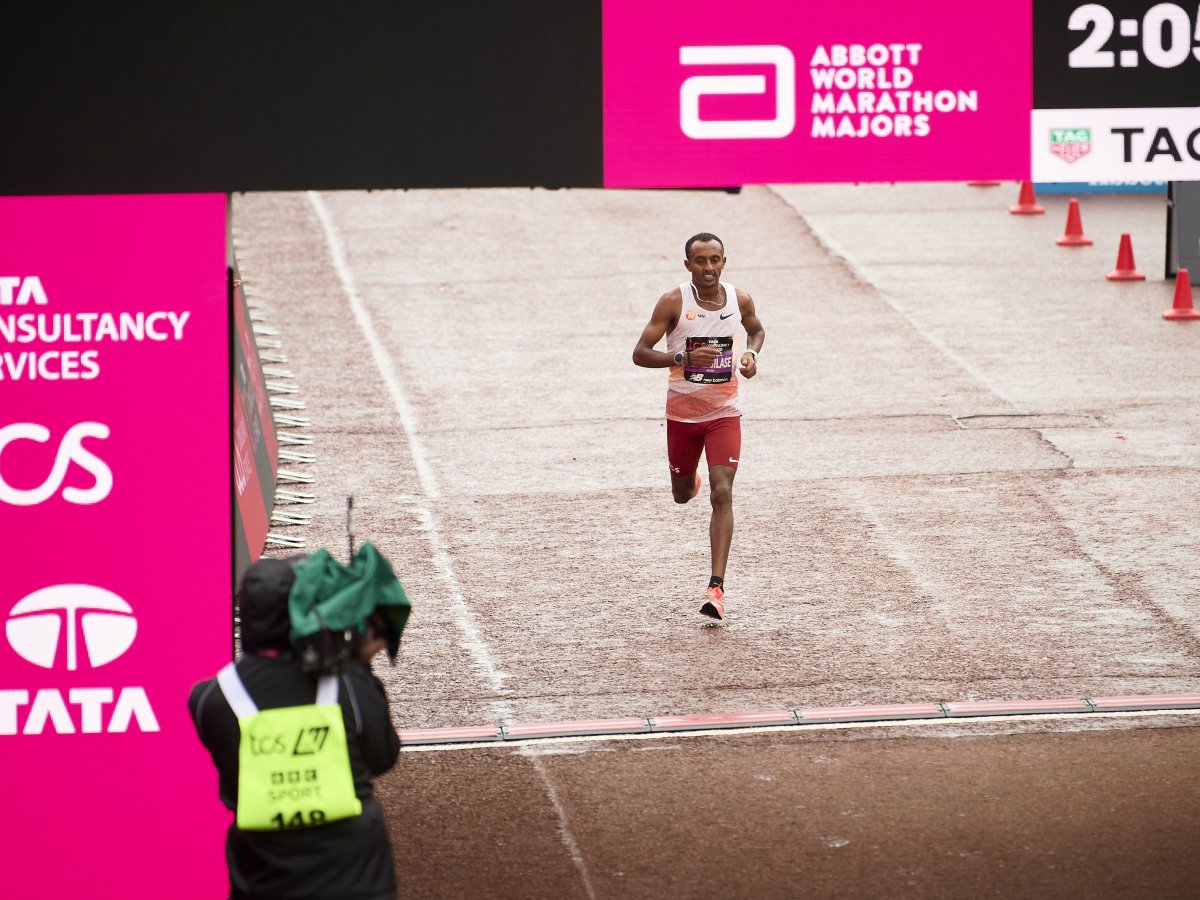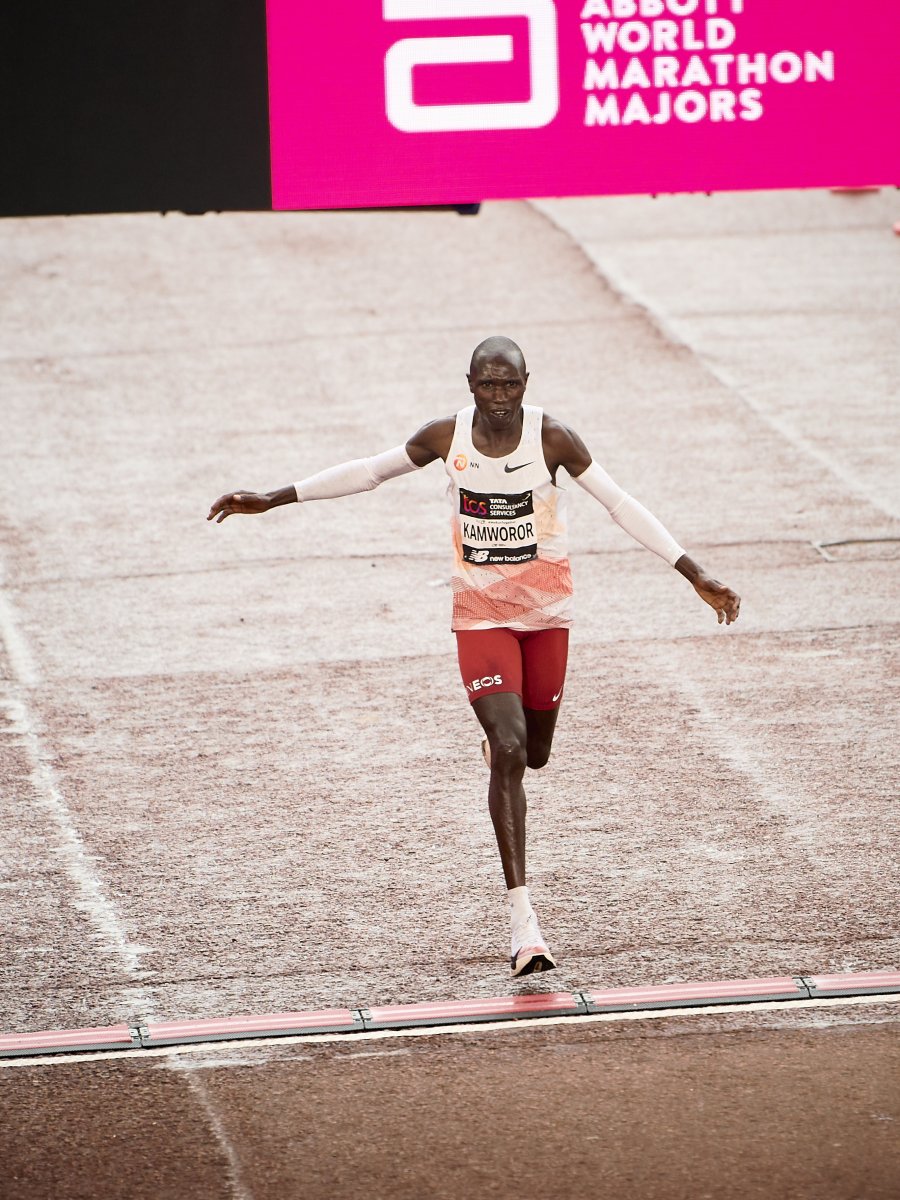 Whilst Kiptum closed hard over the final ten km, covering 30 to 40km in 27:50, Kamworor would continue to move away from the rest of his competitors, finishing over 30 seconds clear of Tola in third.
For the Kenyan the TCS London Marathon was extra special. After a tough period, in 2020, following an accident in which the athlete was hit by a motorcycle and fractured his tibia the road to recovery was long and not always easy. In the past few years, Kamworor also struggled with other injuries that prevented him from showcasing his talent. Finishing second in London shows that he is back and hungry for more.
Geoffrey: "When I look back on my race, I can say I am proud to have improved on my personal best and to get a 2nd place in the London Marathon. Last years have challenged me in terms of injuries and I know I had to be patient."
Yesterday was proof that with patience, hard work, and a great team it is possible to come back and I am looking forward to what the future will hold for me.
Further back in the field, Gebresilase had judged his effort well to move to fifth at 40km and catch Tura for fourth in the final two km. In doing so the Ethiopian finished in 2:05:45, within two minutes of his 2:04:00 best on a day when the rain came down for much of the race.
Yehualaw misses out on London Marathon defense in the final kilometer
In the greatest women's field ever assembled at the London Marathon, Yalemzerf Yehualaw fell agonizingly short of defending her title, finishing fifth, 20 seconds behind race winner Sifan Hassan.
London Marathon 2022 champion Yehualaw was in touch until the final 800m where a leading trio of Alemu Megertu, Peres Jepchirchir, and Hassan pulled away in the sprint finish, and she would be overtaken by Shelia Chepkirui in the final few meters.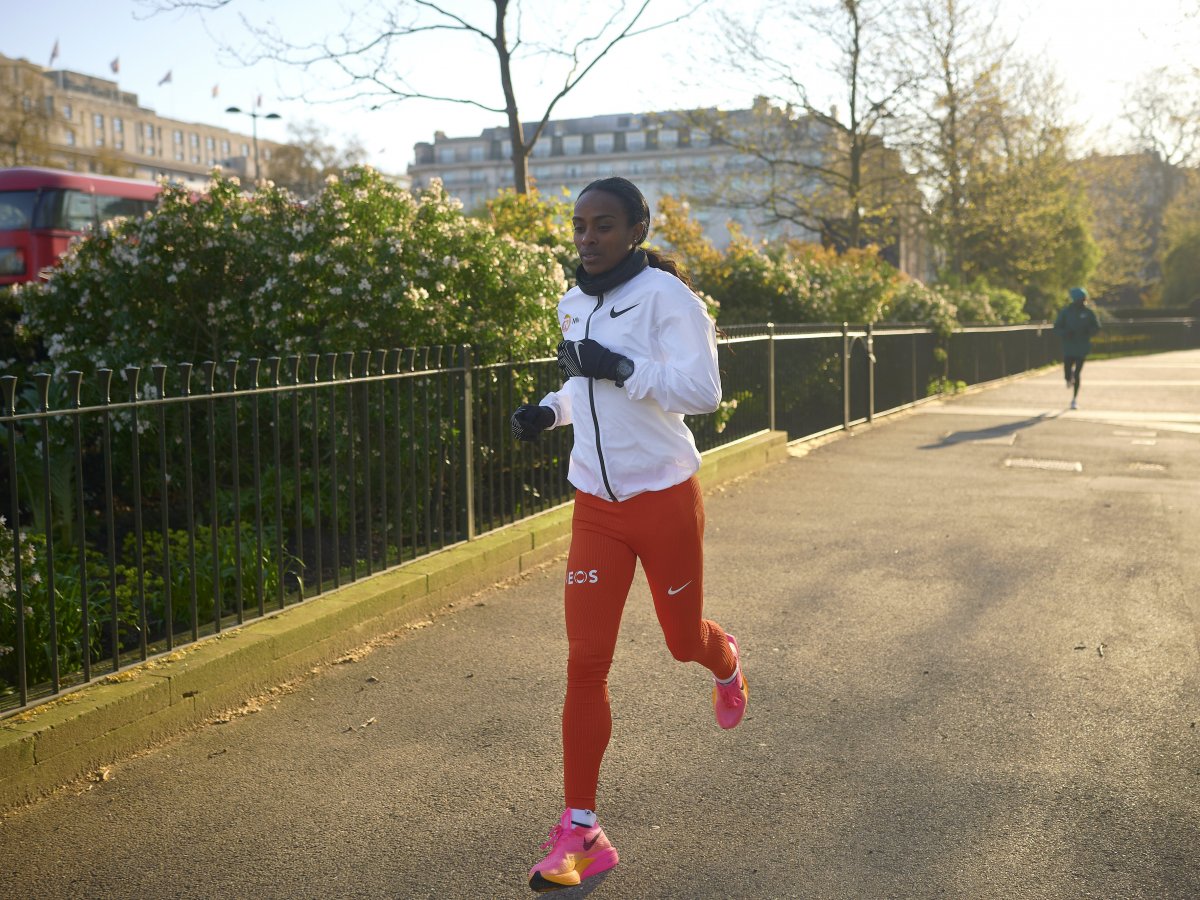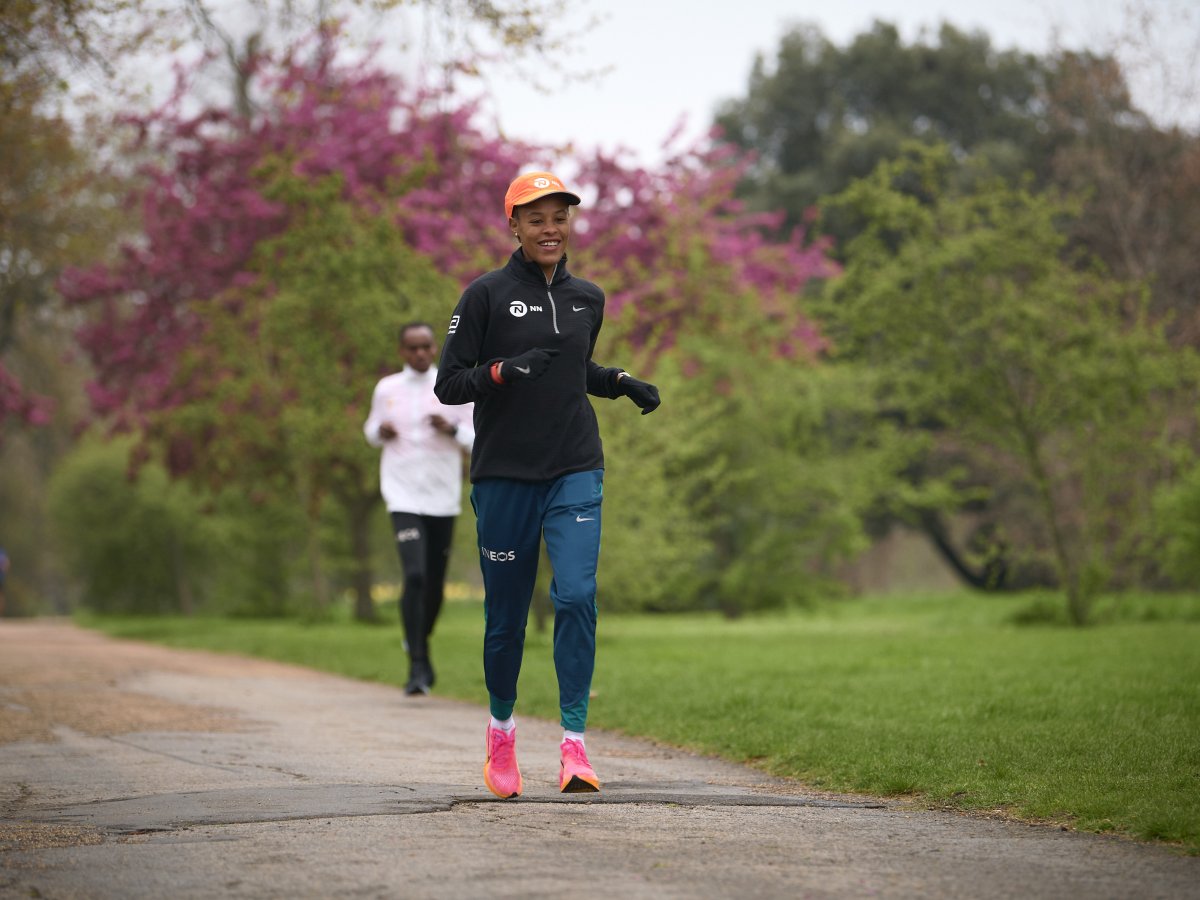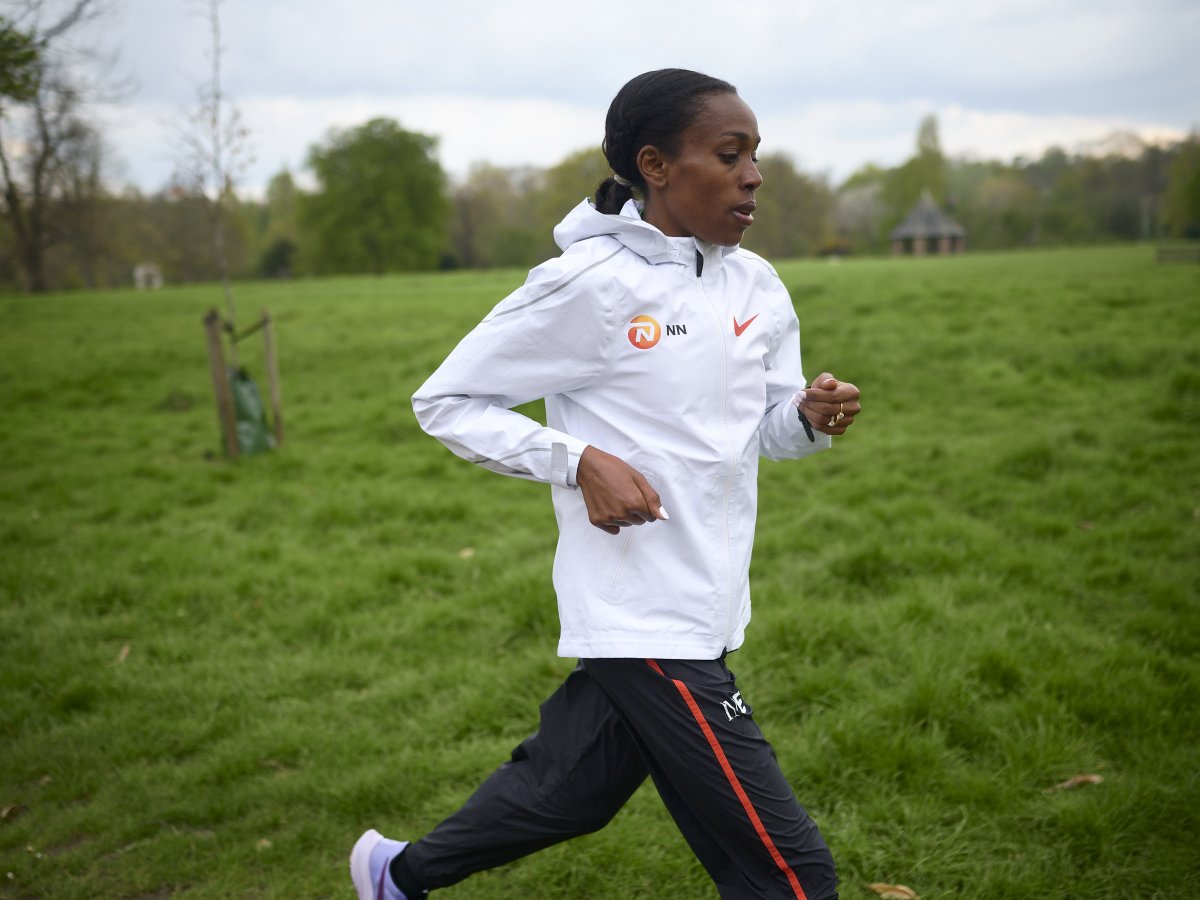 Behind her Almaz Ayana, running just her second marathon, finished in seventh in 2:20:44 with Genzebe Dibaba dropping out shortly after 35km.
After the early abandonment of world-record holder Brigid Kosgei, all the pre-race favorites were present as a 12-strong pack headed through 10km in just inside 32:37.
The group was reduced to nine including one pacemaker through halfway as the women reached that mark in 68:29, the only notable drop-off in that stretch Hassan.
Such was the quality on show in London that after Kosgei's abandonment, three athletes boasted personal bests within seven seconds of each other, Jepchirchir the fastest with 2:17:16, Ayana 2:17:20 and Yehualaw the third of the trio in 2:17:23. World 1500m record holder Dibaba with 2:18:05 was barely a fraction behind.
By 25km the pack was reduced to six, Dibaba and Yehualaw sitting behind Jepchirchir whose 15:54 from 20 to 25km was the fastest of the race so far. Hassan kept them in her sights but did not figure at that point in the race-winner conversation while Ayana was just six seconds back.
Hassan recovered and closed down that lead pack over the next five kilometers but Jepchirchir made a significant move at 31km, whittling down the front group to four with Dibaba struggling to maintain the pace before dropping out a few kilometers later.
At 36km Hassan regained touch with the lead group as Jepchirchir and Yehualaw seemed to size each other up and a five-strong pack ran together along the Embankment.
As they turned towards Big Ben, Megertu made the initial move with 800m to go with Yehualaw losing touch before Hassan ran clear of her two competitors for the race win. Yehualaw finished 5th in 2:18:53. After the race Yehualaw expressed her disappointment: "My goal coming to London was to defend my title but it just wasn't my day.
The cold made it more difficult and I couldn't keep up with the lead group in the end. I will go back to Ethiopia, focus on my recovery, and come back stronger.