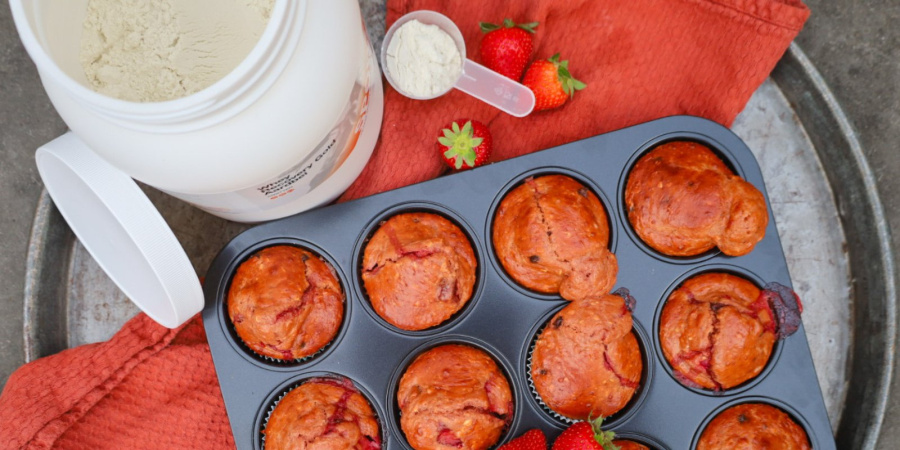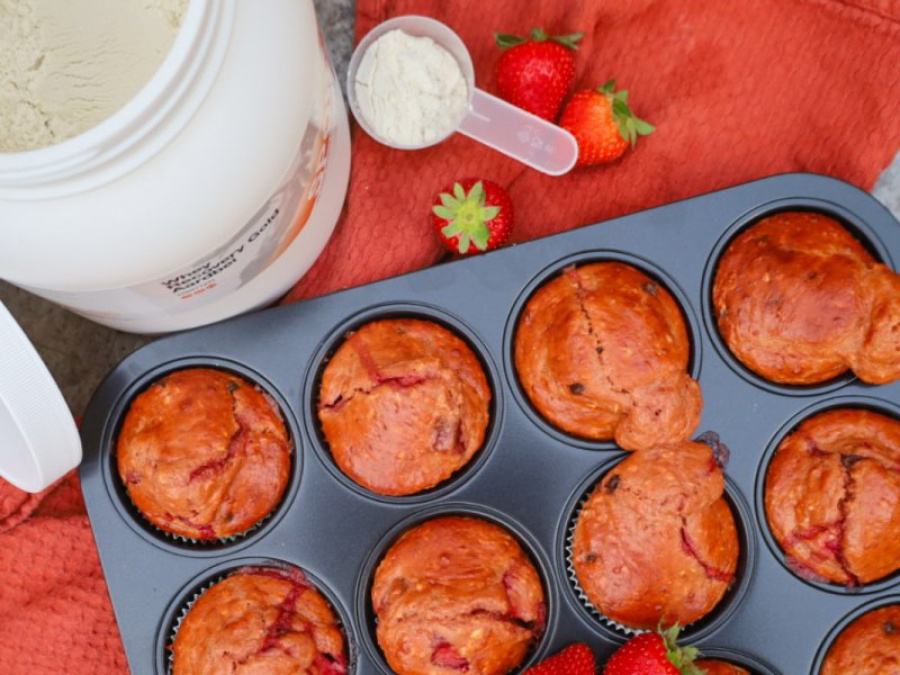 This week, why not indulge in a delicious post-recovery snack that adds a twist to the renowned recovery shakes? Introducing the Virtuoos Strawberry-Chocolate Protein Muffin!
These muffins are not only incredibly easy to make, but they also make for a delightful treat that you can share with your running friends. What's more, they offer a responsible snacking option, and if you happen to have some left over, you can even freeze them for a later moment. The Protein Muffins provide a truly satisfying and filling experience. So go ahead and enjoy this delightful blend of flavours and textures, and let it fuel you for your next running adventure!
Proteins play a crucial role as the building blocks for muscles, making them important for endurance athletes. To ensure optimal muscle recovery, growth, and strength development, it is essential for runners to consume an adequate amount of protein. While obtaining enough protein through a regular diet is possible, it can sometimes be challenging to meet the requirements. This is where Virtuoos protein powders come into play, providing a solution for athletes.
As an athlete, your protein requirement is higher compared to non-athletes. The recommended intake for runners is approximately 1.4-1.6 grams of protein per kilogram of body weight per day. To optimize protein distribution throughout the day, it is advised to consume around 0.3 grams of protein per kilogram of body weight every 3-4 hours. Additionally, it is beneficial to consume approximately 20 to 25 grams of protein within the first 30 minutes following your run, training session, or competition. Virtuoos protein powders are known for their high quality and are tailored to help endurance runners meet their protein needs.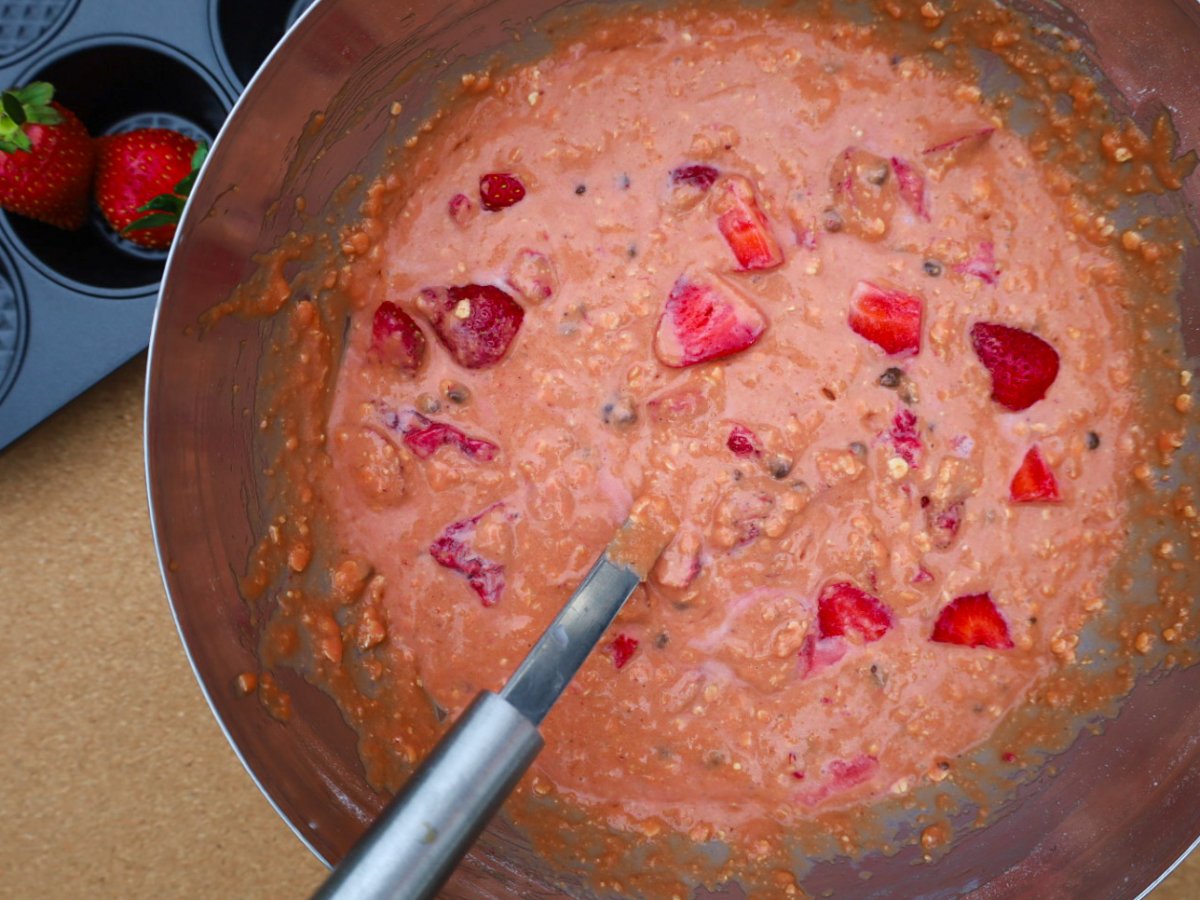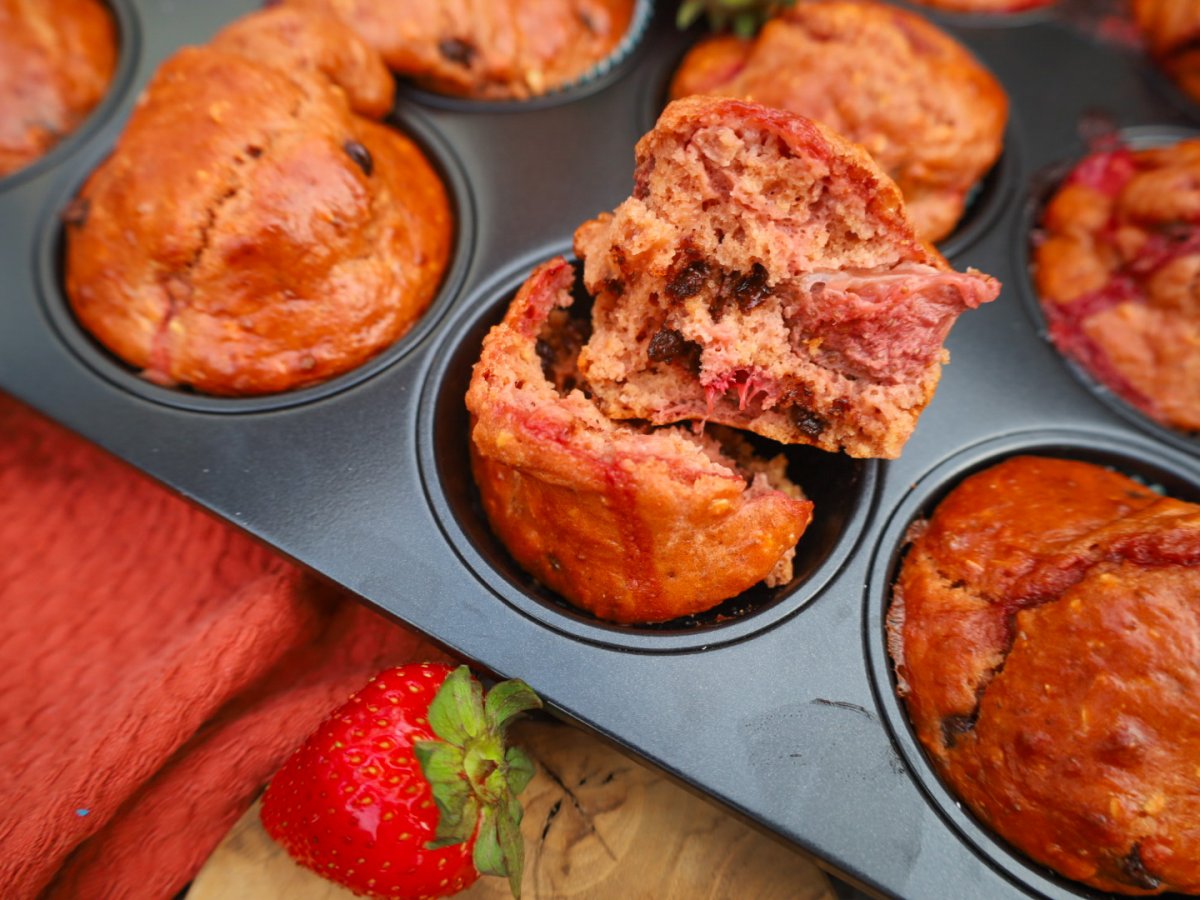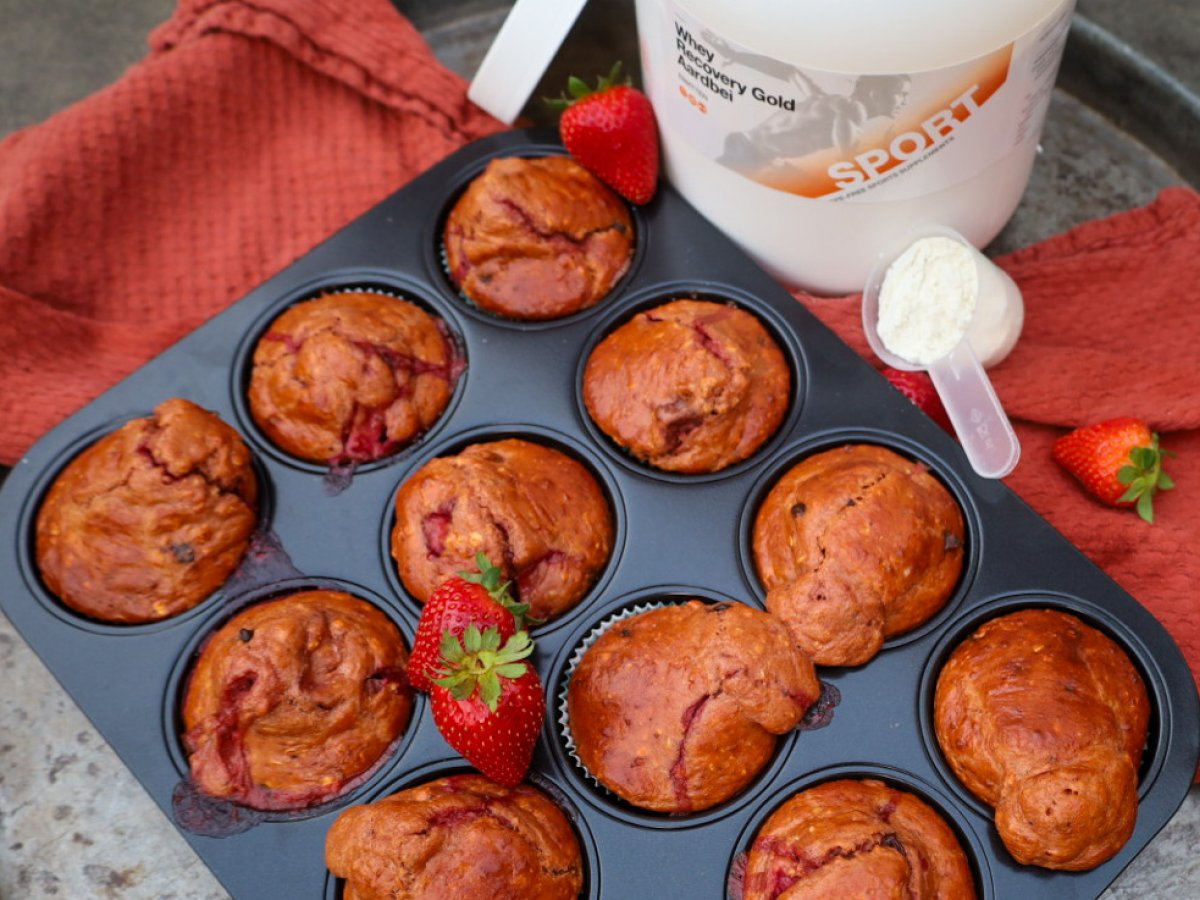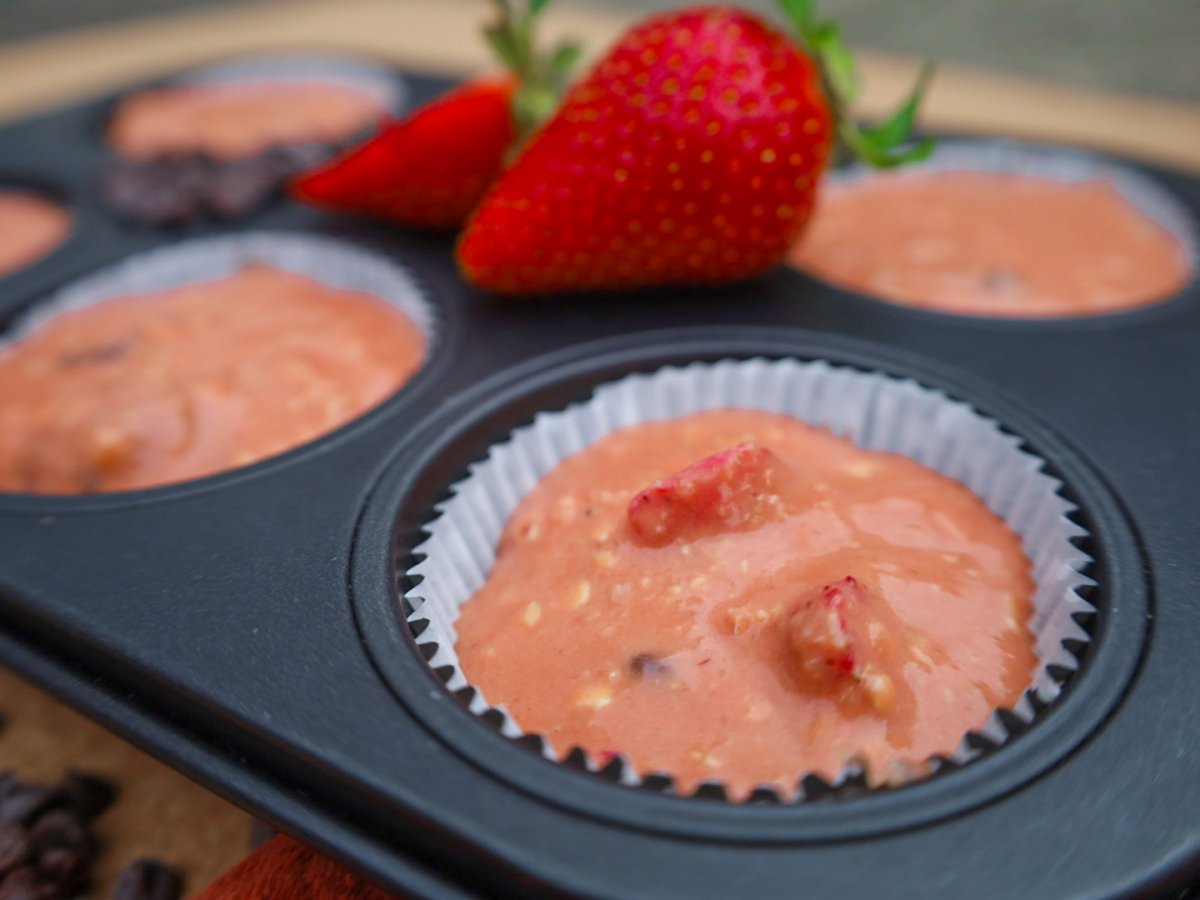 What: Virtuoos Strawberry-Chocolate Protein Muffin!
Why: To meet your daily protein requirement and because it is simply delicious…
How: Spend 10 minutes in the kitchen, less than half an hour in the oven, cool a bit and you have 12 recovery-boosting muffins.
When: In the first 30 minutes after a run or as a snack in periods of intensive training, when it is more challenging to meet your protein needs. Or as a treat for your running friends!
Nutrition
Per muffin
Energy (kcal) 229
Carbohydrates (g) 28
Protein (g) 15
Fat (g) 4
Saturated fat (g) 2
Fibre (g) 1
Magnesium (mg) 43
Iron (mg) 1
'Dry' Ingredients:
100 grams of oat flakes
175 grams of oatmeal flour
75 grams of almond flour
75 grams of (coconut blossom) sugar
1 teaspoon of vanilla extract
2 teaspoons of baking powder
A pinch of salt
4 scoops of Virtuoos Protein Powder (we used Virtuoos Whey Recovery Gold Strawberry)
'Moist' Ingredients:
2 eggs
4 tablespoons of coconut oil
300 grams of quark (we used skyr strawberry)
100 ml of milk
And of course...
200/250 grams of fresh or frozen strawberries, cut into pieces
100 grams of dark chocolate pieces/drops
Instructions:
Preheat the oven to 180 degrees Celsius and prepare a muffin tin with paper cake cups.
In a large bowl, combine the dry ingredients.
In a separate bowl, mix together the eggs, coconut oil, quark and milk. Add the wet ingredients to the bowl of dry ingredients. Finally, gently fold in the dark chocolate and strawberries.
Fill the muffin cups with the batter, filling them just below the rim. Bake the muffins for 20-25 minutes until golden brown. Allow them to cool in the tin.
These muffins can be enjoyed for up to 2 days when stored in an airtight container. Or you can freeze them by placing them in a freezer bag. Enjoy!
Explore the Virtuoos website to discover the supplements used by athletes. All sports supplements from Virtuoos are equipped with the NZVT quality mark, ensuring that top athletes, like the NN Running Team runners, can use the supplements with complete peace of mind.