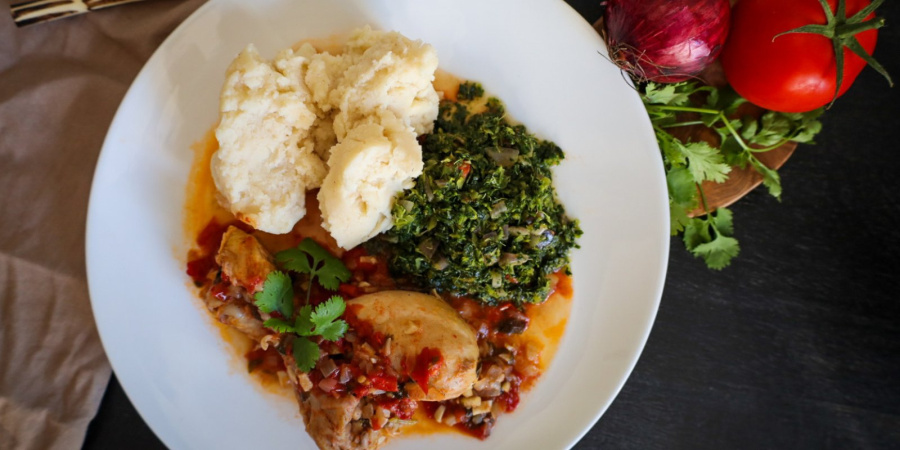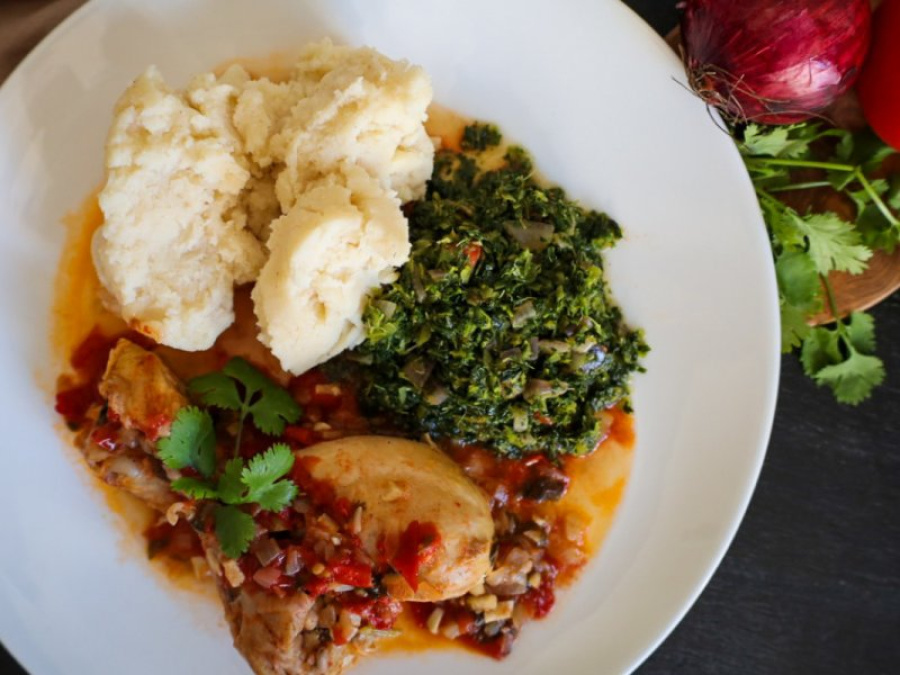 Imagine the ultimate dish that Ugandan and Kenyan NN Running Team athletes have cherished since they first laced up their running shoes: Ugali or Posho with chicken stew and Sukuma Wiki. It's not just a meal; it's a traditional food combination straight into the heart of East African athlete kitchens. Can you already taste the victory?
Kenyan and Ugandan cuisines, like many East African cuisines, are known for their use of fresh ingredients, pure basic foods, and emphasis on unprocessed and a balanced combination of vegetables, lean proteins, and (gluten-free) grains. The traditional nature of these cuisines means that the foods are prepared with minimal processing.
Let's break down each component:
Ugali is a staple food in many East African countries, including Kenya and Uganda. The term "Posho" is commonly used in Uganda. It is a thick, starchy porridge made from maize (corn) flour and water. It's similar to the concept of polenta and is also gluten-free.
Sukuma Wiki is a Swahili term that refers to a dish made from collard greens or kale that is sautéed with onions, tomatoes, and spices. Sukuma wiki is a nutritious and affordable vegetable that is a staple in East African diets.
Chicken is a common source of lean protein in many cuisines. However, it is not eaten daily. In still primitive areas, chicken meat is not readily available or can be kept refrigerated.
This combination offers a balanced meal with carbohydrates from the ugali/posho, protein from the chicken, and vitamins, minerals and fiber from the Sukuma wiki.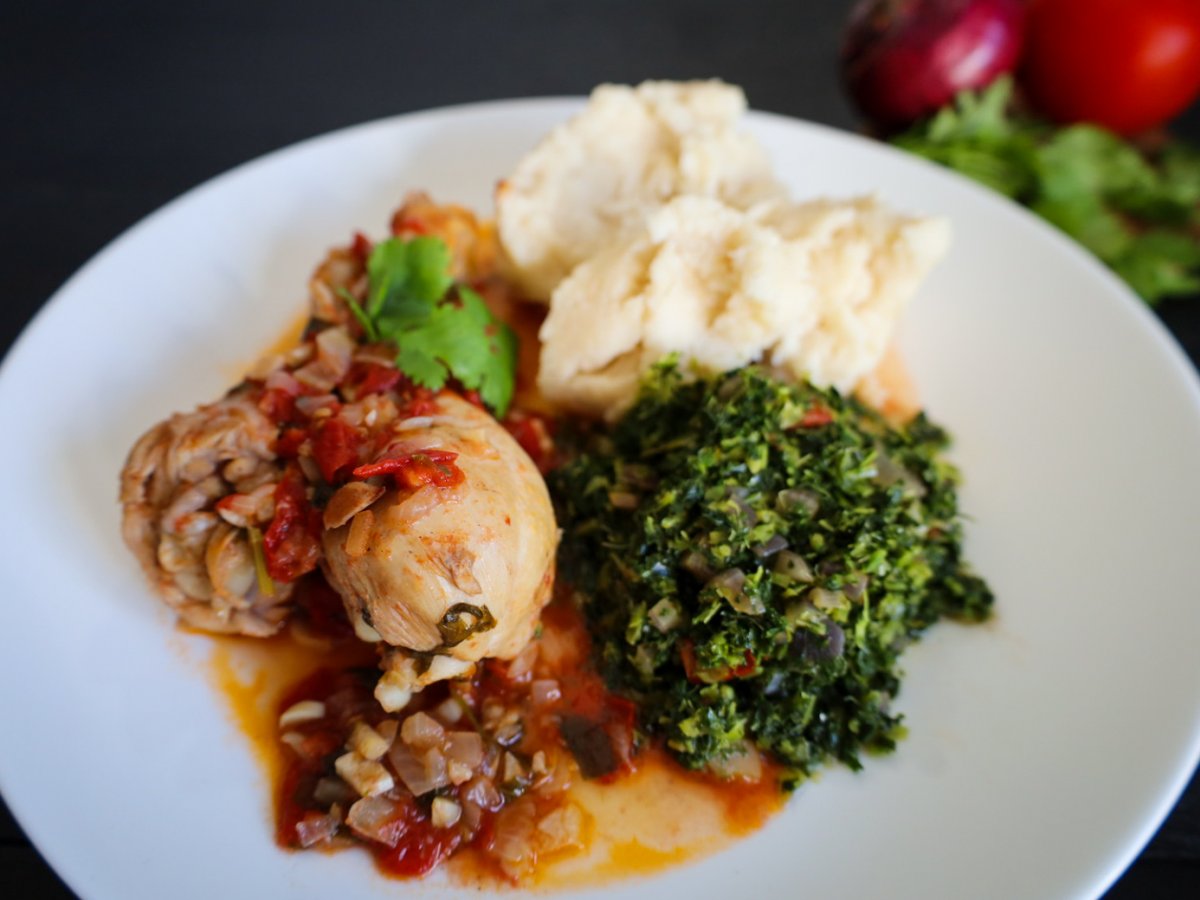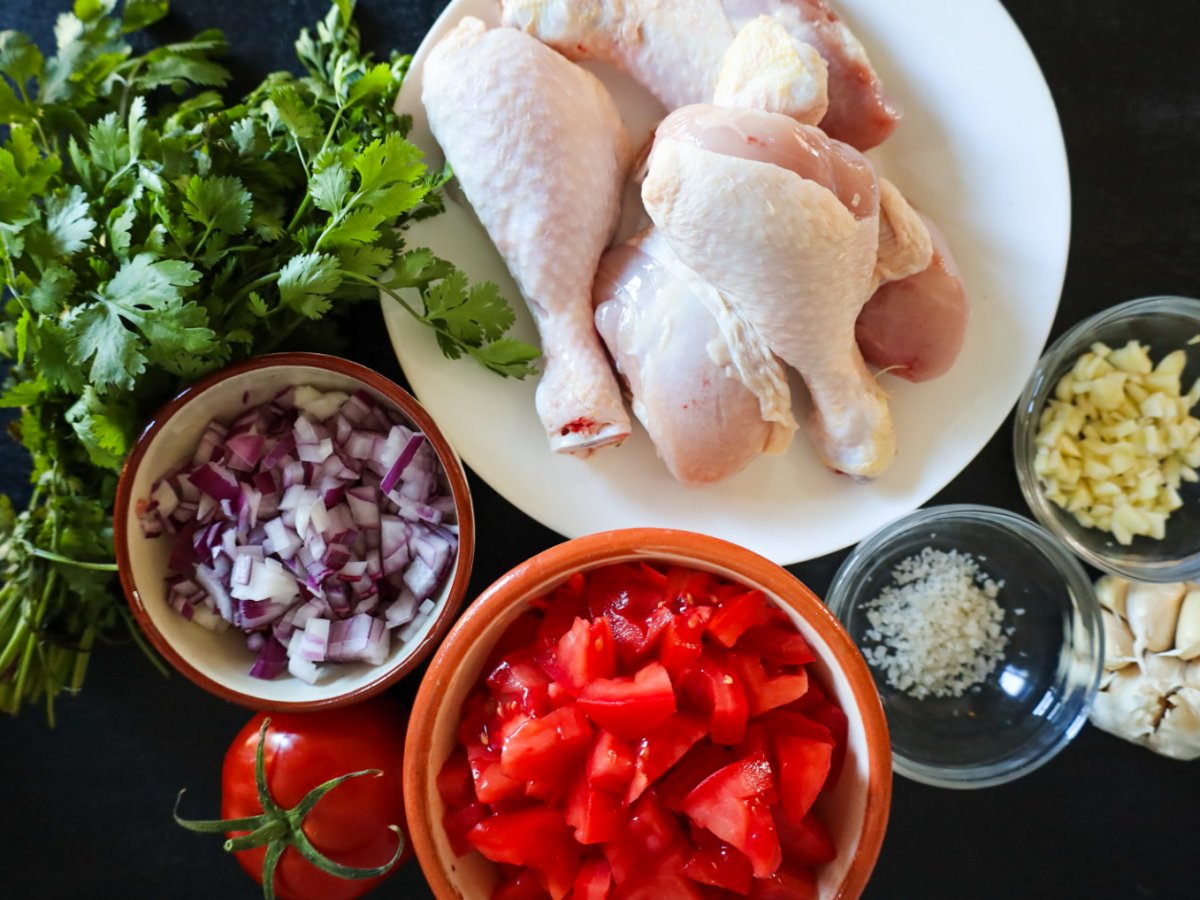 What: A kind of traditional Ugandan and Kenyan dish for 4 people.
Why: Being a running enthusiast and devoted NN Running Team fan; this is definitely a bucket list dish! Great gluten-free fuel (Ugali / Posho), lean protein component (recovery), with the necessary vitamins, minerals, and fibers (Sukuma Wiki).
How: It takes about 15 minutes to prepare and 30min to stew and of course some effort and power to make the ugali.
When: Dinner. This can even be eaten the night before a competition. Just adjust the proportions slightly: more ugali (carbs-fuel), a little less Sukuma Wiki (fiber)
Ingredients:
6 – 8 chicken legs
4 tomatoes, cut into pieces
3 red onions, finely chopped
3 garlic cloves, finely chopped
400 grams of green kale (Sukuma Wiki), chopped
3 to 4 cups corn flour (Ugali / Posho)
1 tsp pure sea salt and pepper to taste
3 tbsp olive oil
Water
Nutrition:
Per person
Energy (kcal) 644
Carbohydrates (g) 64
Protein (g) 40
Fat (g) 24
Saturated fat (g) 5
Fibre (g) 8
Magnesium (mg) 94
Iron (mg) 3
Zinc (mg) 4
Preparing Ugali or Posho:
The ratio of water to flour is typically around 2:1 (more or less!)
Start by boiling water in a pot. Gradually add maize flour while stirring with a strong wooden spoon.
Keep stirring and pressing the mixture against the sides of the pan to break up the lumps. The mixture will start to thicken as the starch in the flour absorbs water.
Continue cooking and stirring until the mixture becomes thick and starts pulling away from the sides of the pot.
Allow it to cook for 2-3 minutes. It should have a smooth, dough-like texture.
Preparing the stew:
Sauté 2 onions in 2 tbsp olive oil in a stew pan
Add the garlic, salt, and the chicken and stir for five minutes.
Lastly, add 3 chopped tomatoes and let the chicken cook in the tomato juice that will be present after a few minutes, for at least 15 minutes until the meat falls off the bone.
Preparing the Sukuma Wiki:
Sauté 1 onion in 1 tbsp of olive oil in a pan
Add 1 chopped tomato, green kale (Sukuma wiki), and a pinch of salt. Fry it for 5 minutes until cooked through. Finish with a pinch of salt and pepper.
Serve the three components together. Don't forget to generously divide the tasty stew tomato juice over the plates!
Looking for more healthy recipes or food inspiration? You can find all of our #FoodFriday deliciousness here.