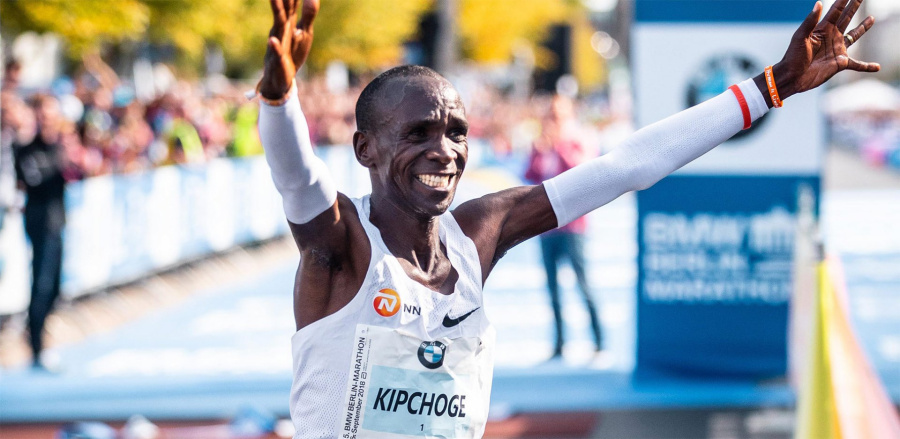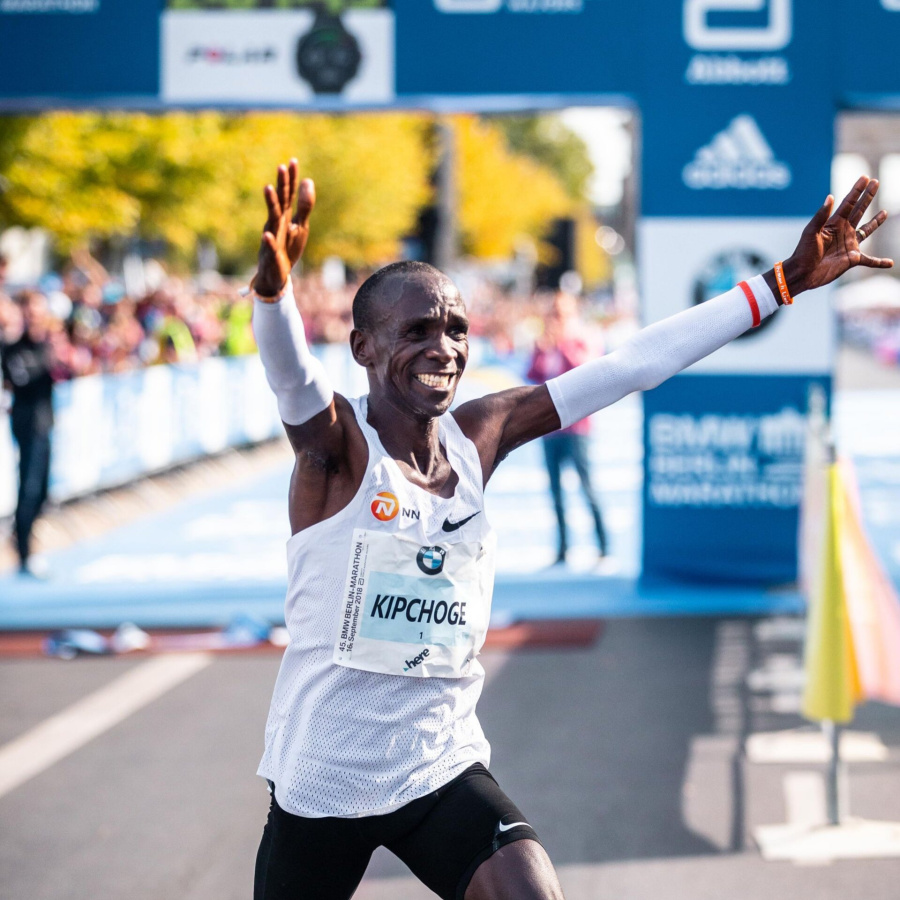 Meet Eliud
Date of birth
05 Nov 1984
Country
Kenya
Personal Bests
5.000m
12:46.53
10.000m
26:49.02
5km
13:11
10km
26:54
Half Marathon
59:25
Marathon
2:01:09
INEOS Challenge
1:59:40
The greatest marathon runner in history and leading light in the NN Running Team, it is impossible to not admire the achievements and inspirational qualities of this extraordinary athlete.
Under the long-term guidance of coach, mentor and friend Patrick Sang, Eliud first burst on the international scene as a teenager winning the U20 race at the World Cross Country Championships before later that year inflicting a shock defeat on running icons Hicham El Guerrouj and Kenenisa Bekele to claim a stunning 5000m gold medal at the 2003 World Championships in Paris.
Eliud went on to enjoy a medal-laden track career winning Olympic 5000m bronze and silver medals at the 2004 and 2008 Olympics Games.
In 2013 the man they call "The Philosopher" because of his intelligence started his marathon career with victory in Hamburg (2:05:30). Later that year he had to settle for second in Berlin behind Wilson Kipsang – who set a world record that day – but so far that is Eliud's solitary marathon defeat.
In 2014 he triumphed in Rotterdam and Chicago before the following year adding wins in London and Berlin to his growing collection of marathon victories. Last year Eliud ran a sensational 2:03:05 in London – within just eight seconds of the world record mark – before clinching the Olympic title in Rio.
Eliud added further sheen to his astonishing career in 2017 by producing the fastest marathon in history as part of Nike's innovative Breaking2 project in Monza.
Defying many pre-race predictions, he ran more than two-and-a-half minutes quicker than Dennis Kimetto's world record mark of 2:02:57 – recording a jaw-dropping time of 2:00:25.
He went on to secure victory in wet conditions at the 2017 Berlin Marathon, recording 2:03:32 to claim an eighth marathon win in nine starts and a seventh successive 42.2km victory. In April, Eliud maintained his remarkable winning streak by clinching a third victory on the streets of London, triumphing on a hot, spring day in 2:04:17.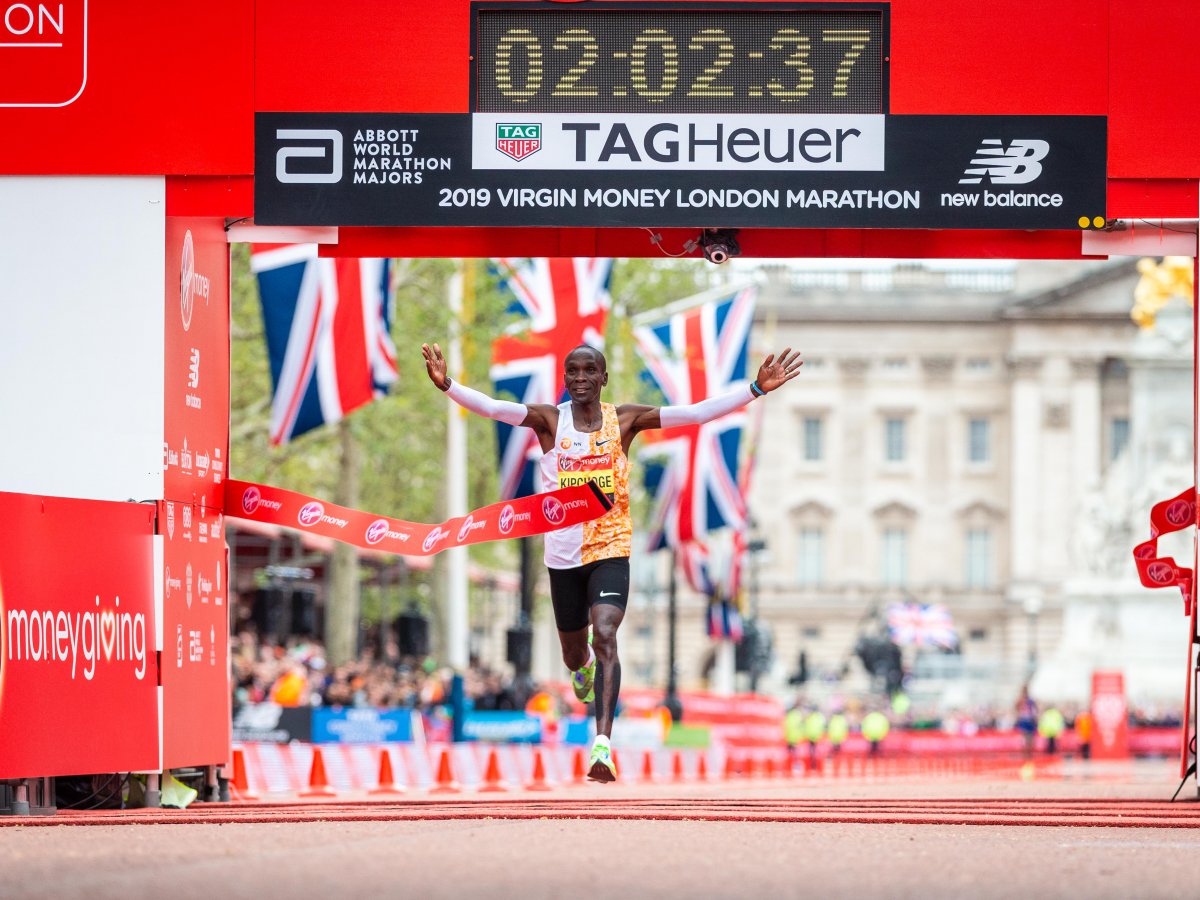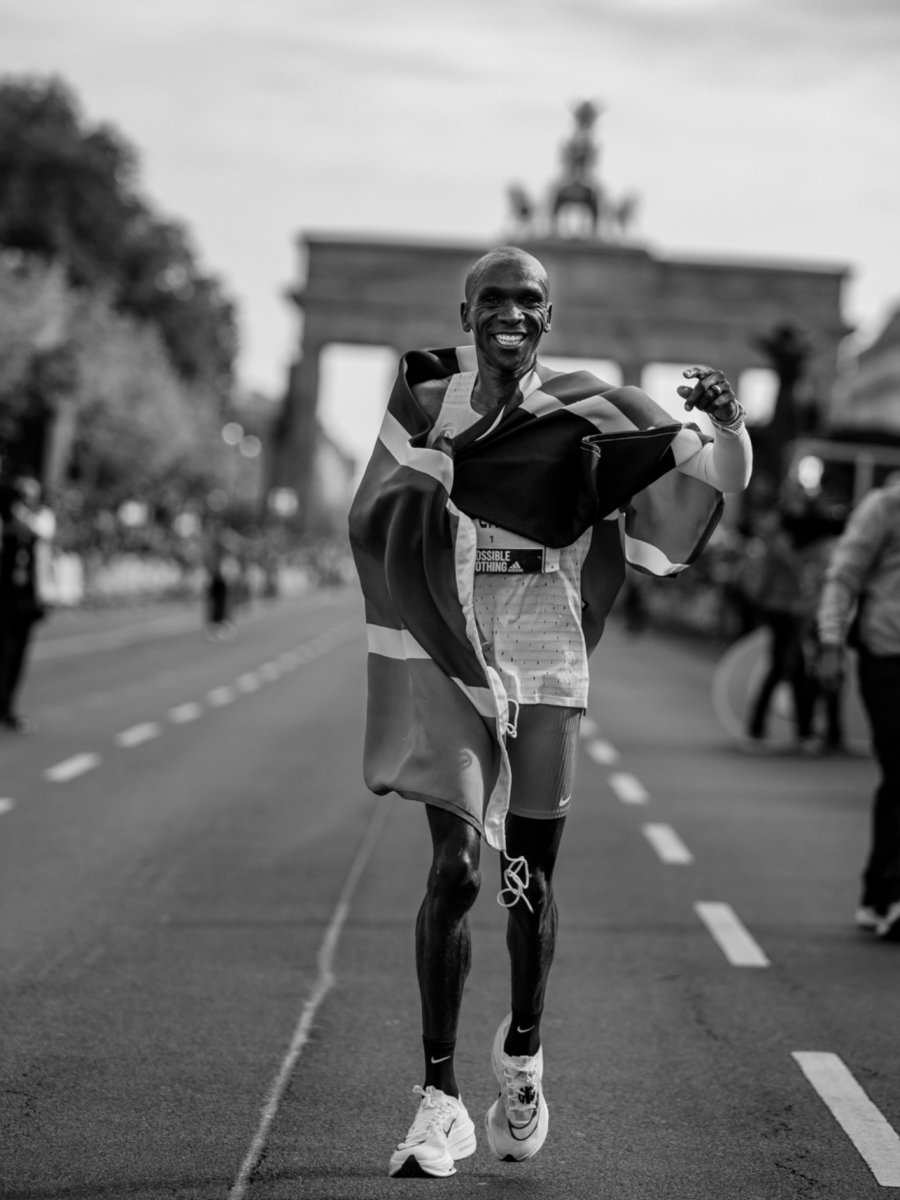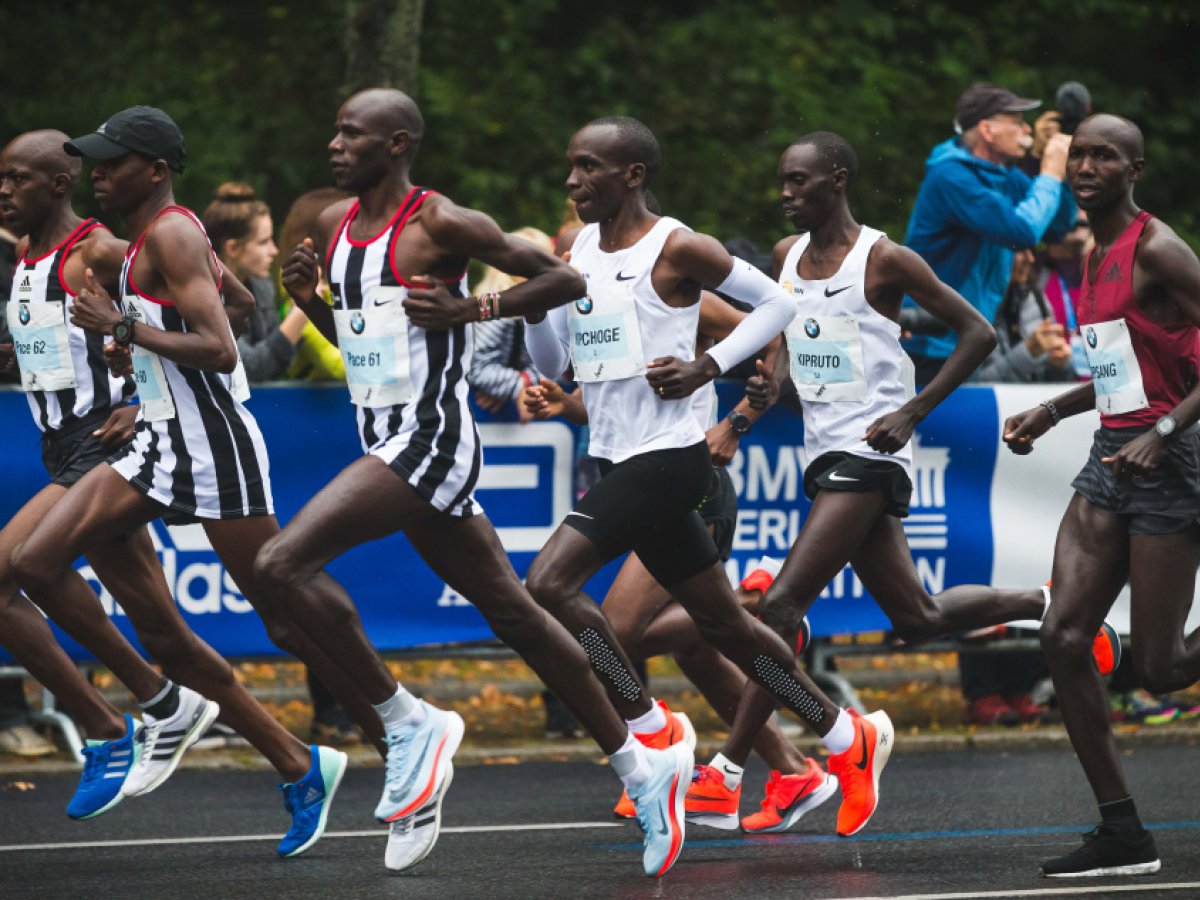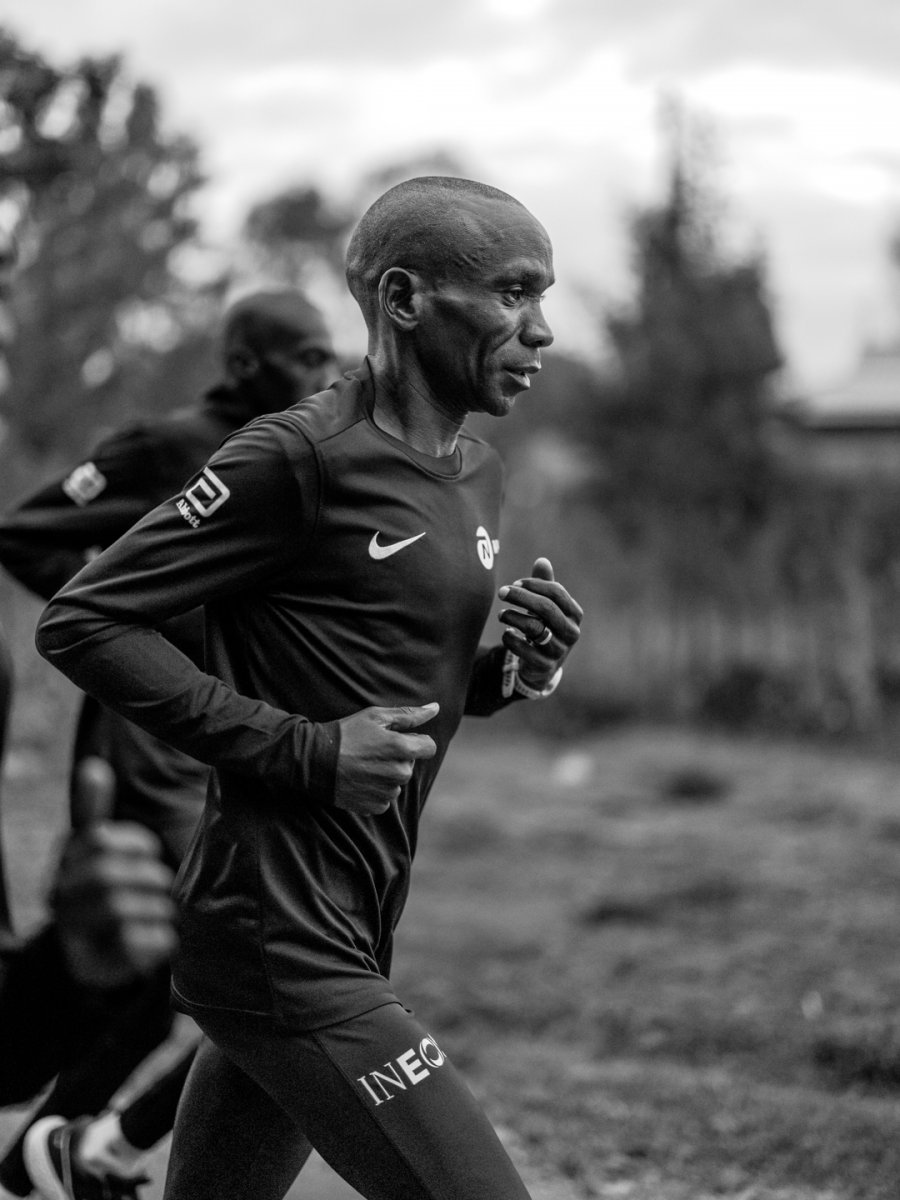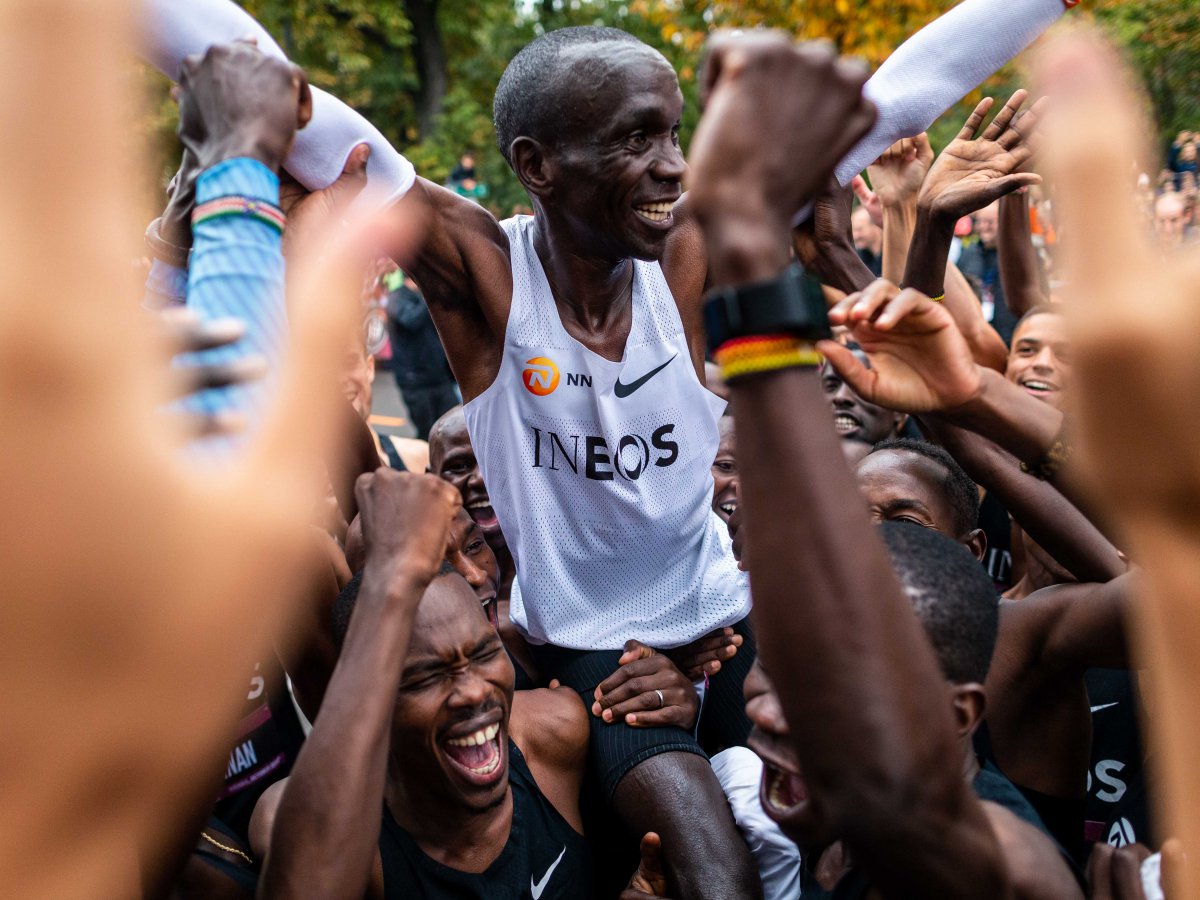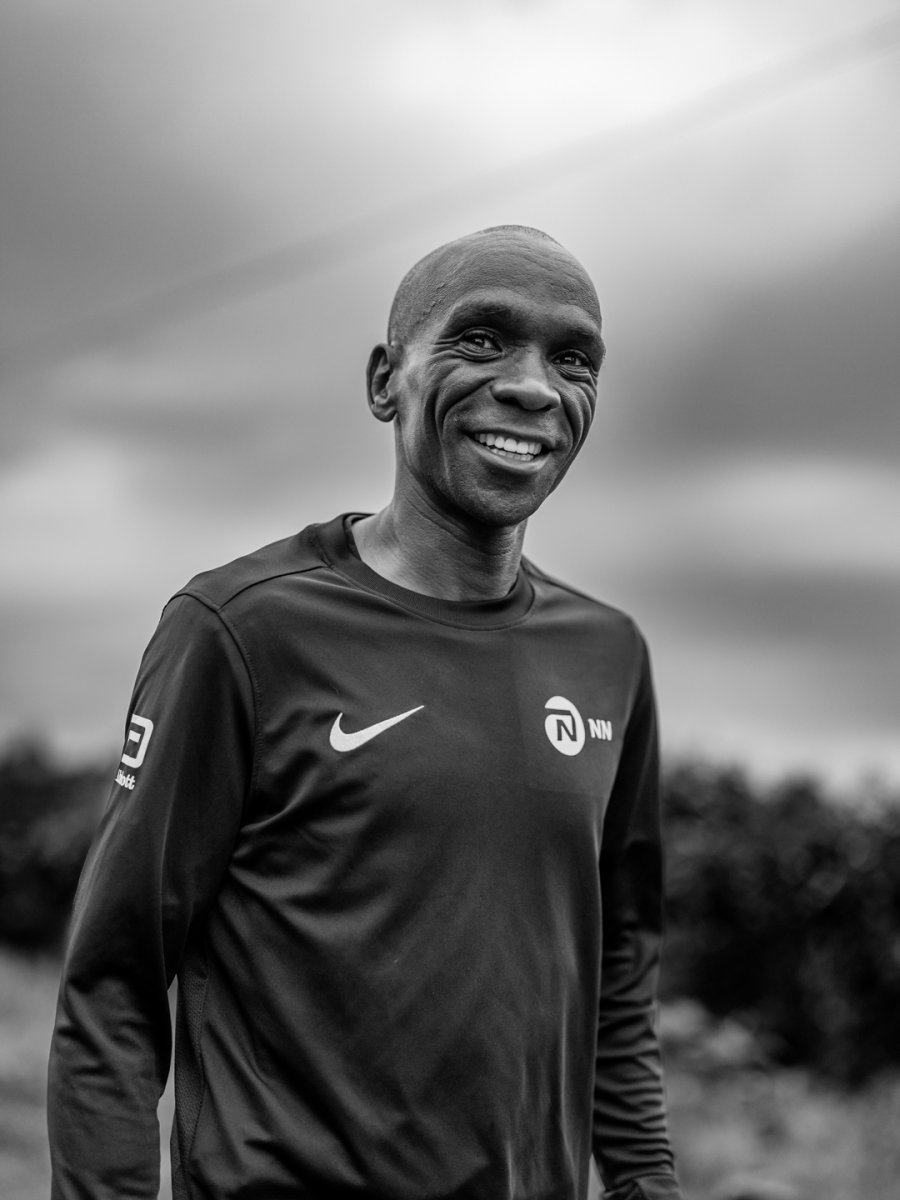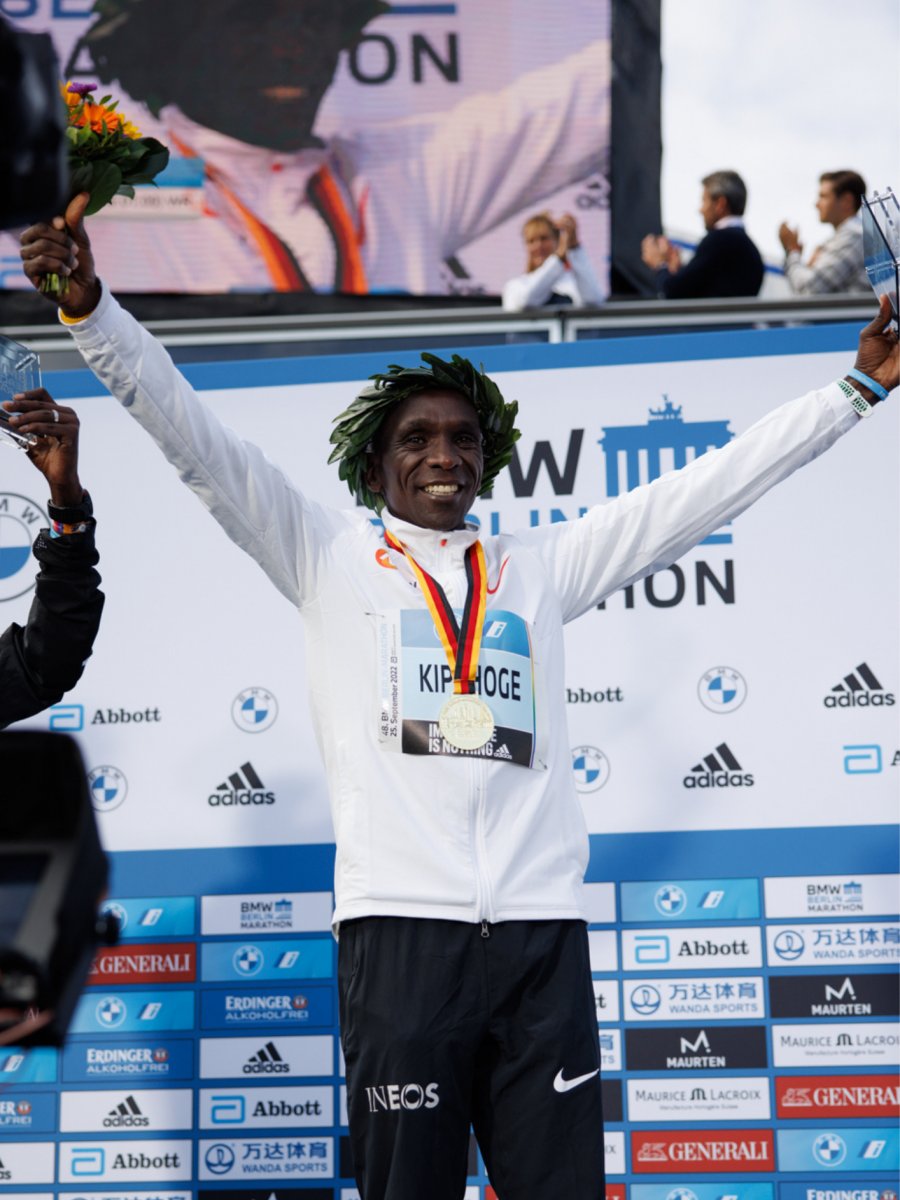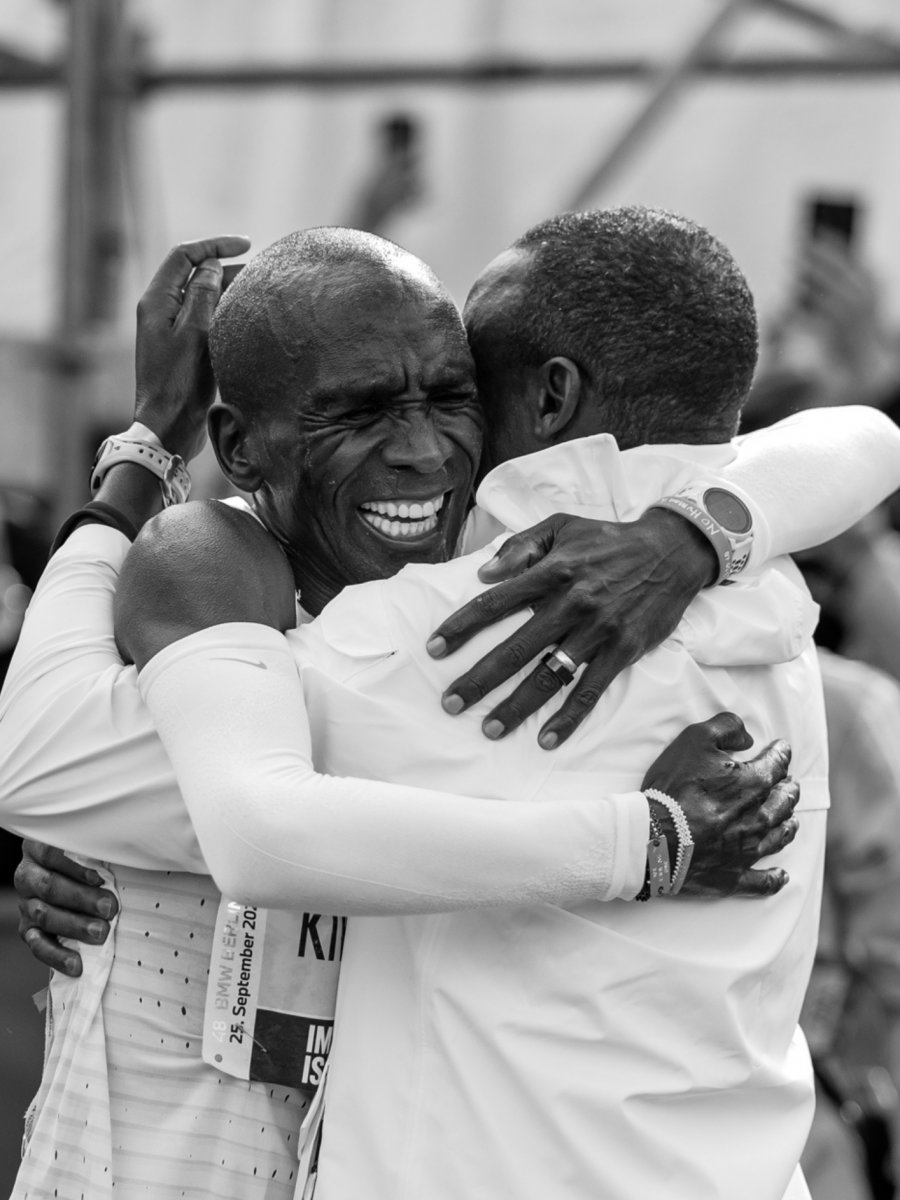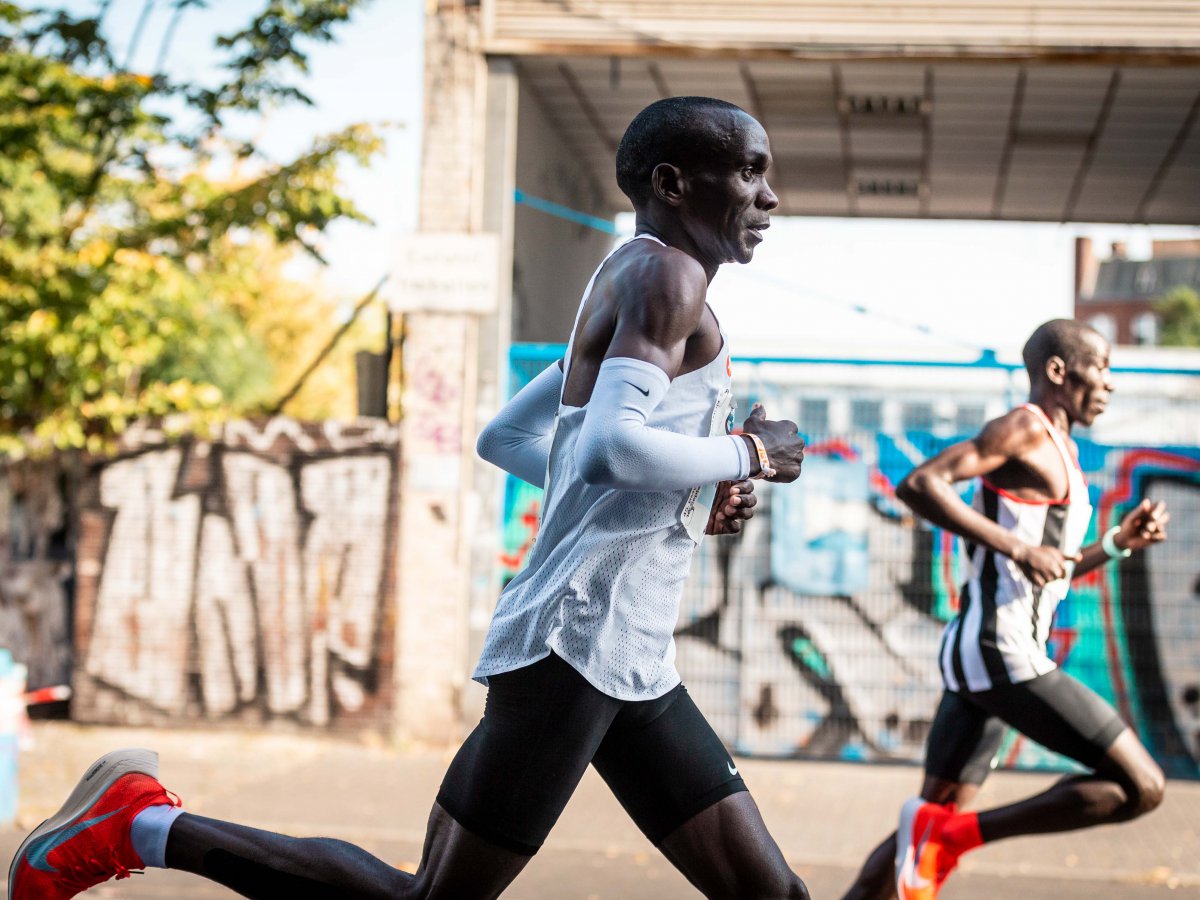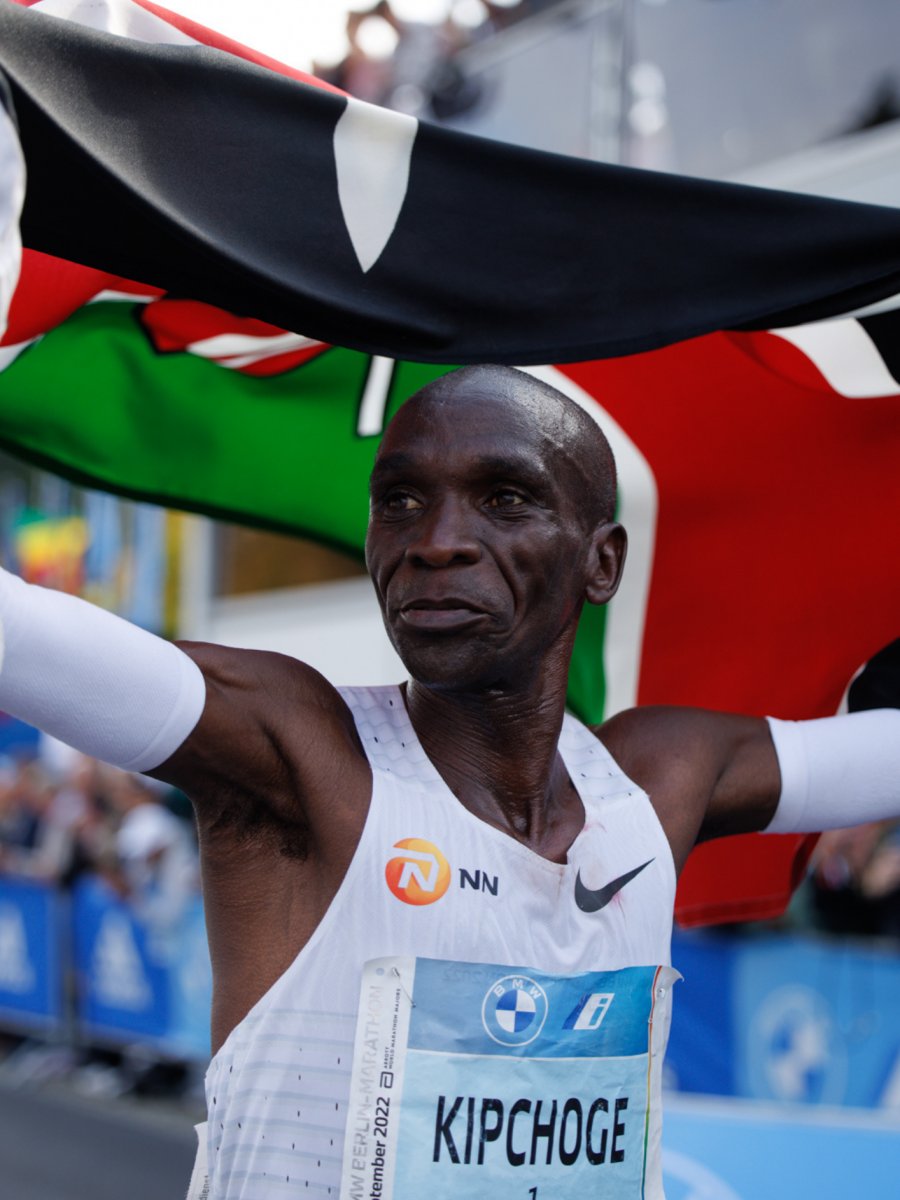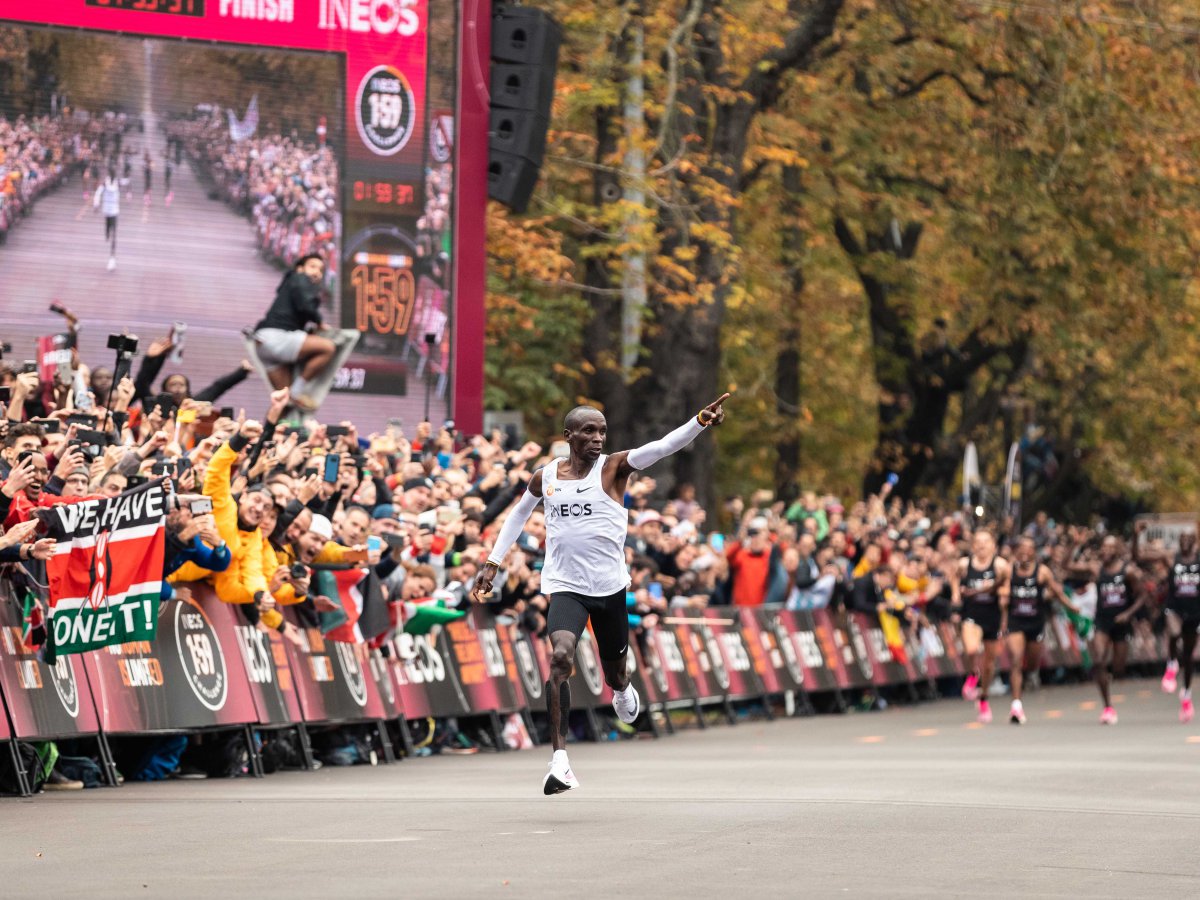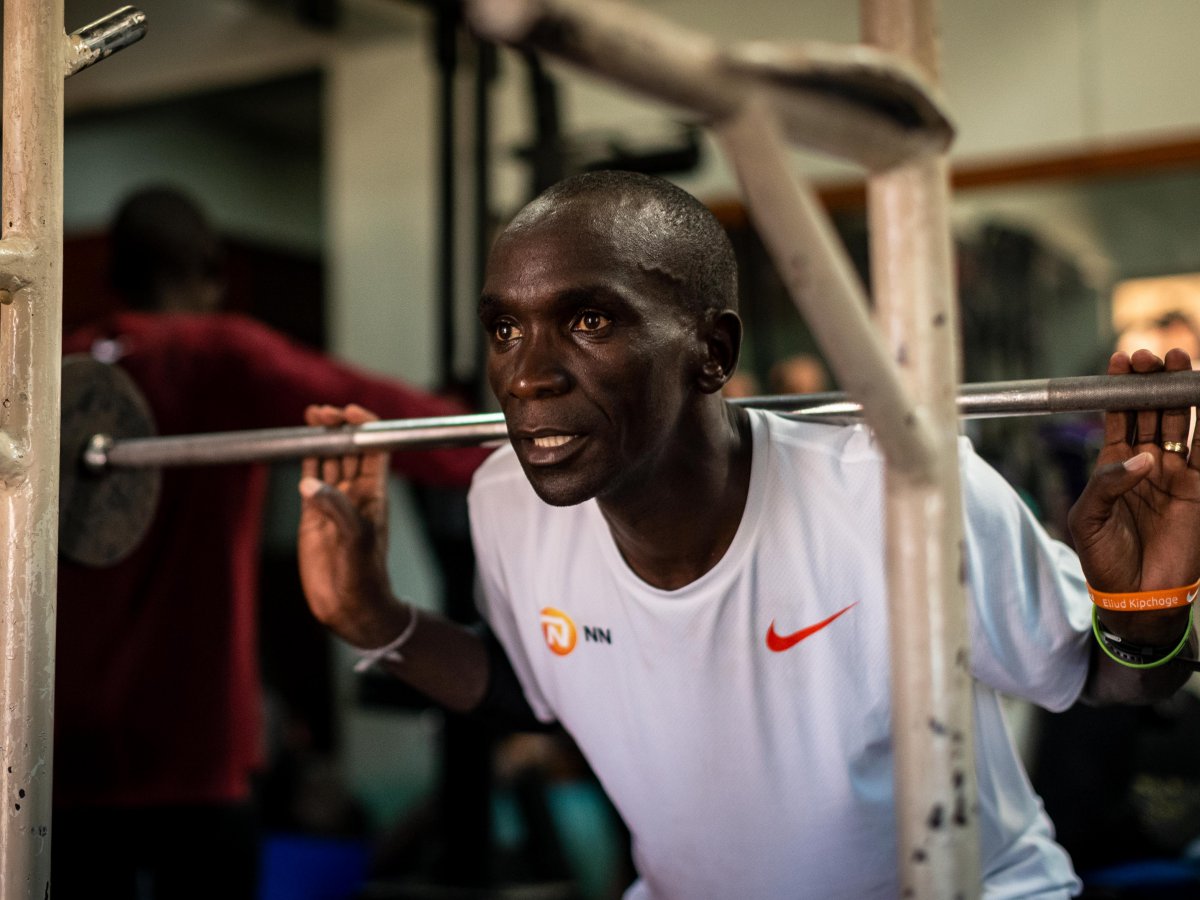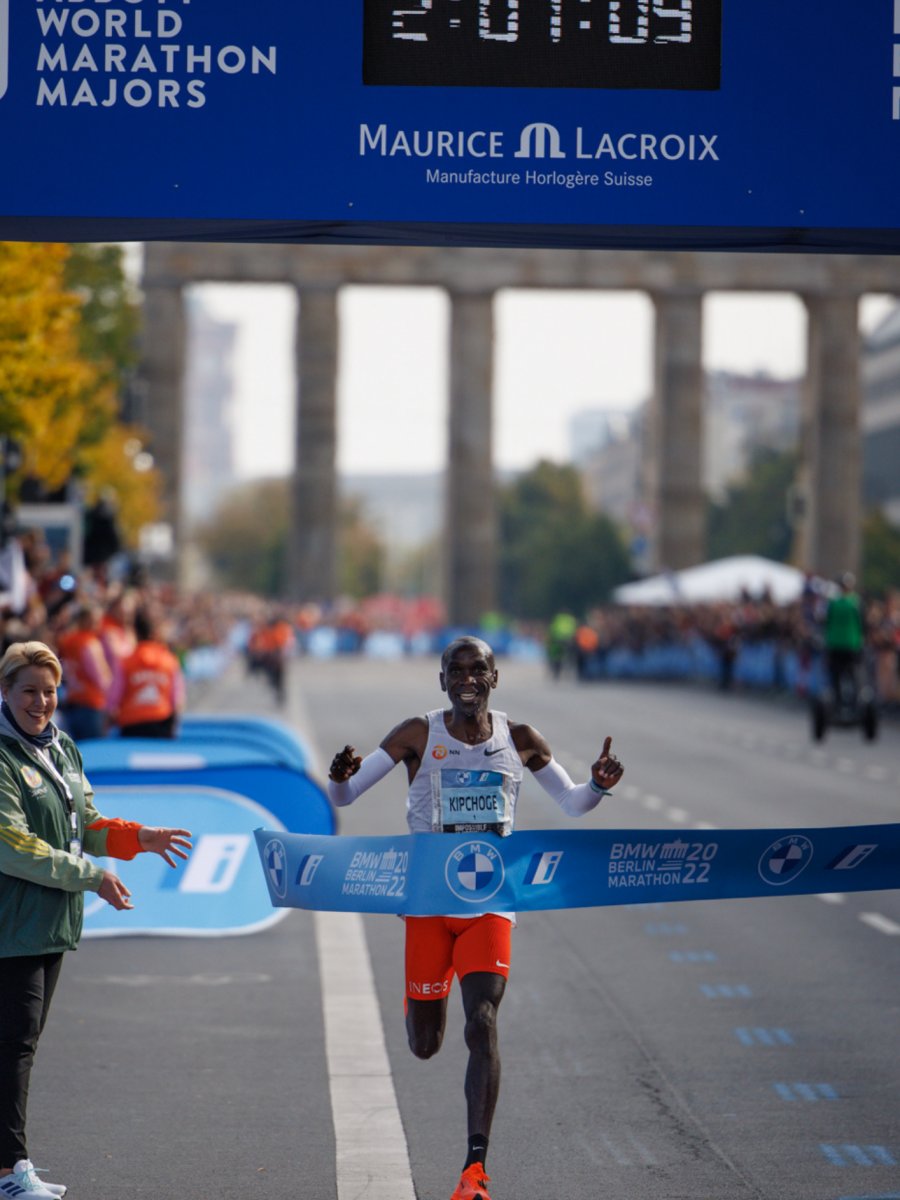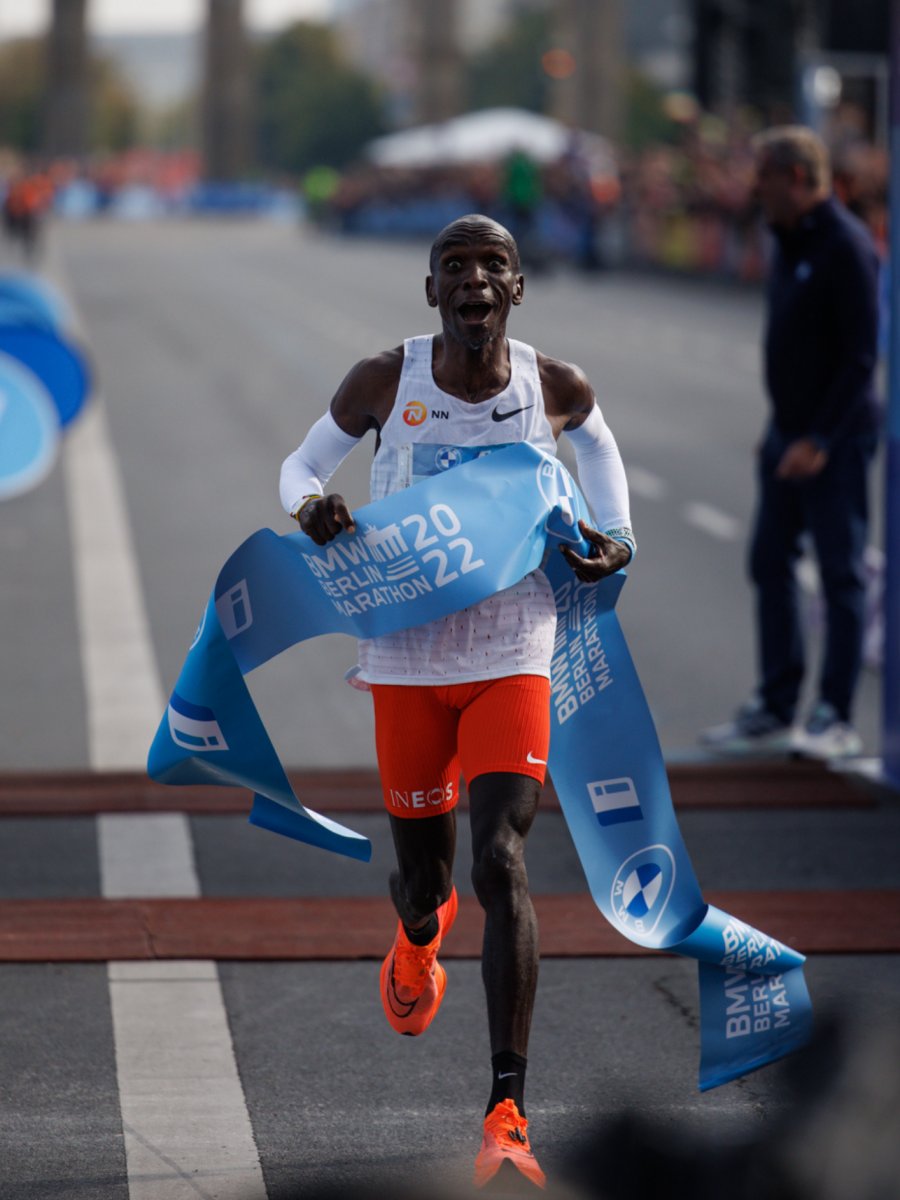 In September 2018, Eliud added the one significant element missing from his astonishing CV by claiming the official world record. In perfect conditions on the streets of Berlin the Kenyan superstar shattered Kimetto's previous mark to record a staggering 2:01:39 and take the marathon into another realm.
Eliud completed a remarkable tenth successive marathon victory in April by securing an unprecedented fourth London Marathon title. To add further gloss to the performance he ran the second fastest time in history (2:02:37) and a course record mark.
His unparalleled career of marathon accomplishments reached a new high when Eliud became the first human in history to run a sub-two-hour marathon as part of the INEOS 1:59 Challenge. Aided by team of pacemakers, the Kenyan recorded a staggering time of 1:59:40 in Vienna.
After suffering a first marathon defeat in seven years when finishing eighth at the 2020 London Marathon (2:06:49), he bounced back to win the 2021 NN Mission Marathon in 2:04:30 in Enschede.
At the 2020 Tokyo Olympic Games, Eliud became only the third man in history to win back-to-back Olympic titles with yet another utterly dominant performance. Coping best with the oppressive conditions he claimed victory by a margin of 80 seconds in a time of 2:08:38.
Eliud added the Tokyo Marathon title to his ever-expanding collection of major marathons in 2022. The Kenyan great winning in a course record and a Japanese all-comers record of 2:02:40 – the fourth fastest time ever run for the distance. Later that year, in September, Kipchoge returned to the streets of Berlin for his fifth BMW Berlin Marathon outing. The athlete ran an incredibly strong race and shattered his own marathon world record noting a 2:01:09!
In 2023, Eliud ran the B.A.A. Boston Marathon for the first time finishing 6th after a tough race in 2:09:23. Later that year, he returned to Berlin running a super fast 2:02:45 to win the race.
Did You Know?
Eliud grew up on a farm and often cycled from his home to Kapsabet, hauling several gallons of the family's milk to sell at the local market.