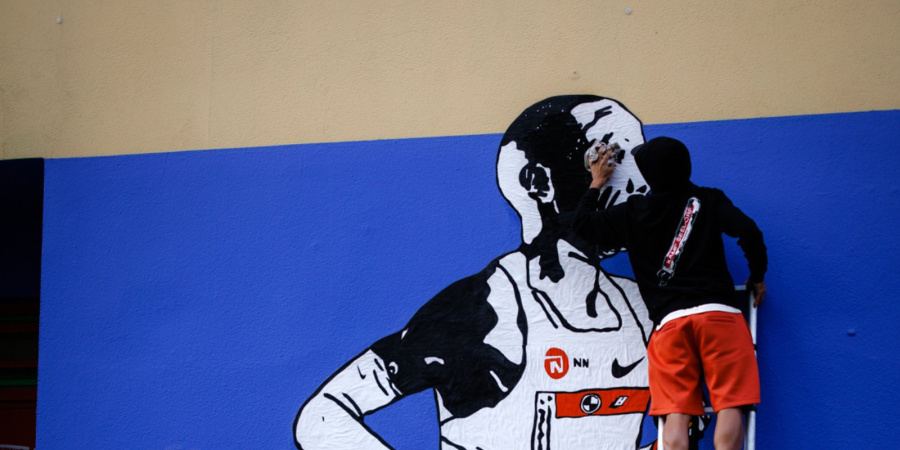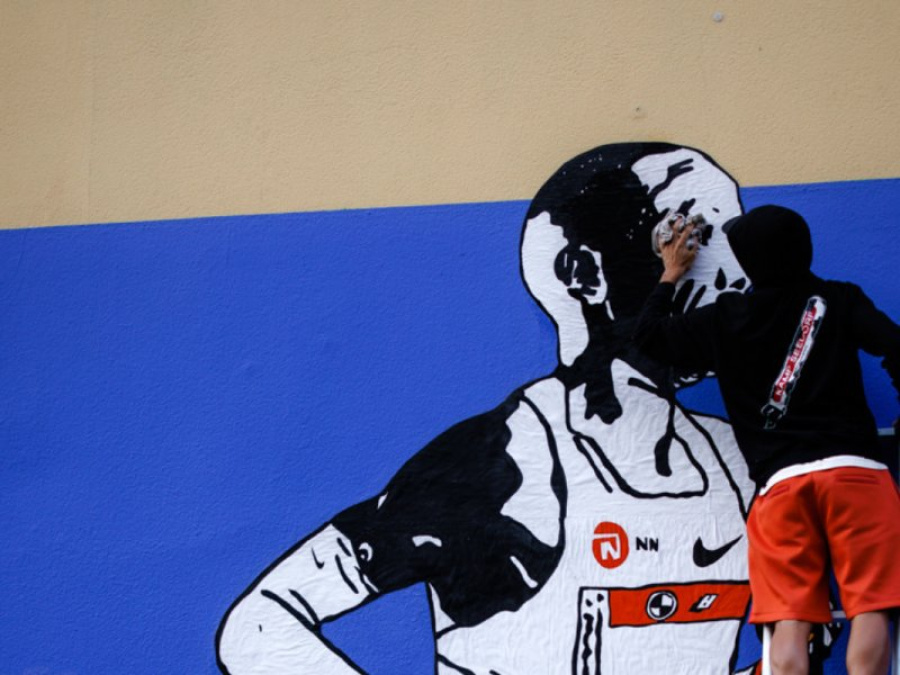 This afternoon, Thursday September 21st , a unique piece of street art has been unveiled at the clubhouse of Berlin-based running club Berlin Braves, located at Wassertorstrasse 11 in the German capital.
The street art, showing marathon world recordholder Eliud Kipchoge in full stride, highlights the return of the NN Running Team's double Olympic champion to the city, where he will run the BMW Berlin Marathon this Sunday September 24th.
The piece was produced by Dutch artist collective Kamp Seedorf in close collaboration with Eliud Kipchoge's professional running group the NN Running Team and the team's management Global Sports Communication.
At the Berlin Marathon, part of the Abbott World Marathon Majors, Kipchoge is currently tied at four titles with Ethiopia's marathon great Haile Gebrselassie, who claimed the Berlin Marathon for four consecutive years between 2006 and 2009. Kipchoge captured the Berlin marathon title in 2015, 2017, 2018 and 2022, also setting a world record in 2018 and 2022. His victory last year improved his own world record by 30 seconds finishing in an unprecedented 2:01:09 over the classic distance.
Marleen Vink-Rennings, marketing director of the NN Running Team said: 'We joined hands with Kamp Seedorf because we love the idea of street art meeting sports. We have challenged ourselves to create a campaign that is online as well as offline and we hope runners and fans in Berlin will get inspired by the artwork of Kamp Seedorf. To make it more widely available we made an exclusive and limited line of merchandise, with T-shirts, prints and running bottles.'
Kamp Seedorf said: 'Berlin has always been a very inspiring city for us and our love for the city combined with our love for running and the brilliant Eliud Kipchoge make this a fantastic collaboration for us. Running is an accessible sport for everyone and producing a piece of Eliud Kipchoge has been a real honor for us. The line of merchandise with the different athletes make it even more special. We run the streets like marathoners!'
The NN Running Team is the first global professional running team uniting athletes from Kenya, Ethiopia, Uganda and Europe. They keep on striving to make running more popular worldwide and the stars more easily accessible. This is done by creating unique content on social media and coming up with inspiring offline and online activations, supporting the biggest athletes and the biggest races year in, year out.
For a guide on where and when to watch the BMW Berlin Marathon please click here. Also, make sure to check out our fall campaign #Back2TheStreets which includes new merchandise, special content, and the opportunity to create your very own #Back2TheStreets race poster: more information. Check out our special #Back2TheStreets merchandise collection here!